I credit my dad for my love of the book of Psalms. He gifted me with a book of Psalms and once I read them; I realized why they touched him so. These are real people expressing their honest and deepest feelings, praise, and concerns to God. No wonder people look to the Psalms for comfort during their trials and life's struggles. Let these Psalms about peace comfort you in whatever you are facing today.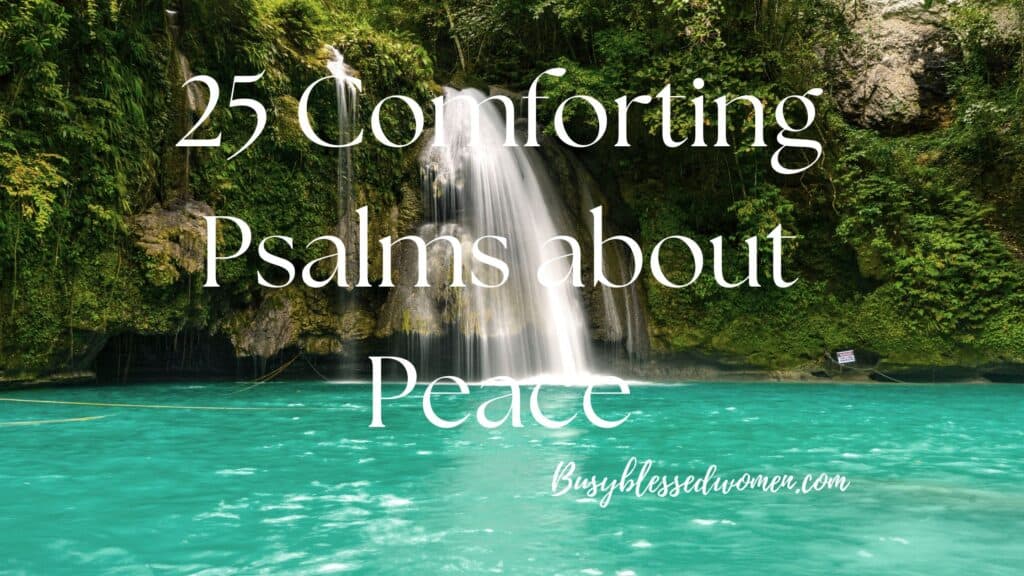 God's chosen people had their share of troubling times. Persecution, times in the wilderness, widespread sin, wars, political and economic struggles, fighting among themselves…
Wait- do any of these troubles sound familiar?
Our world today is still full of negative news. It can leave us stressed, anxious, worried, and desperately seeking peace to counteract the turmoil.
We know there is nothing in this world that will bring us true peace; only God can do that. The book of Psalms gives us beautiful reminders of His peace.
Biblical Definition of Peace
The Hebrew (Shalom) and Greek (Eirene) words for peace are defined as safety, prosperity, tranquility, contentment, rest, and harmony. ¹
The beauty of God's perfect peace is that we can experience these things within our troubling earthly circumstances, not just when things are going well. Peace is one of God's promises to us; given to us when we trust in Him and the power of the Holy Spirit within us.
Peace in the Bible
We experience peace as a blessing from God daily. It stems from our personal relationship with Him and is always secure (even/especially during the hard and troubling times!)
The peace of God calms our anxieties and stems from a deep trust in Him. A strong personal relationship with Him allows us to trust Him in our faith journey- heart, soul, and mind.
Peace Verses in Psalms
The Psalms are a collection of poetic prayers and songs that express the writer's feelings and circumstances. We can struggle with the same feelings and learn how to bring God's peace back into our lives as they did.
Psalms for Peace of Mind
It's author is unknown, but describes how the Lord journeys alongside us on our pathways of life. (The entire Psalm is a beautiful testimony of God's shelter/security ♥)
Disaster may strike, but we do not have to fear. We can experience peace of mind knowing He stands by our side, loving and caring for us.
"Because he loves me, says the Lord, I will rescue him; I will protect him, for he acknowledges my name. He will call upon me, and I will answer him; I will be with him in trouble; I will deliver him and honor him." vv14-15.
Psalm 121-
is a prayer for times of uncertainty. God guarantees us His help to overcome.
"I lift up my eyes to the hills. From where does my help come? My help comes from the Lord, who made heaven and earth. He will not let your foot be moved; he who keeps you will not slumber. Behold, he who keeps Israel will neither slumber nor sleep.
The Lord is your keeper; the Lord is your shade at your right hand. The sun shall not strike you by day, nor the moon by night. The Lord will keep you from all evil; he will keep your life. The Lord will keep your going out and your coming in from this time forth forevermore." vv1-8. ESV
("Keep you from all evil" does not mean nothing bad will ever happen to you. It means He gives you assurance that you are fully in His watchful care until He calls you home.)♥
Psalm 85:8-
"I will listen to what God the Lord says; he promises peace to his people."
Psalm 34-
"The Lord is close to the brokenhearted and saves those who are crushed in spirit. A righteous man may have many troubles, but the Lord delivers him from them all." vv18-19.
Psalms for Peace and Strength
Sometimes our difficulties leave us feeling weak and unable to move forward. Many of the psalmists were in this same position. Take comfort in their words; God will give you His strength to go on.
Psalm 46-
describes God's strength when things are falling apart.
"God is our refuge and strength, an ever-present help in trouble. Therefore, we will not fear, though the earth gives way and the mountains fall into the heart of the sea, though its waters roar and foam and the mountains quake with their surging… God is within her, she will not fall; God will help her at the break of day." vv1-3,5.
Psalm 16:8-
"I have set the Lord always before me. Because he is at my right hand, I will not be shaken."
Psalm 138-
"In the day when I cried out, You answered me, and made me bold with strength in my soul." v3 NKJV.
Psalm 29:11-
"The Lord gives strength to his people; the Lord blesses his people with peace."
Psalms for Peace and Protection
We don't ask God for His protection because we deserve it, but because it is part of who He is; our loving and protecting Father.
He is in control and has a plan for our lives. We can put our complete trust in Him.
Psalm 18
King David sings this song in thanksgiving for deliverance from the hand of his enemies.
We sing it because Jesus has already delivered us from the forces of evil forever and can now deliver or support us through any trouble.
Do you feel as if you're sinking into the depths of despair? Ask Him to help you, steady you, and protect you.
"He reached down from on high and took hold of me; he drew me out of deep waters. He rescued me from my powerful enemy, from my foes, who were too strong for me. They confronted me in the day of my disaster, but the Lord was my support. He brought me out into a spacious place; he rescued me because he delighted in me." vv16-19
(Our loving and mighty God delights in us!)
Psalm 91:4
"He will cover you with his feathers. He will shelter you with his wings. His faithful promises are your armor and protection." NLT.
Psalm 32:7-
"You are my hiding place; you will protect me from trouble and surround me with songs of deliverance."
Psalm 27:1-
"The Lord is my light and my salvation- whom shall I fear? The Lord is the stronghold of my life- of whom shall I be afraid?"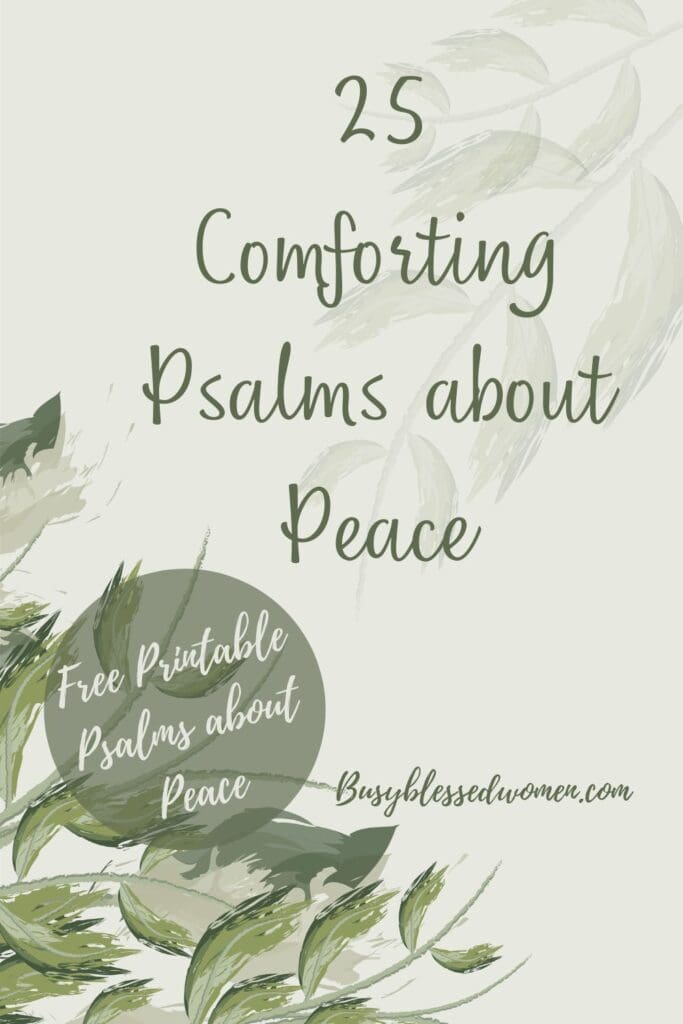 Pin me for later!
Psalms for Peace in the Home
You can use these Psalms as simple prayers for your family to strengthen your bond and guide you through this life together.
Psalm 133:1-
David describes the blessings of precious peace when we strive to be united in God- whether in our homes, church, or community.
"How good and pleasant it is when God's people live together in unity!"
Psalm 119-
"Great peace have those who love your law, and nothing can make them stumble." v165.
Loving and studying God's Word brings peace into our lives. Families who do this are on a firm foundation.
Psalm 78-
"What we have heard and known, we will not hide from our children; we will tell the next generation the praiseworthy deeds of the Lord, his power, and the wonders he has done… so the next generation would know them, even the children yet to be born, and they in turn would tell their children. Then they would put their trust in God… and keep his commands." vv 3-4,6-7.
There is a grand purpose and importance in helping our children obey God and understand His hope and plans for their lives.
Psalms for Peaceful Sleep
A good night's sleep can be hard to come by when life's unsettling times hit. Our minds race as we lie awake; worrying about what we cannot control.
Tell God what is troubling you, as David did, and know that He hears you. Be assured and thankful that He is in control, and let sleep come.
Psalm 3:5-
"I lie down and sleep; I wake again, because the Lord sustains me."
Psalm 4:8-
"In peace I will lie down and sleep, for you alone, Lord, make me dwell in safety."
Psalm 116
"Be at rest once more, O my soul, for the Lord has been good to you." V7.
Psalms of Peace and Hope
We sometimes lose hope when life gets heavy, and stresses drag on. But Jesus wants us to live life with His hope in our hearts, regardless of our circumstances.
Psalm 62-
"My soul finds rest in God alone; my salvation comes from him. He alone is my rock and my salvation; he is my fortress, I will never be shaken." vv1-2
Psalm 33-
"But the eyes of the Lord are on those who fear him, on those whose hope is in his unfailing love." V18.
"May your unfailing love be with us, Lord, even as we put our hope in you." v22.
Psalm 42-
"Why are you downcast, O my soul? Why so disturbed within me? Put your hope in God, for I will yet praise him, my Savior, and my God." vv5-6a.
Psalms for Comfort and Peace
These peace scriptures in Psalms bring comfort when we are in pain or overwhelmed by our situation. Let them bring inner peace and comfort no matter what you are facing.
Psalm 119:76-
"May your unfailing love be my comfort, according to your promise to your servant."
Psalm 23:4,6
"Even though I walk through the valley of the shadow of death, I will fear no evil, for you are with me; your rod and your staff, they comfort me… Surely goodness and love will follow me all the days of my life, and I will dwell in the house of the Lord forever."
Psalm 34:17-
"The righteous cry out, and the Lord hears them; he delivers them from all their troubles."
Psalm 91:11-
"For he will command his angels concerning you to guard you in all your ways."
Psalm 94:19–
"In the multitude of my anxieties within me, your comforts delight my soul."
Psalms Scriptures on Peace
I hope these Scriptures from the book of Psalms will give you peace in your hard times of uncertainty. There are so many more to choose from; it was hard to narrow it down to these few!
I hope they also have given you the confidence to go before God's presence and be completely open in expressing your honest feelings. He is the One who knows you best.
May these verses bring you blessings of joy, comfort, hope, restful sleep, strength, and the "peace that surpasses all understanding" into your everyday lives.
May they be a safe and beautiful sanctuary to rest in His presence.
Blessings of Peace!
AnnMarie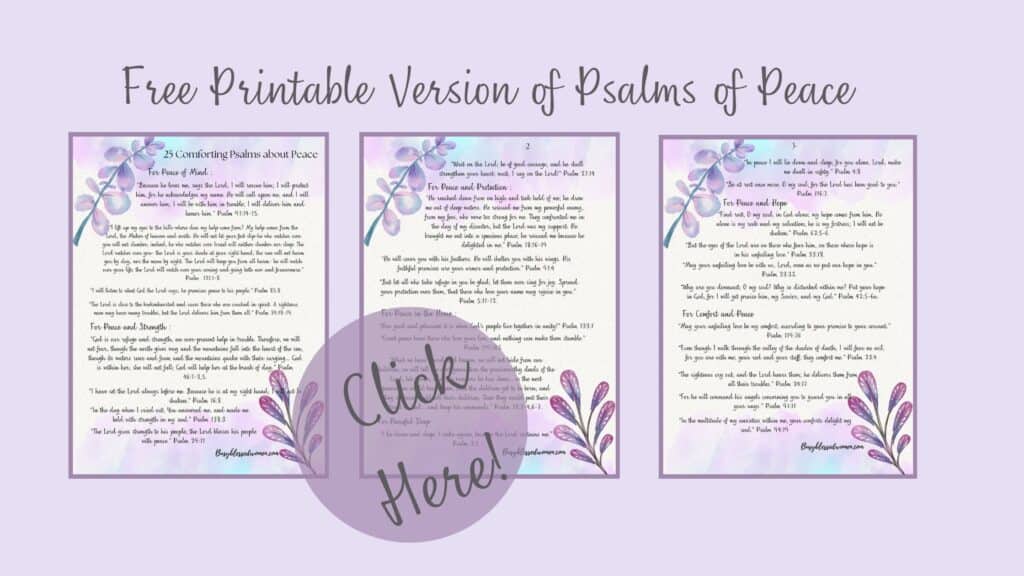 1 https://www.kingjamesbibledictionary.com/StrongsNo/G1515/peace
All Scripture is taken from the NIV unless specified otherwise.
Photo Credit: Canva