We see God's hand in creating families early on in the book of Genesis. Family relationships are unique- they bond us in ways no other relationships can. And while they can be our best forms of love and support, we only have to look at the very first family to see they can also be quite messy and dysfunctional. Prayer is all about our relationship with God, and prayers for your family are the very best way to care for and nurture them.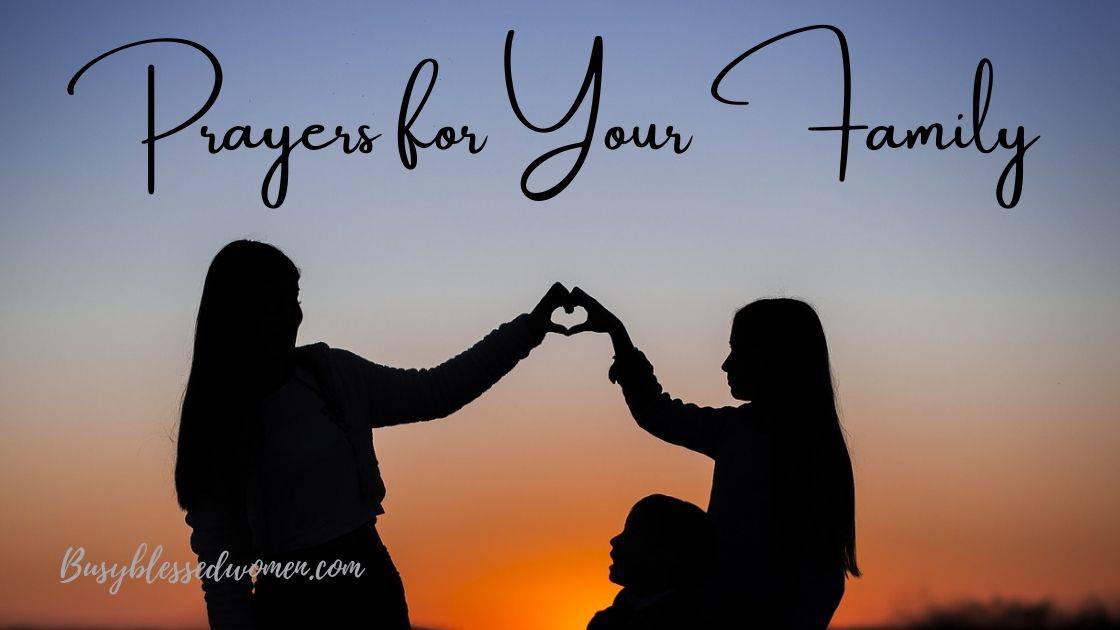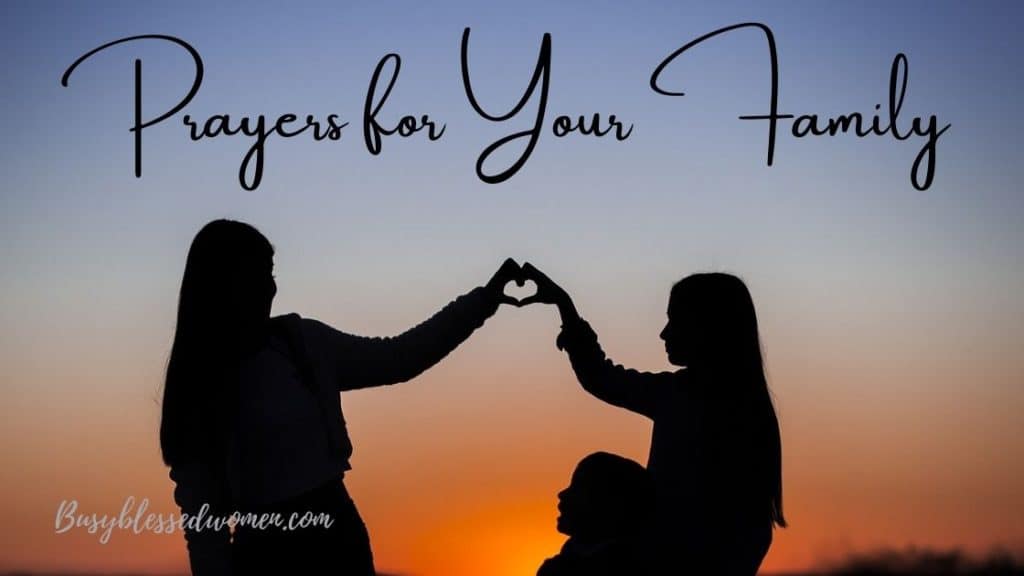 Intercessory Prayers for Family
Intercessory prayer simply means we are praying on behalf of someone else. We have the Holy Spirit to emulate in this kind of prayer- what better role model is there to follow?
"The Spirit helps us in our weakness. We do not know what we ought to pray for, the Spirit himself intercedes for us with groans that words cannot express." Romans 8:26.
Isn't is comforting to know we are not alone in praying for our families? The Holy Spirit prays with us!
As we come before God with our family members on our minds, remember that our prayers are like sweet smelling incense, a pleasing aroma, rising to Him. (Psalm 141:2)
Remember too, that we have Jesus as our High Priest in heaven who allows us to approach Him with confidence:
"Let us then approach the throne of grace with confidence, so that we may receive mercy and find grace to help us in our time of need." Hebrews 4:16.
Come with reverence to our King and bring your family prayers with the bold assurance that we can ask in faith for what they need.
How to Pray for Your Family
"The prayer of a righteous man is powerful and effective." James 5:16b.
Our most powerful resource for our family is prayer. Family struggles are real, and prayer strengthens us as we walk through them and can bring us closer together.
Whether you are praying for your child, spouse, parent, or extended family member, take time to let the Holy Spirit guide your thoughts and concerns.
Be specific, making these prayers your own. Insert names and situations and listen for His guidance.
Daily Prayer for My Family
Heavenly Father,
I come before you today, my Rock and my Redeemer, to bring my family to you. You alone are holy and sovereign Lord- thy will be done on earth as it is in heaven. I place my family in your loving hands.
I pray for my family to have a heart for you, Lord- draw them closer to you through situations, circumstances, and the people they meet. Water the seeds that are planted in their hearts and minds.
I pray for a strong hedge of protection around them; thank you for the protection you have already shown. Strengthen and guard them against the evil one.
Bind us together, Lord, and help us show each other your love, joy, peace, patience, and kindness. Thank you for the blessings of your love, grace, and mercy on my family, which are new every morning. Amen.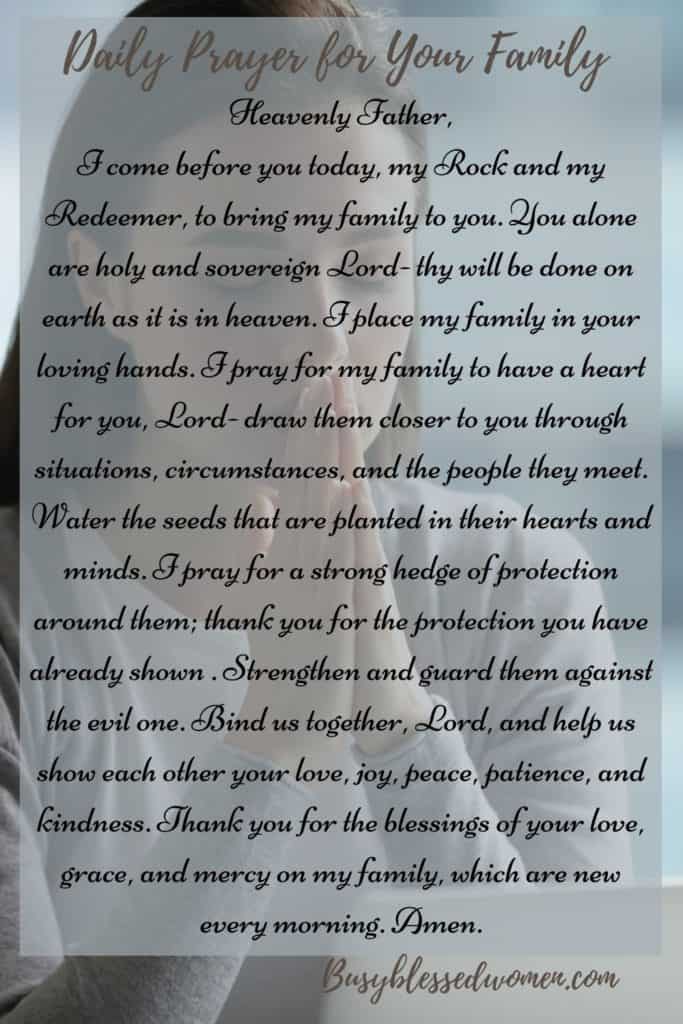 Pin me for later!
Prayer for Family Unity
"Bear with each other and forgive whatever grievances you may have against one another. Forgive as the Lord forgave you." Colossians 3:13.
"Be completely humble and gentle; be patient, bearing with one another in love." Ephesians 4:2.
Family relationships can be messy, but before you despair over your situation, think of Adam and Eve's family issues, Joseph and his brothers, and King David's family… just to name a few!
Even Jesus' family had to deal with the rumors swirling before He was born, the early death of Joseph, and Jesus' own brothers doubting His ministry and Messiahship.
Take heart! Don't let seemingly hopeless family situations or wide rifts hold you back from prayer. Pray for restoration and unity.
Lord, I thank you for my family- each member and the special place they hold in my heart. I pray today for the brokenness we are experiencing and ask that you bring your healing and restoration. Dissolve anger and turn it into peace. Replace the hurts with your comfort. Remind each one of them of the love and joy we have experienced in the past. Show them how to forgive, as you have forgiven us. Heal my family's wounds as only You can. Soften hearts and bring patience and love back into these relationships. Unite our family in love and peace today, Lord. You alone are powerful and mighty, and I ask all these things in your precious name. Amen.
God, Protect My Family
"Be strong and courageous. Do not be afraid or terrified because of them, for the LORD your God goes with you; he will never leave you nor forsake you." Deuteronomy 31:6.
Father God, I come to you today and ask for protection over my family- spiritually, physically, and mentally. Our help comes from you, who made heaven and earth. I thank you that while I am not with them; you are always there. Give them your strength and courage in any crisis or trouble. Help them rest in your shadow; be their shelter and shield. May they always know that you are their refuge and strength. Keep them safe; guard their hearts and minds. Amen.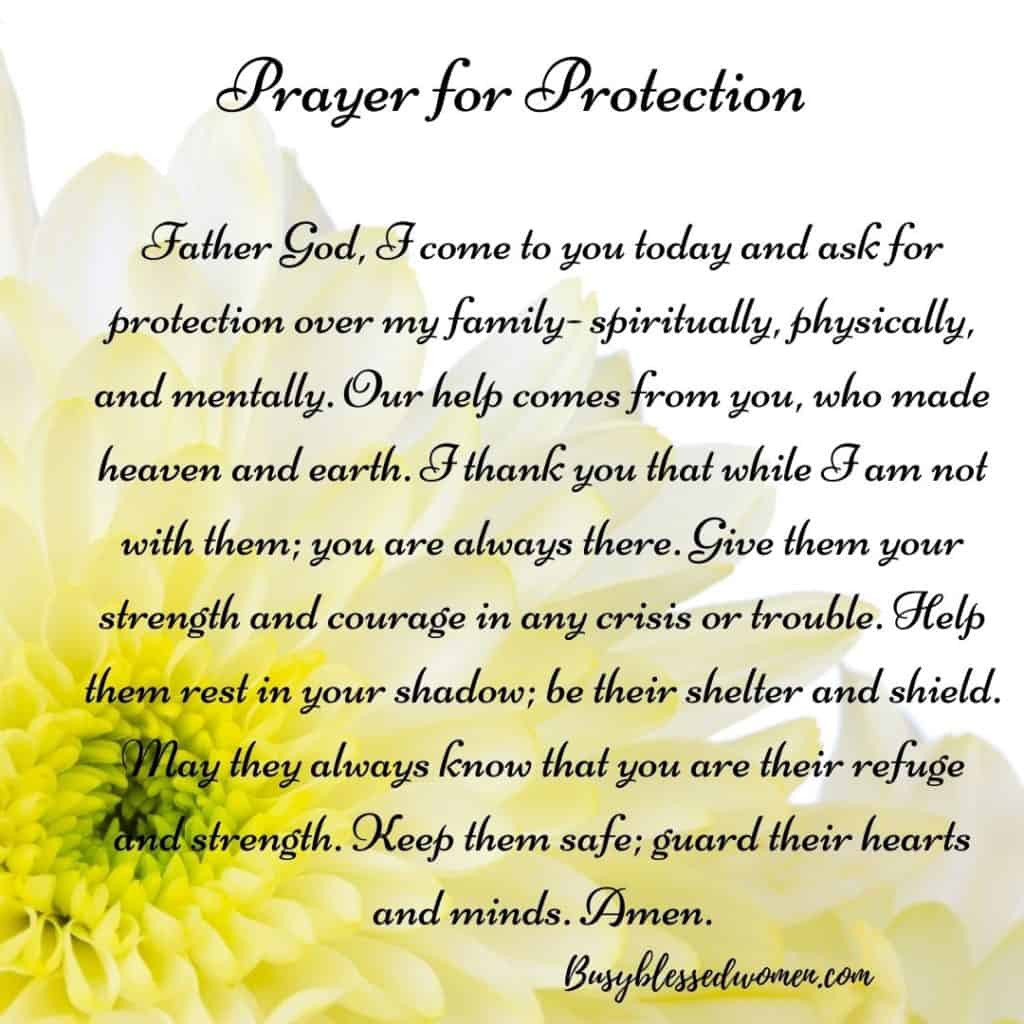 Prayer for My Family in Difficult Times
"Peace I leave with you; my peace I give you. I do not give to you as the world gives. Do not let your hearts be troubled and do not be afraid." John 14:27.
Dearest Jesus, Thank you for being our refuge and strength in these difficult family times. You are our ever-present helper in times like these. I pray we feel you by our side in a mighty way and that you give us your guidance to overcome our challenges. Be a light to our path, show us the way to go. Even though our world has been shaken, help us not to fear. Thank you for your grace, which is sufficient to face this troublesome time. Even though we are weak, you are strong. Nothing is too difficult for you, Jesus. Help us cling to You as you support us with your mighty hand. Help us feel your peace; soothe our troubled hearts. Amen.
Prayer For Unsaved Family Members
"I tell you the truth, whoever hears my word and believes him who sent me has eternal life and will not be condemned; he has crossed over from death to life." John 5:24
Father, in your love and mercy, you desire all to be saved and know the truth. Thank you for the gift of your Son who accomplished your purpose. I bring my unsaved loved one before you today in faith, believing in the power of the Holy Spirit to convict them and bring salvation into their heart. Bind and break the power that Satan has over their lives. Give them ears to hear the good news of your Gospel truth and open their eyes to your love. Soften their hearts to be open to your message of grace. Send the perfect person to help them understand your will and wisdom for their life and help me be a light that shines brightly for you. May I always speak your truth in love. There is nothing too hard for you, Father; lead them to your truth. Amen.
Prayer Points for Family with Bible Verses
Prayer points are specific desires that prompt us to pray for a particular request. Here are some prayer points specific to our families with Bible verses to guide your prayer.
•Pray for the Character of your Family Member
"Whoever claims to live in him must walk as Jesus did." 1 John 2:6
Pray that they would have a heart for God, obey His teachings, follow His example, and live a life of love and service to others.
•Choosing Godly Friends
"Perfume and incense bring joy to the heart, and the pleasantness of a friend springs from their heartfelt advice." Proverbs 27:9.
Pray for the blessing of friends who also love Jesus, to connect and build each other's faith.
•

Servant Heart
"You, my brothers, were called to be free. But do not use your freedom to indulge the sinful nature, rather, serve one another in love." Galatians 5:13.
Pray for a heart that loves to serve others, seeks opportunities to serve, and to be the hands and feet of Jesus.
•

Pray for Perseverance
"Look to the LORD and his strength; seek his face always." 1 Chronicles 16:11
Pray that they will not grow weary in doing good but press on in His service. Pray that they stand firm, confident, and faithful.
•

Pray for Wisdom
"But the wisdom that comes from heaven is first of all pure; then peace-loving, considerate, submissive, full of mercy and good fruit, impartial and sincere." James 3:17.
Pray for a love for the word and a desire to seek His insight; that they would listen to Godly advice and correction.
Pray for Your Family
Praying for our families is a privilege and a gift. God has a special purpose for each one loved one that He placed within our families. He hears and answers our prayers and desires the best for each of us. What comfort it brings knowing He listens and delights in each prayer lifted to Him!
As we pray, He gives us insight, wisdom, and guidance for our families. He reminds us of His many promises and enfolds us with His powerful love and protection.
Prayer is powerful and now, more than ever, our families need to be surrounded and uplifted to the One who loves them best.
"Do not be anxious about anything, but in every situation, by prayer and petition, with thanksgiving, present your requests to God. And the peace of God, which transcends all understanding, will guard your hearts and your minds in Christ Jesus." Philippians 4:6-7
Blessings to you and your family♥
AnnMarie
Related Post∼ Lord, Teach Us to Pray!
All Scripture is from the NIV version unless otherwise noted.
Image by u_uf78c121 from Pixabay, Canva