How can there be beauty in brokenness? Broken things are usually tossed away; discarded because they are useless. Broken people can feel useless and tossed away too. I've been there, and it's not a good place. Maybe you feel the things you've done have broken you beyond repair. As we read and listen to the news- brokenness seems all around. Can we find beauty there? Read on…
Types of Brokenness
What does brokenness mean? Brokenness can take many forms. Unemployment-illness-addiction-divorce/relationships and death. All those things can lead to feelings of exhaustion, loneliness, anger, and fear.
None of us get through life without trials and painful life circumstances. Sometimes they appear out of nowhere, but they can also be a painful end to a particular trial. Or maybe they are our worst nightmare. That thing we hoped would never happen to us.
Is there beauty in that brokenness?
Yes, there is. But where/how can we find it?
The Lord is Near to the Brokenhearted
There is One who seeks out and loves the broken and rejected. He's on the lookout for the broken ones who need healing, comfort, and restoration.
He is a healer and an artist who picks them up, sees their brokenness and turns them into beautiful masterpieces.
It's Jesus.
Why? Because Jesus experienced brokenness in so many ways.
There was nothing special to draw your eye to Him. He lived His entire life in service to others at the expense of His own comfort.
Jesus left His majestic home in heaven to put on humanity and live among sin. Those He came to save despised Him. He experienced rejection by His own family and tribe of people. He was ridiculed and misunderstood.
Jesus experienced the utmost in brokenness in His death on a cross- not for anything He deserved, but to assure that we can live with Him forever. He is the ultimate example of brokenness.
Maybe that why He feels so close to the brokenhearted. He's felt every feeling you are feeling and more. He knows what it's like to feel alone and rejected. And he wants to make sure you are never alone, no matter what life throws at you.
Bible Verses about Being Broken
"The Lord is close to the broken-hearted and saves those who are crushed in spirit." Psalm 34:18 NIV.
When we are feeling broken, there is beauty in His closeness to us. He's not just nearby, but close. He is right next to us whenever we are hurting. He's there to offer help, love, courage, and strength.
"He heals the brokenhearted and binds up their wounds." Psalm 147:3 NIV.
His peace, love and tender care are like bandages and salve applied to our hurts.
Isaiah 43:2
"When you pass through the waters, I will be with you; and when you pass through the rivers, they will not sweep over you. When you walk through the fire, you will not be burned; the flames will not set you ablaze." Isaiah 43:2 NIV.
Do you feel His abundant comfort in these words? He set us apart and says we are precious in His sight. The world and its broken ways may try to break you, but He will be there with you, protecting and guiding.
I love the words that come just before this verse: "Do not fear, for I have redeemed you; I have called you by your name; you are Mine." He wants to knit the broken pieces of your life back together.
"I have told you these things, so that in me you may have peace. In this world you will have trouble. But take heart! I have overcome the world." John 16:33 NIV.
We should expect to experience brokenness and struggle. Jesus foretold it. But He also reminds us that because He was victorious over all sin, we can claim His peace as our own. Especially in the brokenness.
"Then Jesus said, Come to me, all of you who are weary and carry heavy burdens, and I will give you rest." Matthew 11:28 NLT
He calls out to us especially when we are feeling broken. He knows grief and pain quite well. Jesus knows everything aspect of our suffering. He wants us to experience true rest in His loving arms.
Brokenness in the Bible
We don't have to look too hard to find brokenness in the Bible.
Adam and Eve
They literally "had it all" didn't they? Beautiful sin-free home, no hard physical work, year-round pleasant weather, and they didn't even have to worry about what to wear!
To top off their idyllic life, God Himself came around each day to walk and talk with them.
Their brokenness came swiftly when their sin caused a broken relationship with God. Their life was suddenly filled with hunger, struggle, and exhausting work.
The brokenness in our world is our "inheritance" from Adam and Eve. (We can't blame them for our own bad choices, however…)
Rahab
Rahab was a prostitute and innkeeper in Jericho. We don't know what drove her choices in lifestyle. But society rejected her and left her broken.
Fearful of a coming invasion of Israelites, she found beauty in her brokenness by turning to God for her salvation.
Naomi and Ruth
Naomi was an Israelite forced by famine to live in a foreign land. She then lost her husband and two sons, which left her broken-hearted.
Being a widow in that time usually meant extreme poverty and hardship. When she decided to return to her people, she encouraged her daughter-in-laws to return to theirs, even though it meant traveling alone.
Ruth was one of her daughter-in-laws broken by widowhood herself. But she refuses to leave Naomi. Ruth wanted to stay with Naomi and worship God. The beauty in her story started there.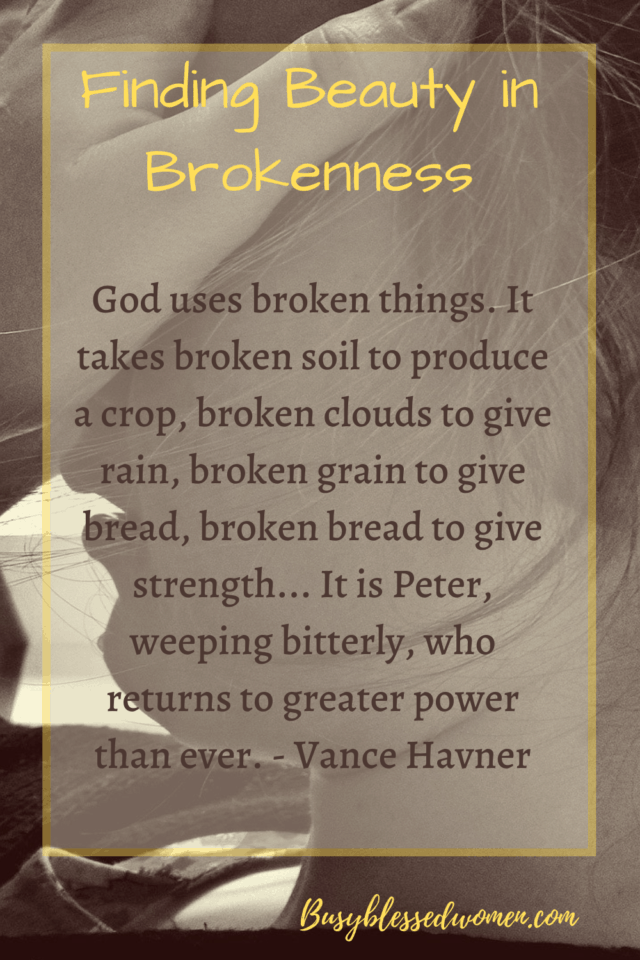 Pin me for later!
God Uses Broken People
The list goes on and on…
Hannah was broken down by her infertility. Moses was a murderer and an exile. Joseph's brothers abused him and sold him into slavery. Mary Magdalene suffered horribly with demon possession. Peter denied Jesus three times and ran away in shame and fear.
If you went back and read every story of brokenness in the Bible, you'd see God using these broken, hurting people to bring His hope into the world.
He holds them close and heals their hurts. He comforts them and rebuilds their lives.
Joseph told his brothers, "You intended to harm me, but God intended it for good to accomplish what is now being done, the saving of many lives." Genesis 50:20 NIV.
He can take our brokenness and bring forth beautiful results.♥
How Does God Use Broken Things?
He uses our hurt to help us lean on His strength. We can experience Him in ways we never have before.
It can lead us to reach out to Him, the great Physician, to heal our pain.
It can point us to His incredible love for us and how desperately we need Him.
Jesus never sees us broken beyond repair. The One who made us can restore and reshape us.
Our brokenness can bring us strength we didn't know we were capable of and help us be an inspiration to others.
How does God use our brokenness? He can use it as a testament to our faith and trust in His power and love. Our restored life gives others hope and comfort as they go through their time of brokenness.
He wants to restore and bless broken people and then use us to show Him to our broken world.
Related Post∼ Every Scar Tells a Story
Beauty in Brokenness
We don't always understand our brokenness. We don't want to or can't see "beauty" in it. But if we relinquish our hurts and brokenness to Him, we will experience the beauty.
Finding beauty in brokenness comes from a complete trust in who God is and how He works in our lives.
It is trusting in Him to repair and restore us.
We find beauty in brokenness when we choose to sit with Him and pour out all our pain and struggles, knowing He is listening to each word.
We can feel His peace when we stand on His promises.
My Body, Broken for You
We would never choose brokenness, but Jesus did. He chose brokenness to redeem you and me. His words at the Last Supper explain it this way: "This is my body, broken for you."
And because of Jesus, we can leave it to Him to restore us to wholeness. It might not be a sudden transformation. Healing may come day by day.
And as Oswald Chambers wisely stated:
"Leave the broken, irreversible past in God's hands, and step out into the invincible future with Him."
We need to take that step in faith and trust in Him.
There can always be beauty in brokenness if we turn it over to Jesus the victorious one!
Blessings,
AnnMarie
Need more encouragement? Grab a free printable of Bible Verses for the Brokenhearted by clicking on the image: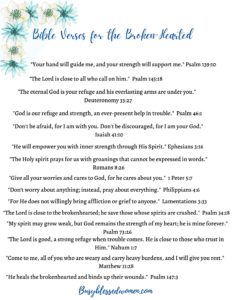 All Scripture is taken from the NIV unless specified otherwise.
Photo Credit: Pixabay