Welcome to Busy Blessed Women!
Free Printable Monthly Bible Reading Plans
12-Month Bible Reading Plan
I love this verse about God's Word:
"So is my word that goes out from my mouth, It will not return to me empty, but will accomplish what I desire and achieve the purpose for which I sent it." Isaiah 55:11.
Isn't that amazing? His Words are never empty of purpose. When they go out and you receive them, He plans to bless you and bring fruit into your life. Not one word is wasted or powerless! What a powerful truth to claim as you begin reading His Word.
2023 Bible Reading Plan- "Seeing Jesus"
How incredible is it that we are given an insider's look at the very life and thoughts of Jesus through His Word?
He humbled Himself and left the glory of heaven to live as fully human among us. He showed us His character traits in His actions, words, and teachings. Everything He did was motivated by a love we cannot fathom.
We will spend this year learning from Him, understanding Him better, and seek to live and love as He did. When we apply His characteristics to our lives and those around us, we can be a blessing and an ambassador for Him.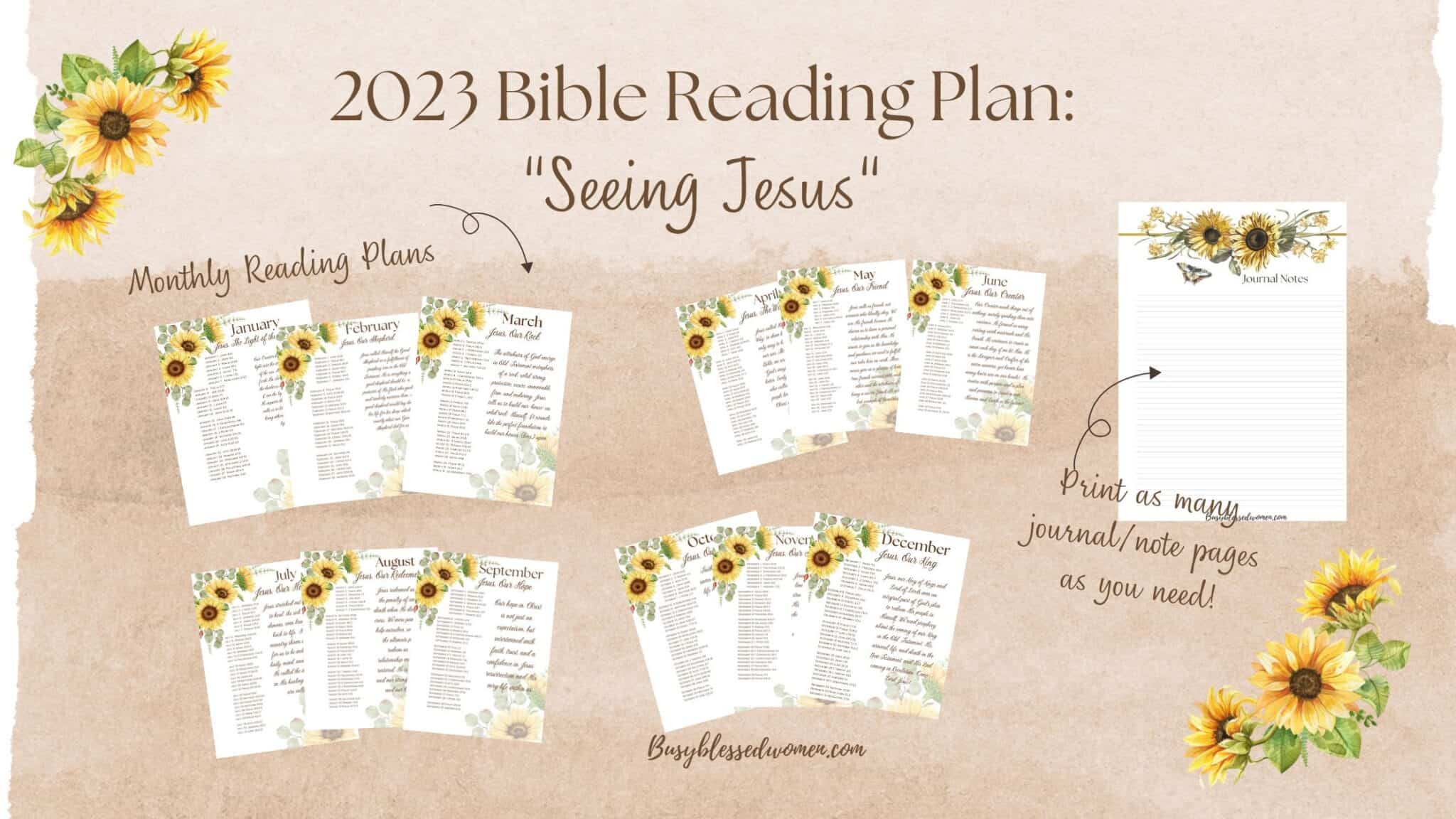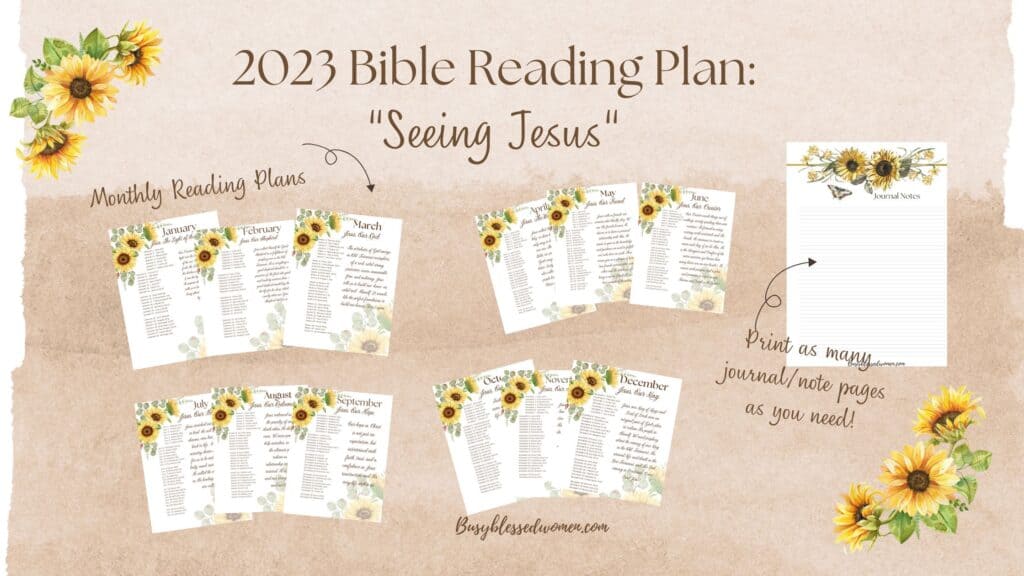 "Building Our Faith" Bible Reading Plan
Did you know that the word "faith" is only found two times in the Old Testament (KJV)? Compare that with the over 500 usages in the New Testament! While the Old Testament gives many examples of faithful people, the New Testament makes the claim that the long-awaited Messiah had come, and this left many confused and unsure of this claim. It required a real act of faith to believe Jesus was the Messiah.
Faith is trust in the person of Jesus, the truths of His teachings, and His redeeming sacrifice on the cross. It is not an intellectual exercise, but an individual choice to believe that Jesus died for our sin. Accepting His gift of redemption changes our daily lives; we become totally committed to Him.
But doubt can sneak into our lives from other voices- the enemy, our feelings, and circumstances. Building up our faith is an important weapon in this fight. This Bible Reading Plan dives into different aspects of our faith that need shoring up with Scripture and comes with companion journaling pages to write out your thoughts, things to remember, prayers, etc.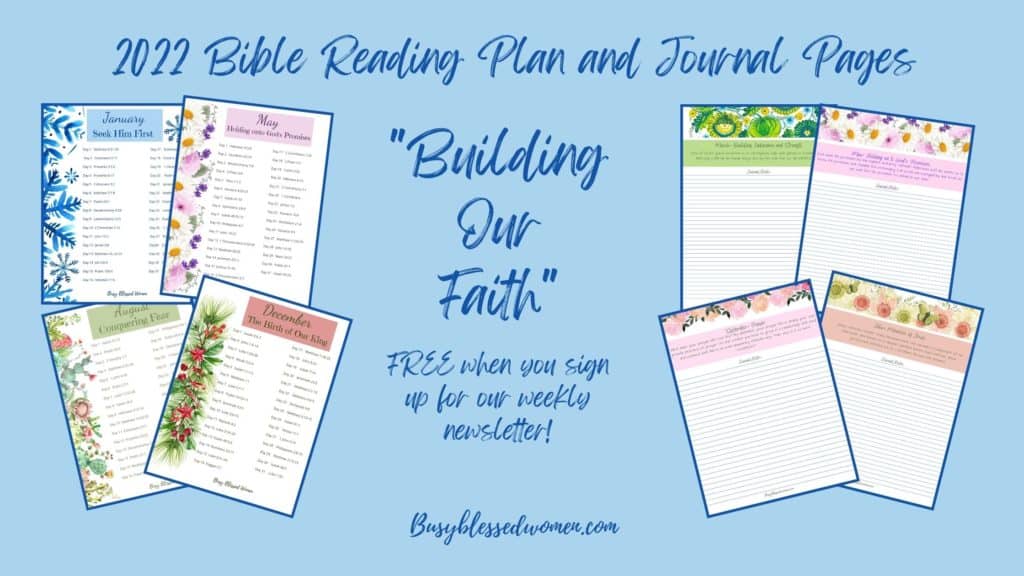 "Gifts from God" Bible Reading Plan
This plan focuses on a specific gift from God each month with a verse for each day. Let the Holy Spirit guide you as you meditate, reflect, and pray over each verse. There is a companion Journal/Notes page to correspond to each month of Bible verses. I encourage you to write out how the verse inspired or encouraged you, what you learned, how you want to implement it into your life, etc. Each month also has a Coloring Page with the verse for the month.
Be sure to also check out these additional Bible Study Resources:
Related Blog Post: Resources for Studying the Bible
I hope you will join our community and sign up!
Before you go, be sure to check out my free Resource Page with a prayer calendar, printable worksheets, graphics, cell phone wallpaper, Bible Study, and more!
Blessings,
AnnMarie