We believe God is sovereign, knows everything about us and has a wonderful plan for our lives. But sometimes trusting in Him is easier said than done. We may struggle to trust God even though we know His plans are always good. How can we harness the power of trusting God when life's circumstances don't make sense?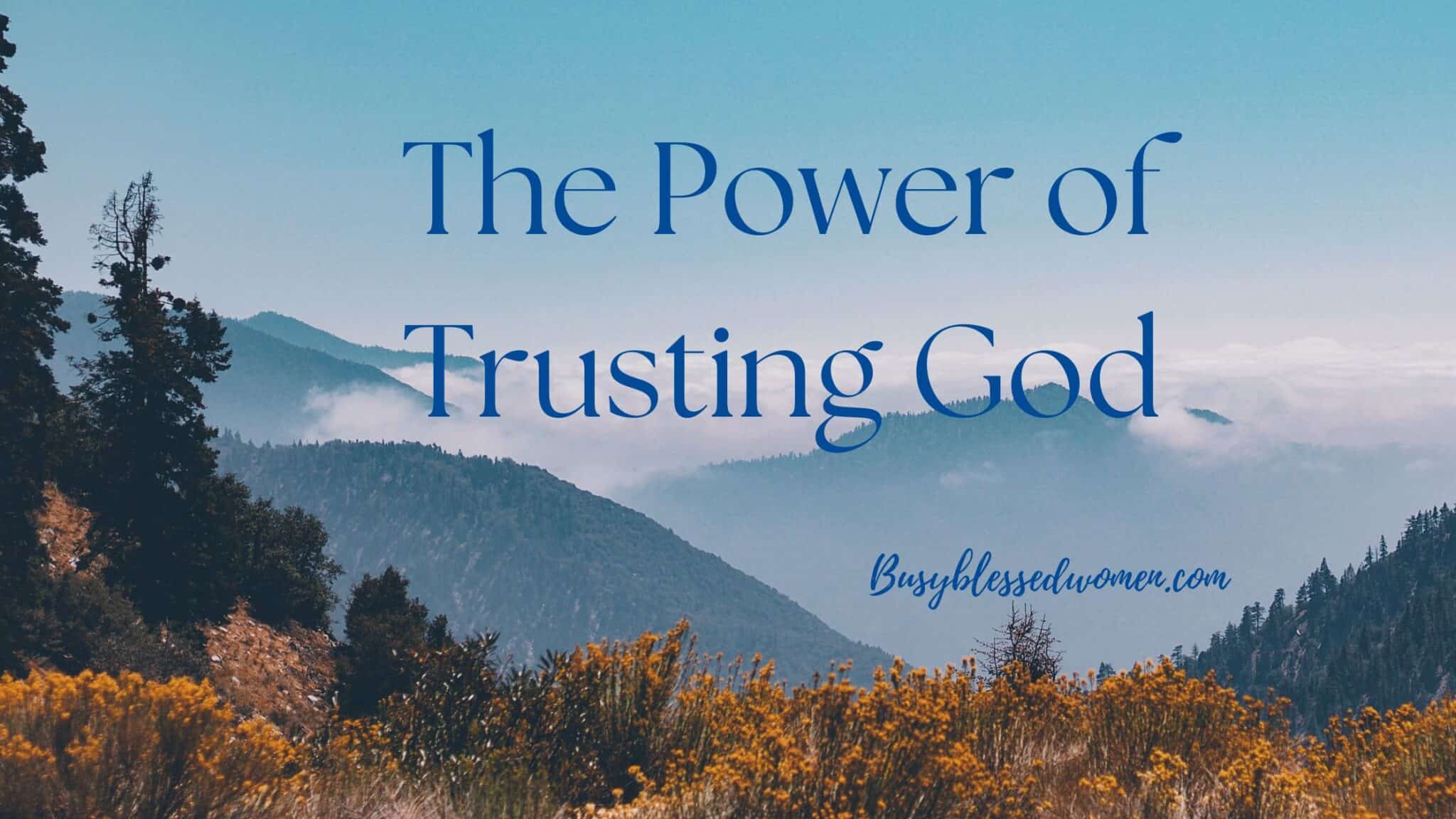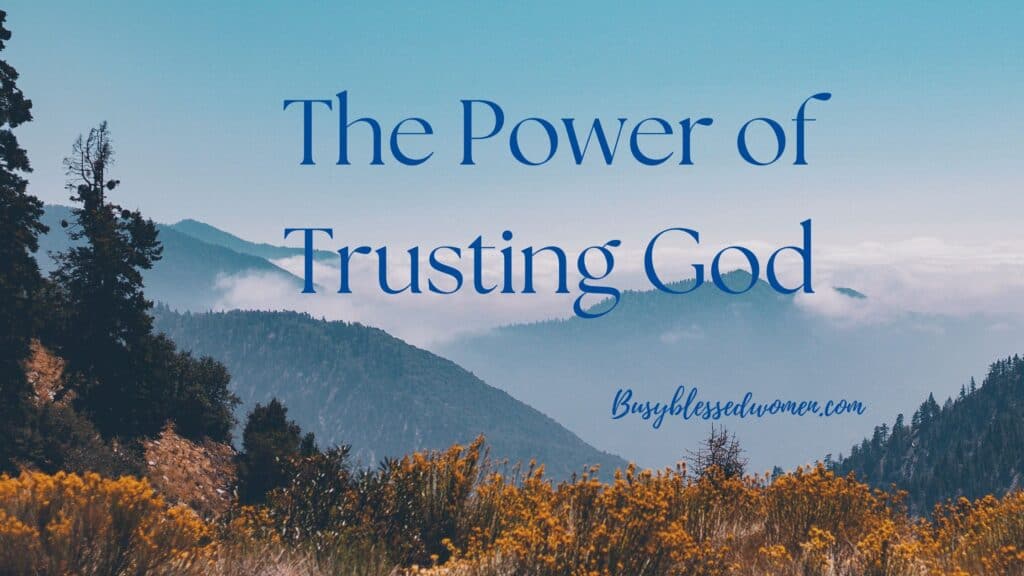 Maybe we should begin with the basics.
What Does it Mean to Trust in God?
To trust someone, we must believe they are trustworthy. We all trust in something or someone, (even if it's just ourselves.)
According to the Oxford dictionary we trust someone when we believe they are honest, truthful, dependable, reliable, honorable, incorruptible, steadfast, unfailing, or faithful.
Do those describe God and His nature? Absolutely.
The Biblical definition of trust based on the Hebrew word "batah" means to have confidence; be secure in.
When we trust in God we believe and have confidence in His truths and abilities. We believe what His Word says about Him is true and unchangeable.
Trust and Faith in God
Are faith and trust the same thing? No.
Our faith is a gift from God. Ephesians 2:8 reminds us "It is by grace you are saved, through faith- and this not from yourselves, it is the gift of God."
Trust is a choice we make after we come to a saving faith in Jesus. Trust makes the choice to believe God will fulfill every promise He has made to us and every word He says is true.
Putting our faith in action by trusting in His power and attributes can sometimes be a challenge. Trying circumstances can leave us questioning God's plan.
My parents dubbed one of my siblings "the yeah, but…" kid. No matter how carefully they reasoned, they always received this response.
Don't we all do this sometimes?
"Yeah, but God, what about ____? My heart's desire is for ___! etc…, etc…
We know His truths and attributes, but allow fear, worry, denial, or the inability to let go of control get in the way of trusting Him fully.
We need to be "all-in" and unwavering with our trust in God.
Learning to Trust in God
I love this quote by C. S. Lewis because it perfectly describes the push and pull of trusting God-
None of us want to go through hard times. Unfortunately, "in this world you will have trouble." John 16:33.
Jesus wants us to claim His peace in our struggles; knowing He will always walk with us.
Learning how to develop trust in God can be difficult sometimes, but it is not an impossible task.
There's great power in trusting Him. For it clears the way for our security to be based solely on Him, not on our circumstances, or other people, not on ourselves, or our own ways of thinking.
The power of trusting God brings joy, protection, peace, comfort, and confidence. When we put our lives completely in His hands, we discard our tendency to trust in ourselves, others, or our circumstances.
The alternative to trusting God is a life filled with anxiety, anger, doubts, and resentments.
We must make a conscious effort to work on this process of trust. It will take effort and time, but brings a much better quality of life, which is what Jesus desires for us.♥
Think for a moment about what you know about God to be true regarding His character. (Really- name 3…)
Did you include: compassionate (Psalm 103:45), loving (John 3:16), speaks only truth (Numbers 23:19), caring (Matthew 6:26), understanding (Psalm 139:1-2), holy, (1 Samuel 2:2), or all powerful? (Matthew 19:26.)
This is just the short list!
Knowing His character and attributes helps us build trust and let Him comfort and guide us. Here are a few illustrations:
Trusting God in Difficult Times
Me: Dear God, I'm feeling overwhelmed. So many things are pressing down on me right now….
Compassionate One: Rest in me for a bit, my beloved. For "I am the Lord your God who takes hold of your right hand and says to you, 'Do not fear, I will help you.'" Isaiah 41:13.
Trusting God to Provide Strength
Me: God, I am not strong enough to deal with this situation! It's too much for me to handle and I'm too weak!
Strong Tower: I am strong, lean on me. "I am your God. I will strengthen you and help you." Isaiah 41:10.
Me: How much longer will this go on??!
The Rock: You can trust me completely! My timing is always perfect. Listen to Moses describe me: "He is the Rock, his works are perfect, and all his ways are just. A faithful God who does no wrong, he is righteous and true." Deuteronomy 32:4.
Trust in God's Plan
Me: Why are you testing me like this?!
Sovereign Lord: I fed the Israelites manna in the desert "to humble them and test them for their own good." I want you to always remember that it's me who orchestrates your life "so that you would never say to yourself, 'I have achieved the wealth with my own strength and energy.'" Deuteronomy 8:16-17. Do you trust me with your life? Remember, I only have "plans to prosper you and not to harm you, plans to give you hope and a future." Jeremiah 29:11.
Trusting God When You Don't Understand
Me: Dear God, I miss my loved one so much! Why so soon? I needed more time…
Creator God: "For everything there is a season, and a time for every matter under heaven; a time to be born, and a time to die." Ecclesiastes 3:1-2. I know what's it like to lose a son. Your loved one is safe with me and enjoying their beautiful new home. There are no tears, sickness, or sadness here, only joy. You mourn much because you loved much. Keep your loved one's memories close to your heart until that glorious day when you are reunited. I've prepared a room for you, too!
When we know who God is, we learn to trust in Him completely.
We learn who God is by digging into Scripture on a regular basis. We discover how He handles all this world's difficulties, our sinful human nature, the wonder of His mercy and grace, His provision, and promises.
He has given us everything we need to know and trust in Him!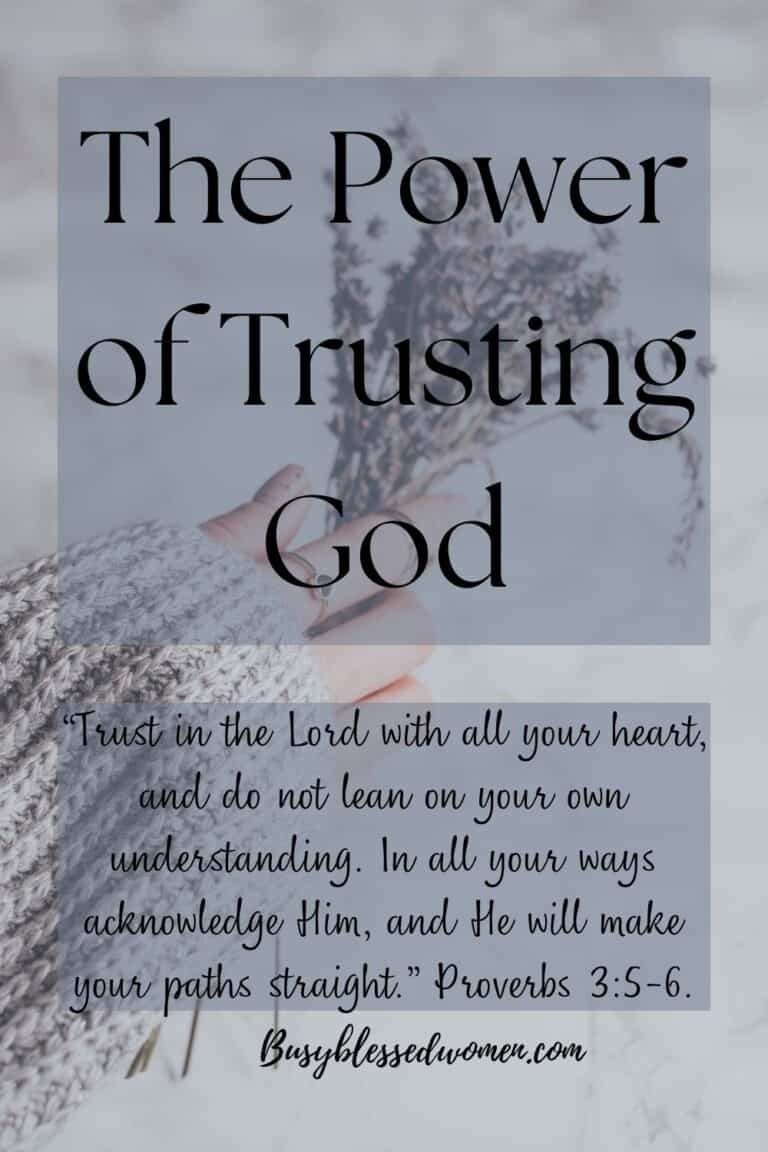 Pin me for later!
Bible Stories about Trusting God
There are so many Bible stories of people who trusted God. I believe they were given to us to be an inspiration and encouragement during our trials! They show us that God has been trustworthy and faithful in the past, and He is the same today and in all our tomorrows. I've picked a few to highlight here.
Abraham Trusted God
The story of Abraham and Isaac stands out to me as the pinnacle of trust. God had promised Abraham a son, and at the age of 100, the promise was realized. Sarah gave birth to Isaac. "Some time later" (Genesis 22:1) God asked Abraham to take Isaac and sacrifice him as a burnt offering.
Abraham followed all God's directions, but just as he was about to slay his son, God intervened and saved Isaac. Abraham trusted God deeply to provide for him. He trusted him to bring Isaac back to life if need be. He said, "God Himself will provide the lamb." Genesis 22:8
We can trust in God to provide.
A Mother's Trust
Jochebed, the mother of Moses, trusted God to protect the life of her son. They were living in Egypt as slaves, and Pharaoh, afraid of the prolific birth rate of the Hebrews, ordered all baby boys born to be thrown into the river at birth.
Jochebed hid him for three months, then laying him in a waterproof basket, she placed Moses in the river, with his sister watching from a distance.
Pharaoh's daughter found Moses, and Moses' sister swooped in to offer to find a woman to nurse him. Pharaoh's daughter agreed, and not only was Jochebed reunited with her son, but was able to nurse him and be paid for it!
Jochebed trusted God to use her efforts to save her baby boy who would go on to lead the Israelites out of captivity.
We can trust God to show us a way out of our troubles.
Complete Trust in God
Three Hebrew men, Shadrach, Meshach, and Abednego defied the orders of King Nebuchadnezzar to bow down and worship his golden statue. They trusted in God to save them, and if not, were willing to give up their lives rather than worship any other god except their own.
Bound and placed in a fiery furnace, they not only lived, but emerged completely unharmed.
Trust God in every situation; our destiny is sure.
Trusting God in Prayer
We don't fully trust people we don't know or have never spoken to. We need to get to know them first.
Prayer is the best way to connect with God and draw closer to Him. We speak to Him in prayer, and He answers back through His Spirit, a Scripture, the wonders of nature, our friends, Christian music, even strangers.
A wonderful way to learn to trust God is to keep a prayer journal. When we look back on our requests and answers, it reminds us how He has worked in our lives.
Trusting God when He says No
If God says "No" to our request, He is sometimes protecting us or giving us something better in return. Saying "No" can be part of His eternal plan.
Do we always understand? No. It can be the most significant test of our faith.
Jesus asked God to take His cup of suffering away, which would have negated God's tremendous plan. But Jesus added one thing to His prayer that we too, need to remember:
"Yet not as I will, but as you will." Matthew 26:39.
We need to trust when we don't understand. Trust that He is always good, even when He says no.
Scriptures on Trusting God
•Proverbs 3:5-6
"Trust in the Lord with all your heart, and do not lean on your own understanding. In all your ways acknowledge Him, and He will make your paths straight."
Choose to be confident and secure in the person of God with all that is within you. Bring your concerns and decisions to Him in prayer, use His Word as your guide, and then follow the path He leads.
•John 14:1
"Do not let your hearts be troubled. Trust in God; trust in me also."
These are some of the last comforting words given to the disciples by Jesus at the Last Supper. He had already warned them that they would have trouble, but by trusting in Him, they can experience an untroubled heart.
Trusting in the Lord rids our hearts of "restlessness, fear, anxiety, and inward commotion" – the Greek description of "trouble."
•Psalm 28:7
"The Lord is my strength and my shield; in him my heart trusts."
His strength allows us to endure and go through anything life throws at us! We will find help when our hearts trust in Him.
•Blessed is the Man who Trusts in the Lord
"But blessed is the man who trusts in the Lord, whose confidence is in Him. He will be like a tree planted by the water, that sends out its roots by the stream. It does not fear when heat comes, its leaves are always green. It has no worries in a year of drought and never fails to bear fruit." Jeremiah 17:7-8.
The gardener in me loves this word picture of how we are blessed when we trust. Trusting in the Lord helps us flourish!
If you want to go deeper, or have extra time this week, do a word search on Bible verses about trusting God. There are over 150! These just happened to speak to me, but you may find some that touch your heart with the encouragement to trust God with your entire being!
Blessings!
AnnMarie
All Scripture is from the NIV unless specified otherwise.
Photo Credit: Canva