The 23rd Psalm may well be the most well known and loved set of verses in the Bible. It's poetic language fills us with love for our Savior, the peace and contentment He brings, and thankfulness for all the blessings He showers down on us. Come, explore this Psalm 23 devotional with me.
Who Wrote the 23rd Psalm?
King David wrote this Psalm (as well as many others). He had started out as a shepherd while still a boy. It makes sense then, as he contemplated His God, that his relationship with Him was similar to the relationship of a shepherd to his sheep.
What Does the 23rd Psalm Mean?
God was David's shepherd; caring for Him as any Good Shepherd would. He had given David wisdom and strength, and showed kindness and mercy when needed. God had directed his life and brought peace and comfort to him.
A deep and abiding joy comes from knowing God has promised us His goodness and mercy, and our eternity is secure with Him.
Psalm 23 Explained Line by Line
I'd like to share something I think will be helpful in discovering the character of God through this Psalm. It has an attribute of God written next to each statement.
I cannot remember where I copied it from.  I searched the internet and couldn't find a replica. 
It was written out by hand, so it's not a handout from someone. It's a mystery.
I took this main theme and embellished it a bit. This Psalm may only have 6 verses, but it gives us a lot to meditate on! It also gives us great practice for finding God's attributes in all scriptures.
Psalm 23- A Psalm of David
1 The Lord is my shepherd –
Jesus wants to have a personal relationship with us.- He is MY shepherd, He is YOUR Shepherd. He is the God of nations, but also individuals. He wants us in his flock!
I shall not want–
He is a great provider and protector. He supplies us with all we need.
2 He makes me lie down in green pastures–
Jesus gives us rest and all we need. He personally looks after each of us with great care.
He leads me beside still waters–
Jesus takes us by the hand and leads us to a place of refreshment. Notice that it says "still waters." He knows that sometimes we need to get away from the raging streams of life and rest near his calm and peaceful waters.
3 He restores my soul–
He is the great healer. Deep in our soul, where no medicine can penetrate, He is the cure.
He leads me in right paths–
Jesus is our guide- he directs us to a path of integrity, of right living.
For his name's sake–
He has a purpose for us. We are to reflect his glory.
4 Even though I walk through the darkest valley–
By His sacrifice, Jesus has victory over death. It has no power over us when we put our faith in Him.
I will fear no evil–
He is our protector and safety net. We are safe; Satan cannot snatch us out of His hands.
For you are with me–
He is faithfully ever-present in every aspect of our lives.
Your rod and Your staff- they comfort me–
He corrects us as needed, just as any good Father does. He wants to show us the right path for our own good and protection.
5 You prepare a table before me in the presence of my enemies–
He gives hope! The presence of enemies does not stop God from preparing a banquet for us. We can sit and feast on his goodness and grace no matter what is going on around us.
You anoint my head with oil–
He prepares us for service. He dedicates us with honor.
My cup overflows abundantly–
He gives and gives and gives to us- more than we can ever use. (That's when we take the overflow and give to others….)
6 Surely goodness and mercy shall follow me all the days of my life–
He blesses us with love, kindness, protection, and forgiveness that never ends.
And I will dwell in the house of the Lord–
He gives us the security and assurance of a life spent in heaven with him.
Forever– His promise is for eternity.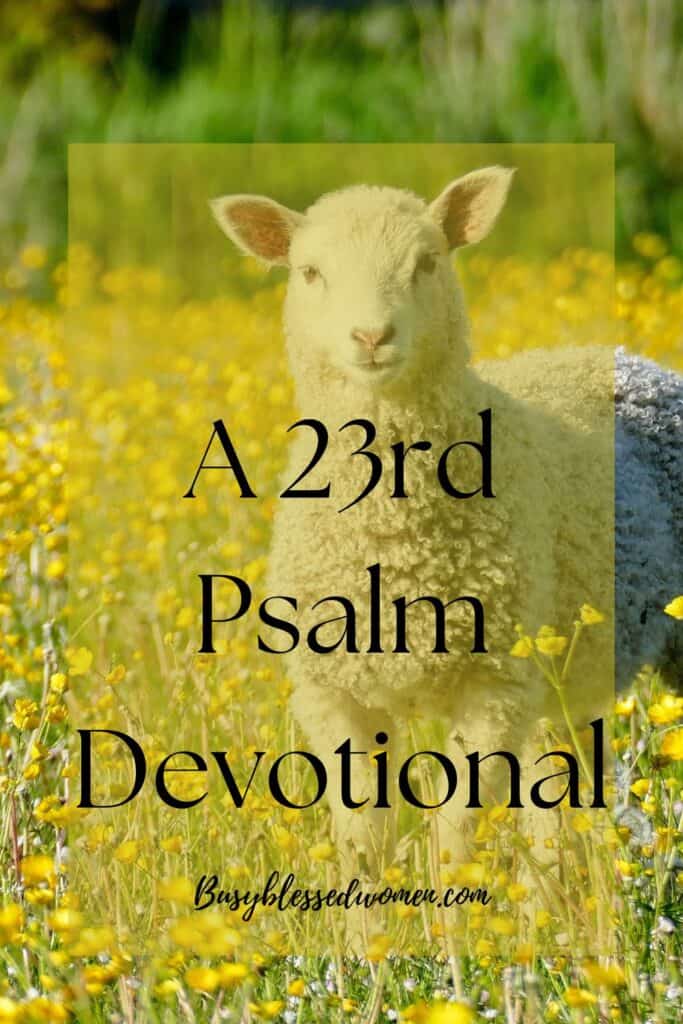 Pin me for later
Psalm 23 Verses
These verses may be comforting and full of hope, but they also help us discover the character of God.
These 6 verses are full of descriptions of the attributes of God. Isn't it amazing that we can find almost 20 attributes in this one Psalm?
Re-read Psalm 23 slowly, pausing at each attribute and think of times where God has shown himself to you in these ways.
Try it with other scriptures. Read one line or small passage at a time and see if an attribute of God is revealed to you.
Psalm 23 Prayer
You can also use these verses as a prayer. Psalm 23 is sometimes called the Shepherds Prayer.
Speak to God about each of his attributes as you go from line to line. Thank Him for all He provides, receive His strength as you read through these truths. It can lead to great praise time and/or reflection.
Knowing God's character can also help us have clarity on what we should be praying for. Do you need guidance, wisdom, and rest as David did?
Do you need refreshment? Or maybe you are just hanging on and in desperate need of hope. He wants you to experience all these things. Jesus wants us to live an abundant life!
He has revealed himself to us to give us the courage, strength, and knowledge to live each day as his treasured child.
Blessings!
AnnMarie
"For everything that was written in the past was written to teach us, so that through the endurance taught in the Scriptures and the encouragement they provide we might have hope." Romans 15:4
Photo Credit: Canva
All Scripture is taken from the NIV unless specified otherwise.