I cannot tell a lie; I'm a "summer girl" through and through. This time with the most daylight and the lush landscape makes me happy. I live in the Northern hemisphere, so the cold barrenness of winter is long, harsh, and the complete opposite of what I love (meteorologically). Our summer season is the warmest season of the year, but lasts just three short months- from Memorial Day to Labor Day. We fill the season with the fun of summer vacations and summer holidays. But it also is the perfect time to explore the meaning of the spiritual summer season in our walk with Christ.
The Changing Seasons
"As long as the earth endures, seedtime and harvest, cold and heat, summer and winter, day and night will never cease." Genesis 8:22.
God spoke of the continuation of the 4 seasons in the Bible when He made this promise after the flood. Every time the seasons change, it reminds us of His promise to never again destroy the earth until judgement day.
He knew what He was doing when He created the different seasons. They affect weather, growth, mood, and physical comfort. Seasonal changes affect every part of the planet; some more than others.
What Does Summer Symbolize?
The season of summer is the warmest time of the year. It is one of growth and production in the plant life cycle. Flowers and fruits bring fragrance, beauty, and delicious sweetness (oh, those summer melons and tomatoes!)
The long days of summer bring the most sunlight and is the perfect time of year for slowing down and taking a break from our usual schedules.
The heat and warm weather symbolize joy and refreshment (ice cream, anyone?) in our everyday lives. We dig out those shorts and swimsuits to enjoy the hot summer days.
Biblical Meaning of Summer Season
We can experience Spiritual seasons in our lives similar to earthly seasons. What does summer bring spiritually? All the things that summer symbolizes- rest, joy, refreshment, fruitfulness and more.
The Bible frequently describes summer as a season of growth. Summer in the Bible is a season of blessings, fruitful harvests, and God's abundance.
Spiritual summer describes a period of time for our own spiritual growth and the production of spiritual fruit. It's the time of year to build up your spiritual life/foundation and deepening your relationship with Jesus.
The extra leisure time that summer brings means more time for Bible study, devotions, reflection, and quiet time. Being out in nature is the perfect steppingstone to spontaneous praise, gratitude, and worship.
It can also be a time of intense heat waves and storms that come to us as challenges and difficulties. God can use these hot and sultry "dog days of summer" to strengthen us and build up our trust in Him. (More on this later…)
Summer Symbolism
Gardening is part of what makes the coming of summer so special to me. I find an abundance of symbolic meaning in God's wisdom and direction in my summer garden chores.
"I am the vine; you are the branches. If you remain in me and I in you, you will bear much fruit; apart from me, you can do nothing." John 15:5.
We need to stay close to Him in all seasons of life. In our spiritual summer, He offers the nourishment to help make us fruitful, promote the greatest growth, and strengthen us to be the most productive for Him.
We need our own personal "Master Gardener" in our Spiritual Summer!
Jesus as the Vine
We plant in the spring to bring forth flowers, fruits, and vegetables that ripen in the summer months. In order to have a "bumper" crop, we need to care for our plants. They need adequate sun, water, and fertilizer.
Likewise, if we are to produce a "bumper crop" of fruit for Christ, we need to be a branch firmly connected to the Vine.
Our spiritual summer season means connecting and listening to Him through prayer and study of His Word. It is a time of following through and living out His directions for our own personal lives.
It's the perfect time to strengthen your branch! Here's how-
Jesus, Our Living Water
Our summer garden needs to be deeply watered. The heat, sun and humidity can dry out our gardens quickly. Water is life for our garden!
Our spiritual summer season also needs daily visits to the well of living water. Jesus knows the thirst in your soul and wants us to accept this gift He gives with gladness. Only He can completely satisfy our thirsts.
How will you drink from Him this summer?
Long, refreshing drinks of his never-ending, replenishing living water satisfy and give us life!
Spiritual Meaning of Weeds
Summer brings the inevitable weeds to our gardens. All soil has weeds; we can't get away from them. We can't ignore them either, or they take over.
These invasive beasts are in direct competition for food, sun, and space in our gardens. They also bring pests and diseases that can destroy the good stuff we're trying to grow!
None of us are immune from "spiritual weeds" either. Spiritual summer is a time for us to uproot the weeds in our lives that act the same as our garden weeds.
It reminds me of the Parable of the Sower and the seed that fell among thorns. The thorns grew up and choked out the good plants, affecting its yield in the field.
What weeds and thorns do you need to uproot? They crowd Jesus out of your life, stealing His space in your heart and mind, and bring pests and diseases like worry, anger, impatience, etc.
Spiritual summer is a great time to take a spiritual inventory of what we grow that does not produce spiritual fruit and yank them out. Left to grow, weed roots grow deep. Their thistles get larger and more painful to get a grasp on.
Here's a good verse to help us recognize the good plants from the weeds/thorns:
"But the fruit of the Spirit is love, joy, peace, patience, kindness, goodness, faithfulness, gentleness and self-control." Galatians 5:22-23a. When we aren't producing this kind of fruit, check for weeds and thorns.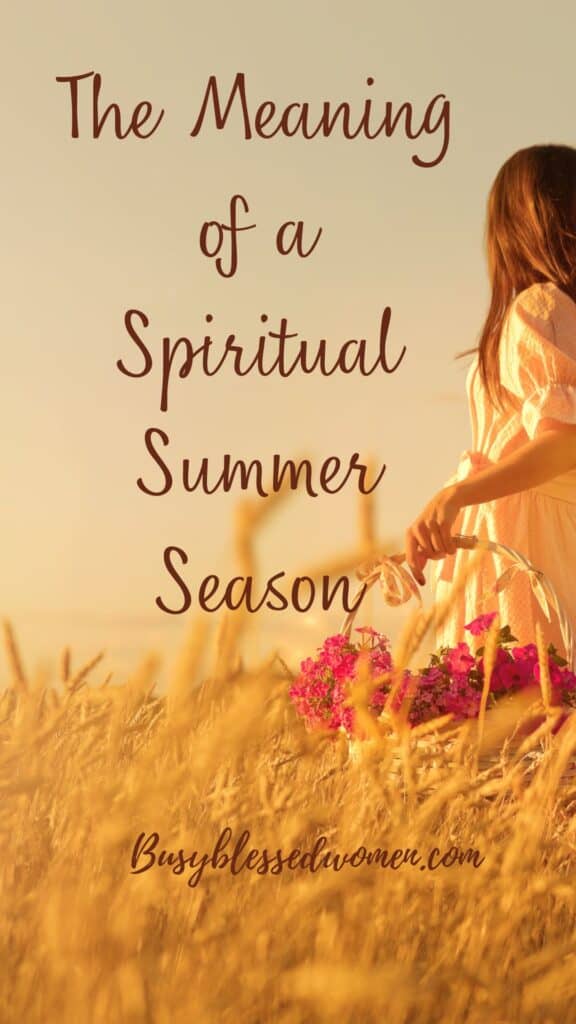 Pin Me for Later!
Summer Storms
No matter where you live, summer storms are inevitable and sometimes unpredictable. Hurricanes, tornados, floods, hailstorms, dust storms, thunderstorms- they can be scary and destructive.
The Storms of Life
Likewise, the storms of life can put a damper on our warm, relaxed season of spiritual summer.
One minute we are enjoying the warmth, the light of the sun's rays and WHAM; the storms hit. Some are minor interruptions; some bring destruction and heartache.
None of them comes as punishment from God, but He allows them into our lives. Why?
Because we live in an imperfect and polluted world; far from what God had planned. Sin brought a curse on the earth, bringing storms, thorns, pain, and suffering.
Storms can also come from our own doing. We bring storms through poor decisions/choices and lifestyles that don't honor Him.
We plant seeds we shouldn't and leave weeds and thorns to choke out the good.
Others who are close to us can also bring their storms into our lives. We hurt because they hurt.
There is one constant through any storm we face, however, and that is God's great love for us. God sees us in our hurt and hears our anguished prayers. He promises to always ride out the storm with us.
He will give us His strength, wisdom, and comfort to help us find peace in the storm we are facing.
Importance of the Summer Season
Summer usually brings a change in routine, one of slowing down. Our family purposely never planned a ton of organized activities in the summer because the rest of the year was so busy with other obligations.
Sometimes our slower/different summer schedules leak into our spiritual life. My sister, a teacher, used to talk about the "summer slide" for her students.
Unfortunately, this can happen to our spiritual discipline. But there are ways to combat this issue by using new and creative ways to stay vitally connected to Jesus and make this a season of growth.
Commit to connecting with Jesus each day. Maybe instead of reading the Word, we can listen to it. We could grab a few friends and do short Bible studies together over coffee. Have Christian music playing in your home and car. Read books that fill and soothe your soul.
We can also find new ways to serve (VBS anyone?) Find a church to attend when you're out of town. Be creative and intentional about making Him a priority this summer!
Spiritual Summer
Spiritual summer should be a time to find space to rest and to find refreshment. It's a time to store up warmth and joy to look back on during the cold and darker seasons.
I keep a "garden journal" to remind me of what and when I planted, what worked, what didn't, and to make future summer season plans.
Perhaps this is the summer you would like to keep a journal of the lessons your summer season is teaching you. It's also a wonderful time to reflect with gratitude on the gifts God brings to your summer days. Think about the challenges you are facing and how you see God working, what brings you peace or joy, the significance of a daily Scripture, or just the beauty of the day.
Here is a page to get you started! Find it in my free Resource Library under "Journal Pages."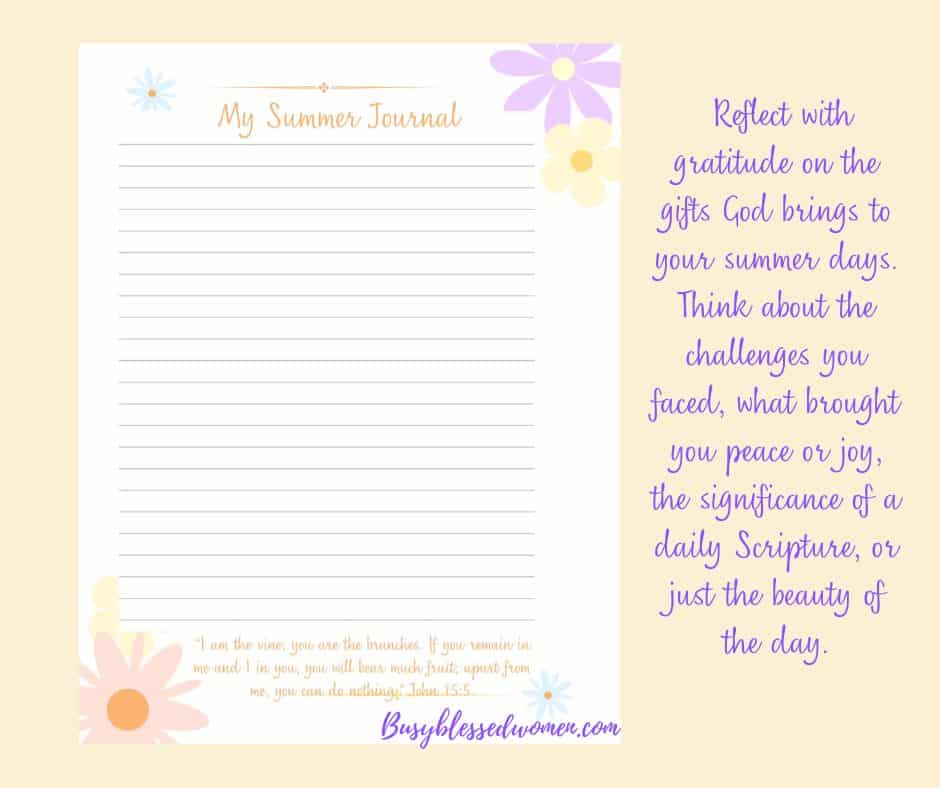 To Everything There is a Season
"There is a time for everything, and a season for every activity under the heavens." Ecclesiastes 3:1.
Solomon's famous observation about the changing seasons reminds us that God's plan is in order. He has made the seasons of life for a reason; each has its own special work and rewards.
No matter what obstacles get in our way, we should continue to seek Him out in each season for the peace in His perfect timing.
Each spiritual season shapes us, teaches us lessons, and shows us who He is. We do, however, have to put in the work to see and appreciate how He is perfecting us. He wants us to always be renewing our minds and trusting Him.
What blessings are you thankful for in this summer season?
What is God leading you to plant? To weed out?
How are you resting and renewing yourself in this summer season?
What activities are keeping you in God's fragrant presence?
Are you prepared for summer storms?
Spiritual Seasons
Spiritual seasons build our faith and bring us closer to Him in different ways. No matter what season of life we are experiencing, He wants us to take His hand and walk side by side with Him.
Spiritual summer brings opportunities for fruitfulness and spiritual foundation building like no other. Enjoy a walk through spiritual summer with Jesus each day!
Blessings!
AnnMarie
All Scripture is taken from the NIV unless specified otherwise.
Photo Credit: Canva