While I was reading through the Parable of the Sower last week, I noticed another chapter title that caught my eye: Jesus Calms the Storm.  Oh yes, I thought, I need to read that!  Doesn't it feel as if we are in a storm right now?  We had no inkling this storm would be so furious, come out of the blue, and be so long-lasting.  So yes, I want peace in the storm we are facing.  I remembered snippets of Bible verses about "perfect peace" and the "peace that passes all understanding." I'm feeling we could all use a little (or a lot) more peace in our lives.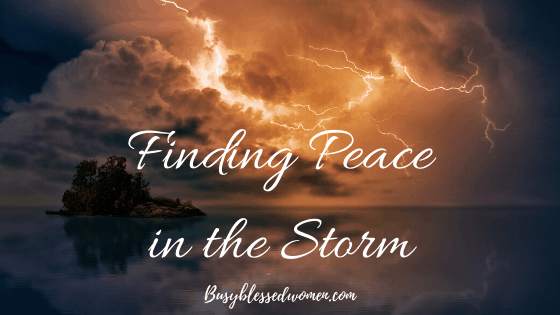 Jesus Calms the Storm
This story is told in Mark 4:35-41, Matthew 8:23-27, and Luke 8: 22-25.
An exhausted Jesus is sleeping in a fishing boat crossing the Sea of Galilee at night. A furious storm comes up and nearly swamps the boat. 
The disciples awaken Jesus by saying, "Lord save us! We are perishing!"  His reply was to get up, "rebuke" the wind and waves with the command "Peace! Be still!"- and it was so.
Peace. Be Still.
Complete calm descended on the lake. He then turns to the disciples and "rebukes" them as well; "Why are you so afraid? Do you still have no faith?" (They had seen numerous miracles of healing sicknesses, demon possessions, and diseases by now.)
Jesus expected them to have more faith by this time in his ministry. But they didn't yet appreciate who he really was. Even though they called out to him as "Lord", they doubted.
(I can think of times in my life when I've acted like the disciples…. How about you?)
The calming of the storm terrified and amazed them. They whispered to each other, "Who is this? Even the wind and the waves obey him!"
Jesus provided the miracle of granting peace in the storm to show the disciples the power he possessed as the Son of God. He was Lord over all that He had created. The disciples would need this lesson of Jesus' strength and power as they move towards the storms that lay ahead of them…
Where am I putting my faith- in the storms that would batter and bruise me or in Jesus who is Lord over all creation?
What lesson is Jesus trying to teach me in my present storm?
Peace as a Fruit of the Spirit
The Bible gives us another aspect of peace- as a fruit of the Holy Spirit.
"But the fruit of the Spirit is love, joy, peace…" Galatians 5:22a (NIV)
The Spirit within us produces these virtues in our lives. They differ from the gifts of the Holy Spirit; those are specific to each of us. God gives all of us the fruits of the Spirit; we all have the gift of God's peace.
This gift is a multi-faceted, supernatural peace. We have peace with God through Jesus' sacrifice. God gives us peace of mind when we commit our cares to Him (the peace that surpasses all understanding -Philippians 4:7)
It's a peace that the world can never give us, and the circumstances of the world can never take it away from us either! His peace is present in the trials and storms of our lives.
We have to choose faith over our fear, stand on the promises of God, and remember who He is.♥
Perfect Peace
He also gives us an amazing promise of perfect peace that we can experience daily.
Isaiah 26:3
"You will keep him in perfect peace, whose mind is stayed on You because he trusts in You." Isaiah 26:3 NKJV
Well, OK, then. I definitely need some sharper focus. This promise of being kept in perfect peace comes when our minds are "stayed on" Jesus, our Prince of Peace. Some versions use "steadfast" which means being committed, devoted, and dedicated to something. Yes, it will take some work. But what a blessing we receive when we do!
Fixing our eyes on Jesus and grounding ourselves in him will bring a constant and certain peace in our lives.
Can you picture your life where no chaos or uncertainty will move you away from his peace?
How amazing would it be if I could experience perfect peace within any storm?
Pin me for later!
Bible Verses about Peace and Comfort
"And the peace of God, which surpasses all understanding, will guard your hearts and your minds in Christ Jesus." Philippians 4:7 ESV
Like a soldier standing guard at his post, God's peace protects His children. He gifts us with a gift of inner peace- the exact opposite of anxiety– when we give our cares to Him. It is a peace beyond our human comprehension but felt in a real, tangible way when we believe.
"Peace I leave with you; my peace I give to you. Not as the world gives, do I give to you. Let not your hearts be troubled, neither let them be afraid." John 14:27 ESV.
Jesus' peace is a gift ("I give to you") of total well-being and inner rest of spirit. It is a calmness and confidence in who he is.
"May the God of hope fill you with all joy and peace as you trust in him, so that you may overflow with hope by the power of the Holy Spirit." Romans 15:13 (NIV)
He is not promising to get rid of our problems. But when we take our eyes off the storm and look to Him, He will give us His perspective of joy and peace. The bonus is that we then "overflow" with an indestructible hope in every situation.
"I have told you these things, so that in me you may have peace. In this world, you will have trouble. But take heart! I have overcome the world." John 16:33 NIV.
Notice the contrasts? It reminds me of the saying "Know Jesus- know peace. No Jesus- no peace."
Peace in the Midst of the Storm
No matter what kind of storm we face, we can have peace in our hearts.
The storms in our lives don't take the Great I AM by surprise. He is with us in every storm (even the ones of our own doing!) "I will never fail you. I will never abandon you." Hebrews 13:5 (NLT)
Search him out when you are afraid. Call out his name, ask for his strength.
We can be secure and calm amid the storms when we focus on all the promises of Jesus. Pick out one verse about peace that has spoken to you- write it out, keep it handy.
Do you have a favorite hymn or worship song that covers you with His peace? Music can be a calming and meditative practice to feel his peace.
Peace! Be Still!
When Jesus spoke these words to the violent winds and rain, I think He meant them for us and our storms too. He can choose to calm our storm or calm us and stay close to our side throughout it. In each scenario, we can experience His peace.
Just as Jesus was with his disciples in the storm, he is always with us. Remind yourself of his words to accept his peace and to be still.
Can you see Jesus in the storm you are experiencing now? Or do you just see the storm?
"Let the peace of Christ rule in your hearts." Colossians 3:15.
Blessings of peace,
AnnMarie
Related Post∼ Why Do We Worry?
Photo Credit: Canva