This is my forsythia bush. I've never grown one before and as I looked at it this week, I saw what a tangled mess it's spreading branches had become. Some pruning was definitely in order. It is a great metaphor to answer the question, what is pruning in the Bible?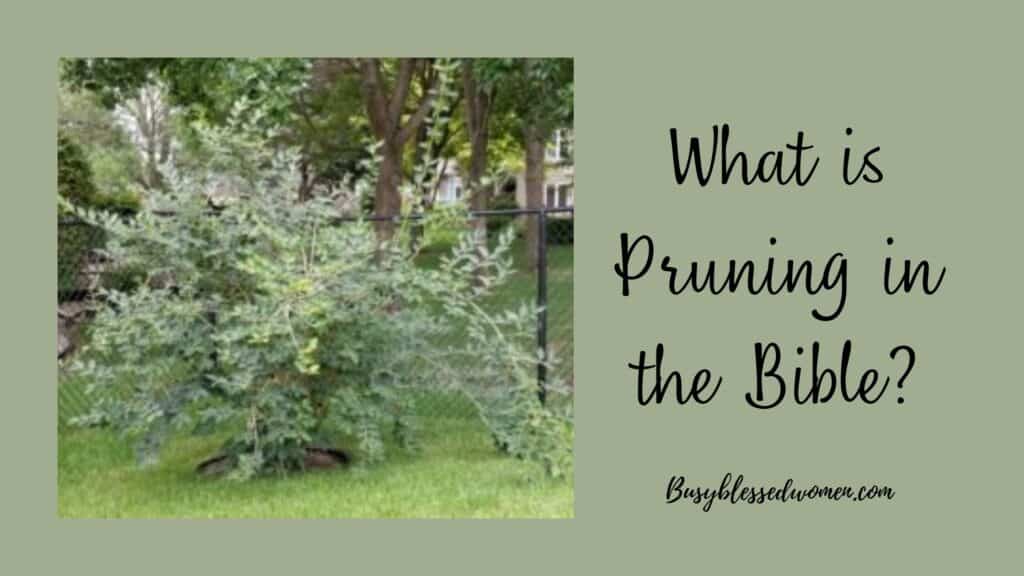 I actually love pruning my plants, trees, and bushes. I know that it's a necessity to keep them healthy, under control, and to improve the quality and quantity of flowers and fruit.
We also find pruning discussed in the Bible. For some reason, that doesn't sound so nice to me.
Bible Verse about Pruning
Possibly the most common verse associated with pruning in the Bible is in John 15: 1-4. Jesus is speaking with his disciples in the Upper Room right before his death:
" I am the true vine, and my Father is the gardener. He cuts off every branch of mine that doesn't produce fruit, and he prunes the branches that do bear fruit so they will produce even more. You have already been pruned and purified by the message I have given you. Remain in me, and I will remain in you. For a branch cannot produce fruit if it is severed from the vine, and you cannot be fruitful unless you remain in me."
The gardener in me loves the analogy of Jesus as the root and stems of a vine. We are the branches that grow from his firm base. He gives us the nutrients we need to live, branch out, and produce good fruit.
The Purpose of Pruning
Pruning in the Bible shows us how God the Father is our master gardener. He waters, protects, and cares for the vine.
As all good gardeners do, he carefully tends to his vine to make sure it stays healthy and is bearing much fruit. To accomplish this goal, God "cuts off every branch that doesn't produce fruit."
Removing dead wood is essential for a healthy plant. If left on the plant, they decay and can harbor diseases that can infect and kill the plant.
If a branch is "really united to Christ by faith, they would bear fruit."- Matthew Henry. These unfruitful branches have only a professing faith, nothing more.
God prunes the healthy branches that do bear fruit so they will produce even more.
So what does this pruning consist of, and what should our attitude be towards it?
What part of my life is God going to take out with his sharp nippers? Will it hurt? Let's apply some Biblical truth to keep it all in perspective.
God Prunes Us
God acts out of love for us. His acts of spiritual pruning are done with love, to help us grow into someone who reflects his character. It is a necessary part of the Christian life.
"The Lord corrects those he loves, just as a father corrects a child in whom he delights." Proverbs 3:12.
God prunes us to produce spiritual growth that strengthens our character (to be more like Him) and our faith.
"We can rejoice too, when we run into problems and trials, for we know that they help us develop endurance. And endurance develops strength of character, and character strengthens our confident hope. Knowing that suffering produces endurance, and endurance produces character, and character produces hope." Romans 5:3-4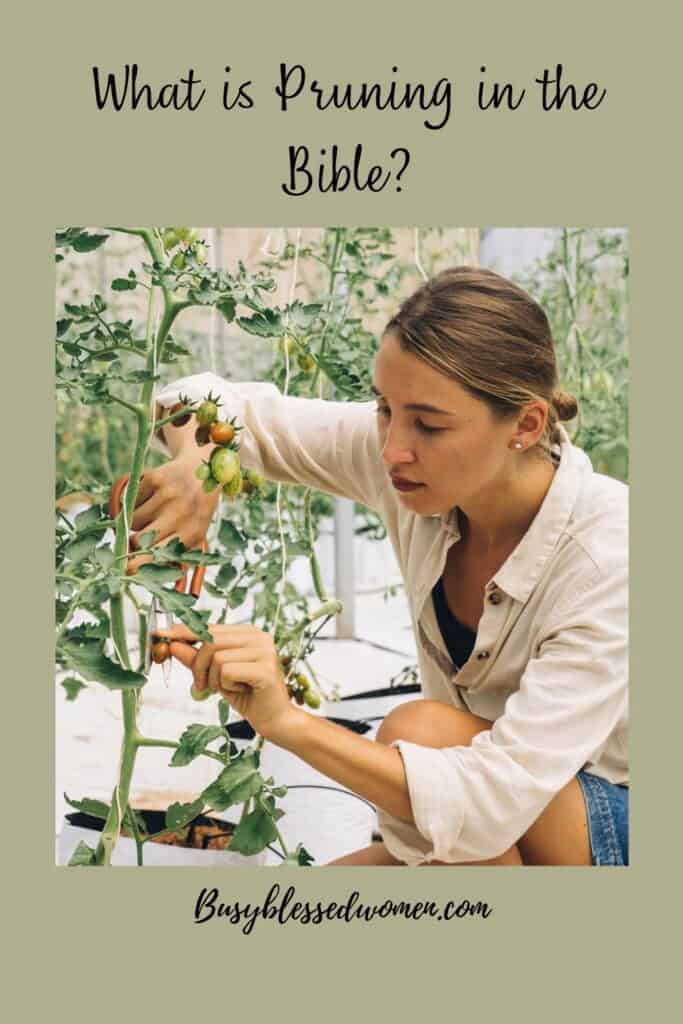 Pruning Hurts
We should think of God's pruning as a positive, even if there is some pain involved. Pruning hurts!
But take heart, if you are in the midst of a pruning season, it means you are firmly affixed to the True Vine, and you are producing fruit! God's hand is on your life, producing new growth for His greater purpose.
Pruning sharpens our focus on how God wants our lives to look. Our time and energy are spent producing the fruit God desires.  
Would you rather he neglect you? Of course not! Look at his pruning as a blessing in your life. "Blessed is the one you discipline, Lord, the one you teach from your law." Psalm 94:12.
God is sovereign. He knows exactly what situations to place us in to lead us to produce fruit.
His Holy Spirit directs us to abandon the emotions, thoughts, words, and actions that stand in the way of fruitful living. We need to be in tune and listen to him.
"In their hearts, humans plan their course, but the Lord establishes their steps." Proverbs 16:9
God's timing in his pruning is always perfect. My poor forsythia will remain gangly and wild until next spring. That is the time its pruning is supposed to be done.
I discovered if I do it now, it could harm the bush and cut away the beautiful flowers that are already set for next spring's bloom. God doesn't have this problem. He knows "there is a time for everything" Ecclesiastes 3:1a.
Jesus tells us to "Remain in me, and I will remain in you." That is the only way to produce fruit for him. When we know his Word and live totally dependent on him, we can prune ourselves.
Signs that God is Pruning You
When we understand the purpose behind His pruning, it helps us to stop fighting against Him and to work with Him instead.
The apostle Paul tells us to "continue to work out your salvation." Philippians 2:12.
That means we work to rid our lives of our old ways that go against God's nature. When we need a little help in that area, that's when God steps in.
He may remove people, possessions, opportunities, finances, etc. from our lives that do not positively influence us. We may experience trials of various kinds and times of difficulty.
Don't get discouraged (these times come to all), but turn them into times of learning what God has planned for you.
"Consider it pure joy, my brothers and sisters, whenever you face trials of many kinds, because you know that the testing of your faith produces perseverance. Let perseverance finish its work so that you may be mature and complete, not lacking anything." James 1:2-4
God's purposes are always good. He knows exactly what we need and prunes away the old habits that distract and draw us away from Him.
Prayers may be answered with a "not yet." Learning to wait on His timing may be a skill we need to learn.
You may hear the nudging of the Holy Spirit correcting your ways of thinking and speaking.
Pruning Process
If you look carefully at my forsythia, you will see extremely long droopy branches that almost touch the ground. If these are not trimmed back, they grow back into the ground and can turn my nice shrub into an (even more) unsightly, untamed, wild-looking bush.
I equate these branches with some long-term bad habits, which if left unchecked and unpruned, drag us down as well. Aren't we to be seeking to "put on a new nature"? (Colossians 3:9-10)
The bad habits and distractions need to be addressed and pruned out of our lives.
Can you see where some of the branches are crossed? They rub against each other, weakening both branches. The two branches are competing for space. One of them must go.
Is there any place in your life that competes against God?
Remember Joshua's words to the Israelites as he pleaded with them to have only one God in their lives- "Choose for yourselves this day whom you will serve." Joshua 24:15
Spiritual Pruning
Prune away anything that competes with God in your life.
We will be battling our sinful nature our whole lives.  Don't let fear or weakness stop you from doing the necessary spiritual pruning you need.  God is with us daily -encouraging us, loving us, and shaping us.  Isn't that what pruning is all about?
Loving Father,
All praise and honor belong to You. You are God and we are not. Thank you for relentlessly pursuing us day after day, helping us realize our full potential and becoming more like you. Forgive us for the times we push back, turn away, take the wide road, and silence the voice of the Holy Spirit to go our own way. You knew us before we were conceived and you know the plans you have made for our lives. Thank you for the pruning work you do in the branches of our lives that bring spiritual vitality and produce the lasting fruit that brings you the glory.
Amen
Blessings!
AnnMarie
All Scripture is taken from the NIV unless specified otherwise.
Photo Credit: AnnMarie Anderson, Canva