When the resourceful servants in the Parable of the Talents serve their master well, he replies, "Well done, good and faithful servant." Who wouldn't want to hear this greeting when we meet our Master face-to-face? But having a servant heart doesn't just happen. How do you get a servant's heart?
What Does it Mean to Have a Servant Heart?
The Greek word for servant is diakonos, and where the word "deacon" comes from. It means a person who cares for the needs of others. Jesus was an excellent example–
"The Son of Man did not come to be served, but to serve, and to give His life as a ransom for many." Matthew 20:28.
"Our Lord Jesus, existing in the form of God, "emptied himself, by taking the form of a servant, being born in the likeness of men." Philippians 2:7 ESV.
Jesus taught the disciples that the greatest person in God's kingdom had to be the servant of all. His own mission was to serve others, to the point of giving up His own life.
He is our greatest example of having a servant heart and showed us many ways to put it into practice.
Examples of Faithful Servants in the Bible
We also have been given many examples of true servants in the Bible who show us the way-
God worked through Samuel in many roles (judge, priest, prophet) because Samuel's overarching tendency was to say "Yes" to God.
Even when Samuel was a child, his response to God was "Speak Lord, for your servant is listening." (1 Samuel 3:10 ) He learned early in his life to listen for God's directions and then move forward in service.
How quick are we to listen to the voice of God, and answer His call?
Mary's life was completely upended when she became pregnant as an unmarried teenager. She chose to believe and trust in the explanation the angel gave her.
She replied, "Behold, I am the servant of the Lord; May everything you have said about me come true." Luke 1:38 ESV.
She had the heart of a servant even though she had no idea what would come next, or how her life would work out. She only knew that God was asking her to serve, and she put her trust in Him.
We don't need to have all the answers before answering God's call to serve.
The angel that proclaimed John's birth to his father, Zechariah, made it known that John would be set apart as a servant of God. John was obedient and faithful to his calling throughout his life.
Jesus said John was the greatest of all prophets, yet John proclaimed he was not even worthy to untie Jesus' sandals.
John put all his energy into serving God and carrying out the message of the coming Messiah.
We all aren't called to be full-time missionaries, but how much energy do you put into your acts of service?
Examples of Jesus Being a Servant Leader
Here are just a few of the many ways Jesus modeled a servant heart, showing God's love:
•"I have come down from heaven not to do my will but to do the will of him who sent me." John 6:38.
Jesus' purpose was to do the will of His Father, not to follow His human desires. A servant's heart is obedient to the will of God.
•"Having loved His own who were in the world, He loved them to the end." John 13:1b NKJV.
Jesus' motivation in serving was His great love for us. Some translations say, "He loved them to the uttermost." Our service should be motivated by, and clearly show His love.
•"Now that I, your Lord and Teacher, have washed your feet, you also should wash one another's feet." John 13:14.
Jesus washed the feet of His disciples to model how to serve others. He put His own interests aside and humbled Himself to do the work of the lowliest slave. If God Himself serves in this way, surely we can follow His example.
•"Many followed Him, and he healed all their sick, warning them not to tell who he was." Matthew 12:15.
A servant's heart is not self-promoting but filled with humility.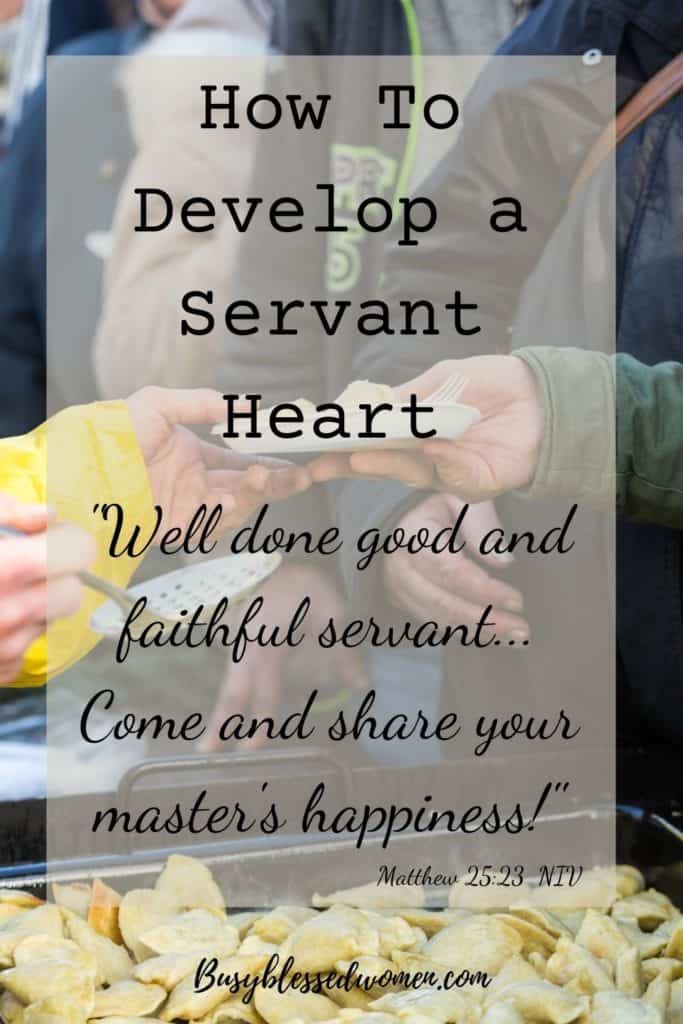 Pin me for later!
Servant's Heart Scripture
To be effective in serving others, we need to know the meaning and attributes of servanthood. There are many Bible verses about serving others that can inspire and encourage our servant heart.
Serve One Another in Love
"Serve one another in love. The entire law is summed up in a single command: Love your neighbor as yourself." Galatians 5:13b-14.
Our loving service to others is a great barometer of our faith. How do you share/show His love?
No Greater Love
"Love each other in the same way I have loved you. There is no greater love than to lay down one's life for one's friends." John 15: 12-13.
We don't have to die for someone, but our love can be sacrificial. Does your service cost you something?
Servant of All
"If anyone wants to be first, he must be the very last, and the servant of all." Mark 9:35.
The world embraces praise and recognition. Jesus flips that around and says greatness comes through humble service. Our greatest ambition should be to do things for others.
Let Us Not Love in Word
"Dear children, let us not love with words or tongue but with actions and in truth." 1 John 3:18.
We can't just talk about loving and serving others, we need to meet their needs with our actions. How are you loving others with your time, money, and possessions?
1 Peter 4:10
"Each one should use whatever gift he has received to serve others… If anyone serves, he should do it with the strength God provides, so that in all things God may be praised through Jesus Christ." 1 Peter 4:10a, 11b NIV.
God has given everyone gifts and talents; the Parable of the Talents showed us how to use them. That doesn't mean it will always be easy.
We can get overwhelmed and weary in service. Rely on the strength He promises to give you through the Holy Spirit! Pray for it, receive it, and use it for His glory.
Practice Hospitality
"Share with God's people who are in need. Practice hospitality." Romans 12:13.
Christian hospitality is not the same as entertaining socially. It is seeing a need and easing it by sharing what you have. It may be something tangible (like food, clothing, etc), or it may be as simple as a listening ear or a friendly conversation.
How to Develop a Servant Heart
We can learn about having a servant's heart, but until our hearts align with Jesus's, we can fail as His servant. It's the love we have for Jesus that motivates us to serve.
Someone once asked me why Jesus didn't do something about all the suffering in the world.
But He has- He made us to follow in His footsteps. Our good works show the love of God to help heal the hurting in this world.
It's difficult though, because we fall daily into sin.
Our motivation might be rooted in selfish ways.
Satan keeps us busy with all kinds of things that pull us away from serving.
Developing a Servant's Heart
Serving doesn't always come easy and it's not always exciting. Our service can even be met with ingratitude. So what can we do?
1. First, pray.
Pray that God would give you a servant heart. Ask Him to give you His eyes to see what He sees, compassion for His children, to look past outer appearances, and see Him in others.
Pray for an empathetic spirit- one who is sensitive to the feelings of others, to sense their need, and respond.
Pray "Lord, lead me. I'll do what you want me to do."
2. Ask yourself if you will give up your own ambitions, comforts, money, and time to serve others. Having a servant's heart involves a choice to be obedient.
Jesus obeyed His Father and took on a servant's nature.
What will we choose? Even Jesus prayed, "Yet not as I will, but as you will." Matthew 26:39b.
3. Developing a servant's heart comes in steps. We are a work in progress throughout our lives. When we focus on others instead of ourselves, we can see opportunities in our every day.
Look for them! Whether at the store, waiting in line, out for a walk, or wherever you see a need, respond at the moment.
4. I have a distinct memory of a paralyzing fear getting in the way of responding to a need. We can't let fear stop us from serving in the moment.
A quick prayer for courage, taking the time to listen, and simple responses (Are you OK? How can I help?) take no special skills.
Even small things can make a difference for the one craving a smile, someone to sit with them, or a kind word/conversation.
My Purpose in Life is to Serve Others
5. Find your God-given purpose and put it to use. It might be following your interests and known talents. But it also may be letting Him lead you into His plan of humble service.
There is also nothing wrong with trying something completely new!
I once signed up for a weekend conference fulling expecting to be on a team that cooked or prayed (my favorites!) Instead, I was called to speak to the group.
No, no, no God! I'm the worker bee- you know me! I'm a behind the scenes gal! That was seriously terrifying, but He led me the whole way. It also taught me to trust Him in ways I never would have before.
It's where I learned the meaning of the saying He doesn't always call the qualified, but He does qualify the called.
Well Done Good and Faithful Servant
We long to hear these words- but we shouldn't desire them in a self-centered way. Our service should come as an expression of honor and worship to our King.
We've been taught and equipped by the greatest servant of all time- Jesus Christ.
To serve others well, we need to be in close relationship with Jesus. Walk with Him daily, listen for His voice, and let Him guide you. It is in striving to be like Him that we serve best.
Be aware of the danger that lurks around those who serve. The enemy would like nothing more than to have you second guess your service, make you feel inferior, and use temptations to thwart your service. (That's why I love the verse above about using the strength God provides! We need it!)
Have you felt the pull of God's invitation to serve in His name? It's what He made you for! In whatever way you serve, do it for the glory of God. And may you hear "Well done, good and faithful servant!… Enter into the joy of your master." Matthew 25:23 ESV.
Amen and Amen!
Blessings!
AnnMarie
All Scripture is taken from the NIV unless specified otherwise.
Photo Credit: Canva