We celebrated Mother's Day yesterday- a day to honor our mothers, grandmothers, (maybe even great grandmother's?) and women who play mothering roles in other's lives. Many roles of a mother go unnoticed and are under appreciated. So today I want to encourage and acknowledge you with Mother's Day verses in the Bible.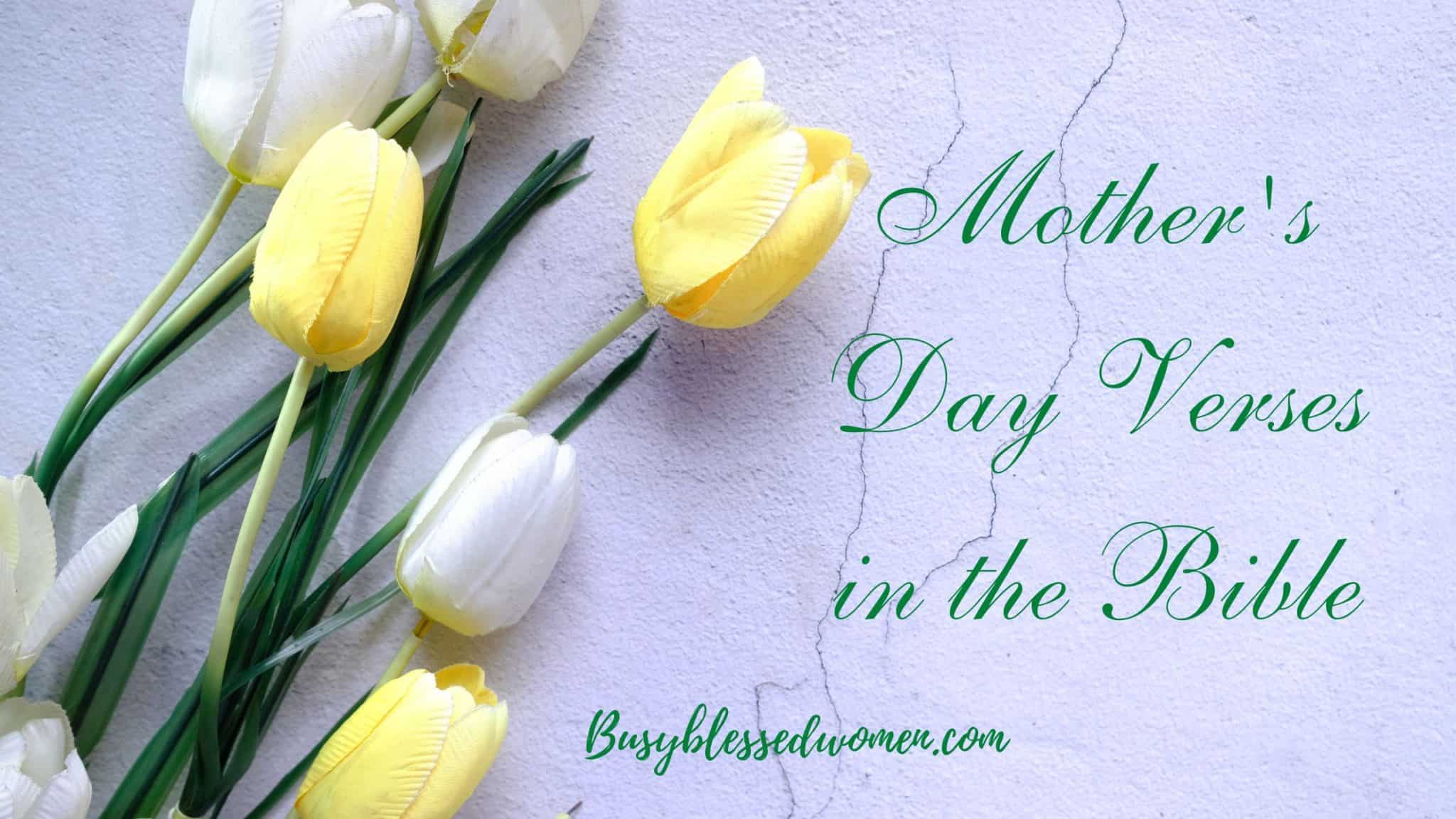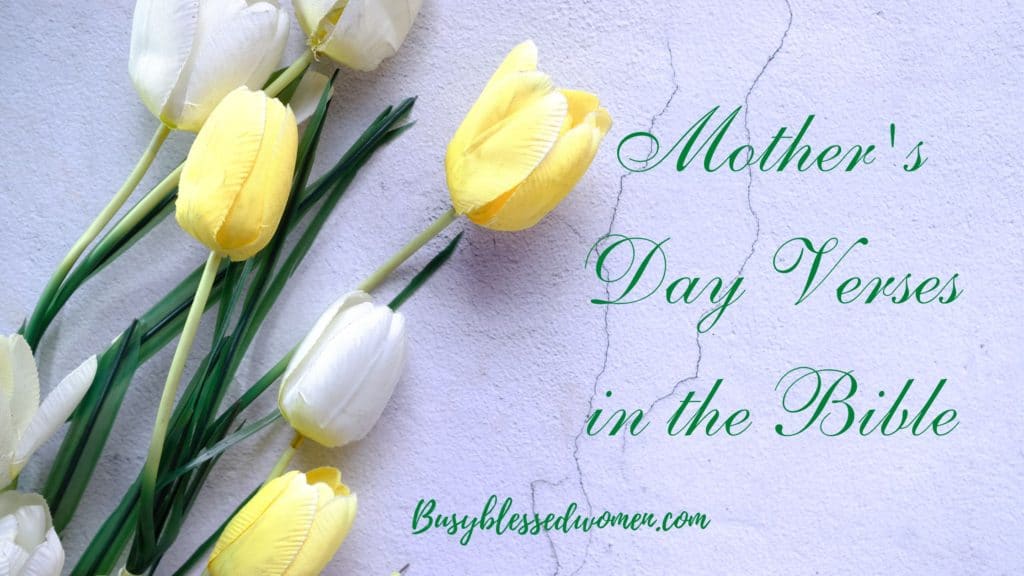 What Does the Bible Say about Mothers?
•The book of Proverbs gives us a word picture of a wife and mother with a strong character, great wisdom, bountiful skills, and loving compassion.
"She is clothed with strength and dignity; she can laugh at the days to come. She speaks with wisdom, and faithful instruction is on her tongue. She watches over the affairs of her household and does not eat the bread of idleness. Her children arise and call her blessed; her husband also, and he praises her." Proverbs 31:25-28.
•The 5th Commandment spoken by God says we must "Honor your father and mother"- Exodus 20:12. God sees the mother's place in the home and knows what is essential for healthy families and relationships!
•If you study the biology of conception, it's a wonder that it even happens at all! What a marvelous and creative God we serve. He chose and honored women to be the vessel of bringing children into His world. "You knit me together in my mother's womb." Psalm 139:13.
•Motherhood is a blessing: "Children are a heritage from the LORD; offspring a reward from him." Psalm 127:3.
Faithful Mothers in the Bible
These faithful mothers show us how our trust in God, unending prayer, and obedience to His calling strengthens our families. A mother's faith leaves a Godly inheritance for her family that lasts for generations.
She and her husband faithfully and fearlessly trusted God to care for their son and protect him from the death decree of Pharaoh. Jochebed devised a courageous plan to save Moses's life and allowed God to bring forth the miracle of his placement in the house of Pharaoh. "By faith Moses' parents hid him for three months after he was born, because they saw he was no ordinary child, and they were not afraid of the king's edict." Hebrews 11:23.
She faithfully prayed to God to bless her with a child. Years went by, and even though she grieved over her inability to have children, she never stopped pouring her soul out before the Lord. "So, in the course of time, Hannah conceived and gave birth to a son. She named him Samuel, saying, 'Because I asked the Lord for him.'" 1 Samuel 1:20.
Mary was a young peasant girl whose faith and obedience to God's will in her life was so strong that when the angel came to tell her of her role as the mother of the Messiah, she responds with the words God loves to hear- "May it be to me as you have said." Luke 1:38.
•Lois and Eunice
(Grandmother and Mother of Timothy) Timothy was the son of a Jewish mother and Greek father. Paul attributes Timothy's strong faith as a result of being taught by his mother and grandmother (who were early Christian converts). "I have been reminded of your sincere faith, which first lived in your grandmother Lois and in your mother Eunice and… now lives in you also." 2 Timothy 1:5.
Unknown Mothers in the Bible
Some Mothers in the Bible remain nameless but are still beautiful examples to us.
•The Canaanite Woman
Matthew identifies this mother as a Canaanite, a descendant of a wicked and idolatrous enemy of Israel. She seeks Jesus, crying out to Him to have mercy on her and her daughter, who was suffering horribly from demon possession.
When Jesus didn't answer her, His disciples urged Him to send her away. Instead, Jesus responds to the woman, reminding her He came first for the Jews, not the Gentiles.
This does not dissuade her. She falls to His feet, pleading, "Lord, help me!" His answer, while reflecting the Jews' degrading attitude towards Gentiles, meant to encourage her forward into a living faith.
She does not argue, but again asks for His healing. This persevering and undiscouraged mother keeps pressing Jesus to heal her daughter. Jesus recognizes her faith; "And her daughter was healed from that very hour." Matthew 15:28.
•Wife of Manoah
Mother of Samson- As the Israelites were floundering in unrepentant sin (again), God uses an unnamed and barren woman to give birth to the baby boy who would deliver the Israelites from their enemies, the Philistines. She faithfully obeyed all the instructions given to her by the Angel of the Lord. "The woman gave birth to a boy and named him Samson. He grew, and the Lord blessed him." Judges 13:24.
Pin me for later!
Stories of Mothers in the Bible
God uses mothers throughout Scripture to show us their part in His plan, to record the first statement of faith (from Eve: "With the help of the Lord I have brought forth a man." Genesis 4:1), pass on their wisdom, announce the coming of the Messiah, and their deep love and bravery in standing at the foot of the cross (plus so much more!)
Solomon and the Two Mothers
God gave Solomon the wisest and most discerning heart, and he put it to good use when he settled a dispute between two mothers. These two women had both given birth at the same time. One baby boy died, and one lived. Both claimed the living son as their own.
They argued vehemently before Solomon, who finally asked for a sword. He ordered the child cut in half so that each mother would have a part of this boy. The true mother immediately jumped to the defense of her son, begged to save his life, and said the other woman could have him. Solomon realized this was the boy's true mother- her love for him was so great, she would rather give him up than lose his life.
She put her child first, above her own desires. A mother's love "bears all things, believes all things, hopes all things, endures all things." 1 Corinthians 13:7 ESV.
Sarah's Egyptian servant Hagar became a substitute child bearer for Abraham at Sarah's request. (A custom of the day- not within God's plan.) Hagar conceived a son, Ishmael. Each woman despised the other, and when Sarah finally gave birth to Isaac, Sarah ordered Abraham to get rid of Hagar.
Abraham sent them off into the desert with minimal provisions. When their water was gone, Hagar put her crying son under the shade of a shrub, and moved out of sight, unable to watch him die. God heard her son crying and came to Hagar, reminding her not to be afraid. He promises to make Ishmael into a great nation and leads her to a well.
God sees and hears the cries of our children and their mothers. We are never alone in our parenting; for God always sees us and provides.
God as a Mother in the Bible
Don't let that title confuse you- God is masculine, our Father in heaven.
There are, however, masculine and feminine metaphors about God in the Bible, which makes sense since Genesis 1:27 tells us "So God created humankind in his image, in the image of God he created them; male and female he created them." NRSV. God created men and women and gave us the ability to reflect His glory by reflecting all His attributes- love, patience, kindness, etc.
Here are just two examples where Scripture shows us how He acts and speaks in the same way loving mothers do-
"As a mother comforts her child, so will I comfort you." Isaiah 66:13. What a tender and loving statement! God is using the love of mothers to show us how He loves and comforts us.
Jesus uses a metaphor of a mother hen when He grieves over Jerusalem. "How often I have longed to gather your children together, as a hen gathers her chicks under her wings." Matthew 23:37. He expresses the same longings of mothers to shelter and protect their children.
Isn't it comforting to know that God's love for us is like that of a mother and a father? God promises His all-encompassing love for us is perfect and never ending. While no mother is perfect, and not all mother's care and love their children well, we know God loves us at our worst and best, as a loving parent does.
Sacrifices of a Mother
Mothers commonly sacrifice for their children; foregoing their own wants and needs. They nurture day and night, sacrificing their own need to rest. Day after day, year after year, they feed and care for their children; serving everyone else first. They rarely take sick days, even when they don't feel the best.
Mothers do all this and more, and are (mostly) OK with all of it. Their sacrifices come from the love for their children. Mothers have the perfect example to follow in Jesus, who shows us what true sacrificial loves looks like.
Prayer for Mothers Everywhere
Thank you, Lord for seeing mothers day in and day out, knowing what they go through, for lifting them up when they are down, and strengthening them when they are weak. Thank you for the many stories about mothers from the Bible to encourage and help us model faith and Godly wisdom. Give all mothers your grace and patience when their tasks overwhelm them. Thank you for hearing all their heartfelt prayers for their children. Protect and guide their children when they cannot. Bless each mother today, Lord, and help her know your love and that she is your own precious child. Amen.
Click on the image for a free printable version. You can easily make this prayer your own! ♥
Blessings!
AnnMarie
Photo Credit: Canva, Pixabay
All Scripture is from the NIV unless specified otherwise.