God's love for us is like no other love. His Word describes a faithful, merciful, never-ending love in sweeping terms so that we could comprehend this limitless love. Then Jesus tells us we are to love Him with "all our heart." How can we ever reciprocate an ounce of the enormity of His love? What instruction does the Bible give about how to love God with all your heart?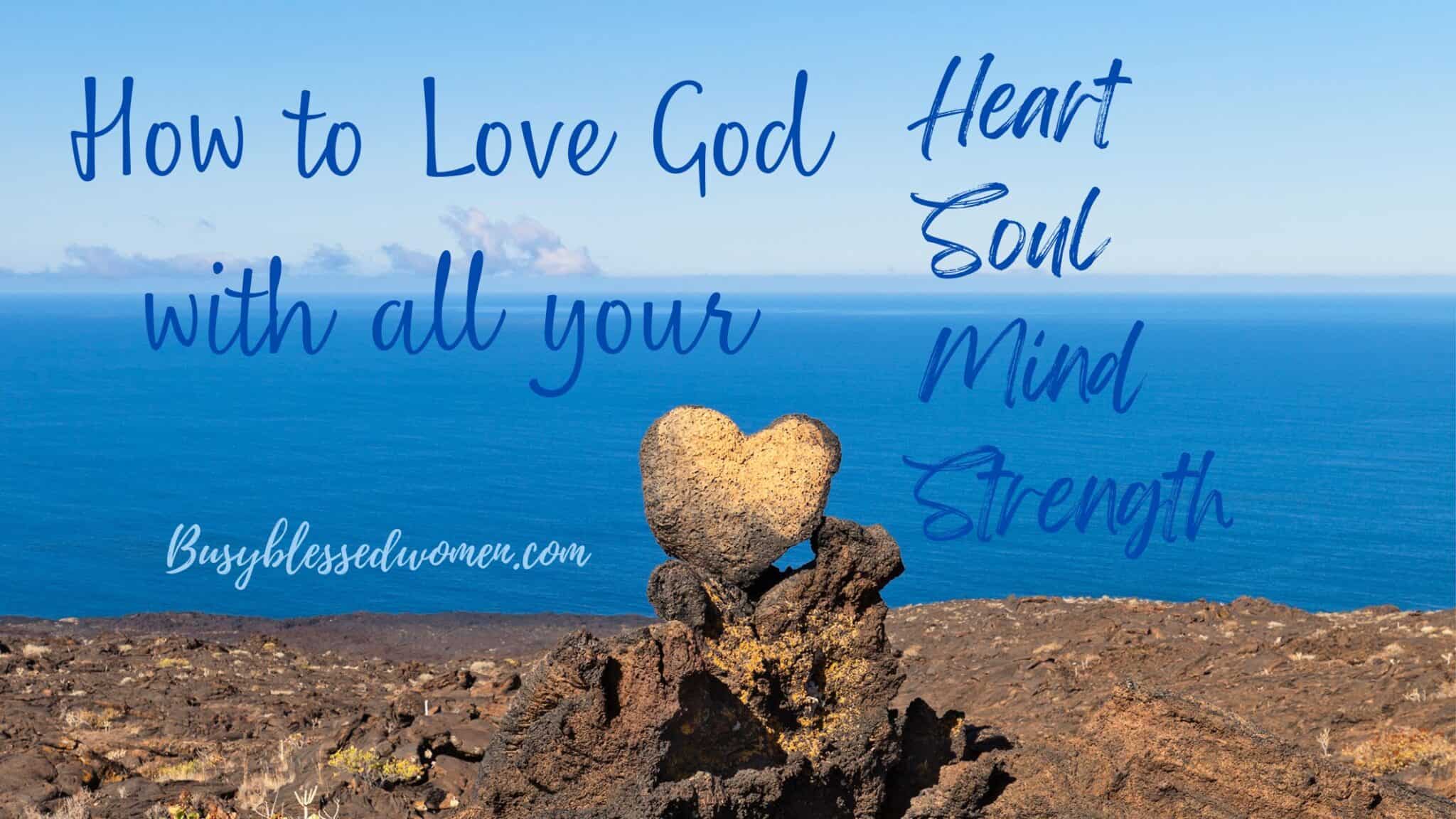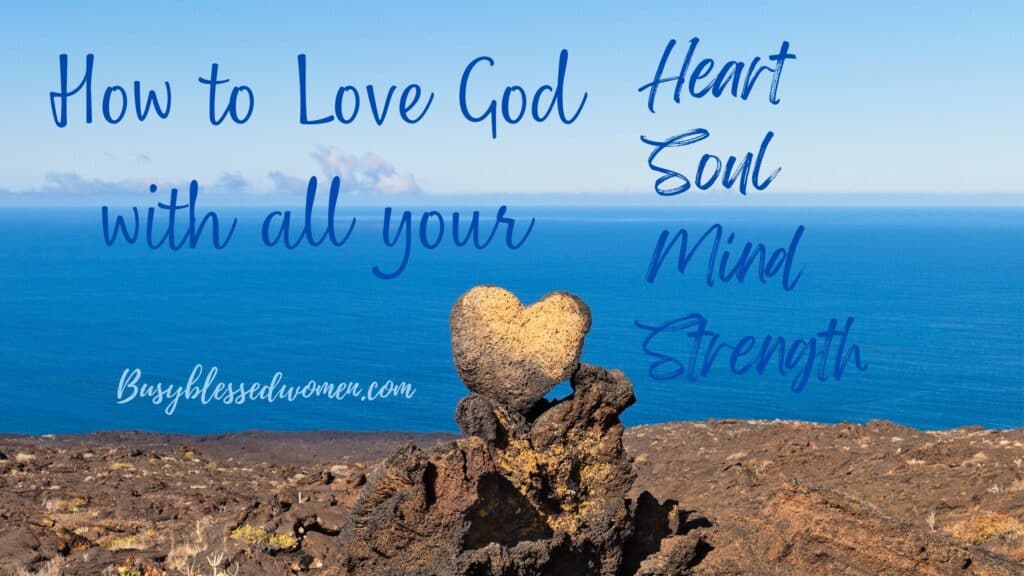 Prayer to Love God with All My Heart
As I write this, I realize we are dealing with lofty thoughts that are far above our understanding. While here on earth, we can only see Jesus as a dim, distorted reflection (I Corinthians 13:12).
It isn't until we reach heaven that our understanding will be complete. Before we dig deep into Jesus' meaning, let's begin with a prayer to prepare our hearts for understanding:
Dear Lord,
We want to incorporate all you had in mind when you tell us to love you with all our hearts, soul, mind, and strength. Bless us with clarity to follow this command.
Inscribe your ancient wisdom into our inner being. Give us your spiritual eyes that lead to understanding Your Word.
Grow us spiritually to comprehend so that we become more and more like you. Empower us to resist Satan, who would love nothing more than for us to give up in frustration.
Give us patience to pause and reflect when we struggle with understanding. We hope that our love for you would expand fully in our hearts, souls, mind, and with a powerful strength. Amen.
Ok, l feel better now. 😊 Let's dig in!
Love God with All Your Heart, Soul, Mind, and Strength
We find Jesus' instructions in Mark 12:29-30.
A rabbi asked Jesus which commandment was the most important. By this point in time, the Jews had accumulated 613 laws! ¹
"The most important one, answered Jesus, is this: Hear O Israel, the Lord our God, the Lord is one. Love the Lord your God with all your heart and with all your soul and with all your mind and with all your strength."
Jesus was quoting Moses in Deuteronomy who had received this command (not a request) from God. It would come to be known as the opening lines of the "Shema" prayer (which means "hear/listen"), a twice daily prayer for the Israelites. Jewish people still recite it today.
Deuteronomy 6:4-5
"Hear O Israel: The Lord our God, the Lord is one. Love the Lord your God with all you heart and with all your soul and with all your strength."
Jesus called it the greatest commandment. He wants a complete love from us that encompasses our entire being.
Our Loving God
We begin by learning about His love. Paul gives us some encouragement:
"And I pray that you, being rooted and established in love, may have power, together with all the saints, to grasp how wide and long and high and deep is the love of Christ and to know this love that surpasses knowledge- that you would be filled to the measure of all the fullness of God." Ephesians 3:17-19.
God's love touches every part of our lives. His love for us is life long, rising to the heights of all our celebrations and joy-filled moments and traveling with us to the depths of our discouragement and pain. His love goes with us into every corner of our life.
While we cannot fully comprehend God's love, we know it was a love so great that He gave His one and only Son to save us.
How can we possibly show our love in return? What should our love look like?
What Does it Mean to Love God
Our love for God goes beyond the human emotion of love. Those feelings can change depending on the circumstance.
The Bible defines our heart as having intellect; "the thoughts of our heart" (Gen 6:5), feelings; "I will see you again and your hearts will rejoice" (John 16:22) and will "search for him with all their hearts." (Psalm 119:2)
The Hebrew word for love used in the Deuteronomy verse (ahab) was a more general term for love, but within the framework of loving God with an inner force that gives way to action.
The Greek uses a more specific love (agape)- a selfless love which is different from romantic or brotherly love.
We need to love God with all our heart, soul, mind, and strength. Let's explore how to love God in each of these ways and put them all together.
Loving Your God with All Your Heart
There is a verse from Ezekiel Chapter 11 where God gives this message for His people: "I will give them an undivided heart and put a new spirit in them; I will remove from them their heart of stone and give them a heart of flesh." V19.
He is promising us spiritual renewal. The old heart is in the past; He gives us a new heart that knows Him. (Jeremiah 24:7) We can learn and understand Him in a new way because He reveals Himself to us.
When we believe in Jesus and receive this new heart, our behavior naturally changes. We put Him first in everything. Our heart becomes intertwined with His and wants what He does.
Our love for Him leads us to follow Him wherever He takes us, trusting in Him completely. We honor Him with obedience.
Does all that sound impossible? On our own, yes. How could we possibly love God enough?
Here's the key: "Because God has poured out his love into our hearts by the Holy Spirit." (Romans 5:5)
Love is a portion of the fruit of the Spirit within us. He empowers and strengthens us to love God more and more.
We can love God with all our hearts when we put him first and allow God to work in us.
How can you begin to put Him first in your own life?
Loving God with All Your Soul
What is our soul? It is a concept that the Bible doesn't clearly explain, but it gives us some details to help us understand this inner aspect we possess.
● It is the invisible and immortal part of our body that was breathed into us when God created us in His image.
"And the Lord God formed the man of the dust of the ground and breathed into his nostrils the breath of life; and the man became a living soul." Genesis 2:7 KJV.
The Greek definition for soul (psyche) is our "moral being designed for everlasting life." ²
●It differs from our heart and mind. Peter gives us two aspects of our soul- it is the part of us that is purified when we repent and believe (1Peter 1:22) and Jesus is the Good Shepherd of our souls. (2:25)
●Jesus (fully human) refers to His own soul in the Garden of Gethsemane- "My soul is overwhelmed with sorrow to the point of death." (Mark 14:34) Our souls feel and express emotions.
●It is our soul that thirsts for God- "As the deer pants for streams of water, so my soul pants for you, O God." Psalm 42:1
The Psalmist was seeking God, longing for Him, desperate for Him. Only God can satisfy our soul!
How to Love God with All Your Soul
Loving Him with all our soul is to devote our life to Him, loving Him more than we love ourselves. It is to surrender our lives and love Him with complete devotion- now and into eternity.
"To you, O Lord, I lift up my soul; in you I trust, O my God." Psalm 25:1.
We love God with all our soul when we seek and connect with Him relationally. We do this through prayer, time spent in His presence, and reading and studying His Word. He is eager for us to know Him better!
Love God With All Your Mind
Loving God with all your mind is a bit easier to understand. It involves taking the time and discipline to calm your mind of all its clutter and think about the things Paul advises in Philippians 4:8– things that are true, honorable, lovely, admirable, excellent, or praiseworthy.
A big part of our Christian life revolves around our mind. Good things come out when we put good in. That leaves less space for the negative, worrisome thoughts to cloud our mind.
Let your thoughts reflect on Him– His goodness and love, mercy, and compassion. Praise and worship Him for who He is- it causes us to want to love him more.
Paul gives us wonderful advice on how to love God with all our mind.
Romans 12:2
"Do not conform any longer to the pattern of this world, but be transformed by the renewing of the mind."
We need to plant this truth firmly in our mind and let the Holy Spirit renew and redirect our thoughts as we read and study His Word.
Love the Lord with All Your Strength
Loving God with all your strength means using our ability, energy, might, and power with a sense of forcefulness (some oomph!) behind it.
What parts of our lives needs strengthening?
The writer of Hebrews tells us without faith, it is impossible to please God. (11:6) Our faith grows when we choose to trust completely in God. As our faith gains strength, no obstacle can obstruct our path.
Love God with all your might by working to strengthen your faith.
God gave us our talents and abilities, and when we use all our strength to use them for His glory, we are expressing our love for Him.
He doesn't want us to hold back, but use them to the very best of our ability.
"Whatever you do, work at it with all your heart as working for the Lord, not for men." Colossians 3:17
Our gracious God knows we will have days when we feel weak; sapped of energy and strength. But when we rely on Him, He is faithful to renew our strength and give us His power.
"He gives strength to the weary and increases the power of the weak… those who hope in the Lord will renew their strength." Isaiah 40:29, 31 NIV.
You Shall Love the Lord your God
Jesus was speaking of our entire being when He said we are to love Him with all our heart, soul, mind, and strength. There is nothing that should take precedence over our love for Christ.
Each aspect expresses its own unique activity within us:
Offer Him a loving heart, a devoted soul, a mind in constant renewal, and an active and strong faith. We can do these things when we use His love as fuel for our response.
Love Him by consistently spending time with Him, giving Him the praise and worship He so richly deserves, giving thanks and obeying Him.
Love Him by studying His Word and applying it to your life. Be doers of His Word!
Use your talents for Him with the utmost of your abilities.
Love Him by prioritizing loving and serving others in His name. Seek the lost and the "least of these" and show them who Jesus is.
When we pour our heart, soul, mind, and strength into loving God, we look more like Jesus.
And that is just what our world needs to see.
Which of these four aspects of loving God needs more attention in your life?
Blessings,
AnnMarie
All Scripture is taken from the NIV unless specified otherwise.
¹https://www.jmu.edu/dukehallgallery/exhibitions-past-2018-2019/the-613-mitzvot.shtml#:~:text=The%20613%20refers%20to%20the,extracted%20from%20the%20Old%20Testament..
² https://www.blueletterbible.org/lexicon/g5590/kjv/tr/0-1/
Photo Credit: Canva