Do you start your mornings with Jesus? A long time ago my Mom asked me why I read my daily devotional at night instead of the morning. I answered her by agreeing that the morning was probably a better time. The truth was that with 4 children at home, I rolled out of bed each morning at the last possible minute to catch every second of sleep I could. But her question caused me to rethink my strategy of meeting with Jesus when I was exhausted and the day was done. I wondered if mornings with Jesus might help me have a more peaceful and settled day.
Mom was right. Spending my mornings with Jesus, even if it was just a quick devotional, gave me something to ponder, pray for, and work on throughout my day.
Maybe you're like me and need that first jolt of caffeine before doing anything constructive, or your mornings begin in a bustling, hectic mode.
Either way, I'm going to do my best to convince you to start your mornings with more Jesus , and I will give you some tools to help you on your journey.
Why Start your Day with Jesus?
There are no "rules" when spending time with Jesus. Anytime is beneficial and pleasing to Him, but there are distinct advantages for you to start your day with Him.
#1- Jesus loves you and already knows what your day will bring.
Would you rather make your own plans, work through mishaps, and put out fires on your own? Or should you spend a bit of time basking in His love for you, talking to Him about your day, and asking Him for the correct path to take and the strength you need?
On the days you know will be tough, should anxiety rule or His love, comfort and peace?
"Let the morning bring me word of your unfailing love, for I have put my trust in you. Show me the way I should go, for to you I entrust my life." Psalm 143:8 NIV.
#2- He is the God of the Universe, our mighty King. Is there any part of your day He can't handle?
For years I had the following statement printed out and hanging on my refrigerator. It was one of the first things I saw each morning. It was a great reminder that I can trust and count on Him each minute of the day. I also used it as a springboard to mini-prayer times with Him throughout the day.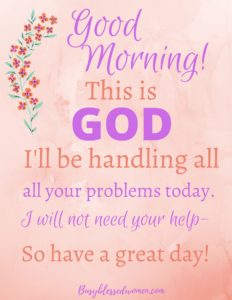 "Ah, Sovereign Lord, you have made the heavens and the earth by your great power and outstretched arm. Nothing is too hard for you." Jeremiah 32:17 NIV.
#3-His mercies are new every morning.
What better way to wake up every morning, knowing that in His eyes, your day is a "do-over"? His compassion, grace, and mercies are unending, and He showers them down on us with every sunrise. There is no one more compassionate and in love with you. He forgives you for yesterday's missteps, failures, and wrongs when you bring them all before Him.
He has promised you His blessings as you face your day. You don't want to miss out on those!
"The faithful love of the Lord never ends! His mercies never cease. Great is his faithfulness; his mercies begin afresh each morning." Lamentations 3:22-23 NLT.
How to Spend Time with God in the Morning
Maybe you already spend time with Jesus each morning, and maybe you are at the other end of the spectrum. Wherever you are, there is no "right way" that works for everyone.
But we all can spend more time with Him!
Either way, it needs to be a heartfelt and engaging time. He doesn't want empty words or rituals. He wants it to be a relationship building time with Him. He's waiting to hear from you!
•If your mornings feel hectic or rushed, or you wake up super sleepy (me), prepare the night before. Set out what you need/want for your time with Him. Get your coffee/tea/etc. ready to go.
Quality Time with God
•Set a time goal. Be realistic about how much time you have. Maybe you have distractions from children or leave early in the morning for your job.
We all have the time; it's how we spend it. Identify what you are placing before Him and what distracts you. Consider the time you spend watching the morning news, scrolling through social media, checking email, etc.
Do you have 5 minutes to spend with Jesus in the morning?
30 seconds?
Anything is a start! You can build upon any amount of time spent with Him. He will honor this heartfelt time.
How To Begin the Day with God
•Your mornings with Jesus can come even before you even get out of bed. Your head doesn't even have to leave the pillow!
Sing a few words to a favorite praise song and make it personal. (It doesn't have to be aloud- no one except Jesus wants to hear me sing!)
Work on reciting a favorite verse (leave a written copy on your nightstand for when you get stuck), or just talk to Him about your day. Ask Him for what you need. Spend time in thanking Him for what happened in your life yesterday.
•Print or write out Bible verses/inspirational quotes/ blessings and stick them to your bathroom mirror. We're all in there at some point in the morning!
•Mornings with Jesus don't always have to look the same. Mixing it up is a good thing. 
There may be days when you take more time to read your Bible or a devotional. Other days might include writing in a journal. Hopefully, you can include prayer and praise, but they don't always have to look the same either. 
Playing Christian music while you begin your day may be your praise time.
A Quiet Place with God
•There may be days where stillness in His presence and hearing what He has to say is just what you need.♥ This can be as simple as closing your eyes, taking a deep breath (or two) and quietly ask Him for His presence, peace and stillness, focusing on Him alone.
Pin me for later!
6 Morning Bible Verses to Start the Day
Here are 6 bible verses to pray over, praise with, memorize and live out:
"In the morning, O Lord, you hear my voice; in the morning I lay my requests before you and wait in expectation." Psalm 5:3 NIV.
"Let the morning bring me word of your unfailing love, for I have put my trust in you. Show me the way I should go, for to you I lift up my soul." Psalm 143:8 NIV.
"Satisfy us in the morning with your unfailing love, that we may sing for joy and be glad all our days." Psalm 90:14 NIV.
"They arose early in the morning and worshiped before the Lord." 1 Samuel 1:19 ESV
"But I will sing of Your power; Yes, I will sing aloud of Your mercy in the morning; For you have been my defense and refuge in the day of my trouble." Psalm 59:16 NKJV.
"Oh God, You are my God; Early will I seek you." Psalm 63:1a NKJV.
(You can find these free, printable Scripture Cards in my Resource Page on my website!)
Morning Blessings
Each morning brings a new opportunity to spend time with the One who loves us dearly. He waits for the opportunity to nourish us with His Word, strengthen us with His power, and challenge us in our faith.
But I get it- the busyness of life coupled with the world's latest unexpected turn of events can leave us paralyzed with inaction. That makes it difficult to get into a routine.
So I've created this printable page (also available on my Resource page) to help you organize your mornings with Jesus. You could even keep them in a notebook to reflect upon later.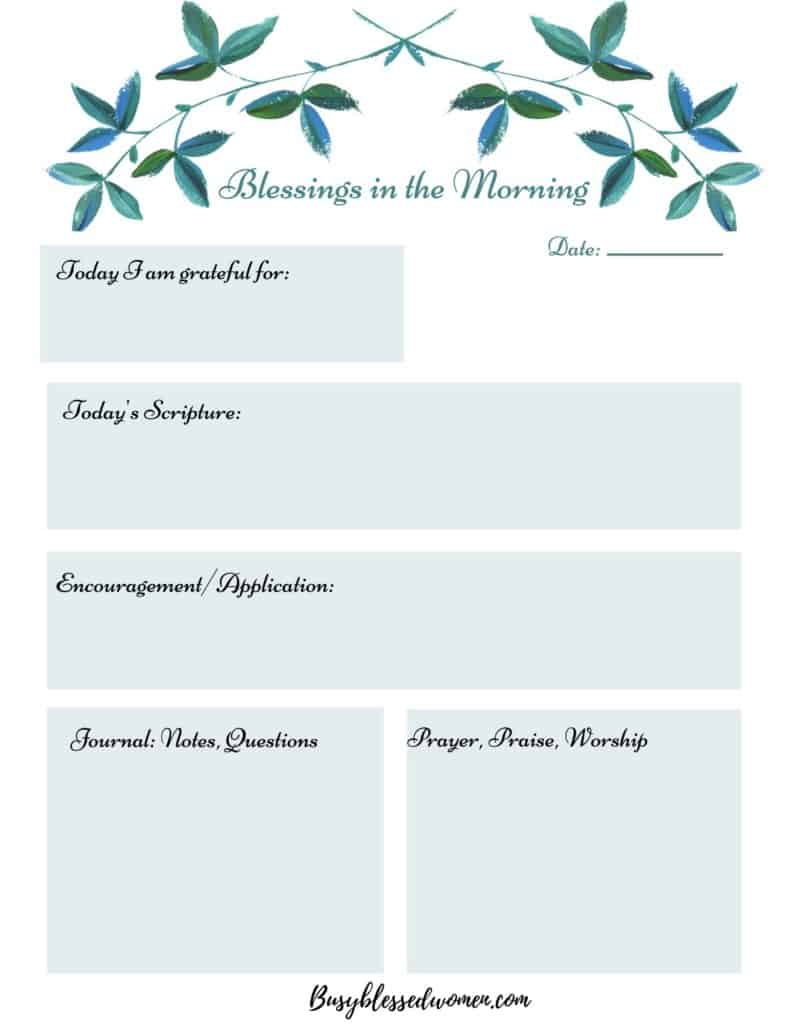 Start with an Attitude of Gratitude
•I purposely started with a time of gratitude.
"Gratitude can transform common days into thanksgiving, turn routine jobs into joy, and change ordinary opportunities into blessings." —William Arthur Ward
Cultivating an attitude of gratitude puts the everyday circumstances of our lives into a new context. It reminds us of all the things we have to be thankful for, that He is sufficient for us, and focus on His blessings.
•Next comes a place to write out scripture: a verse of the day, a verse from a devotional, 2-3 verses from your personal Bible reading, etc. After you write out your verse(s), circle any words that are particularly encouraging to you or stand out.
•The next box is for your thoughts on what the words mean to your life, your day. How did they encourage you? How can you apply them to your day?
•I added a box for notes or questions. Sometimes I read a verse and a question pops into my mind. Sometimes I'm not sure I understand the full meaning. This is a great place to get curious! If you don't have time to dig deeper, it gives you something to go back to later. It's also the perfect place to be still and listen for His voice.
•Finally, there is a prayer, praise and worship box to pour it out to Jesus. Commit your concerns to Him here and know that He will give you the wisdom to guide you in your decisions for the day. Follow it up with one or two words of praise and worship of Him!
•Don't feel pressured to use each box. They are simply guidelines to help you spend more time with Jesus.
Jesus in the Morning
Spending time with Jesus each morning can be a challenge. But it is so much better to begin our day with Him before all the distractions, concerns, busyness and unexpected calamities pop up. Turn to Him first to guide and lead you through our day. There is no better connection than the one you make with Jesus!
Blessings,
AnnMarie
You can find all these completely free resources ( the poster, 2 companion coloring pages, the Scripture Cards and the Morning Blessings Worksheet in my new Resource Page on my website!)
Photo Credit: AnnMarie Anderson, Canva