Last week we looked at the virtue of gratitude from a Christian perspective. We dug into Scripture and looked at ways Jesus and other Biblical characters expressed gratitude. We learned that expressing gratitude always begins with gratitude to God. When we have the mindset of seeing everything in our lives through the lens of His love towards us, it changes our perspective. How can we condition ourselves to focus on and be thankful for His blessings? What benefits do we receive from a strong attitude of gratitude? How can we use gratitude in action to show Jesus to those around us?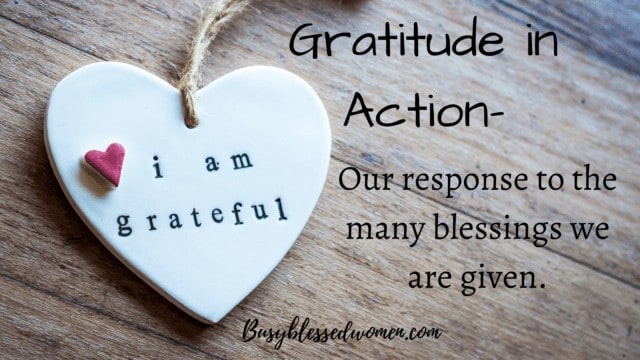 So many questions! Let's get to it:
Focusing on Gratitude
A life filled with gratitude puts the circumstances of our lives into a new context. We can accomplish this when we:
•Focus on being thankful for what you have rather than comparing yourself with others.
•Pray for conviction of feelings that can make us disgruntled with our jobs, homes, relationships, etc.
•Recognize envy and jealousy if they creep into our lives. They steal our contentment and lead to ingratitude.
•Remind yourself that He is sufficient! He covers us with His grace. Have you ever heard of the acronym for grace: God's Riches At Christ's Expense? We are rich with God's grace each day. When I try to think of all that entails, it convicts me of my grumbling. We have much to be grateful for!!!
•Focus on the blessings God gives us: family, friends, talents, beauty in nature, opportunities, home, health, the list is endless. This verse comes to mind: "Fix your thoughts on what is true, and honorable, and right, and pure, and lovely, and admirable. Think about things that are excellent and worthy of praise." Philippians 4:8 NLT
Centering our thought life on all the above should give us much to be grateful for!
Gratitude: Things to be thankful for, Ideas from A to Z
Benefits of Gratitude
There are no downsides to practicing gratitude. A life lived with robust gratitude can improve our physical health and our emotional, social, and psychological well-being. Practicing gratitude can lead to better interpersonal benefits and moods. Practicing gratitude can make us more optimistic, relaxed, less self-centered, and deepen our relationships.
The added benefit of gratitude as a Christian is that it gives us all the above and contentment regardless of our circumstances. It is the sufficiency of God working in our lives. It turns our focus on Him. It's not focused on "feeling good" or "positive living"; those things depend on our circumstances.
Are you content with all your circumstances? How do you show gratitude in all circumstances?
Practicing gratitude helps us see the gifts, blessings, mercies, and grace that we might otherwise overlook or take for granted. When we dwell on these things, it lifts us in worship and praise. It's hard to feel stressed, materialistic, anxious, envious, etc when we are actively seeking out the blessings in our lives.
What blessing or gift are you grateful for right this minute? How would others know?
Gratitude generates a humble spirit. It helps us recognize all the blessings God has given us. We can start with gratitude towards our salvation and the wonder of God's unfailing love. We can then continue down the spectrum to the everyday blessings. The warmth of the sun, your morning coffee/tea, a crackling fire… Everything we have comes from Him. When we remember that, gratefulness becomes more obvious in our day-to-day life.
How do you show gratitude for your salvation? Your everyday blessings?
Even in hard times, we can find things to be grateful for. It may be a bird singing, a squirrel scampering, a beautiful sunrise/sunset, or a hug, but there is always something to be grateful for.
How do you practice and find gratitude in impossible situations?

Pin me for later!
Practicing Gratitude
I read over and over that the best way to learn to practice gratitude is by keeping a journal. I'm not very good at journal writing (how weird is that?) But studies have shown that keeping a gratitude journal trains our minds to recognize the beauty in the mundane and in the big things. There are countless things we can be grateful for, but we don't always realize or acknowledge them. We sometimes, unfortunately, take them for granted. That's where the journal comes in.
Keeping a Gratitude Journal
I read two different trains of thought regarding keeping a gratitude journal. One was to write in gratitude journals daily, and one said twice a week was the most efficient (the thought behind this was a daily practice may make gratitude more "routine" and lessen the grateful response.)
I know that for something to become a habit; we should practice it regularly, so I'm promising you all right now that I will do it daily for at least a month and see how it goes.
(Update- I've been journaling 3 things I have been grateful for each day for the past year and it has become one of the highlights of my time with Jesus❤ I'm not ever giving it up!)
If any of you already use a gratitude journal or practice a daily attitude of gratitude, I'd love to hear your thoughts on the subject!
Writing out the positive moments, the good things that happen, the beauty we notice, the smells and sights that delight us, the kindnesses we have experienced help us absorb them for a few minutes longer. 
We can soak in the joy or beauty of the moment a bit longer.  This generates an increase in gratitude and an awareness of what we have going on around us to be grateful for.
You can use a plain notebook, take notes on your phone/device, but there are specific journals geared towards practicing gratitude.
Gratitude Examples
Another aspect of putting our gratitude in action goes one step further. Once we've started actively practicing gratitude, it should pour out of ourselves onto others. It can be as simple as saying thank you. But going even farther, we can use our gratefulness to pay it forward.
When we actively cultivate gratitude, it should spur a grateful response of giving back. We can do this with our acts of service of time, money, care, concern, prayer, etc.
When we think of all the Christ-like virtues we are to be living by, we should show and model love, patience, kindness, joyfulness, faith, honesty, etc to others. These are natural outcomes of living a life of gratitude. It might take effort and a bit of determination. But hopefully, it will become a natural way of life for us.
What areas of your life show a Christ-like outpouring of gratitude in action?
Living with gratitude should also extend to the words we speak.  It's hard to live a life of gratitude and be a complainer!  Think before you speak- "What you say flows from what is in your heart." Matthew 12:34 NLT 
One verse we looked at last week (Col 2:7) explained that when our roots in Jesus are deep, it causes us to overflow with thankfulness.
When our hearts overflow with thankfulness, so will our words.
Gratitude to God
Being grateful is a choice. When you consider all the blessings God has showered on us, we should be mighty thankful people! Putting gratitude in action can be simple to do and can cost us nothing except your time. It does, however, take conscious effort and discipline.
Take a moment right now to start your practice of gratitude. Ask God to show you the love, beauty, and blessings that fill His world. Keep your eyes open and look around for the ways He pours Himself into your personal world.
Grateful blessings!
AnnMarie
"One single grateful thought raised to heaven is the most perfect prayer."– G.E. Lessing
Photo Credit: Canva, Pixabay