I read a quote recently that got my attention– "God gave us mouths that close and ears that don't… that should tell us something"- (Eugene O'Neil). He seems to be telling us that listening can sometimes be a better choice than speaking. And when listening, what if I spent my time specifically listening to the voice of God in place of the outpouring of opinions, thoughts and bold statements flying around?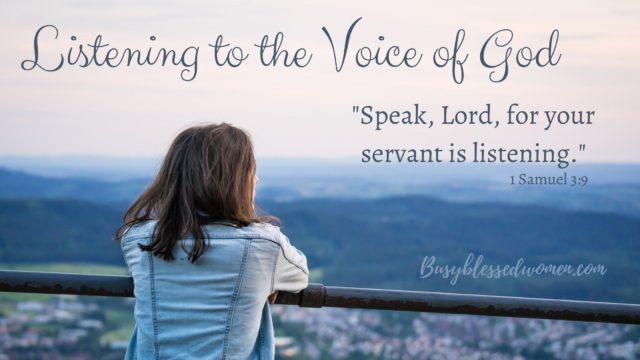 Who has heard the voice of God?
Wouldn't it be awesome to hear the word of God audibly? God spoke aloud many times in the Old Testament, starting in Genesis. God walked with Adam and Eve, giving them verbal instructions to be fruitful… rule over every living creature… what they were to eat… (Genesis 1:28-30)
God had an entire conversation with them regarding their sin in Genesis 3.
The Audible Voice of God
Aaron and Miriam heard the Lord speaking when He came down in a pillar of cloud to chastise them for criticizing Moses.
God said about Moses, "With him I speak face to face, clearly and not in riddles." Numbers 12:8 NIV.
God spoke audibly to the prophets (and in dreams and visions) with the purpose of recording His words and plans.
Samuel thought he was hearing the voice of the priest Eli in the night, but it was God calling to him. "The Lord came and stood there, calling as at the other times, 'Samuel! Samuel!' Then Samuel said, 'Speak for your servant is listening'.'" 1 Samuel 3:10 NIV.
Listening to God
Jesus spoke throughout the New Testament to teach and announce the plan of our redemption through His sacrifice.
Jesus told his disciples that the gift of the Holy Spirit would come when He was no longer on earth.
"But the Helper, the Holy Spirit, whom the Father will send in my name, He will teach you all things and bring to your remembrance all that I have said to you." John 14:26 NKJV.
Once the Bible was in written form and dispersed, it became God's way of communicating with us. His written word and the guidance and conviction of the Holy Spirit are how we hear Him today.
Hearing God Speak
Wouldn't it be amazing to hear the voice of God clearly? He speaks to us, but like Samuel, we have to be attentive listeners and know His voice.
It seems these days that we all want to talk and be heard, but we aren't the best of listeners. (I'm speaking of myself here, too.)
I have a bad habit of listening with "one ear". I perfected it through years of parenting and multitasking with 4 children. That was a lot of talking, demands, arguments and needs that all wanted to be heard at the same time.
True listening is to pay attention to; and to hear with thoughtful attention. Synonyms for "listen" are to tune-in, concentrate, and be all ears. What a wonderful reminder!
If we want to be listening to God, we need to give Him our full, thoughtful attention.
Be Silent Before the Lord

We're not truly listening if we break into a conversation with our own words or busy formulating how we are going to reply.
Listening involves quieting our minds and giving our full attention to what God wants to tell us. It reminds me of when Jesus spoke to a violent storm on the Sea of Galilee. He quieted all the noise with the simple words "Quiet! Be still!" Mark 4:39 NIV.
Might He be speaking to our hearts in the same way? If we want to hear the voice of God, practice silence and stillness.
Bible Verses about Silence
•When Moses spoke to the Israelites about God's principles for holy living, he said, "Be silent, O Israel, and listen!" Deuteronomy 27:9 NIV. God wanted their full attention for His important work. He was making them His holy people.
•When the Red Sea stopped the Hebrews' progress, Moses reassured them that God would save them. "You have only to be silent": Exodus 14:14 ESV.
Their silence allowed them to hear and see God's power.
Jesus Remained Silent
Jesus shows us the importance of silence-
•"He plied him with many questions, but Jesus gave him no answer." Luke 23:9NIV (In His trial before Herod.)
•"But Jesus remained silent and made no answer." Mark 14:61NIV (To the high priest in His trial before Caiaphas.)
•"Do you not hear how many things they testify against you? But he gave him no answer, not even to a single charge, so that the governor was greatly amazed." Matthew 27:13-14. (In His trial before Pilate.)
•Isaiah prophesied Jesus as the silent lamb.
"He was oppressed and afflicted, yet he did not open his mouth; he was led like a lamb to the slaughter,
and as a sheep before its shearers is silent, so he did not open his mouth." Isaiah 53:7 NIV.
Even though Jesus was innocent of all charges, He remained silent in order to willingly accept our punishment. His strength and serenity were on full display. He didn't complain, put up a defense, or rail against the injustice.
Jesus used silence to show obedience and self-control.
Knowing the Voice of God
But how can we know if the voice we are hearing is from God?
Jesus used the parable of the Good Shepherd to illustrate how we can distinguish His voice from others.
"I am the good shepherd; I know my sheep and my sheep know me… My sheep listen to my voice; I know them, and they follow me." John 10:14, 27 NIV.
When our relationship mirrors that of the sheep and their shepherd, we trust Him and follow His lead. Knowing Jesus' voice means we prefer His voice to all the other voices swirling around us. Steeped long enough in His word, we can discern His voice from those who try to deceive us.
The closer your personal relationship with Jesus, the easier it is to clearly hear what He has to say to you.
How to Listen to God
•Find a time to meet with Him daily in stillness and silence.
This does not have to happen at the same time of the day or be long and drawn out. Silence your phone and find a quiet place without distractions. It may be as you first wake up, or as you lie down to sleep. Going for a solo walk, driving without the radio on, or going into a room and shutting the door for privacy can be quiet places to hear from God.
•Consistency in all things brings results. Listening to the voice of God becomes fine-tuned over time.
There is no magic formula. Listening to His voice comes by focusing on your relationship. If you only come to Him for answers when you are facing a crisis, or need guidance on an important decision, you may be frustrated that you aren't clearly hearing His voice. He wants you to hear Him clearly. Invest the time into speaking and listening to Him regularly.
•Open your Bible.
God speaks to us every moment we spend in His Word. Listen for the Holy Spirit to draw your attention to a passage, spark a curiosity about what you have read, give you understanding, or convict you to make a change. When this happens, turn it into a conversation. Ask questions. Listen for His answer.
•Spend time in His presence through worship and praise.
Pause and listen occasionally as you praise Him. Speaking with our Lord is supposed to be a dialogue, not a one-sided conversation! I'm guilty of doing this without going the extra mile and intentionally listening for His response.
Listen and Hear
•Listen with the focus of hearing His plans and ideas.
We go to His presence often with our worries, our desires, and our frustrations. He wants us to lay all these things out to Him, but also go one step further. Try asking Him to tell you what action He wants you to take, what comfort He has for you, or what spiritual truth to apply to your situation.
•Don't force it.
We will hear God's voice through the help of the Holy Spirit. (John 16:13) God is ready to speak to us! (Jeremiah 33:3, Psalm 145:18, Matthew 7:7.) He will, however, speak to us with what He wants us to hear, not necessarily what we ask of Him. Be patient, persistent, and open to His thoughts, teachings and guiding.
•God can speak through circumstances (and mysterious ways!)
When I was contemplating following through on starting my blog, I argued plenty with God (but with lots of me talking and no listening.) I just kept laying out the reasons why I wasn't qualified.
One day as I was driving and listening to the radio, I heard a commercial for a Christian Writers Conference in my area. My conscience was pricked, but I resisted. I continued to hear this commercial repeatedly until I finally gave in and checked it out. It turned out to be the springboard and encouragement I needed to go forward in His plan.
How many times does your "verse of the day", a Facebook post, or a song seem to be the perfect bit of encouragement/love/ comfort you need?
God can speak through circumstances, conversations with others, our thoughts, music, books we read, beauty in nature- the list is endless. But one thing will always hold true- His voice always stands up to Biblical truth. He would never speak words that contradict Biblical principles.
Hearing God in the Silence
I stood at the window with my eyes closed, basking in the weak winter sunlight. I spoke these simple words, "Lord, you are my King. You alone are worthy of praise." I waited in silence and heard the words, "I see you." My tea kettle whistled, and the moment was over.
I went back to my computer and googled "Bible verse I see you" and here's the first thing I found:
"For the eyes of the LORD range throughout the earth to strengthen those whose hearts are fully committed to him." 2 Chronicles 16:9a (NIV)
Isn't that a beautiful word picture? He is looking on us, ready to strengthen us with His truth and guidance!
Speak Lord, Your Servant is Listening
Samuel's response to the Lord was a simple prayer that we can all pray as we go to God with the desire to hear from Him. We often spend a lot of time in prayer speaking to God, but never take the time to listen to His reply.
Sit in silence with your Lord and He will call you by name, leading you in the way you should go. He loves you and wants you to know Him in an intimate and deep way. Are you listening?
Blessings!
AnnMarie
All Scripture is taken from the NIV unless specified otherwise.
Photo Credits: AnnMarie Anderson, Deposit Photos