The Bible is rich with descriptions of the prayer life of Jesus, but one of my new favorites is in Matthew 26:36-42. Jesus is praying in the Garden of Gethsemane and asks His Father, "If it is possible, may this cup be taken from me." v 39. Jesus knew all things are possible with God, and so he boldly prayed His request aloud to His Father. If Jesus prayed bold prayers, I want to learn to do it too!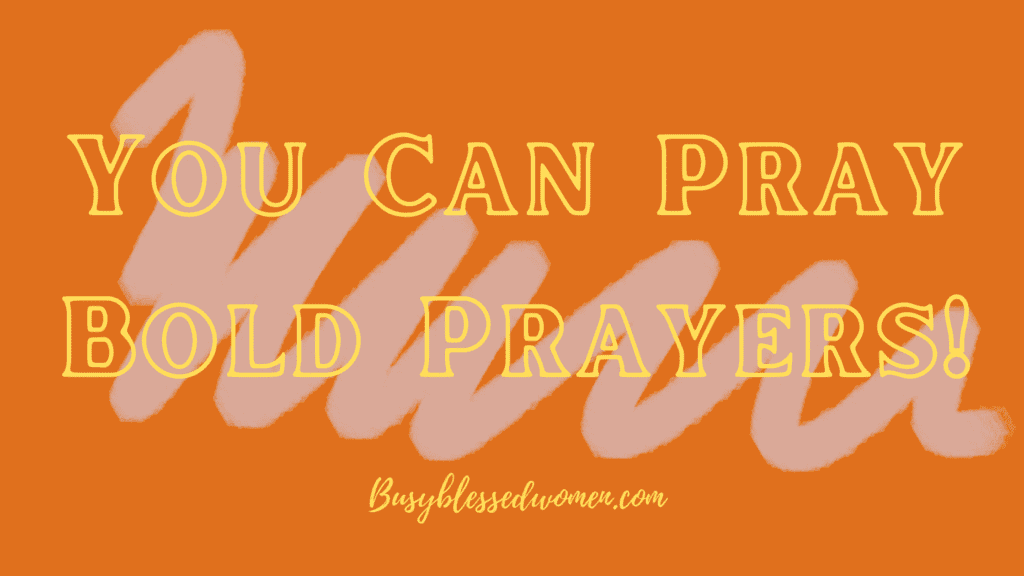 Biblical Definition of Boldness
We don't have to look far to find bold Bible characters that showed courage, confidence, and fearlessness. I think of David confronting Goliath or Queen Esther risking a death sentence to go before the king.
But there is an important aspect of Biblical boldness that helps all of us to be bold. Biblical boldness is based on a strong confidence in God. It is a gift we receive when we rely on His power and trust in His promises and truth. Fear and timidness melt away when we believe He is in control, sovereign and unchanging.
Biblical boldness is not:
•confidence in self
•prideful or arrogant
•possible on our own strength
We Are Called to Be Bold
How are we to use this boldness from God? We don't want to appear pompous or use it for selfish reasons. And does it seem pretentious or a bit irreverent to ask the Holy King of the Universe to listen to our bold prayers?
There is a right way to use this boldness. We can dismiss our fears, doubts, and anxiety and express the gift of His "holy boldness" correctly.
Bible Verses about Boldness
Here are 4 verses that express different aspects of boldness:
•"When I called, you answered me; you made me bold and stouthearted." Psalm 138:3. David praises God for his gift of boldness which gave him strength.
•"Joseph of Arimathea… went boldly to Pilate and asked for Jesus' body." Mark 15:43. It was common for the bodies of the crucified to be left on their crosses as a last act of humiliation. Joseph boldly took a huge risk- unconcerned about the consequences to himself.
•"After they prayed, the place where they were meeting was shaken. And they were all filled with the Holy Spirit and spoke the word of God boldly." Acts 4:31 (Acts is full of verses of the boldness of the disciples as they used the power of the Holy Spirit to spread the Good News.)
•Paul describes Isaiah's bold prophecy-"And Isaiah boldly says, 'I was found by those who did not seek me; I revealed myself to those who did not ask for me.'" Romans 10:20. Isaiah's boldness was a warning to the Israelites who rejected their Messiah.
Boldness in Prayer Scripture
"Let us then approach the throne of grace with confidence, so that we may receive mercy and find grace to help us in our time of need." Hebrews 4:16.
This verse changed my life when I first read it. I grew up with a healthy dose of awe regarding God's presence, but not much of the mercy and grace.
To come within a mile of His throne would have been enough for me. But He has much more in mind for us. Yes, He is a sovereign and omnipotent King, but He is also a supremely loving and compassionate Good Shepherd.
The only one trying to discourage us from coming boldly into His presence is our enemy. He wants us to think He is unapproachable. But this verse tells us to come- in reverence, but boldly.
Pray With Confidence Verse
"This is the confidence we have in approaching God: that if we ask anything according to his will, he hears us." 1 John 5:14.
God hears us when we pray- silently or weeping, articulate or simple.
The emphasis on this verse is on His will, not ours. He wants us to come to Him confidently, and talk about your situations, align our thoughts with His, and listen for His answers. We worship a generous God; He wants us to ask anything. That doesn't mean He answers every prayer in the way we want it to, but we should pray about everything. Pray with confidence!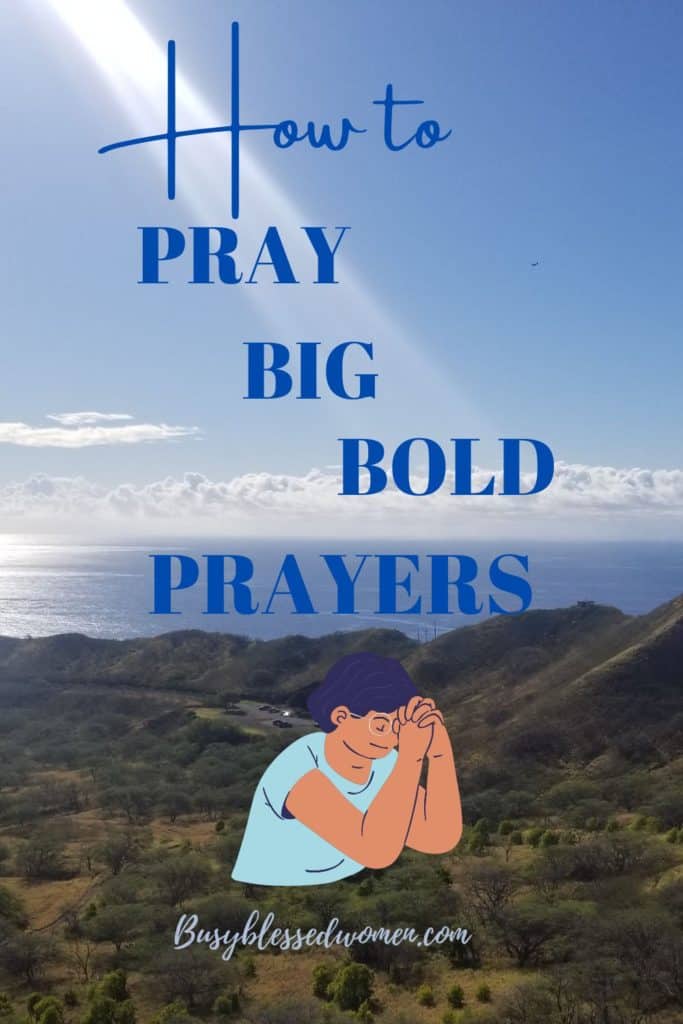 Bold Prayers in the Bible
There are many ways to pray boldly. Let's look at two examples of bold prayers in the Bible.
I want to start with the verse that sent me down this path of searching bold prayers-
• Jesus Prays in the Garden of Gethsemane
"My soul is overwhelmed with sorrow to the point of death…" He fell with his face to the ground and prayed, 'My father, if it is possible, may this cup be taken from me. Yet not as I will, but as you will.' " Matthew 26:38-39.
Jesus knew God's plan of judgement and redemption, but boldly asked if He would take it from Him (even as He was face down on the ground in humility). We read His struggle was intense. Wasn't there another way?? No- only the sinless Son could take on our punishment and restore our relationship with the Father. Jesus prayed in trust and obedience that the Father's will be done.
If Jesus Himself could boldly ask this of His Father, why would we hold back anything that is in our hearts?
Jacob wrestled with God all night long in a fascinating story found in Genesis 32.
Jacob was fearful of meeting with his brother after cheating him out of his birthright years earlier. He spent the night before the meeting, alone, in a tent to pray.
God comes to Jacob and they wrestle all night long. God finally tells Jacob to let Him go; it was daybreak. That was when Jacob boldly prays, "I will not let you go unless You bless me!"
Jacob wasn't dictating anything to God, but "wept and begged for His favor" (Hosea 12:4) as he prayed. Jacob had finally come to the place where He couldn't fight God any longer. He could only hold on tightly to God and rely on His blessing.
Jacob showed persistence in his wrestling and finally resorted to a bold prayer. We can also show the boldness of Jacob when we are praying about our greatest struggles and fear.
How to Pray Bold Prayers
Do you believe Jesus died for your sins? If so, then you have the privilege of coming into God's presence through bold and confident prayer.
"In Him and through faith in him we may approach God with freedom and confidence." Ephesians 3:12.
Jesus is the One who made a way for us to pray boldly and confidently. We do not have to be afraid to come before Him, but can come anytime, with any request. He waits to hear from you.
Examples of Bold Prayers
•Pray God's Word and promises. For example: I pray Psalm 19:14 before I sit down to write- "May the words of my mouth and the meditation of my heart be pleasing to you, O Lord, my rock and my redeemer." I am praying in His will, but boldly praying that what I write would please Him- who is sovereign and all-knowing!
•Or this bold prayer:
"Search me O God and know my heart; test me and know my anxious thoughts." Psalm 139:23. It takes courage to ask God to point out our sin and dissect our thought life!
•Pray boldly for the desires of your heart, the blessing of a child, a new job, your finances, physical healing, relationship healing, etc. Praying big, bold prayers doesn't force God to do anything! We pray boldly and then trust in His timing and will.
•Be specific in your bold prayers. Many times, we pray, "I need your help, God!" But we can be specific in asking for what we need.
For example: "God, my car (furnace/computer/etc.) needs repairs, and I don't have the money to fix it. I pray as David did in Psalm 40:17: 'I am poor and needy; may the Lord think of me. You are my help and my deliverer; O my God, do not delay.' Please provide a way for me to either get the funds I need or work out a solution."
I boldly prayed recently for a family member to see her doctor within the week instead of waiting for the scheduled appointment, which was months away. God answered in His way- she got on an "urgent list" should there be any cancellations.
•Pray boldly with the expectation and faith that He will answer. Jesus instructed His disciples to pray in faith in Mark 11: 24: "Therefore I say to you, whatever things you ask when you pray, believe that you receive them, and you will have them." NKJV.
This doesn't mean we are demanding God answer our prayer in the way we wish, nor does it mean that He will answer every prayer in the way we ask. To pray in faith is a dependency on God's will and the belief that our all-powerful God can work miracles.
Boldness in Prayer
I distinctly remember a time in my prayer life, when exhausted from the burdens I was carrying, my only prayer was this: "Thy will be done." In my eyes, I was trusting Him to take care of me and accepted anything that came my way.
But now I see how dismissive and unresponsive this was. It was as if I was shrugging my shoulders and telling God, "whatever." This is the complete opposite of praying boldly!
We are children of the Most High God- redeemed and esteemed! We are valuable in His sight. Our prayer life should reflect that. ♥
The Power of Bold Prayers
He has big plans for us and wants us to bring Him big prayers. The purpose of praying boldly and with confidence shows we trust in His ability to intervene in any situation and that He can give us "immeasurably more than all we ask or imagine." Ephesians 3:20. Bold prayers express our faith in Him. We are telling Him we trust in Him completely. Nothing is too hard for God. We can't limit God, so pray big!
Blessings!
AnnMarie
All Scripture is from the NIV unless specified otherwise.
Photo Credit:Canva, AnnMarie Anderson
All Scripture is taken from the NIV unless specified otherwise.