Have you ever hesitated to offer up a prayer, thinking it's an impossible request? Does an overwhelming challenge leave your heart constricted with fear or doubt? Maybe you're not receiving the answer to a long-standing prayer and wonder if you should just give up. I recently experienced what seemed like an impossible situation, and the words "the God of the impossible" came to mind. I knew that if I reminded myself why I wholeheartedly believed this, He would comfort me. If you need comfort too, or would just like to worship our great God of the impossible, come along with me…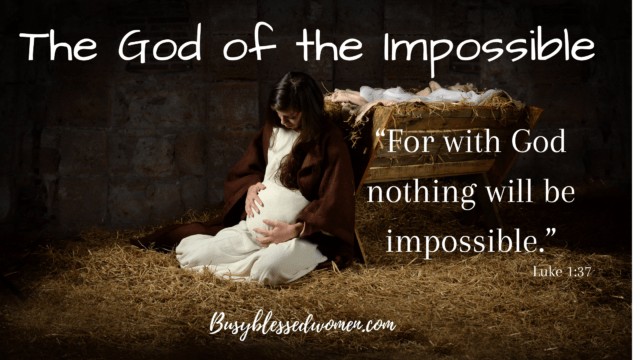 Nothing is Impossible with God
I believe we serve a God of the impossible, but sometimes fear and worry slither their tentacles into my faith. (And we know where that comes from…)
This leads to thinking I can confine God somehow, even though I know He is a sovereign and loving God. Sometimes the mountain before me seems insurmountable and unfair. At these times, we need to go to His Word for truth.
Luke 1:37
When the angel tells Mary of her upcoming pregnancy and birth of the Messiah, Mary seeks some clarification to this impossible situation. The angel comforts her with more details and informs her that her relative Elizabeth; infertile and advanced in age is also pregnant. This evidence of God's astonishing power came with the reassurance that nothing is impossible with God:
"For with God, nothing will be impossible." NKJV.
Matthew 19:26
"With man this is impossible, but with God all things are possible." NIV.
This statement from Jesus comes at the end of the story of the rich young ruler. Jesus instructs his disciples on the difficulties that exist for a rich man to enter the kingdom of heaven. This teaching astonished the disciples as their culture believed God blessed the rich in many ways, including salvation. "Who then can be saved?" (v25) they ask. Jesus reassures them that with God, all things are possible.
See? Impossible is not in God's vocabulary. Jesus tells us so. 😊
Examples of Impossible Situations in the Bible
We've already seen the immaculate conception, a miraculous pregnancy in a menopausal woman, and our salvation from sin in the above verses.
But what about the impossible examples of God speaking the universe into existence? Or David, the child soldier, slaying a 9ft tall giant with a slingshot and a rock?
And these:
God parted the Red Sea and allowed the Israelites to escape the Egyptian army into safety.
He provided manna and quail for 40 years to 2 million people.
God shut the mouths of lions to save Daniel.
Jesus feeds 5000 people with a few loaves of bread and some fish. His miracles were too numerous to record.
God raised Jesus from the dead!
We have a well-documented account of God's creative power and provision for His people. It shows us He does some of His best work when things look utterly impossible for us!
Trusting God When it Looks Impossible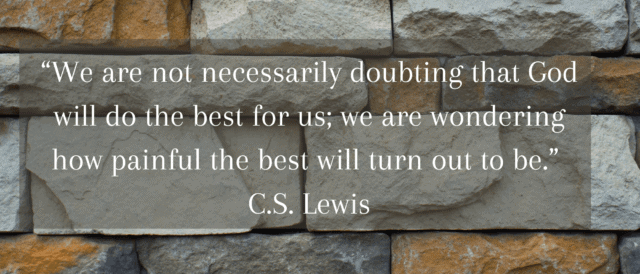 Job's story shows us his honest struggles through great suffering and the faith to make it through impossible situations. After all his difficulties, Job finally tells God, "I know that you can do all things; no plan of yours can be thwarted." (Job 42:2 NIV)
Job didn't understand why he had to go through these things, but we see in his story he clung to what he knew about God. His faith and trust kept him going through the struggle.
This was such a great reminder to me! I need to hold on tight to the truths of God's character, abilities, and love for me and my loved ones in any impossible situation.
Faith Makes All Things Possible
Our faith is not intellectual knowledge or facts. It is a gift from God. When Paul was discussing being a living sacrifice, he taught us how to live out our saving faith:
"Think of yourself with sober judgment, in accordance with the measure of faith God has given you." Romans 12:3b (NIV).
We all have a "measure of faith" given to us that drew us to Jesus, and we expand and deepen our faith by hearing/reading the Word of God:
"So then faith comes by hearing, and hearing the word of God." Romans 10:17 (NIV)
(Paul wasn't discarding the idea of reading the Word. The ordinary citizen of the day relied on oral tradition.)
Mustard Seed of Faith
Jesus needed His disciples to know how important their faith would be for their upcoming ministry.
In the Parable of the Mustard Seed, the disciples could not heal a demon-possessed boy. After Jesus healed the boy, the disciples came to Him and asked why they could not heal him.
Matthew 17:20
"Because you have so little faith. I tell you the truth, if you have faith as small as a mustard seed, you can say to this mountain, 'Move from here to there' and it will move. Nothing will be impossible for you." (NIV)
They needed a faith that totally depended on God and to humble themselves completely.
Jesus wants us to believe in our hearts and minds that He can do anything. He wants us to have a mustard seed of faith, not a mustard seed of doubt!
We have all the proof we need to believe in Jesus and His capabilities. We know His Word and promises are true. The written record and testimony of the early believers exist for our benefit.
"Stop doubting and believe." John 20:27b NIV.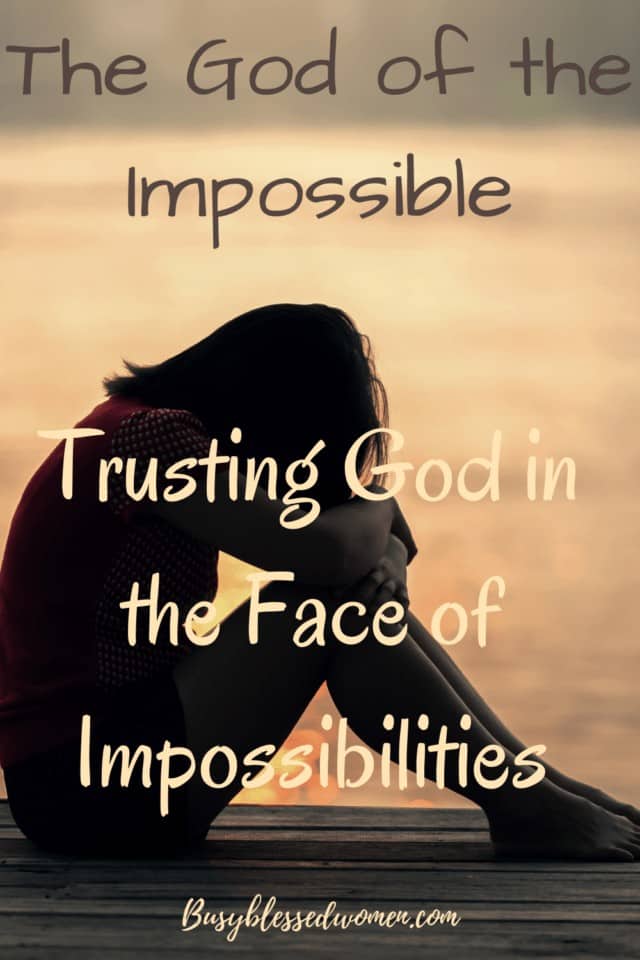 Pin me for later!
The Impossible God
No matter what situation is in front of us, we can boldly come before Him and place it at His feet. Whatever we think is impossible, God says He has no limits or boundaries. His power makes all things possible.
We have His promises to cling to when life seems impossible:
•He will show you the way to go– "The Lord will guide you always" Isaiah 58:11a (NIV).
•God will give you strength – "It is God who arms me with strength and makes my way perfect." 2 Samuel 22:33 (NIV).
•You can count on His comforting love – "I have loved you with an everlasting love." Jeremiah 31:3 (NIV).
•God stays with you through every impossible situation- "When you pass through the waters, I will be with you; and when you pass through the rivers, they will not sweep over you. When you walk through the fire, you will not be burned, the flames will not set you ablaze." Isaiah 43:2 (NIV).
•He is for you and has the final say–
"What then shall we say to these things? If God is for us, who can be against us?" Romans 8:31(NKJV).
Trusting God in the Face of Impossibilities
Here are actions you can take when faced with the impossible:
•Speak out your trust and stand on your Rock when you are afraid: "When I am afraid, I put my trust in you." Psalm 56:3 NIV.
•Pray and wait patiently with expectation: "In the morning I lay my requests before you and wait in expectation." Psalm 5:3 NIV.
•Praise and worship God:
Paul and Silas were imprisoned even though they were innocent of any crime. They endured being beaten and put in stocks in a cell deep in the bowels of a prison. Their situation must have seemed dire- in pain, innocent, and locked away.
What did they do in this impossible situation? Praise and worship God.
"About midnight Paul and Silas were praying and singing hymns to God, and the other prisoners were listening to them. Suddenly there was such a violent earthquake that the foundations of the prison were shaken. At once all the prison doors flew open, and everybody's chains came loose." Acts 16:25-26 NIV.
•Use your bold confidence in God:
I referred earlier to the story of David and Goliath. David was so confident in his trust and faith in God, that he walked towards Goliath- an impossible situation! He used his trust and faith to defeat Goliath.
Do you walk towards your impossible situation, or hide/run away in fear or despair?
Nothing is Too Hard for God
You can trust God to work a miracle when you face the impossible. Don't second guess the God of the Impossible. Pray, knowing that God can make all things possible. If it is in His will to do so, nothing can hold Him back. We serve a mighty God. Let Him show you His power and glory!
"Now to him who is able to do immeasurably more than we ask or imagine, according to his power that is at work within us, to him be glory in the church and in Christ Jesus throughout all generations, forever and ever! Amen." Ephesians 3:20 NIV.
Blessings!
AnnMarie
Photo Credit: Pixabay, Canva