Have you heard of verse mapping? You may know it by another name- Bible mapping, or Bible verse mapping- but it is all the same idea. It is another tool to study the Bible, and we can never have enough of those!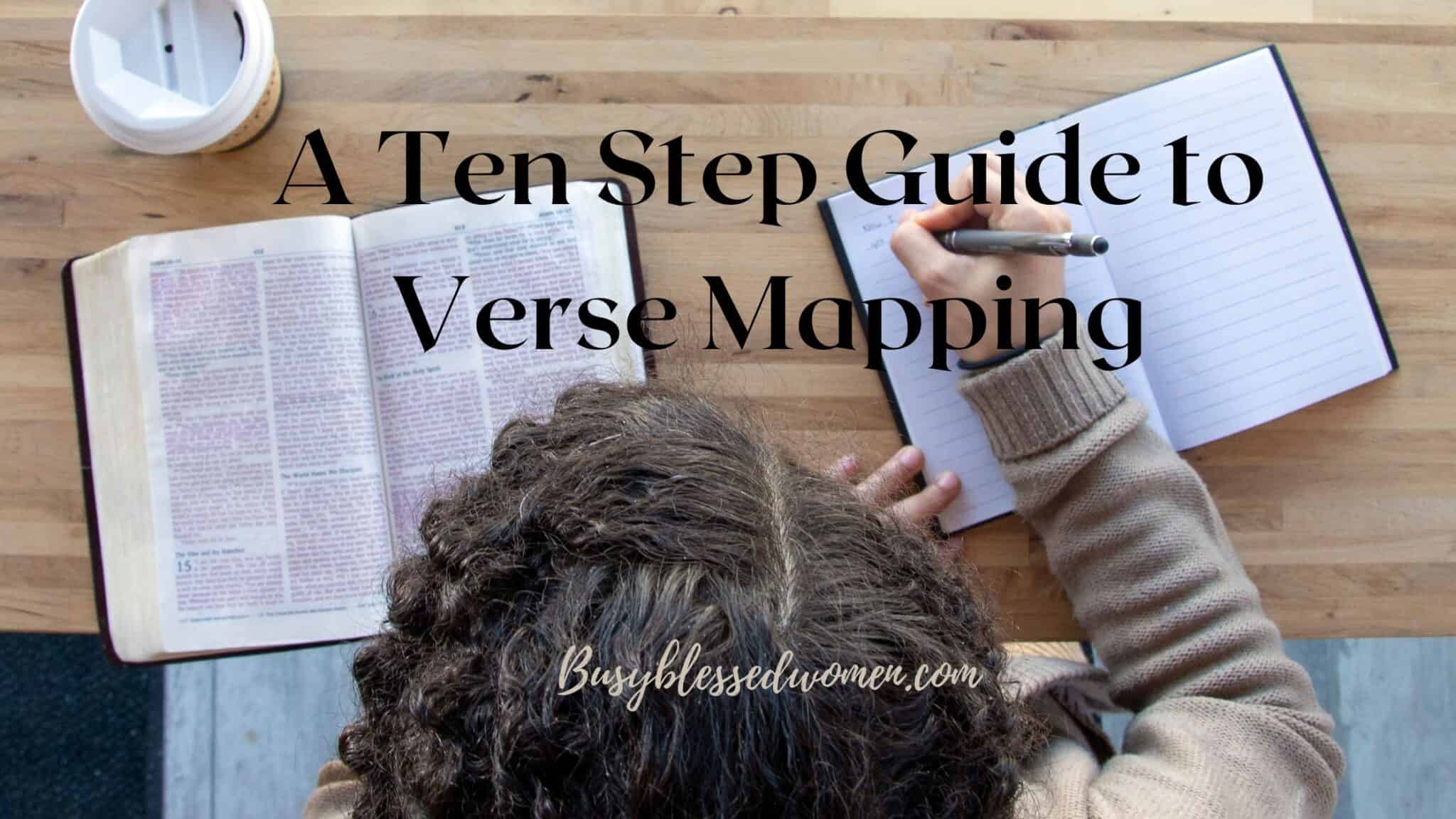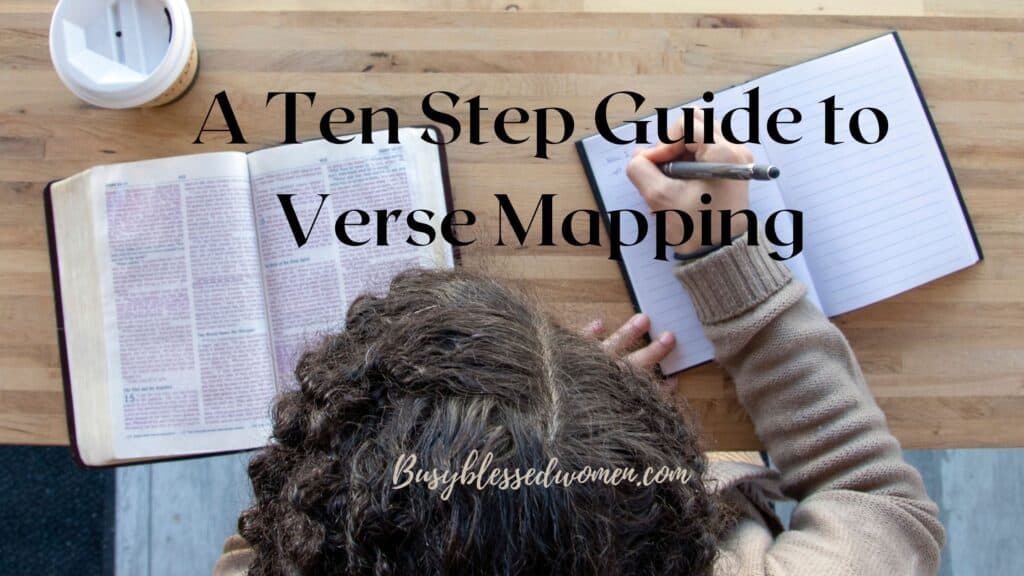 I learned the Bible verse mapping method in a roundabout way years ago. I didn't write the verse out, but used the same steps to gain a deeper understanding of what I was reading.
My first Bible had no "helps" (commentary) per the instructions of the Bible study I had started. I was new to Bible study and eager to drink as much in as possible and follow the "rules."
They instructed us to pray to the Holy Spirit for His wisdom instead of reading a commentary when we came across a verse we did not understand. I was skeptical at first, and quite surprised- and in awe- when it worked!
My husband had a parallel Bible I used quite often as well when I didn't understand the meaning of what I was reading. I also had a Bible dictionary to look up the big words I was unfamiliar with… (I'm dating myself- this was pre-Google!!!!)
Bible Verse Mapping
The beauty of Bible verse mapping is that you don't need to be a theologian or have years of Bible study under your belt to use this technique. You can discover the deeper truths of what you are reading with just a willing heart.
You don't need any fancy tools to get started, but on the flip side, you can also use your creativity to make your verse mapping more meaningful and fun.
Verse mapping is a personal journey of growth and understanding that is uniquely your own.
Advantages of Mapping Bible Verses
There are many benefits to verse mapping when you are in God's Word.
●Would you like to feel more connected to God?
●Do you want to grow your relationship with Him?
●Maybe the way you're approaching Bible study is inconsistent, boring, or feels like a hoop you need to jump through.
●Are you hoping or wanting more out of your time spent in His Word?
Give verse mapping a try in a way that works for you. You can spend as little or as much time as you want.
What is Verse Mapping?
Verse mapping is a technique to break down Bible verses into small pieces. It helps you find a deeper understanding of what you are reading.
It is a way of researching the Bible which helps us discover who God is, watch His marvelous plan unfold, and know what He wants for you.
We dissect Bible verses word by word, finding keywords and historical context. God put each word in the Bible for a reason and with perfect thought and planning.
If we want to understand His thoughts, we need to study His Word. So often we ask God, "Why?" All we need is within the pages of the Bible.
This technique has you read alternate translations of your verse and researching the Greek and Hebrew word meanings to bring added insight.
Verse mapping can be part of your private Bible study or done in group settings. If you're busy (aren't we all??) and time is at a premium, you can easily include your family in this practice. Gather everyone around the table and get started!
There are no right or wrong ways to map a Bible verse. You are the researcher who is choosing what you want to focus on.
As you work through the process, allow the Holy Spirit to guide you.
How to Verse Map
There are many ways to break down Bible verses. The steps may vary, but the purpose is for YOU to discover what the verse means and how you can apply what you learn.
Some days you'll find you can't stop filling yourself with His truths, and some days you may only get part way through the process.
It's a time for learning and soaking in what you are reading. It may take a few sessions to work your way through some verses, and that's OK! The important part is to open your Bible and try it!
10 Steps to Break Down Bible Verses
●Begin with Prayer–
We need the wisdom of the Holy Spirit to understand what we are reading. The mind of Christ is within us, and the Holy Spirit makes the Word come alive in our hearts and minds. Invite Him into your study time and ask for His wisdom to bring clarity and truth.
●Choose a Verse– the possibilities are endless. It could be a favorite verse, a topic you are struggling with (conflict, fear, loneliness, etc.), a verse from a Bible reading plan or one that you don't clearly understand, any of the Psalms, etc.
Research the verse you chose- who wrote it? Who was he speaking to? What was its intended purpose? (Usually found at the beginning of the book you are reading.)
●Context is Important–
Don't skip this step!
Read the verse (s) before and after your verse to understand what the writer was thinking about, ideas and concepts the author was teaching, and the events that were in play at the time of the writing.
Isolating verses leads to misunderstandings and misinterpretations.
●Write out your Verse– write out your chosen verse and read it aloud carefully. To make it personal to you, insert your name or "I" wherever you see the words "we", "you", "whoever", etc.
Highlight or circle any words that seem to be important or grab your attention/give important details/seem significant/ are unclear.
●Look up other translations of your verse and write out any differences you notice. I use Bible Hub for the ease of reading many translations all in one spot.
Bible Cross References
●Check the cross references for your verse in the margins of your Bible and compare to your verse. Notice your keywords/phrases in different parts of Scripture. This helps show your keywords used in different ways throughout the Bible.
Bible Hub includes these on the same page as the verse translations.
●Look up the definitions of the words you circled or highlighted. Write out important aspects of the words and any definitions that help you understand a confusing or unclear word. (Biblestudytools.com/dictionaries is one of my favorites.)
●Look up the Greek or Hebrew meanings of words to bring extra clarity, meaning, and understanding. The words in the original language have cultural meanings we don't find in the translations. My go to for this is the Blue Letter Bible.
●Apply what you've learned in your own life. Reflect on what you have learned.
What have you learned about God's character? Consider ways you can apply His truths into your life. What new idea or truth did you discover? Are you being led to make changes, claim promises, or heed warnings?
●End this time as you began- with prayer. Thank Him for what He has revealed to you. Praise Him for His Word and His thoughts that were made clear to you.
Bible Verse Mapping Template
I created a Bible verse mapping template to help you get started. I have seen lined or unlined notebooks and journals used as well. Check out "Verse Mapping Journal" online if you'd like a more permanent record of your work.
If creativity/art/organization is your thing, grab some markers, pens, highlighters, colored pencils, etc. in different colors.
I also found a Verse Mapping Bible on line that has some steps filled in. Use whatever works for you!
Besides the template and steps, I also created a Verse Mapping Bookmark for you to keep in your Bible. You'll find all these in my Resource Library by clicking on the image below.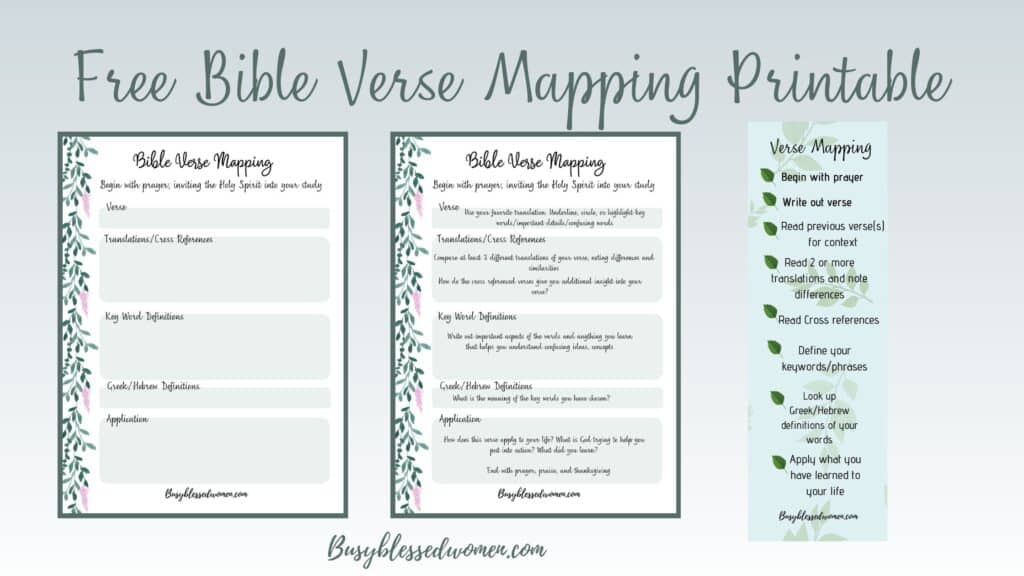 Verse Mapping Examples
I thought you might like to see how this method actually works. I chose a verse from our Bible Reading Plan to verse map- Isaiah 53:6. Here's how it turned out:
I used highlighters because that's what I had on hand.
Verse Mapping for Beginners
Don't let the enemy intimidate you in any of these steps. You are simply breaking down a Bible verse word by word to gain a better understanding. The process is flexible (if you get interrupted, it's easy to pickup where you left off.)
The only pressure comes from what you put on yourself. God delights in any time you spend with Him. He has a lifetime of love, care, comfort, and peace to give you, and it's found in studying His Word.
Study the Word of God Bible Verse
Why do we study the Word of God?
To know Him better and understand His plan for our lives!
Bible study is a key piece in our Christian walk. False teachers are everywhere and when we know Scripture, they cannot deceive us.
Bible study helps us be better servants and see the world as He does.
There are many Bible verses that speak about studying God's Word to encourage you to dig in with this new tool. Here are just a few:
Hebrews 4:12–
"For the word of God is alive and active. Sharper than any double-edged sword, it penetrates even to dividing soul and spirit, joints, and marrow; it judges the thoughts and attitudes of the heart."
Psalm 119:105-
"Your Word is a lamp to my feet and a light to my path."
2 Timothy 3:16-17:
"Every scripture is inspired by God and useful for teaching, for reproof, for correction, and for training in righteousness, that the person dedicated to God may be capable and equipped for every good work."
Study the Bible Verse by Verse
Are you ready to get started? Why not try it today? Any time spent in God's Word is priceless. He meets us as we study, giving us His wisdom.
Think about that for a minute. The King of the Universe wants to sit with you as you read and study! He wants our lives to be filled with Him and know Him intimately.
"Do not be conformed to this world, but be transformed by the renewing of your mind, that you may prove what is that good and acceptable and perfect will of God." Romans 12:2
Blessings!
AnnMarie
All Scripture is taken from the NIV unless specified otherwise.
Photo Credit: Canva