Why did Jesus refer to us as sheep and Himself as our Shepherd? The beautiful story of the Good Shepherd in the Bible gives us the answers.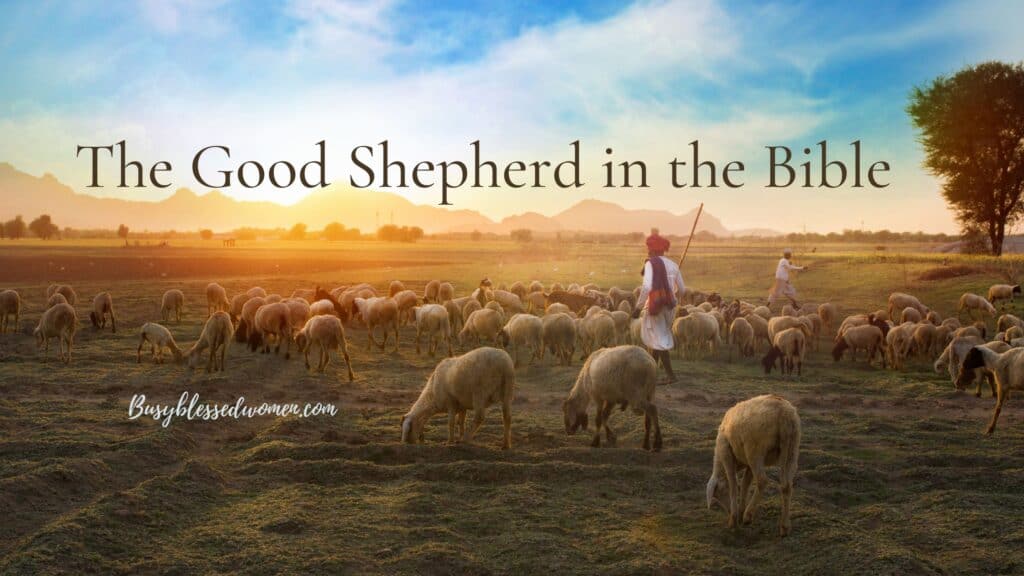 We find the Good Shepherd story in John 10:1-16. Jesus had just healed a man born blind on the Sabbath. This sparks yet another confrontation with the Pharisees. He eludes to their own spiritual blindness, which did not go over well.
Jesus then compares Himself, the legitimate and Good Shepherd, with the false shepherds–the religious leaders of Israel who showed a marked lack of care and concern for their flock.
He also uses the common occupation of sheepherding (something all the people could clearly relate to) to show them what their relationship with Him would be like.
The Parable of the Good Shepherd
John 10:1-2:
"I tell you the truth, the man who does not enter the sheep pen by the gate, but climbs in by some other way, is a thief and a robber. The man who enters by the gate is the shepherd of his sheep."
Shepherds gathered their sheep into a pen at night to protect them from other animals and thieves. A sheep pen could be a cave, a shed, or an open area made of walls of stone, mud-brick, or branches.
The shepherd often slept with the sheep and acted as the gatekeeper. The proper way to enter the pen was through the gate.
Any who sneaked in another way were not shepherds. Their intentions were self-centered, and not to care for the sheep.
The Father sent Jesus, the Good Shepherd, to care for His flock (us!). He is the only One that will lead, feed, and protect us with His perfect love, care, and sacrifice.
John 10:3-
"The watchman opens the gate for him, and the sheep listen to his voice. He calls his own sheep by name and leads them out."
Sometimes (in winter conditions or in larger towns), shepherds kept their flocks in a common pen with a single watchman keeping guard.
The shepherds would arrive in the morning and call to their flock. The sheep recognized the voice of their shepherd (contrary to the false assertion that sheep are "dumb"- they are quite intelligent!)¹
Jesus knows us by name and has a personal connection with us. He understands everything about us- our nature, character, strengths, and weaknesses.
My Sheep Know My Voice
John 10:4-5:
"When he has brought out all his own, he goes on ahead of them, and his sheep follow him because they know his voice. But they will never follow a stranger; in fact, they will run away because they do not recognize a stranger's voice."
The shepherd doesn't drive the sheep in front of him; he leads them to green pasture and a clean water source, protecting them along the way.
Sheep won't follow a stranger, in fact, if they detect a stranger, they scatter in panic.
Jesus chooses, calls, leads, and cares for His sheep.
I Am the Gate
John 10:7-10
"I tell you the truth, I am the gate for the sheep. All who ever came before me were thieves and robbers, but the sheep did not listen to them."
The "thieves and robbers" were the self-proclaimed false messiahs and teachers of the law that tried to lead the sheep astray. Thieves mistreat and abuse the sheep, using them for their own gain.
"I am the gate; whoever enters through me will be saved. He will come in and go out and find pasture. The thief comes only to steal and kill and destroy; I have come that they may have life and have it to the full."
"To come in and go out" describes the peace and security we experience when we live under the Shepherd's presence and protection.
Having "life to the full" is living with all the blessings of Jesus now and through eternity.
Jesus is the true Shepherd and the "gate"–the only way into eternal life. The Good Shepherd's main concern was for the sheep's health (our salvation.)
John 10:11
"I am the good shepherd. The good shepherd lays down his life for the sheep."
The shepherds of Israel (religious leaders) failed in their duty to love and protect the sheep under their care. God sent forth a beautiful prophecy in Ezekiel 34:11-16, proclaiming that He would be their Shepherd, "I myself will tend my sheep and have them lie down, declares the Sovereign Lord." V15.
Jesus fulfills prophecy to seek out and find His sheep, feed them, bring back the lost, bind up the injured, strengthen the weak, and shepherd the flock with justice.
John 10:11-15:
"The hired hand is not the shepherd who owns the sheep. So, when he sees the wolf coming, he abandons the sheep and runs away. Then the wolf attacks the flock and scatters it. The man runs away because he is a hired hand and cares nothing for the sheep."
The hired hand analogy also shows the difference between Jesus and the religious leaders. The hired hand is not concerned about the sheep, but only getting his pay.
He deserts the sheep when danger is near. Jesus continually tends to His sheep out of love.
I Am the Good Shepherd, I Know My Sheep
"I am the good shepherd; I know my sheep and my sheep know me-just as the Father knows me and I know the Father- and I lay down my life for the sheep."
Jesus is our Good Shepherd who "knows" His sheep. We have a deep relationship that He compares to His own relationship with God the Father!
Jesus came as the Good Shepherd to do His Father's will to the point He would lay down His life for us.
John 10:16
"I have other sheep that are not of this sheep pen. I must bring them also. They too will listen to my voice, and there shall be one flock and one shepherd."
Who are Jesus' other sheep? They are the non-Jews, the Gentiles, who He included in His plan for salvation. All sheep who hear His voice will come together in unity to follow and obey the One Good Shepherd.
Jesus the Good Shepherd
Jesus said, "I am the Good Shepherd" in John Chapter 10, but we can find many verses describing our Shepherd.
In Psalm 23, David says, "The Lord is my Shepherd, I shall not want. He makes me lie down in green pastures. He leads me beside still waters. He restores my soul. He leads me in paths of righteousness for his name's sake." Vv1-3.
Isaiah 40:11- "He will tend His flock like a shepherd; he gathers the lambs in his arms and carries them close to his heart; he gently leads those that have young."
Matthew 9:36- "When he saw the crowds, he had compassion for them, because they were harassed and helpless, like sheep without a shepherd."
Revelation 7:17- "For the Lamb at the center of the throne will be their shepherd; he will lead them to springs of living water. And God will wipe away every tear from their eyes."
10 Qualities of a Good Shepherd
Why did Jesus say "I AM the Good Shepherd"? It is one of the seven "I Am" statements Jesus spoke to emphasize and affirm His deity as the Son of God.
●The "good" is the essential characteristic of Jesus, our Good Shepherd. He is perfect in all His ways.
●A good shepherd is compassionate, caring deeply about his sheep. Jesus shows His compassionate nature throughout Scripture- to complete strangers, friends, family, and even enemies.
●Good shepherds must be diligent gatekeepers for their flock. Jesus is the only gate into His fold. We won't find salvation in anyone else.
I Am the Good Shepherd, I Know My Sheep
●Shepherds most definitely know their sheep. They spend an enormous amount of time with them. Likewise, Jesus knows everything about us; from the number of hairs on our heads to our every thought.
He also knows what would happen to us without Him as our Shepherd…
●A shepherd's life is a humble one. They were at the bottom of society and the job often passed down through brothers to the youngest son (think David).
Jesus lived His entire life with the utmost humility, even humbling himself to death on the cross for sins He didn't commit.
●A shepherd is protective of his sheep, carrying a rod and/or a sling to beat off predators. As believers, we live under His constant protection.
I Lay Down My Life for My Sheep
●Shepherds care more for their sheep than they do their own lives. Our Good Shepherd tells us of His sacrificial love.
●Good shepherds are leaders of their sheep. Jesus leads us by directing our steps and continually guiding us.
●A good shepherd is vigilant; keeping careful watch over each sheep. He doesn't want one to wander away, get sick, or deliver their lamb alone.
Jesus is by our side every second of the day, working in ways we never see. He protects us physically, mentally, and spiritually.
●Shepherds seek the lost lambs. If a lamb goes missing and they cannot prove predators took the lamb, they must pay for the lost animal.
Jesus came to earth with a passion to seek and save the lost. He experiences great joy when He seeks and finds His lost sheep. He will even leave the 99 to go after 1 lost sheep.
How are We Like Sheep in the Bible?
The evidence is overwhelming- Jesus is THE Good Shepherd of our lives. But why does God compare us to sheep?
"We all, like sheep, have gone astray, each of us has turned to our own way." Isaiah 53:6.
Sheep need a shepherd. Without one, we would wander aimlessly, grazing on whatever looks good, drinking stagnant water, and fall prey to predators.
We need Him and His saving power to lead us on the path to eternal life.
Sheep are defenseless. The only line of defense is their ability to run and to kick. Predators can easily overpower sheep.
We are like sheep in that we need His protection. He is our firm foundation, our rock, our shield. He fights our every battle!
Just as sheep recognize their shepherds' voice, we too recognize our Shepherds' voice when we take the time to listen and know His Word.
Sheep were valuable in Bible times. They provided meat, milk, wool, offspring, hides for clothing and horns for making music. Our Good Shepard considers us even more precious and priceless.
Sheep are intelligent and social, but vulnerable to "thieves and robbers." It is the same for us! We need His guidance, protection, compassion, leading, and love.
Our Good Shepherd is everything and all that we need!
Following the Good Shepherd
What attribute of the Good Shepherd imagery do you love the most?
Are you experiencing the abundant, full life the Good Shephard promises in verse 10? How do you know?
His sheep follow Him and His instructions. How well do you follow? Where do you wander?
Blessings!
AnnMarie
All Scripture is taken from the NIV unless specified otherwise.

¹https://www.iamcountryside.com/sheep/how-smart-are-sheep/¹
Photo Credit: Canva