It will rain here tomorrow, and I can hardly wait. I love a nice rainstorm. We could use the blessing of rain here–it's been dry for a while. It feels like the earth is just waiting to explode. The trees want their buds to burst; the grass wants to pop with lush green color, and all the spring plants are trying hard to push through the dry dirt. The Bible talks about the blessing of rain too, in a few different contexts.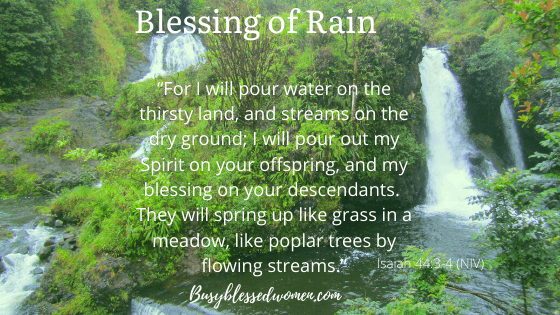 Rain Mean Blessings
"For I will pour water on the thirsty land, and streams on the dry ground; I will pour out my Spirit on your offspring, and my blessing on your descendants. They will spring up like grass in a meadow, like poplar trees by flowing streams." Isaiah 44:3-4 (NIV).
Isaiah had just finished a scathing tongue lashing to God's people. He urged them to repent but then fills them with these words of consolation and hope of the blessings coming their way.
These same words hold true for us today, and for future generations.
The vision of a dry, thirsty land symbolizes those who sincerely desire the blessing of God's Spirit in their lives. Just as the rain comes and refreshes, cleanses, and makes the ground fruitful, the blessing of His Spirit brings these same qualities into our lives.
Rain is a Sign of Blessing
The picture of rain as a spiritual blessing seems most appropriate. Without rain, my garden plants droop, their growth is stunted, and no fruit/flowers come forth.
Likewise, when we walk on our own path or find ourselves in desert seasons, we can become dry and fruitless.
God's promise in Isaiah was for us too, the descendants. He wants to rain down his blessings on us. His desire is for us to be refreshed and fruitful- as lush as meadow grass growing "by flowing streams."
Showered with Blessings
Just as rain brings needed nutrients, God's blessings give us what we need to thrive. Not only that, but He wants us to feel absolutely drenched with His goodness. His desire for us is to be constantly refreshed, growing, fruitful, and healthy.
God showers us with all his blessings- he never holds back or leaves out a few. His blessings are the fulfillment of all his promises!
•He showers us with his grace, mercy, compassion, and forgiveness every day.
"The steadfast love of the Lord never ceases; his mercies never come to an end; they are new every morning; great is your faithfulness." Lamentations 3: 22-23 ESV.
Have you felt his kindness and gentleness, help and concern washing over you?
•He blesses us with a personal relationship with Himself
When we put our faith in Jesus, He rains down promises of forgiveness and eternal life. He promises to never, ever leave our side. He showers us with His Spirit to guide, comfort, and teach us His ways.
•The Blessing of Scripture
God's Word compares to rain/water because they both give us life. They are essential and nourishing. Without rain/water, we cannot survive.
If we neglect our "intake" of His Word, we experience a "drought" of fresh insight, love, care, and grace. His Word infuses us with his strength and hope. We will struggle to live in his joy and comfort without his Word.
Moses described the words God gave him:
"Let my teaching fall like rain, and my words descend like dew, like showers on new grass, like abundant rain on tender plants." Deuteronomy 32:2 NIV.
Do you get your daily recommended intake of His refreshing and life-giving Word?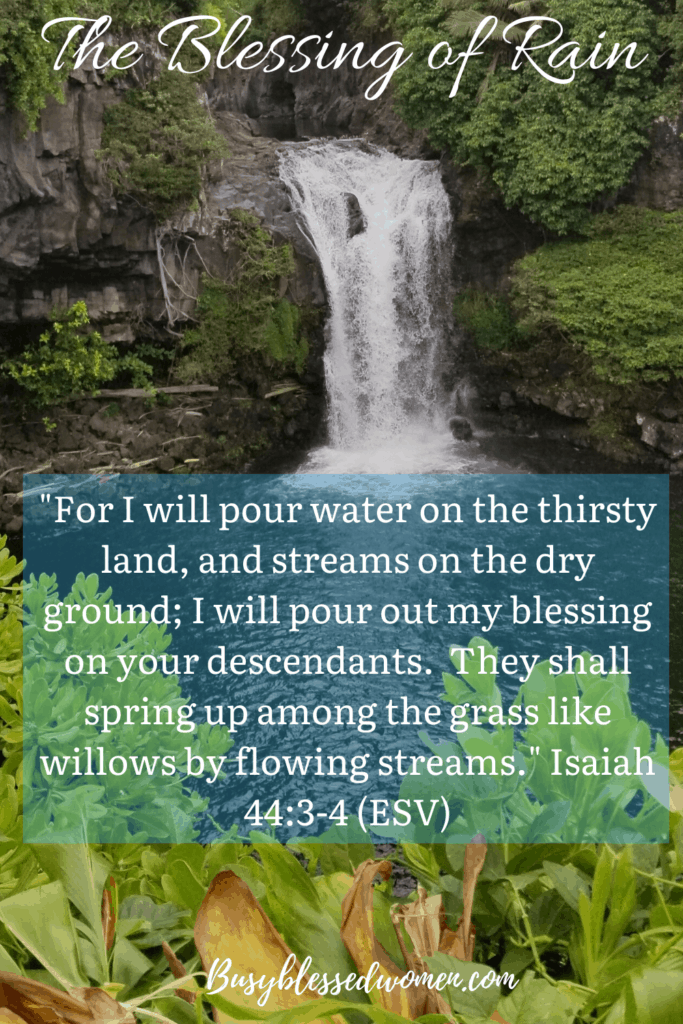 Be sure to pin me for later!
Rain from God
God used a lot of interesting symbolic "dry" spots to highlight our need for his blessing of rain and life-giving water.
He had the Israelites (roughly 2 million of them BTW…) wander the desert for 40 years. The desert. That's about as dry as you can get.
But God provided!
Water From the Rock
The Israelites were complaining again.
They grumbled to Moses to fix their problem. They didn't pray about it or try to solve it on their own or put their heads together. Moses cried out to God, "What am I to do with these people?"
"The Lord answered Moses, 'Walk on ahead of the people. Take with you some of the elders of Israel and take in your hand the staff with which you struck the Nile and go.
I will stand there before you by the rock at Horeb. Strike the rock, and water will come out of it for the people to drink.' So Moses did this in the sight of the elders of Israel." Exodus 17:5-6
God also led them to freshwater springs, turned bitter water into sweet, and even "rained down" manna from heaven to feed them! He continually provided all they needed.
Rain from Above
God also purposely placed his people in Israel- a dry and dusty land. It was completely dependent on rain to replenish the streams, the Sea of Galilee, and the cisterns that caught the rain. Rains needed to be regular and plentiful to sustain the land and its people.
Spiritual Meaning of Rain in the Bible
In both their desert wanderings and the land of Israel, God's people depended on Him for the life-giving source of water and rain. He blessed them with it over and over as they came to Him. He wanted them to learn to walk close and to put their trust in Him.
"But blessed is the one who trusts in the Lord, whose confidence is in him. They will be like a tree planted by the water that sends out its roots by the stream. It does not fear when heat comes; its leaves are always green. It has no worries in a year of drought and never fails to bear fruit." Jeremiah 17:7-8 NIV.
God has given us abundant blessings in our lives. He is our #1 source of provision.
Are you trusting God alone to shower you with his blessings?
Related Post∼ "The Lord Is My Confidence."
Blessing Upon Blessing
John gives a personal testimony to the Person of Christ he encountered in the first chapter of his book. "From his abundance, we have received one gracious blessing after another." John 1:16 NLT.
He's telling us that our relationship with God through Jesus is a connection that gives us nonstop "blessing after blessing."
Jesus gives purpose, direction, forgiveness, wisdom, grace, and understanding. Because we have his Holy Spirit living within us, we can never exhaust this supply of blessings.
Rain of Blessings
Our loving Father wants to send a downpour of blessings to His people. He's the only one who can do it- we can't produce them ourselves. He wants us to depend on and trust him completely.
Reflections on Rain
The next rainy day might be a perfect time to reflect on the blessings of God that rain down from heaven. We started with the promise from God in Isaiah that he would pour out his Spirit like water.
Reflect on that promise kept in John 7:38-39- "Whoever believes in me, as Scripture has said, rivers of living water will flow from within them. By this, he meant the Spirit, whom those who believed in him were later to receive."
Plant yourself where the Spiritual blessings flow freely, and allow him to refresh, heal, and bless you.
Blessings upon blessings to you!
AnnMarie
Related Post: What are Blessings from God?