I'm a bit obsessed right now with a song called "Do It Again" by Elevation Worship. I love to grab a cup of coffee and watch the live version before I sit down to write at my computer. The lyrics that caught my attention were "I'm still in your hands, this is my confidence". What a great reminder that we don't have to rely on our own abilities. The Lord is my confidence! We can rest in the knowledge that we have a God who never, ever fails and always holds us in His hands.

God Confidence vs Self Confidence
Are there days when you feel insecure? Maybe some days are better than others. We should feel "God-confident" every day. I don't know about you, but this reminder is so comforting!
One definition of confidence is "the feeling or belief that one can rely on someone or something; firm trust." (Oxford Dictionary).
I want to feel that kind of confidence every day.  I trust that my abilities and strengths are God-given and that I can rely on Him to help me meet challenges in my day.
When I keep that as my perspective, then my confidence is not about me, but on our unfailing God.
The first verse I read on confidence was Hebrews 4:16: "So let us come boldly to the throne of our gracious God. There we will receive his mercy, and we will find grace to help us when we need it most." Some versions say "approach with confidence", and I don't know about you, but neither sounds like something I would do.
I believe it, but to step up and approach Him? Come boldly? To His throne?
How to Have Confidence in God
We need to back up just a couple verses for an explanation on why we can be so bold and confident.
Verse 14: "So then, since we have a great High Priest who has entered heaven, Jesus the Son of God, let us hold firmly to what we believe."
The writer of Hebrews wanted to emphasize that our confidence rests squarely and completely on Jesus.
His sacrifice meant the temple curtain was torn; there was no need for a human High Priest to go into the Holy of Holies to atone yearly for our sins. He took our place and now sits on His heavenly throne.
Hold firmly to that truth!
Verse 15: "This High Priest of ours understands our weaknesses, for he faced all of the same testings we do, yet he did not sin."
Isn't that comforting as well? Jesus was fully human like us- except that we sin, and he did not. He can, however, sympathize with us.
His life wasn't easy, he fought battles. He felt pain; emotional and physical. His friends and family weren't always easy to get along with.
He confronted skeptics and haters. There is absolutely nothing we go through that he does not fully understand.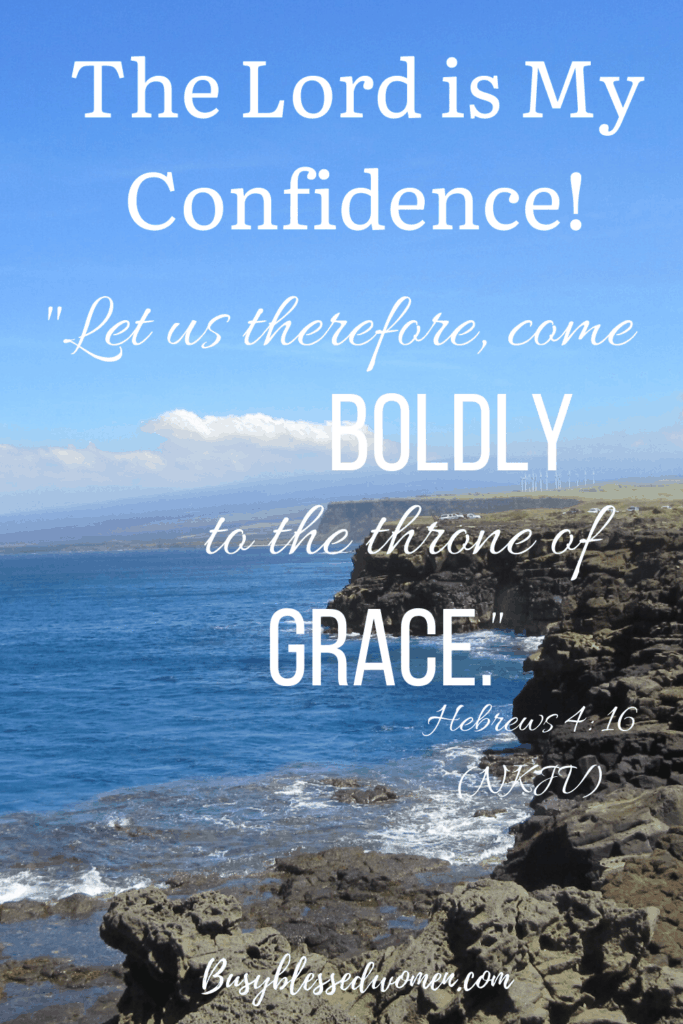 Pin me for later!
Putting our Faith in God
Then we come back to verse 16. He waits patiently; ready and able to help us. He has unending mercy and grace to fill our lives, and He wants to give them to us!
Fear shouldn't keep us from approaching Him. We should come reverently, but that's different from fear. He tells us to come fearlessly, confidently, and boldly. He has every confidence in us!
One way to boost our confidence is to remind ourselves that Jesus has never failed us. We can trust in His Word and His character. He always keeps His promises, and He is always faithful.
My husband and I have been in a small group Bible study for almost 30 years. We have kept notebooks of our prayer requests over the years. All I need to do is go through a few pages and marvel at how He has worked in our lives. It gives me confidence knowing He has been in every situation and circumstance of my life.
He's moved mountains and broken down walls.
He has never strayed from my side.
Whenever I fall, He has picked me back up.
Our Confidence is in the Lord
When we remember how He has been present in every situation and circumstance of our lives, it makes us able to persevere in trials and bounce back from hurts and missteps. We can live with the unshakable truth that the Lord is our confidence!
Bible Verses about Confidence in God
Here are some encouraging verses to build up your confidence in God-
"I have confidence in your strength; you are my refuge, O God." Psalm 59:9 (GNT)
"For the Lord will be your confidence, and will keep your foot from being caught." Proverbs 3:26 (NKJV)
"Being confident of this very thing, that He who has begun a good work in you will complete it until the day of Jesus Christ." Philippians 1:6 (NKJV)
"So do not throw away your confidence, it will be richly rewarded." Hebrews 10:35 (NIV)
"This is how love is made complete among us so that we will have confidence on the day of judgment; in this world, we are like Jesus." 1 John: 4:17 (NIV)
Live Confidently!
Blessings,
AnnMarie
Related post∼ "How To Develop Trust in God."
Photo Credit: AnnMarie Anderson, Pixabay