My sister and I spent her spring break this year in the desert. We usually opt for a place near the water, so we weren't sure what to expect. We only knew it would be warm, which was our primary goal! When I pictured the desert, I imagined sand, cactus, hot sun, and a dry, barren, brown rocky landscape. We hiked each day in the desert heat. The term "spiritual desert" came to mind more than once as we trudged along those narrow, twisting paths. A spiritual desert has a similar theme: dry (spiritually), barren, hot and tired, scorched, rocky and sometimes feels endless. Will we find our way out? What's the best way to make our path through life's desert seasons?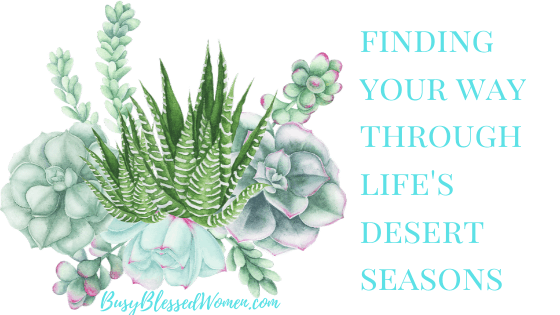 Spiritual Desert
Life's desert seasons come in many forms. Have you ever been there?
It may be a crisis or a long-term difficult season. Our prayers aren't being answered, or maybe we can't hear God at all. Death of a family member, divorce, health issues, job problems, depression, or anything that leaves us feeling frustrated, confused, in pain, or just emotionally and spiritually spent can find us in a spiritual desert.
Desert seasons leave us "dying of thirst". We want to hear His voice and know what steps he wants us to take, but we can only see sand, sand, and more shifting sand. Biblical desert experiences, however, can give us insight and hope! Here are two experiences to guide us.
Israelites in the Desert
The Israelite's wandered 40 years in the desert. (Now that's a long desert season!)
When they left Egypt, God could have taken them on a straight, much shorter route to the Promised Land. There was a reason He did not do this. Many reasons, in fact. The Israelites were rebellious, hard-hearted, stubborn, grumbling, complaining and idol worshipers! God knew all this and still did not leave them by themselves.
Finding God in Life's Desert Seasons
Two things stick out for me in this time of the Israelite's wanderings:
1) God provided EVERYTHING they needed for their time in their desert season. He provided food and water (manna, quail, fresh water) for them the entire time. He also took care of every single detail- large and small.
2) He guided their path by showing Himself as a pillar of cloud by day and a pillar of fire at night. If they followed Him, they would have the guidance they needed.
Remember that God doesn't leave you alone in your life's desert seasons! He wants to provide for you and guide you on your path. Lean on Him for every need. Also, examine your human nature and see if there is anything that is keeping you stuck in the desert like the Israelites.
"Remember how the Lord your God led you all the way in the wilderness these forty years, to humble and test you in order to know what was in your heart, whether or not you would keep his commands." Deuteronomy 8:2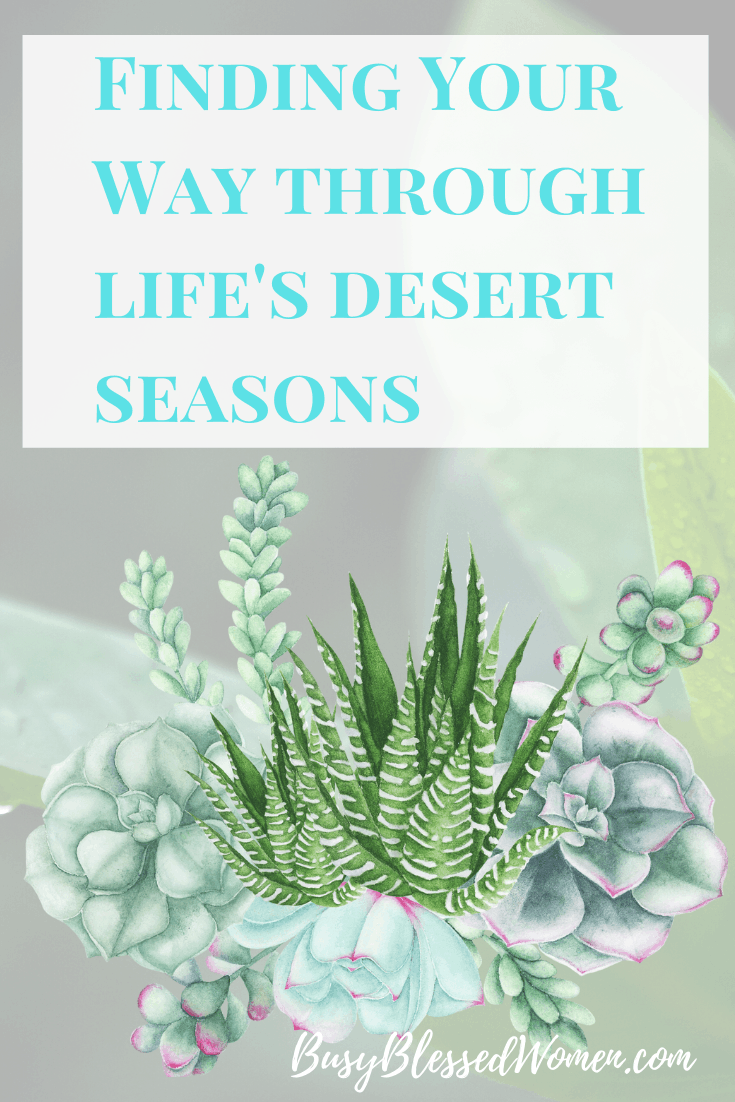 Pin me for later!
Jesus in the Desert
Jesus spent time in the desert too. He was in the desert for 40 days, being tempted by Satan. He ate nothing while he was there and felt exhausted, alone, and hungry. Satan wanted him to turn a stone into bread (which must have sounded tasty), but Jesus responds only with the words of God.
This story is so comforting to me. Jesus knew we would have hard, trying times. But he gives us this story as a reminder of how to make it through the desert seasons.
He knows we will have times where our desert seasons bring us depression, worry, and fear, but he doesn't want us to linger in those emotions too long. Jesus gives us the answer to surviving the desert three distinct times: rely on God's word.
"Man does not live on bread alone but on every word that comes from the mouth of the Lord." Deuteronomy 8:3
Blooming in the Desert
My sister and I found out that the desert comes alive when the rains come. This life-giving water is scant, but it was as if every cactus and bush had exploded in blooming color. We saw it for ourselves all around us. What I thought would be a dry, brown and barren landscape was filled with amazing colors and textures I had never seen before.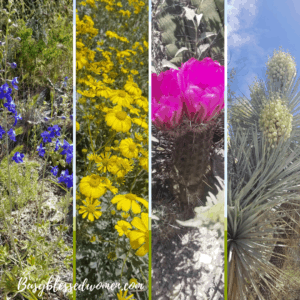 Walking with God in the Desert
Our desert seasons have a life-giving, water-filled Oasis waiting to give you refreshment. He is the source of refuge and relief from the desert dryness.
Don't miss Him by focusing on the surrounding desolation. He wants you to bloom–even in the desert! He sees your potential and wants to give you the Living Water that will refresh you and make you flourish.
John 7 tells of Jesus at the Feast of the Tabernacles, where the priests poured out the water daily in memory of the water God provided for his people in the desert.
Jesus stood up on the last day and boldly shouted, "Let anyone who is thirsty come to me and drink. Whoever believes in me, as Scripture has said, rivers of living water will flow from within them." (vv37-38) Jesus offered himself as Living Water.
He promises this life-changing gift of refreshment, satisfaction, and eternal life with him.
"And the Lord will guide you always; he will satisfy your needs in a sun-scorched land and will strengthen your frame. You will be like a well-watered garden, like a spring whose waters never fail." Isaiah 58:11
Leaving the Wilderness
Desert seasons can be a time of spiritual growth and lead us into a closer relationship with God. They can strengthen our character and teach us valuable lessons about ourselves if we let them.
When my first husband abandoned me with a newborn and a 4-year-old, it left me wandering in a desert. I felt ashamed, afraid, lonely, and overwhelmed.
God gave me strength that I didn't know I possessed. He gave me hope that I could single parent my two children. It opened my eyes to see how He was working in my life and fighting for me.
He taught me to have trust in Him within my disappointments and losses. I rested in the truth that He knows my future and had a plan for me.
He was my oasis in the desert.
Let Him refresh you spiritually and emotionally in your desert season.
Rest in His loving presence. Read His words and let them soak in and refresh your soul.
Walk with hope knowing He is always faithful to guide you along the challenging paths of your life's desert season.
"I am making a way in the desert and streams in the wasteland." Isaiah 43:19b
"The desert and the parched land will be glad; the wilderness will rejoice and blossom. Like the crocus, it will burst into bloom; it will rejoice greatly and shout for joy." Isaiah 35: 1-2
Blessings!
AnnMarie
Photo Credits: AnnMarie Anderson, Design Bundles