If we are completely honest, we have all felt prideful. It's not a topic that's talked about much, but increasing our awareness of prideful ways keeps it from sneaking into our lives. But is pride always a sin? Where does pride come from? What is pride? The Bible has a lot to say about the spirit of pride- let's get to it!
Biblical Meaning of Pride
The Old Testament use of the Hebrew word "pride" has only a few positive meanings and they all refer to God and His majesty and excellence. Otherwise, it is used to describe arrogance, insensitivity to the needs of others, conceit, a scoffer or mocker, haughtiness (arrogantly superior), stubbornness, and a lack of respect for God.
Yikes! This can't be me, right?
But look closer- each of these words describes how pride distorts the way we see and think of ourselves. Even a small amount of these characteristics are still prideful. Pride arises when we focus on making ourselves feel better by making others feel smaller or looking down on others. It is thinking higher of ourselves than we ought to. This can be in action or thought.
Root Cause of Pride
"In his pride, the wicked man does not seek him; in all his thoughts there is no room for God." Psalm 10:4.
It is pride that keeps us from seeking Him and keeping Him in our thoughts. We give excuses why we don't seek Him- busy days filled to the brim with jobs, family, responsibilities… but the root cause of pride is thinking that our earthly concerns come before Him. I guess I never thought of these things as pride.
And pride says when we succeed- whether it be financial, in our jobs, wonderful service projects or cultivating a great group of Christian friends- we give the credit to ourselves– our hard work, our knowledge, our kindness, personality traits, etc.
But Jesus says, "Whoever exalts himself will be humbled, and whoever humbles himself will be exalted." Matthew 23:12. Isn't it more precious and meaningful to be exalted by God than men?
Jesus is our best example (as always)- He deserved the exaltation but humbled Himself. And because He made humility His choice, He receives the glory, worship, and adoration He deserves.
God calls us to a different standard. His kingdom measures greatness on how we serve others, not what we do for ourselves.
How to Avoid Pride
Paul urges us to evaluate ourselves for any sin of pride in our lives:
"For by the grace given me I say to every one of you: Do not think of yourself more highly than you ought, but rather think of yourself with sober judgment, in accordance with the faith God has distributed to each of you." Romans 12:3.
Using "sober judgment" means an honest self-evaluation. We shouldn't think either too high (or too low!) of ourselves. Those attitudes interfere with reflecting Jesus in our lives.
Paul was speaking of the attitudes of the Jews who thought they were better than the Gentiles and vice versa. Unfortunately, divisions still exist within the church today due to pride. There is no room for sinful pride in any part of our lives, including the church.
Bible Verses about Humility and Pride
Here are a few Bible verses about pride and humility to help us focus on the One who showed us what ultimate humility and selflessness looked like- Jesus Christ.
•"The Lord detests all the proud of heart. Be sure of this: They will not go unpunished." Proverbs 16:5.
•"There are six things the Lord hates, seven that are detestable to him: a proud look, a lying tongue…" Proverbs 6:16 (Also called the "7 deadly sins" verse…) These two verses show us that pride is a serious sin. Even a look ("haughty eyes," in some translations) of pride is detestable!
•"Do you see a man who is wise in his own eyes? There is more hope for a fool than for him." Proverbs 26:12 'Wise in his own eyes' is a special form of prideful self-conceit that Solomon says is almost hopeless to correct.
•"…Scripture says: 'God opposes the proud but shows favor to the humble.'" James 4:6. Pride says, "I deserve grace because of what I have done;" humility puts our hearts in a place to receive the gift of grace; knowing we do not deserve one ounce of it.
Philippians 2:3
•"Do nothing out of selfish ambition or vain conceit. Rather, in humility value others above yourselves." Philippians 2:3. (Note that not all ambition is selfish…) "Valuing others above ourselves" means we are thinking of ourselves less often and more about others. Paul was speaking especially to believers.
Pause and think for just a minute what our society would look like if we all were more concerned about others than ourselves!
•"When pride comes, then comes disgrace, but with humility comes wisdom." Proverbs 11:2 Nothing good can come from what God opposes and hates. But humility brings the wisdom and truth of God into our lives- an important foundation for our faith.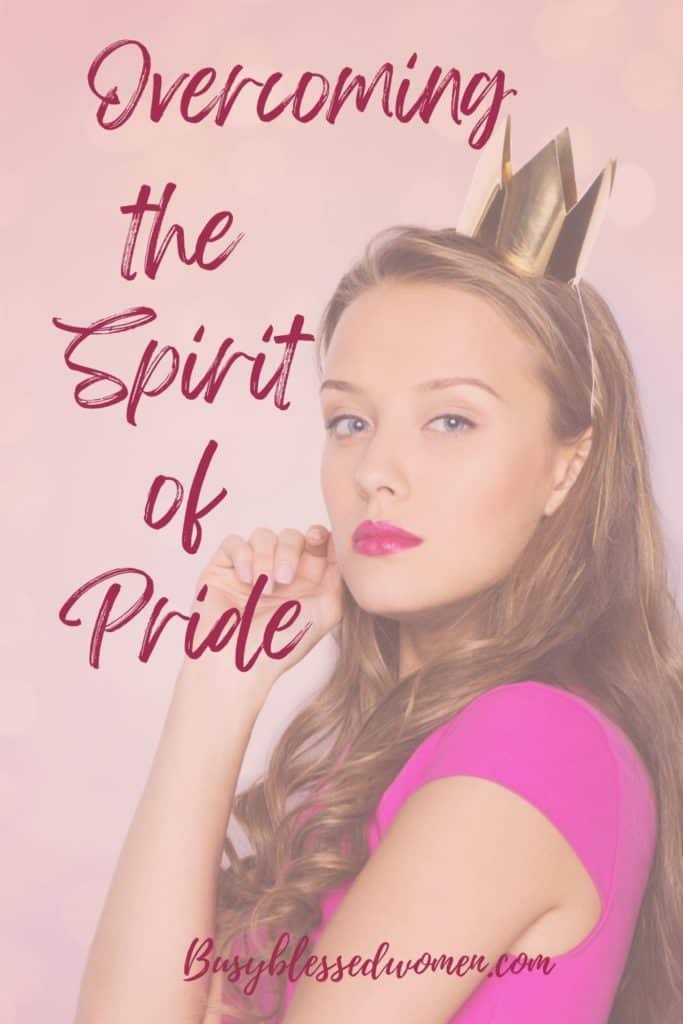 Pin me for later!
Is Pride always a Sin?
The short answer- no.
We can feel pride as satisfaction over something we have accomplished as long as we are not boastful about it. Pride is an attitude of the heart and a way of thinking.
I can be proud of my work or family's accomplishments and tell others what great joy they bring.
Listen to these words from God the Father about Jesus- "This is my beloved Son, in whom I am well pleased…" Matthew 3:17. Of course, His boasting would never be sinful, put the purity of His joy in His Son shines through.
Paul also speaks of boasting, and not in a sinful way-
"I have great confidence in you; I take great pride in you. I am greatly encouraged; in all our troubles my joy knows no bounds." 2 Corinthians 7:4.
He wanted them to know about his great love, concern, confidence and pride in them! They comforted him and filled him with overflowing joy.
We can be proud as long as we remember that every good thing we have comes from God and recognize there is nothing of value we can accomplish without Him.
Examples of Pride in the Bible
•The first example that comes to mind are the Pharisees. They mistreated and believed those who were below them socially were inferior. They mistook false piety for living out God's law. Outwardly, they seemed to obey all the decrees, but internally, their hearts were hard. Parading righteous behavior to get attention is prideful.
•We see evil pride in the actions of Pharaoh- he tried to build up his kingdom of Egypt by using and abusing the enslaved people of Israel. When God sends the plagues to convince Pharaoh to let the people go, Pharaoh refused to humble himself before God. He relents and allows the Israelites to leave only after losing his son. Even then, his burning pride returns and well, we know the catastrophic end to Pharaoh's story.
Pride in Genesis
•We can go back to the very beginning of the Bible and look at Eve. Satan tempted Eve and instead of keeping her eyes on God, she looked at the forbidden fruit as extremely desirable. The ability to be like God enticed her, and Satan could use that prideful snare to get her to eat the fruit.
Overcoming Pride
•The story of Saul/Paul gives us great hope in overcoming the spirit of pride! He thought of himself as the perfect Jewish man with an impeccable Jewish heritage and upbringing. His selfish ambition fueled his desire to eradicate and persecute Christians.
After his conversion, Paul could see what a worthless waste of time all his prideful religious works really were. He learned that without Christ, all his works were but "filthy rags"; empty of the Spirit of God. They were unable to save his soul or bring him into the presence of God for eternity as he had believed.
I love this verse that sums up the attitude we need to strive for:
"But He said to me, 'My grace is sufficient for you, for my power is made perfect in weakness.' Therefore, I will boast all the more gladly about my weaknesses, so that Christ's power may rest on me." 2 Corinthians 12:9.
Now that's something to boast about!
How to Overcome Pride
Pride is all around us- we see it in the rich and powerful, successful and famous people, even pastors and religious leaders. But we don't have to look far to see it in our own lives or in those near to us. We've taken the first step in gaining an understanding of pride; now it's time to take concrete steps.
Humble Yourself
•Choose to humble yourself before others; "clothe yourself with humility". No matter how poorly someone treats you, consider them better than yourself. Choose forgiveness and self-control over pride and retaliation. This is difficult, but God can help us set aside our prideful instincts and desires.
•Choosing pride means taking sides with the enemy over God. Instead, ask the Holy Spirit for His conviction, guidance, wisdom, and protection from the spirit of pride.
•Pride blinds us to our faults. Identify what desires tempt and lure you into making prideful decisions and the things that grow your own sense of self-importance.
Know God
•Build up your confidence in God by knowing who He is. Seek Him first. Study His Word. Surrender to His ways; let Him lead you daily.
•"When you give to the needy, do not let your left hand know what your right hand is doing, so that your giving may be in secret. Then your Father, who sees what is done in secret, will reward you." Matthew 6:3-4. Our giving shouldn't be to make ourselves look good, but to give glory to God.
•Be willing to do the little and lowly things for God. Jesus gave us the beautiful example of washing the feet of the disciples.
•Be diligent in rooting out pride- it is a lifetime of daily making the choice to be humble. As our humility grows, so does our relationship with God.
Prayer For Overcoming Pride
Father, your Word tells us how dangerous pride can be to our souls. It is an evil that delights the enemy and dampens our close relationship with You. Our love for ourselves overrides the love You want us to have for You and for others.
Purify my heart from pride, Lord. Thank you helping me clearly understand how it can infiltrate my life so that I can renounce it in Jesus' name.
Thank you for all the good things in my life and the many ways You alone have helped me succeed. Convict me to be obedient to Your will, not my own. Help me trust in your loving-kindness and plans for my life.
Give me Your eyes to see others as you do- as your beloved children. Convict me to embrace humility when I think less of others because they are different from me. Help me be humble in this world that sees humility as weakness, so that I can reflect your love and glory and testify to your glorious Name.
In Jesus' name, I pray.
Amen
Blessings!
AnnMarie
Photo Credit: Deposit Photos
All Scripture is taken from the NIV version unless noted otherwise