Christmas is just a few days away. I've wrapped our gifts and placed them underneath the tree. While wrapping them, I began thinking of the gifts that the wise men brought to Jesus. I wondered what Mary and Joseph thought of these visitors from afar and their gifts? What happened to the gifts they brought? How did the wise men choose them? What lessons can we learn from the gifts of the wise men?
So many questions… But it's good to be curious when it comes to Scripture, right? 🙂
The Three Wise Men in the Bible
The book of Luke provides us with the most details regarding the birth of Jesus. Matthew only records a few birth details, but it's in his book alone that we find the story of the wise men's visit to Jesus.
How Many Wise Men Visited Jesus?
This is not a trick question! Here's what we are told:
"Now after Jesus was born in Bethlehem of Judea in the days of Herod the king, behold, wise men from the East came to Jerusalem." Mathew 2:1 NKJV
Not three, but just "wise men." The three wise men narrative probably comes from the three gifts that were presented, but we don't know for sure. There could have been many wise men who made the journey!
The 3 Kings Names
Note that nowhere does it say they are kings, nor do we know their names. The assumed names of Gaspar (or Caspar), Melchior, and Balthasar only became tradition about 500 years after their epic journey.
How Old was Jesus When the Wise Men Came?
Christmas cards, Christmas carols, and even my nativity sets depict the 3 wise men presenting their gifts to the baby Jesus in His manger.
Let's go back to Matthew's Gospel-
"And when they had come into the house, they saw the young Child with Mary His mother, and fell down and worshiped Him. And when they had opened their treasures, they presented gifts to Him: gold, frankincense, and myrrh." Matthew 2:11 NKJV.
The gospel of Luke tells us Jesus was born in a manger, and Matthew tells us the wise men visited Jesus and Mary in a house. The Greek words used to describe Jesus as a "young child" and the word "house" in this verse tells us that Mary, Joseph, and Jesus probably moved out of the stable into a home and that the wise men most likely visited when Jesus was between 6-18 months old.
Whatever the timing, the most important fact is that the wise men showed the appropriate response when they met Jesus: "they bowed down and worshiped." It was their entire purpose for traveling so many miles: "We saw His Star in the East and have come to worship Him." Matthew 2:2.
Three Gifts for Jesus
It was common practice in the East to bring gifts when visiting with royalty or VIPs. The extravagant gifts of the wise men tell us they were indeed honoring a King.
Even with limited knowledge of Scripture, these Gentile wise men traveled far to find and worship the newborn Messiah. (I can't help but compare their enthusiasm with the lackluster response of the Jewish leaders…)
When the star directed the wise men to Jesus, they were "overjoyed." (Matthew 2:10) In response to meeting the King, they presented Him with treasures of great value.
The wise men gave these gifts with the purpose of honoring and worshiping Jesus, but we can also draw symbolism out of each gift.
Symbolism of Gold, Frankincense, and Myrrh
Gold in the Bible was costly and the most precious metal of its time. Frankincense was a tree resin used as a perfume, medicine, and in religious rites. Myrrh was also a tree resin used as a fragrant spice, incense, perfume, and anointing oil. These were expensive and luxurious items.
Symbolism of Gold in the Bible
Gold had immense value. It was a fitting metal for royalty and its expensive and pure characteristics were fitting to express a divine nature. (Remember the golden calf??) It is fitting then that the wise men brought gold. They considered Jesus God and King.
We can look back into the Old Testament and see the symbolism of gold representing Jesus in the Tabernacle:
Gold was present in almost all the gilded furniture and utensils inside the tabernacle. Some items include the Table of Showbread (Jesus, our "living bread"), the Lampstand (Jesus, "the light of the world"), the Altar of Incense (His intercession for our lives makes incense obsolete), and the Ark of the Covenant (the atoning blood of Jesus).
Symbolism of Frankincense
The gift of frankincense was also a costly treasure in Biblical times due to its labor-intensive harvest. It was used in worship as incense and as an anointing oil for the priests.
God commanded the burning of a pure and sacred incense blend which included "pure frankincense" (Exodus 30:34-37) to be burned in front of the Ark of the Covenant and to be used as sacred anointing oil. God considered it so holy that He banned it from personal use.
This pure and holy offering is symbolic of Jesus' offering of His pure and holy life and redemptive death.
Symbolism of Myrrh
Myrrh was a spice used in medicine and when mixed with oil was used to anoint the tabernacle and all its furnishings. It purified and made holy whatever it touched. This sacred oil was also used to anoint the High Priest Aaron and his sons.
We see that myrrh was also an ingredient in the spice mixture used in preparing bodies for burial. John's gospel describes its use in preparing Jesus' body for burial. (John 19:39-40)
Whether the wise men intended to make these connections or not, we also see Jesus as the Anointed One (the word Messiah means "Anointed One", and as our High Priest (Hebrews 4:14).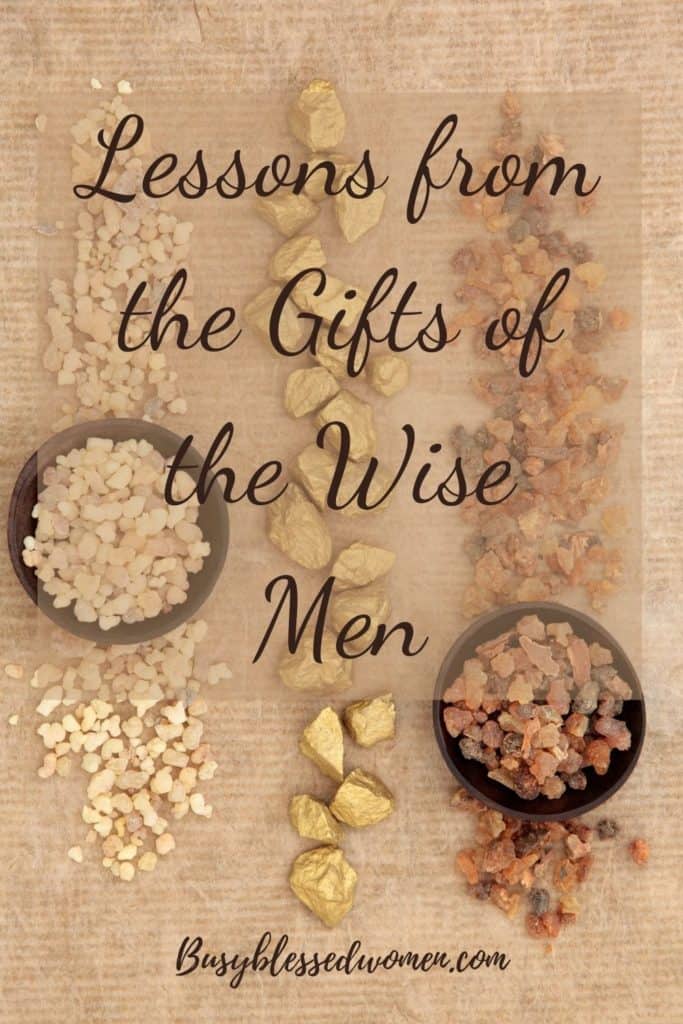 Pin me for later!
The Wise Men Gifts
The Bible describes three Christ-honoring gifts from the wise men, but we can find even more gifts when we take a closer look.
Significance of Gifts Given to Jesus
•The wise men gave the gift of being true seekers of Jesus. They had most likely heard of the prophecies of Israel's Messiah when the exiled Jews lived in their area. They showed they were not just intellectuals, but believers as well.
•The wise men gave the gift of choosing to follow the light God provided.
•They gave the sacrificial gift of time- a journey that may have taken up to 6 months.
•The wise men brought the gift of humility into their worship of Jesus by bowing down before Him.
•They brought the gift of joy into their worship.
•We can only speculate on the wise men's return trip to their Eastern lands, but it would be hard to imagine them not explaining all they had seen on their journey to see the newborn King. They gave the gift of their personal testimony.
Gifts for a King
We have the honor and blessing to give gifts to our Lord each day! And here's something important to remember:
Don't let the gifts of the wise men intimidate you. We don't need to possess great wisdom or riches to give gifts fit for our King.
In this season of gift-giving and receiving, what gifts can we bring to Jesus?
•Our Attitude-Will our study of His word be purely intellectual, or will it come from the heart?
•Our Choices-What light will we follow? The light of Christ or other sparkly, worldly lights?
•Time Management-How much time will we spend seeking our King?
•In Worship- In what ways will we worship Him? Will it be in humility and joy?
•Our Testimony-Who will we tell about the birth of our Savior? How will our actions show the love of Jesus?
•Our Talents and Abilities- He gifted them to us first. Are we using them to the best of our ability?
What Happened to the Gold, Frankincense, and Myrrh?
What became of the wise men's gifts? Matthew doesn't tell us, and conjecture abounds. Did it fund the trip to Egypt? Did it enable Jesus to go to Torah school? We just don't know.
There is, however, something more important in this story.
Yes, the wise men teach us many wonderful lessons about gifts we can bring our King. But it also points us to the best gift we have received- Jesus, our Messiah, who was born into this world by our Father's gift of grace and love.
How do we respond to His gracious gift?
♥ The very best gift you can give Jesus is accepting His.
It's why He came to be born as a baby here on earth- He saw YOU and knew He wanted you to be with Him forever. Jesus left behind the glory of heaven with you on His mind.
He is worthy of the very best we have to give, yet He loves and accepts us with all our flaws and mistakes! He knows us intimately and still wants our hearts. Take a few seconds to let that truth soak in….
Have you unwrapped and accepted His gift yet? It is priceless- worth more than any amount of gold, frankincense, or myrrh.
In these final days before Christmas, ponder the story of the wise men and their gifts. Accept and celebrate the gift of hope, grace, and mercy that was freely given and changed the world- our Savior's birth.
Merry Christmas!
AnnMarie
All Scripture is from the NIV unless otherwise specified.