Has the sight of something ever taken your breath away? They don't come along very often, but one morning while sitting outside for breakfast, I looked up and audibly gasped. An entire rainbow stretched before me- from its point where it entered the ocean to its opposite end. It was indescribably beautiful! It felt like a rainbow message from God; a spectacular reminder of His promise.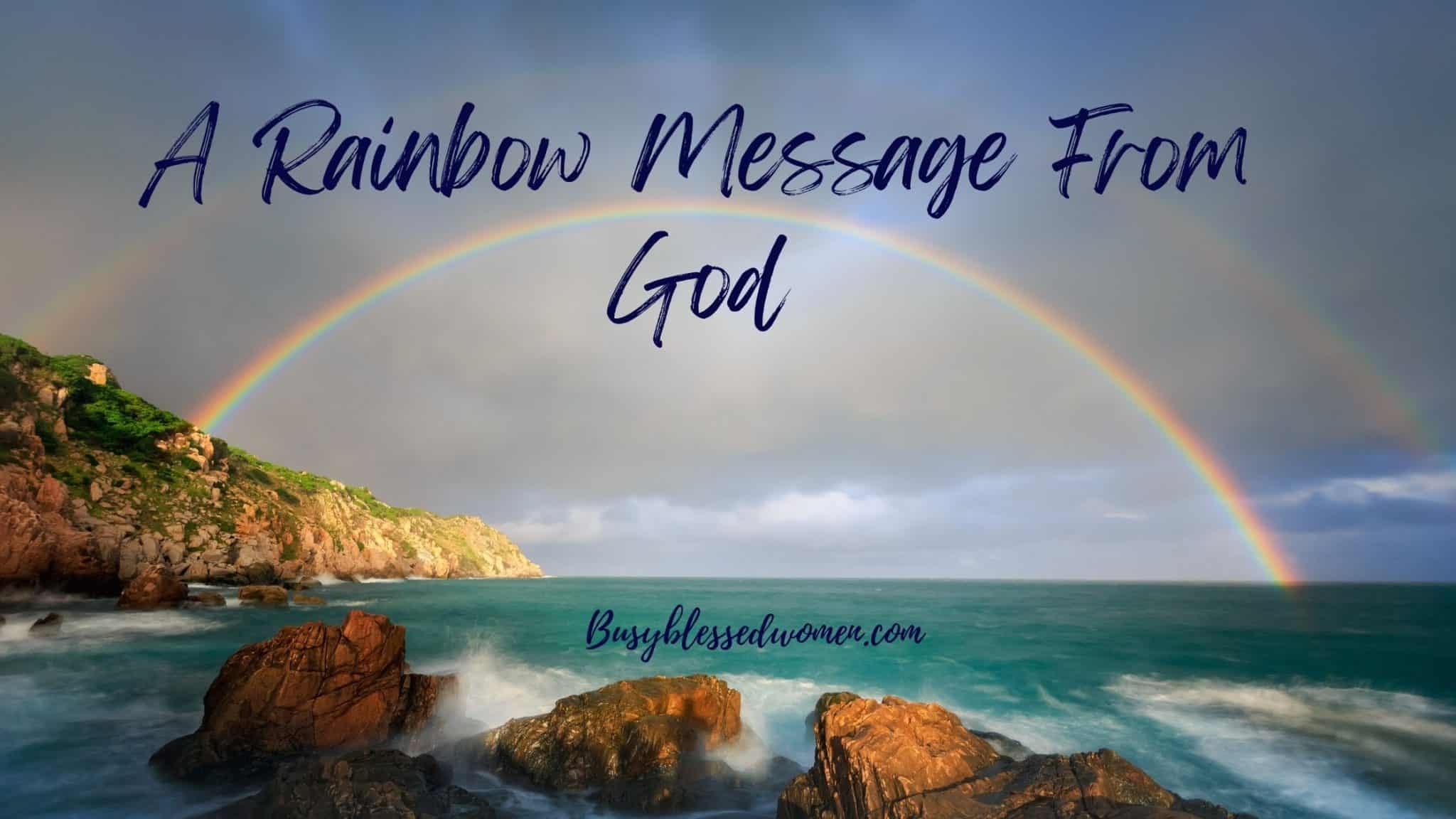 God's Promise to Noah
The story of the Rainbow of Promise comes rather quickly in man's history.
Sadly, it only took until the 7th chapter of the very first book in the Bible for the entire human race to give up their hearts to evil thoughts and action. Only Noah and his family had hearts in tune with God's. God enters into a covenant- a promise- with Noah. Noah would build the ark, store the food and supplies and take the animals; God would save them from the floodwaters to come. God even shuts the door for them, sealing their salvation. (I'm thinking I could write a whole post on this story… hmmmm)
Rainbow Promise Verse
After the flood and the earth dry out, God blesses Noah and his family and gives them instructions on how to resume living on earth. He makes another promise to Noah and for all generations to come:
13"I have set my rainbow in the clouds, and it will be the sign of the covenant between me and the earth. 14Whenever I bring clouds over the earth and the rainbow appears in the clouds,15 I will remember my covenant between me and you and all living creatures of every kind. Never again will the waters become a flood to destroy all life." Genesis 9:13-15.
Do you look at a rainbow and remember God's rainbow covenant? We probably all do, which makes them even more special. But look closely at verse 15- so does God! He doesn't need the reminder, we do, but how comforting to know He always remains faithful to His promises.
God's Rainbow Colors
God's creative powers are far beyond our comprehension, but we do know some scientific facts about His rainbows.
Isaac Newton was the first scientist to discover God's rainbow colors with his experiments using light passing through a prism.
Rainbows form in the sky under certain conditions when rain or other water droplets refract and disperse light in the atmosphere. While we see 7 colors in the following order (red, orange, yellow, green, blue, indigo, and violet), there are over 1 million colors which we cannot see!
Also, if you are lucky enough to see a double rainbow, look closely- its colors will be in the reverse order. I've never noticed this before, but I'm going to be on the lookout now!
God's rainbow is a mysterious and powerful reminder of His power, creativity, and promise!
Bible Verses about Rainbows
Besides the Genesis verses (Genesis 9:9-17), we also find the rainbow likened to God's beauty and holiness in Ezekiel 1:28–
"Like the appearance of a rainbow in the clouds on a rainy day, so was the radiance around him. This was the appearance of the likeness of the glory of the Lord. When I saw it, I fell facedown, and I heard the voice of one speaking."
God called and commissioned Ezekiel to announce His prophecy to the people. To prepare him, God opened the heavens and showed him amazing visions. This verse was describing the likeness of the glory of God. This rainbow around the throne of God was not only an expression of His glory, but symbolized His promise to preserve those who would remain faithful to him.
Emerald Rainbow Around the Throne
The next two rainbow verses are found in the book of Revelation.
John was standing before the throne of God and describes what he sees. "Someone" (God) is sitting on a majestic throne-
"And the one who sat there had the appearance of jasper and carnelian. A rainbow, resembling an emerald, encircled the throne." Revelation 4:3.
This was no "ordinary" rainbow. First, God had set this reminder of His promise to humanity and His faithfulness at His very throne in Heaven.
Second, it encircled the throne- it went all around it. John describes it as a rainbow but made of emerald. John is attempting to describe God by comparing him to precious jewels- beautiful and brilliant. There is none reigning on earth that can compare to our King!
And our final verse:
Revelation 10:1
John describes a mighty angel who comes to announce the final judgments on the earth:
"He was robed in a cloud, with a rainbow above his head; his face was like the sun, and his legs were like fiery pillars."
Whoever this angel is certainly was powerful and was bringing a message directly from God. The rainbow above his head was like a crown. This symbol of God's promise may have resulted from the sun radiating from his face, passing through the cloud that surrounded him.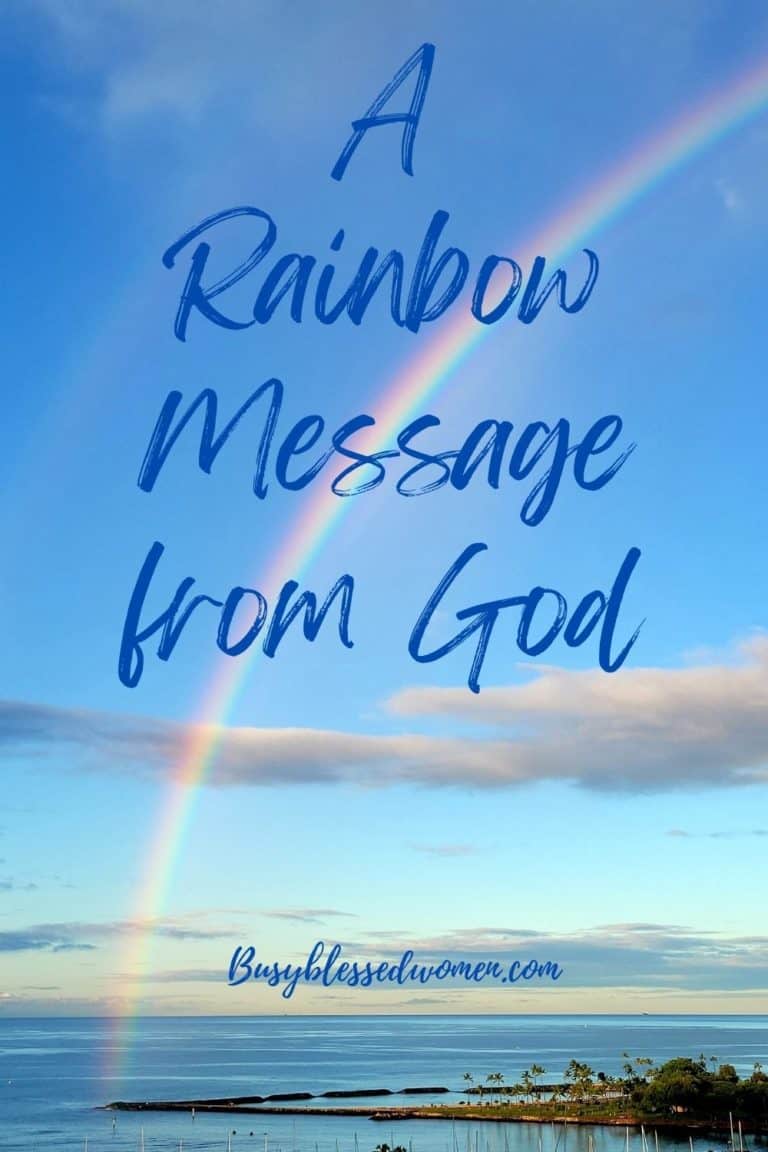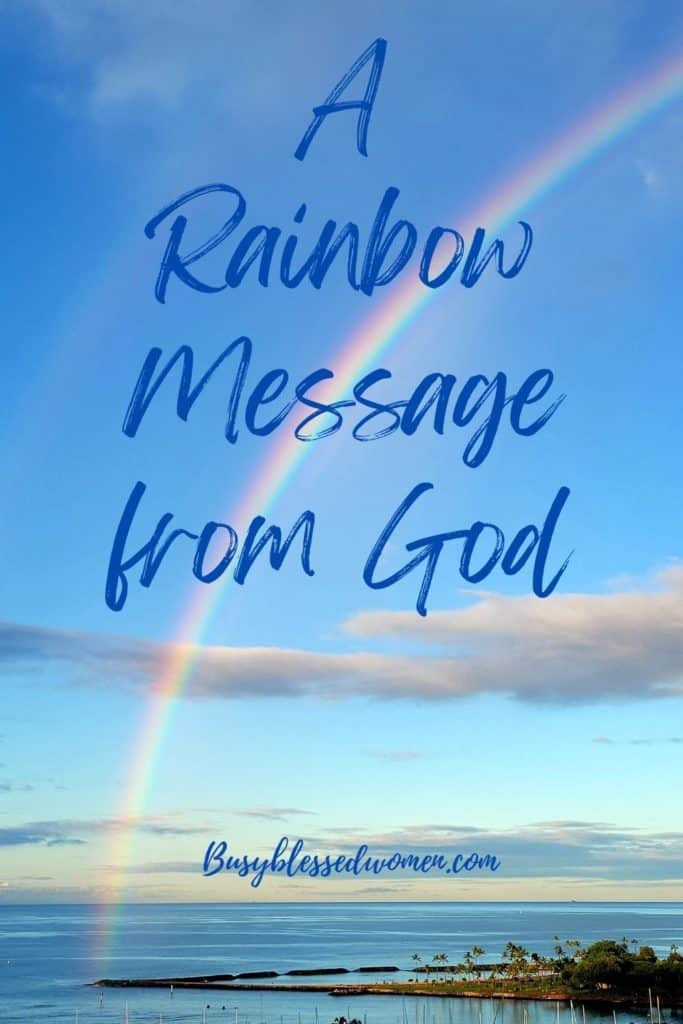 Pin me for later!
What Does a Rainbow Symbolize?
•The rainbow is a symbol of God's grace and mercy- the grace that He shows to all people.
God promised to hold back his anger and never destroy the earth by flood again. This grace allows time and opportunity for everyone to accept His offer of salvation through His Son.
•It also symbolizes God's faithful nature. Thousands of years have passed, and He has kept His word.
•Rainbows also symbolize hope- the beauty that comes after the storm.

The Rainbow after the Storm
Imagine for a minute what Noah and his family endured. Were they terrified? Trusting? Were they so busy with the animals they had no time to fret? Had they ever been on a boat? Surely not one of this magnitude.
How would you react if God destroyed the world, and all you had left was your family and a zoo?
Would courage, trust, and hope fill your days? Genesis tells us that the first thing Noah did when he came out of the ark was to build an altar to the Lord and sacrificed burnt offerings upon it.
Noah's first act after devastation and loss was to worship God.
What is our reaction after our storms pass? Are we like Noah? Is our aroma pleasing to God? Do we give thanks for His mercy and love? His faithfulness, love, and grace? Do we rest on His reassuring promises?
Our world today is "flooded" with evil. We are certain to face storms, hardships, disasters, and pain. But the rainbow reminds us that God's care, love and forever companionship will always be a constant in our lives- even through the darkest, most violent storm.
Will you claim this promise today for your life?
Rainbow of Promise
Not only is the rainbow breath-taking beautiful, but a peek into God's character. He is a righteous judge and merciful Savior. He is creative, powerful, and loving. When we face our storms, the rainbow shines as a symbol of His faithfulness.
The rainbow reminds us that, like Noah and his family, God calls us to be obedient. We are to take life one faithful step at a time knowing God is at our side. He will guide us through any storm and remind us that after the dark clouds comes beauty, hope, and promise.
Will you look at storms differently? Weathering storms are part of life. Will you remember the rainbow that is waiting for you?
Will you look at rainbows differently? Yes, they are His breath-taking creation. But may they also bring joy that springs from His loving care, hope for brighter days, and produce a sense of awe in His majestic and creative wonders.
Blessings of wonder!
AnnMarie
All Scripture is taken from the NIV version unless indicated otherwise.
Photo Credits- Canva, AnnMarie Anderson