Only four of Jesus's loved ones stood at the foot of the cross, united in their love and desire to be with Him in His last hours. It took tremendous courage to stand there. Perhaps the disciple John remembered the words of Jesus: "Anyone who does not take up his cross and follow in my footsteps is not worthy of me." Matthew 10:38. What is the message of the cross?
What is the Message of the Cross?
My sister tells the story of walking around a jewelry store and overhearing a woman who was inquiring about purchasing "one of those "t" necklaces." It confused the poor clerk- an initial, he asked? No- a "t," the woman replied. She finally spied what she was looking for- a cross.
Incredibly, it held no meaning for her.
To Christians, the cross is the ultimate example of God's indescribable love for us. The gift Jesus gave by sacrificing Himself for our sins is unthinkable; difficult to take in.
He left the glory of heaven to become a man, endure hate, ridicule, suffering and death so that we could join Him in heaven for eternity.
That little "t" symbol? It is a symbol of love so abundant; we can only look on it with reverence and thankfulness. We can symbolically come to the foot of that cross to stand in His love, mercy, and grace.
It's a wonderful time of the year to meditate on the meaning and message of the cross.
Who Was at the Foot of the Cross?
Matthew and Mark recorded those who were in attendance in their Gospels. There were soldiers, the chief priests, elders and teachers, some bystanders, and a centurion.
Those closest to Jesus in attendance were His mother Mary, Mary Magdalene, Mary, the wife of Clopas, and only one of His disciples- John.
"Many women" (Matthew 27:55) were nearby, watching from a distance. These women displayed more courage and love towards Jesus than His disciples did- and they had promised to die with Him rather than forsake Him.
"Peter said to Him, 'Even if I have to die with You, I will not deny You!' And so said all the disciples." Matthew 26:35 NKJV.
We don't know for sure where the other disciples were. They could have been melting into the crowd at a safe distance. They could have been in hiding.
Peter denied knowing Jesus three times when questioned the night before. Yes, they behaved cowardly, but would I have been any different? Were there times I haven't spoken up for Jesus when I had the chance? Have I tried to "blend in" to the crowd instead of shining His bright light of love? You bet I have.
The Ground is Level at the Foot of the Cross
The message of the cross is that anyone can come- it's level ground. We don't have to possess any special qualifications. There are no hoops to jump through.
All are invited- rich or poor, young or old, no matter your race, gender, or the sin in your heart. Jesus sacrificed His life for all who would come to Him. We are all equally in need of His mercy and grace.
Jesus destroyed all barriers and made sure the ground was level at the foot of the cross.
"The Lord is not slow in keeping his promise, as some understand slowness. Instead he is patient with you, not wanting anyone to perish, but everyone to come to repentance." 2 Peter 3:9.
Leave Your Burdens at the Cross Scripture
Matthew 11:28
•"Come to me, all you who are weary and burdened, and I will give you rest."
What an invitation! Come to me, He says, extending a personal invitation to all.
He is our personal Savior, He alone paid the price for us. Come, trusting in His sacrifice for you. You needn't be self-sufficient; rely on Jesus instead.
Come, lay your burdens at my feet, He says, and in return, I will give you complete rest. Love, healing and peace can be ours when we lay our burdens down.
Psalm 55:22
•"Cast your burden upon the LORD and He will sustain you; He will never allow the righteous to be shaken." (NASB)
When you lay your burdens at the foot of the cross, He will sustain you– give you His strength- to resist and cope with the pressure of your burden.
What a gift! We can take every one of our burdens- worry, stress, struggles-and place them at His feet.
There will be times when we pick them up and try to carry them on our own again. No matter. Lay them down again with the One who wants to take them from you. He doesn't tire of carrying them.
Let your faith lead you to the trust, hope, and confidence in His power to deal with your burdens.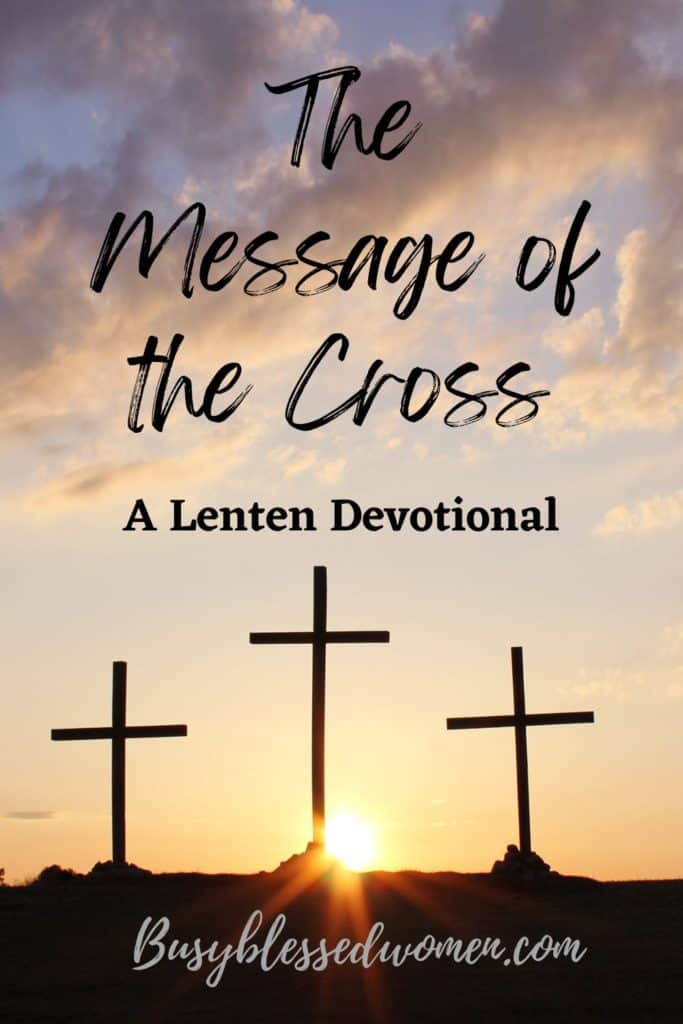 Pin me for later!
Freedom at the Foot of the Cross
Reminding ourselves of the words of Jesus can help us lay our burdens down.
"I tell you the truth, everyone who sins is a slave to sin… So, if the Son sets you free, you will be free indeed." John 8:34,36.
We don't have the ability to change our sin-status on our own. Only Jesus's sacrifice frees us from its bondage. We continue to enjoy this life-changing freedom by having a personal relationship with Jesus and spending time with Him each day.
Lay it at the Cross
Are you still carrying guilt and shame? Lay it down at the foot of the cross.
"In Him we have redemption through His blood, the forgiveness of sins, according to the riches of His grace." Ephesians 1:7.
Do you feel helpless? Lay it down, too. No other person could have felt more helpless than Jesus on the cross. He suffered the ridicule of strangers, unrelenting pain, and abandoned by His Father as He took on the wrath of all sin.
He understands our feeling of helplessness, abandonment, and pain because He has felt them all. We can go to Him in complete confidence, knowing we have a Savior who can sympathize with our weaknesses and struggles. (Hebrews 4:14-16) (I love these verses! ♥ )
At the Cross of Jesus
The foot of the cross is an amazing place to stand. We face the most magnificent exhibition of love ever seen. We find healing, restoration, mercy, and grace.
Sin breaks us all; we build up walls as a defense and live with hurt. We may hide it well, but Jesus knows. His love can heal your hurt and brokenness.
When we come to the cross we find refuge, hope, safety, and joy. Leave all your burdens there and come away strengthened and at peace.
The Power of the Cross
The power of the cross allows us to join with Paul and say:
"I have been crucified with Christ; it is no longer I who live, but Christ lives in me. The life I live in the body, I live by faith in the Son of God, who loved me and gave himself for me." Galatians 2:20.
We experience a new life here on earth that does not end in spiritual death, but eternal life! That is the power of the cross.
Preach the Cross
"For the preaching of the cross is to them that perish foolishness; but unto us which are saved it is the power of God." 1 Corinthians 1:18 KJV
The very idea of a man dying on the cross as a way to salvation was considered foolishness to many in Paul's day (and still is!) The cross was a barbaric and humiliating punishment, but for those of us who trust in the message of the cross, it represents the sovereign and mighty power of God.
Standing at the Foot of the Cross
Is there anything we can offer Jesus as we stand at the cross? He so freely forgives and accepts our burdens and cares.
We can offer Him our love and devotion. We can bring praise and worship.
Come to the Cross with a renewed meaning of His incredible love. Leave with a renewed commitment to sharing His love and His story to the people we interact with.
Luke's Gospel tells us that the last words of Jesus were "Father into your hands I commit my spirit." (Luke 22:46)
We can recommit and pray these words back to Jesus. We can yield our spirit to Him daily, trusting Him with our life. What a beautiful place to be- in the hands of God, at the foot of the cross.
Blessings,
AnnMarie
Questions for Reflection:
What comes to mind as you imagine standing at the foot of the cross? Does it bring a new awareness of the depth of your sins?
The cross led to a glorious resurrection, which led to freedom from sin. We now can experience true peace and rest. Do you trust His sacrifice in your daily life?
Do you lay your hurts, disappointments, and fears at the cross, acknowledging His power and strength that now lives inside you?
Jesus died on the cross so that we would be made new (2 Corinthians 5:17). We are not rehabilitated versions of our old self, but new creations living in union with Jesus. We are His ambassadors here on earth. How do you fulfill this role?
All Scripture is taken from the NIV version unless otherwise specified.
Photo Credit: Deposit Photo, Canva