How do you usually prepare for Easter? Normally, it's everything from church services to new clothes and food planning. This year: none of these things. Online church services have been a lifesaver (thanks to technology!), but there is still that feeling of disconnect for me. I did a little digging and came up with 4 ways (and lots of ideas!) to help you prepare your heart for Easter.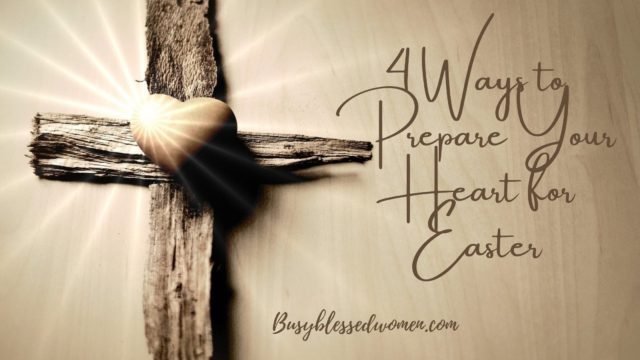 What Does it Mean to Prepare Your Heart for Easter?
If you knew Jesus was moving into your house next week, how would you prepare? Clean like crazy? Throw out the "stuff" that might offend him? Buy his favorite foods? Make sure everything was just right? Preparation involves the mindset to make sure everything is ready and as complete as can be.
We think of our "heart" as the center of our feelings and emotions. It's our core, where the Holy Spirit lives within us; where we interact and communicate with him. "Then Christ will make his home in your hearts as you trust in him." Ephesians 3:17a (NLT) He's already moved in!
To prepare our hearts for Easter is to make ready to immerse ourselves completely in the Easter story. Prepare your heart to walk along with Jesus on his path to the cross and his glorious resurrection!
Scripture about Preparing Your Heart
1) "For Ezra had prepared his heart to seek the Law of the Lord, and to do it, and to teach statutes and ordinances in Israel." Ezra 7:10 (NKJV)
Ezra was a priest, scribe, and exceptional leader dedicated to serving God. He had just returned to Jerusalem from exile; determined to lead God's people back into a right relationship. Before he began, he "prepared his heart."
Ezra humbly determined to yield to God's plans before he began studying and teaching his word.
2) "Lord, You have heard the desire of the humble; You will prepare their heart…" Psalm 10:17 (NKJV)
Psalm 10:17 gives us insight into the work God does to prepare our hearts. He hears our prayers and desires. He prepares our hearts as a gift and a blessing.
Preparing our hearts is a twofold process. We come before him with humility and a deep desire; He fills us with what we need.
Preparing for Easter
#1 Prayer
Jesus made prayer a priority in his life as an excellent example for us to follow.
"Jesus went out as usual to the Mount of Olives…" Luke 22:39 (NIV) (bold is mine).
"And when He had sent the multitudes away, He went up on the mountain by Himself to pray…" Matthew 14:23. (NKJV)
He prepared his heart before his crucifixion by spending an entire night in prayer.
•Pray for a time to give your attention to what He treasures. He wants you to internalize and learn from his Word.
•Pray against distractions from worries, schedules, or life's problems- anything that leads you away from the still small voice of the Holy Spirit.
•Pray for an open heart to hear him, listening for his guidance and direction.
#2 Immerse Yourself in the Easter Story
Here are a few ways to meditate on Jesus' life, death, and resurrection.
•Prayerfully read the Gospel accounts of Jesus' last days– they were written for different audiences and different purposes. As you read them, ask God to make them come alive for you.
•Read a book/devotional on Jesus' death and resurrection.
You may have some in your personal library to reread, exchange with friends, or download them from the library, a Bible app, etc.
Here are some recommended classic books:
The Cross of Christ by John Stott.
The Cross He Bore by Frederick S. Leahy.
Six Hours One Friday by Max Lucado.
Meditation on the Cross by Dietrich Bonhoeffer.
Preparing for Easter by C. S. Lewis.
•Watch Easter-themed Movies and Videos
Encounter Jesus in a different way! We've read the stories, but watching Jesus come to life on screen gives us insights we've not experienced.
•The Chosen-
Watch Season One (8 episodes) completely free! Dallas Jenkins (his father is Jerry Jenkins, author of the "Left Behind" books) is the producer/director. It will eventually be a multi-season TV series on the life of Jesus. I've seen it and highly recommend! Each episode is about 45-55." You can access it through Facebook, Youtube , or download their app @TheChosen.tv, or on the App Store or Google Play.
Click here to check out the official trailer.
"We believe film is the most dynamic way to hear and see the greatest story ever lived"– the Jesus film. According to their website, they have translated it into over 1800 languages and over 8 billion people have seen it!
•The Case for Christ
(Available on Netflix) Rated PG- Based on the book by Lee Strobel- An investigative journalist and self-proclaimed atheist sets out to disprove the existence of God after his wife becomes a Christian.
•The Robe
(Rent on amazon prime)- (Also an excellent book!) A drunk and disillusioned Roman wins Jesus' robe in a dice game after the crucifixion. Marcellus has never been a man of faith like his slave, Demetrius (Victor Mature), but when Demetrius escapes with the robe, Marcellus experiences disturbing visions and feels guilty. Convinced that destroying the robe will cure him, Marcellus sets out to find Demetrius and discovers his Christian faith along the way." Unrated (1953)
    •Take a free virtual tour of the Passion week with Dr. Wayne Stiles. Experience Jesus' last days in Jerusalem- the week that changed the world! (3 episodes)
Pin me for later!
#3 Meditate on the Meaning of Easter
•Set aside time each day to allow the Holy Spirit to speak to you. Just you and God. Make it a priority this week.
•Identify your own personal sin and reflect on its seriousness. "For all have sinned and fall short of the glory of God" Romans 3:23. We're all in the same boat, but with different sin. Where do you fall short? How do you repent (turn away from your sin)?
•How would your life be today if Jesus had not yet come? I can't imagine our world without him. That makes me even more grateful for his perfect timing, his sacrifice, the privilege of owning multiple copies of the written Word. What should my response be?
•Reflect on his sacrifice made for you. His sacrifice began when he left the perfection and glory of heaven to come to earth, to live, work, teach, and die. Do you feel the weight of the sin that he carried? Can you comprehend the deep love he has for you?
•If not for Jesus' sacrifice, we would still be dead in our sin. If he didn't rise from the dead, we would not have the hope of eternal life with him.
•Renew your commitment to living a redeemed life. It's easy to become numb to the magnitude of Jesus' redemptive work. This is a significant time for renewal!
#4 Rejoice in Your Redemption through Christ!
Rejoice in the gift of reconciliation with God, eternal life with him, and our new life in Christ! "If anyone is in Christ, he is a new creation; the old has passed away, and see, the new has come!" 2 Corinthians 5:17.
Give thanks for our new heart! "I will give you a new heart and put a new spirit within you; I will remove your heart of stone and give you a heart of flesh." Ezekiel 36:26.
We aren't rehabilitated versions of our old selves or have more head knowledge of Jesus. We are new creations on the inside- Jesus placed His Holy Spirit within us.
New Life in Christ
Our new life in Christ doesn't mean we are sinless. Rather, we have the Holy Spirit to convict us and lead us to live and love more like Jesus every day.
Jesus restored our relationship with God! His love and power are within us. This is the perfect time to reevaluate how we love and care for others; modeling the love and care Jesus showed us.
Let's prepare our hearts for Easter by reacquainting ourselves with the story we know so well. Apply it to your own life. Resolve to live as someone who believes Jesus has given us the victory by his resurrection from the dead!
Alleluia, He has risen! He is risen indeed!
Easter blessings,
AnnMarie
All Scripture is taken from the NIV unless specified otherwise.
Photo Credit- Canva, Pixabay