Last week we turned our thoughts to cultivating patience. I noticed while doing my reading, that different versions of the Bible interchanged the words patience and perseverance. The more I thought about it, the more convinced I became that there is a difference in how we apply these terms to our Christian walk. So patience vs perseverance- what's the difference between them?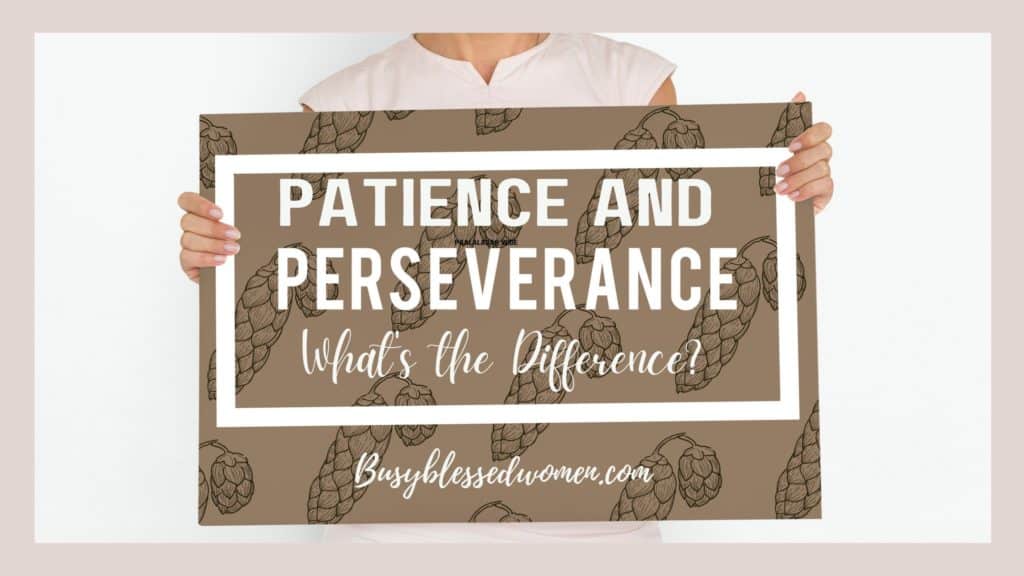 Why is Patience Important ?
Patience is a heart attitude of self-restraint and calmness. We see it in the list of the Fruits of the Spirit in Galatians 5:22.
It's a virtue that God values and wants us to emulate. We represent it in our attitude towards others, rather than things.
But we can also exhibit patience in calmly tolerating delays or annoyances. For example, we can show patience (no complaining, losing our temper, etc) when we're in a hurry and waiting in a slow-moving line.
Or when you're hearing this all day- "Mom…Mom…Mom…"
Why is Perseverance Important ?
Perseverance has an aspect of continuing on even when difficulties, discouragement, or even opposition arise.
As an example:  This is my daughter and son-in-law's cat, Cecil.  I was watching him on their deck this summer.  A bird had made a nest below this area, and he stayed glued to this spot for a good 15 minutes! 
He persevered in the stalking of this bird family even with the impossibility of ever getting any closer to his prey.
No muscles twitched. No sound distracted him. He didn't circle aimlessly. Cecil kept his "eye on the prize." He had a purpose and the cat-discipline to not give up. (They jokingly called it "kitty TV"!)
You could say he was showing patience, but there is a focused determination here- not just a calm wait.
What is the difference between Patience and Perseverance? Let's explore their differences.
Faith and Perseverance Scriptures
I think Cecil is a great example of perseverance! But let's see what Scripture has to say:
Run with Perseverance
"… Let us throw off everything that hinders and the sin that so easily entangles and let us run with perseverance the race marked out for us. Let us fix our eyes on Jesus, the author and perfecter of our faith.." Hebrews 12:1-2, NIV
We are to persevere in the race; building up our spiritual maturity. It takes discipline, hard work, and stamina. Studying the Bible, a strong prayer life, and times of worship equip us for this marathon we are running. We can't quit and sit on the sidelines.
This race needs sustained effort and determination. That is perseverance.
Perseverance in Faith
Likewise, Philippians 3:14, NIV- "I press on toward the goal to win the prize for which God has called me heavenward in Christ Jesus."
We "press on", we actively strive towards our goal of living like Jesus as best we can. We need focus, dedication, energy, practice, and commitment. This takes perseverance.
No one said it would be easy. Without life's pressures, it's easier to show love and kindness, patience and understanding. Gaining the ability to persevere, however, often comes through trials.
Bible Verses about Perseverance through Hard Times
"Because you know that the testing of your faith develops perseverance. Perseverance must finish its work, so that you may be mature and complete, not lacking anything." James 1:3-4 NIV
Perseverance Produces Character
"We also glory in our sufferings, because we know that suffering produces perseverance; perseverance, character; and character, hope." Romans 5:3-4 NIV
Trials will come into our lives.  That is a guarantee. But instead of quitting, we turn these times of trial into learning how to stay on the course God has planned. 
We can use our trials as opportunities for spiritual growth- asking ourselves what God has for us to learn about Him.
We persevere because it is a stepping stone towards strengthening our character (our inner qualities) which gives us hope.
Our hope gives us confidence that God is in control and will see us through any storm.
Perseverance in Prayer
•Persevering in prayer is the theme of Ephesians 6:18, NASB: "With all prayer and petition, pray at all times in the Spirit, and with this in view, be on the alert with all perseverance and petition for all the saints…"
•"Devote yourselves to prayer, being watchful and thankful." Colossians 4:2, NIV Devotion to something means you spend time and energy on it. If you are devoting yourself to prayer, you persevere and are persistent in it.
•Or this from the Parable of the Persistent Widow– "Then Jesus told his disciples a parable to show them that they should always pray and not give up." Luke 18:1.
I'm betting that we have all prayed for a long time about something or someone and haven't seen an answer to our prayers. Do you give up? No, that's where we persevere in prayer.
Our prayer life is part of our marathon. God hears every single one of our prayers, and always answers- in His time and in His way.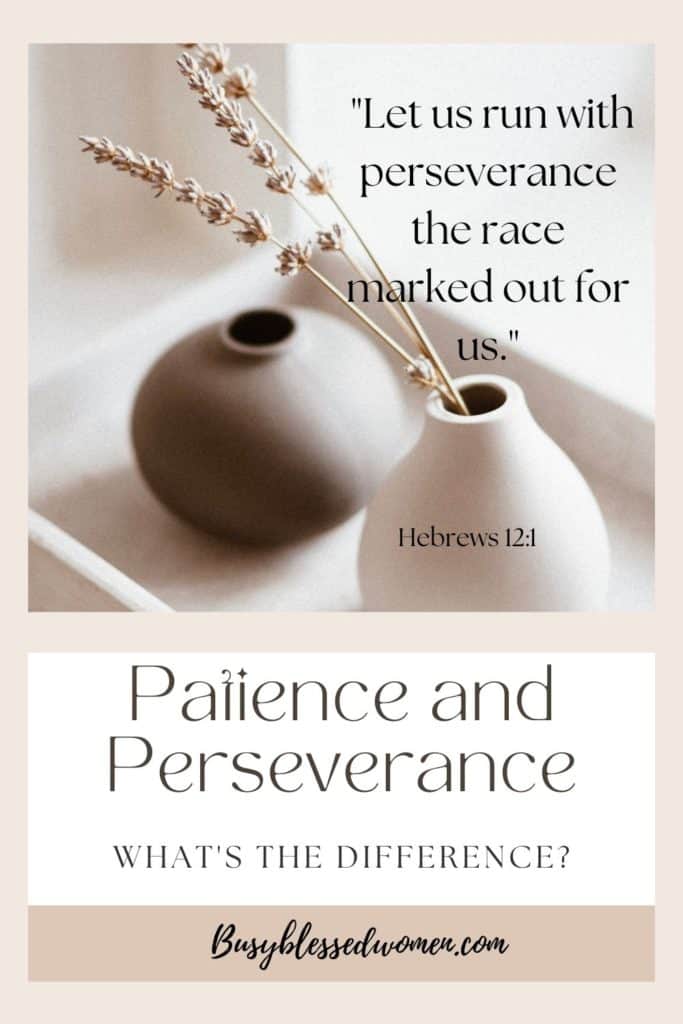 Pin me for later!
The Power of Perseverance
The Christian life is not easy.  We want to have trust and confidence in God and his purposes for our lives. 
We persevere because we know that when we see Jesus, he will wipe away every tear, claim us as His own, and usher us into eternity.  He has prepared a place for us!
In the meantime, we live in a world full of disappointments, hardships, stresses, and heart-breaking headlines.
We characterize the Christian life as a marathon. It's hard work and comes with trials to overcome. But it's also the most important work we will ever do.
Paul wrote an encouraging letter to Timothy, a close friend, and a young church leader while imprisoned. In his practical advice to him, he encourages him to persevere in his ministry and carefully guard his spiritual life.
Paul reminds Timothy: "I have fought the good fight, I have finished the race, I have kept the faith. And now the prize awaits me- the crown of righteousness, which the Lord will give me on the day of his return." 2 Timothy 4 7-8 NLT
How To Persevere in Faith
We too must persevere in our spiritual lives.
•Know what you believe; continue to learn and grow in your faith.
• Be on guard for things that pull us away from Jesus.
•Focus on Him and let him empower and strengthen you.
•Persevere in prayer
•An attitude of sustained effort and determination
Jesus wants our Christian life to be one of love, hope, joy, and the enjoyment of His riches, freely given to us. Persevere as you walk with Him all the way to the end and our eternal life with Him!
Encouragement for the Week: Is there an area in your spiritual life where you need to show more perseverance? What steps can you take to make that happen?
Blessings!
AnnMarie
You may also enjoy reading about running with perseverance for Jesus…
All Scripture is from the NIV unless specified otherwise.
Photo Credit: Deposit Photos