What are the promises of God? God filled the Bible cover-to-cover with His promises. They take on many forms; from those given specifically to Israel, to promises of warning, and promises yet to come. Some promises are revealed in His Names- a promise of an attribute or a characteristic. God sealed every single promise with His Holy Authority. If He makes a promise, it is true. There is an incredible amount of encouragement in His promises!
How many Promises of God are in the Bible?
I read that there are between 5,000 and 8,000 promises in the Bible. While we don't know the exact number, we can all agree with King Solomon on the subject: "Praise be to the Lord, who has given rest to His people Israel just as he promised. Not one word has failed of all the good promises he gave through his servant Moses." 1 Kings 8:56.
While researching Promises of God quotes I came across this one from author John Bunyon (author of Pilgrim's Progress.) It sums up the enormous quantity of God's promises and has me on the look-out for His promises that unfold before me daily-
What God Has Promised
There is no specific Hebrew word for "promise." We find words like "speak" and "say" that correlate to God's promises. It's impossible for God to lie, so if He said it, we know it is true.
God Fulfills His Promises
•When we read the story of Abraham, we see God fulfilled each promise made: a promised land, a great nation, blessings, making his name great, divine protection and multiple descendants. (They didn't match with Abraham's timeline, but they did with God's.)
•God fulfills His promises in His time:
"But when the time had fully come, God sent His Son…" Galatians 4:4.
God's Promises Never Fail
•His promises are unfailing:
"You know with all your heart and soul that not one of all the good promises the Lord our God gave you has failed. Every promise has been fulfilled…" Joshua 23:14.
Great and Precious Promises
•Peter describes God's promises as precious and magnificent:
"Through these, He has granted to us His precious and magnificent promises, so that by them you may become partakers of the divine nature…" 2 Peter 1:4 NASB.
The Promises of God are Yes and Amen
Paul gives us another beautiful aspect of God's promises.
He had found himself on the defensive with the Corinthians regarding a change of plans to visit. Some were accusing him of being untrustworthy and undermining his authority. Paul reminded the Corinthians that he preached a Jesus who is totally trustworthy and reliable. As His disciple, he also strived to be like Jesus.
Jesus was faithful and kept His promises; Paul was striving to follow in His footsteps He explained it this way:
Yes and Amen Meaning
"For the son of God, Jesus Christ, who was preached among you by me and Silas and Timothy, was not "Yes" and "No", but in Him it has always been "Yes." For no matter how many promises God has made, they are "Yes" in Christ. And so through him the "Amen" is spoken by us to the glory of God." 2 Corinthians 1:20.
All of God's promises rest on Jesus and it is in Him alone that they are fulfilled. Amen!
First Promise in the Bible
We see Jesus in God's promises in Genesis 3:15 when God promises Satan, "He will crush your head, and you shall bruise His heel." Jesus came to earth to live and die for our sins. His death on the cross was merely a bruise. His resurrection guarantees our eternal life with Him and a crushing defeat of Satan.
Last Promise in the Bible
We find the "Yes" in Jesus' last promise of the Bible in Revelation 22:20:
"He who testifies to these things says, 'Yes, I am coming soon.' Amen. Come, Lord Jesus."
God's promises are true throughout scripture, and how magnificent that His last recorded promise is the promise of Christ's return in the future.
Pin me for later!
7 Promises of God
We see over and over in Scripture that we are to "stand firm" in our faith- and for good reason! This world pushes and pulls us in many directions. Our human nature weakens our resolve to keep our eyes on Jesus. Our focus gets hazy.
Standing firm on the promises of God is a wonderful spiritual exercise to combat all the fear and discouragement we face.
Here are 7 of His beautiful promises to bring you peace and hope.
1) I Am with You Always
"And surely I am with you always, to the very end of the age." Matthew 28:20.
This promise brings an incredible amount of strength and peace; especially when fear and doubt spring up. Jesus's promise of His constant presence in our lives means we are never out of His sight; He will never leave us. His protection, guidance and comfort are as near as a whispered prayer.
2) Plans to Prosper You
"For I know the thoughts that I think toward you, says the LORD, thoughts of peace and not of evil, to give you a future and a hope."
Jeremiah 29:11 NKJV.
God thinks about YOU, and has plans for YOU, His beloved child. He never wishes ill will or pain into our lives. It's easy to forget this promise when pain, suffering, and hardships come. Even then, His plan is to give you peace, hope and encouragement through those times and teach us to rely heavily on Him.
"Therefore, there is now no condemnation for those who are in Christ Jesus." Romans 8:1.
This does not stop Satan from condemning us and bringing up our past mistakes and sin. This promise shuts down the voices of shame and guilt in our life. Jesus has declared us not guilty and offers us freedom from sin and gives us the power to do His will!
4) My Grace is Sufficient
"… My grace is sufficient for you, for my power is made perfect in weakness." 2 Corinthians 12:9.
This promise from God gives us courage and strength when we need it most- during the many trials of life. God's grace (His love and mercy in action) is sufficient. It doesn't remove our trial but strengthens us to carry it or walk through it. He promises to always fill in for our insufficiencies. Hold tightly to this promise and grow in your relationship with Him!
"The Lord will fight for you; you need only to be still." Exodus 14:14.
Moses gave the terrified Israelites this promise when the Egyptian army approached. We have this same promise at our disposal when we feel terrified or trapped. Choose to believe in His help instead of turning to despair (losing hope), fear (running away), or impatience (this breeds frustration and anger.) He promises to fight for you! Our cause is never hopeless, God promises to always fight for and with us against our foes.
6) His Love Endures Forever
"Give thanks to the God of heaven. His love endures forever." Psalm 136:26.
Psalm 136 is known as "the never-ending story of God's love." His love is endless, never-failing, shows kindness and mercy, and comes from a well that never runs dry. He proved His abundant love by giving up His own Son for us. There is no One who will ever love you more!
7) I Will Give You Rest
"Come to me, all you who are weary and burdened, and I will give you rest." Matthew 11:28.
What a beautiful invitation and promise from Jesus! Jesus has true, inner rest for us, no matter what wearisome burden we carry. He promises to partner with us and help us. When we have complete trust in His ability to do this, He brings us into His perfect rest.
Claiming the Promises of God
We have only scratched the surface of the promises of God. These promises and many more are yours to claim in your own life.
Claiming the Promises of God by Faith
Use them to anchor your soul in Jesus to help you walk your faith journey with confidence and peace.
Here are some things to keep in mind-
•Be sure to keep Scripture in context when claiming His promises. When the Lord promised Abraham a son with his aged wife, Sarah, that was strictly for their situation.
•God gives us His promises because He knew we would need them to direct us and to stand firm in this broken world. But some of His promises come with instructions that require obedience on our part. Here's one example:
"Trust in the Lord with all your heart and lean not on your own understanding; In all your ways acknowledge Him, And He shall direct your paths." Proverbs 3:5-6 NKJV.
When we do the first three things, we can trust in His promise to direct our paths.
Praying God's Promises
God made promises to David in 2 Samuel Chapter 7 through the prophet Nathan. David immediately went before God and prayed:
"And now, O Lord God confirm forever the word that you have spoken concerning your servant and concerning his house, and do as you have spoken." 2 Samuel 7:25 ESV.
David was boldly praying that he trusted God to fulfill His word to him and we can do the same. Try praying one promise each day and watch His power work in your life!♥
How to Pray the Promises of God
Find a Bible verse that speaks to your need. Use one of the many promises here or type in "Bible verses about ____". Reflect on how the words relate to your life. Read it aloud as if He is speaking the verse to you. Then make the promise your own. For example- if you are dealing with loneliness, use Matthew 28:20 ("I am with you always"):
Jesus, I am so lonely. I know that you see me and are with me and will never leave. Help me to feel your comforting presence as I sit here now. Guide and direct my life to people and actions that will be fruitful and alleviate my loneliness. Give me strength to reach out to others. In your precious name, Amen.
Sometimes we must wait for His promises to come to fruition, but in faith, we know He will answer.
Isn't it reassuring that our God always keeps His promises? We can live with His peace and be at rest, because He has promised it. We don't have to rely on ourselves or others for perfect comfort, love or strength. When all else is gone, His promises remain. Dig into His Word and discover His promises for yourself!
Reflection:
What promises from God have you noticed on your pathway of life so far today?
Blessings!
AnnMarie
Click on the image below to access these free Promises of God Scripture Cards in my Resource Page! (Scroll down to "Scripture Cards.")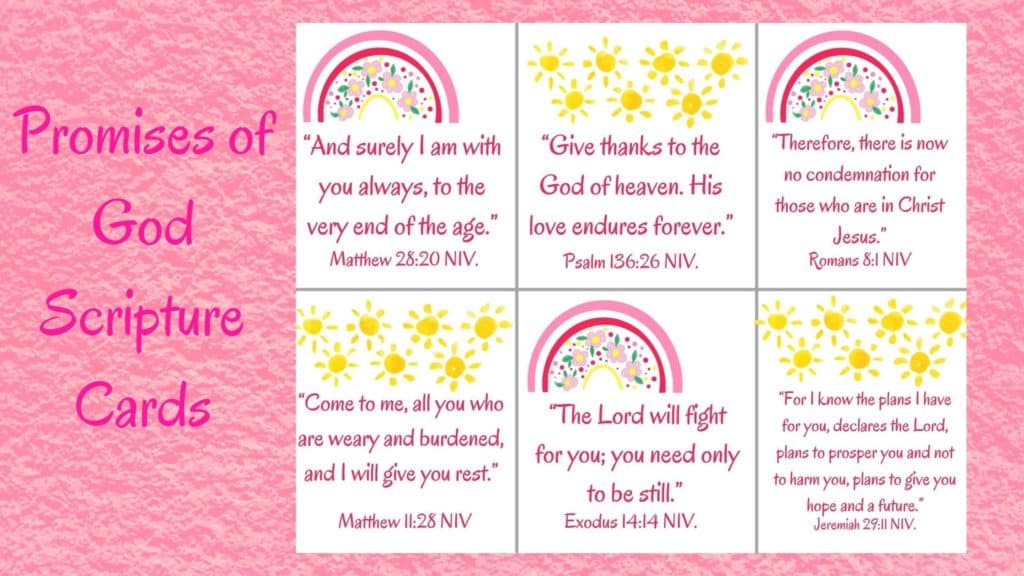 All Scripture is from the NIV unless specified otherwise.
Photo Credit: Deposit Photos, Canva