"Behold, the virgin will be with child, and will give birth to a son, and they will call him Immanuel," which means "God with us." Matthew 1:23 NIV
I have loved the Christmas song "O come O come Immanuel" for as long as I can remember. It has that haunting melody, the pleading to "ransom captive Israel", but then- joy!
Rejoice! Rejoice! Immanuel is coming! Can you feel the excitement building over the celebration of the birth of our Savior? 
Immanuel was Jesus'
role- His purpose.
He is the only one who could fulfill the unique position of bringing the presence of God to us on earth. Jesus is God who, beyond all understanding, became human. God was fulfilling His promise to send the Messiah, His son, to His people.  Now that's something to celebrate!
Colossians 1:15 NIV tells us "He is the image of the invisible God, the firstborn over all creation."
Jesus

accurately

and

fully

represents the perfection of who God is in human form.
Colossians 2:9 NLT makes it clear as well: "For in Christ lives all the fullness of God in a human body."
Hebrews 1:3a NIV says "The Son is the radiance of God's glory and the exact representation of his being, sustaining all things by his powerful word."
Jesus reflects and reveals the entirety of who God is to us. He makes God known to us.
It always amazes me that the God of the universe desires for us to know Him.
Jesus chose to come to us as a tender newborn baby.
Our King was born among animals and slept in a manger used by cattle. 
He grew into a man who would
fully
understand everything it means to be human. He
was tempted
, felt sorrow and pain, saw His friends abandon Him, and died a horrible death. Why?
Love. Because of God's unfailing and overwhelming love for us, He gave us His Son. Jesus rescued us, redeemed us from our sins, and restores our relationship with Him. Rejoice! Rejoice!
God With Us
Immanuel- God with us. In a few short weeks, we celebrate His coming in wonder, song, and praise. 
How can we ready ourselves in these weeks leading up to our celebration?  In what ways can we unwrap the gift of Jesus daily as we wait? 
I know- I'm busy too!  Here's a bit of help… 
This post is from my blogging friend Stacey.  It is jam-packed with a ton of ideas with everything from advent calendars to daily devotions. (She graciously included a few of my posts in her list- check them out!)-
How To Put Christ Back in Christmas.
God was with us in our beginning. He created and breathed life into Adam and Eve.  He planted a beautiful garden with trees that were beautiful to look at and ripe with fruit to eat. God walked with them daily which foreshadows our own personal relationship with Him.
It's almost impossible for me to picture having that kind of relationship between God and man.
It reminds me of the verse "What are mere mortals that you should think about them, human beings that you should care for them
?" Psalm 8:4 NLT
Why does he turn His attention to us and invest and care for us? Why did He make us in His image? How could He send His Son to earth to atone for our sins? What is it about us that makes Him want to live with us forever?
God Is Love
There is only one answer. The God of the universe loves us and wants to dwell with us. He loves in a way we may never understand this side of heaven.
God is love
– and love aches to be expressed.  He created our world, our universe, and each one of us as an expression of His love.
When I reflect on that kind of incredible love, tempered with the way I behave sometimes, I can't take it in.  As it was in the garden of Eden, my desire for forbidden pleasing fruit overrules my desire to obey and please God. My sin separates me from God.
So what did God do about this situation? He took the outrageous step of coming to us instead. Immanuel- God with us!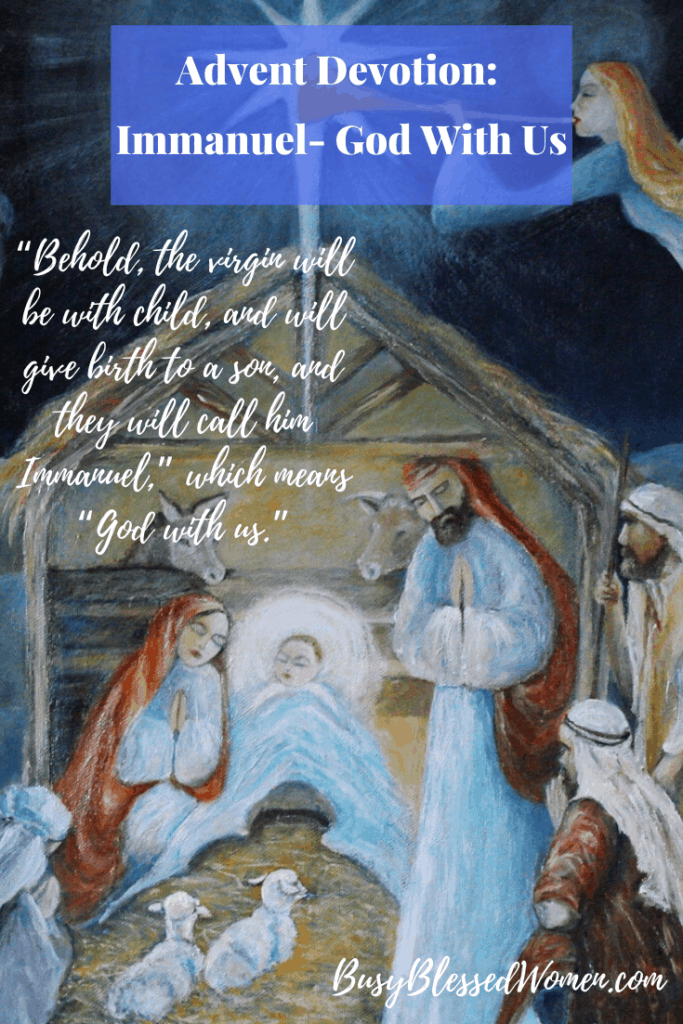 Be sure to Pin me for later!
The angels rejoiced when Jesus left heaven and came to earth! For some reason, this surprised me… It seems inconceivable to have heaven without Jesus.  Wouldn't His presence be missed?  But then again, the birth of a baby is always something to celebrate!  
The angels had the privilege to be the heavenly birth announcement:
"An angel of the Lord appeared to them, and the glory of the Lord shone around them, and they

were terrified

. But the angel said to them, "Do not be afraid. I bring you good news of great joy that will be for all the people. Today in the town of David a Savior has been born to you; he is Christ, the Lord. This will be a sign to you: You will find a baby wrapped in cloths and lying in a manger."

Suddenly

a great company of the heavenly host appeared with the angel, praising God and saying, "Glory to God in the highest, and on earth peace to men on whom his favor rests
." Luke 2: 9-14 NIV
Our Prince of Peace
They proclaimed the coming of the Savior who would deliver us from sin and death. God, who reigns in heaven, brings a peace beyond all understanding to those who believe. Jesus is our "Prince of Peace" and the manifestation of God with us!
Rejoice! Rejoice! Bring Him honor and praise and glory as the angels did.  Do all you can to keep Him close to your heart in these coming weeks.
Jesus is the fulfillment of God's promise to send us a Messiah. He promised to be with us and to never leave us.
"I am with you always, to the very end of the age." Matthew 28:20
These are such words of reassurance and strength♥ Jesus came to earth to be "God with us" and promises He will always be by our side.  No matter what kind of Christmas season we are experiencing, we can be assured that we are never alone.
God is with us through Jesus. He was born, lived, died, and rose again so we live forgiven with him for eternity.
God is with us through the power of the Holy Spirit living inside us. He comforts and strengthens us. The Holy Spirit prays for us when we don't have the words to pray. He produces fruit through us.
God remains in us
by His promises: "He has given us his very great and precious promises" 2 Peter 1:4 NIV. He promises to work all things for good and that
absolutely
nothing can separate us from His love. He promises to come again and He's preparing a place for us.
Reflection on God With Us
How are you doing on reflecting on different aspects of this Christmas Season?  Ask Jesus to still your heart and your mind each day to bring Him into focus.  He wants to spend time with you!
Have you felt discouraged? Abandoned? Afraid? How does reflecting on the name "Immanuel" change your way of thinking and feeling at those times?
When have you felt "God with you" in your life? How did He manifest Himself?
Here's a big one:  How would our lives change if we truly lived with the belief that God was right beside us from morning until night?
When we say someone is "with us," we imagine them defending us, on our side. How have you felt God defending you? When has He "had your back"?
Photo Credit: Pixabay