The church season of Advent is a season of waiting and eager anticipation. It is a time to focus our thoughts on the joyful occasion of Jesus' birth. The weeks before Christmas can be a wonderful time of spiritual reflection on His coming. Reflection gives us the opportunity to slow down and remember what the season is all about. It's time to
anticipate
the celebration of the birth of Jesus!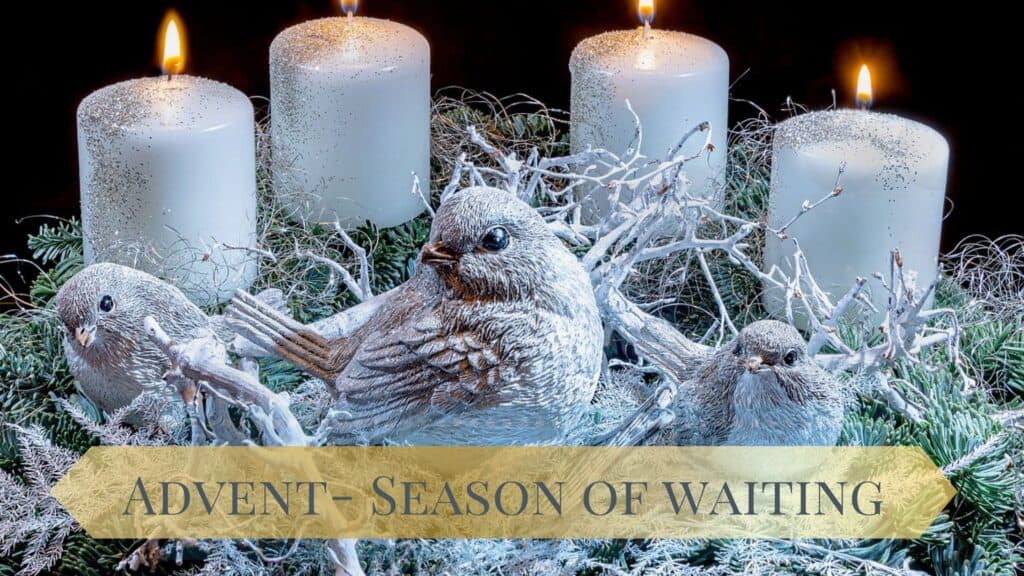 The ancient Israelites waited
expectantly
for centuries for their promised Messiah but died long before He came to earth
. They didn't exactly wait well. They refused to keep God's covenant with them, forgot the miraculous works that were done to save them, and grumbled in the desert (just to name a few.)
Some eventually met the Messiah face to face and refused to believe in Him. They died waiting…
Season of Waiting
Waiting is Hard
It seems to be getting harder these days to wait, slow down, and reflect. We have our phones and devices and favorite shows to distract us. Our streamlined lives include instapots, microwaves, hands-free devices, and even house-roaming vacuums. We can be efficient and organized when needed.
But waiting? That conjures up a time of inactivity. Boredom. Wasted time.
Waiting in anticipation for a long-awaited vacation, however, brings giddy excitement.
Waiting for our "out-past-curfew" teenager brings anxiety and irritation.
Being stuck and waiting in traffic brings impatience.
Waiting in the doctor's office for a diagnosis can bring fear and distress.
Preparing for Advent
So how should we approach waiting in the month before Christmas? The holiday season itself is so jam-packed with all the things we love about the season! Taking time to reflect in this season of expectant waiting seems challenging.
But God has a message for us in this season of waiting. To hear that lesson, we need to quiet ourselves and listen.
What Does the Bible say about Waiting?
The phrase "waiting on the Lord" came to mind. What does it mean?
"But those who wait on the Lord
shall
renew their strength; they
shall
mount up with wings like eagles, they
shall
run and not be weary, they
shall
walk and not faint
." Isaiah 40:31 NKJV
Waiting on Him is trusting that He will give us strength and endurance. His power and strength are unchanging and always available. Call on Him as you wait. He's never too busy to listen and would never fail to renew your strength.
Can you think of a time when God helped you rise above life's difficulties?
Was there a time when God asked you to wait for a promise to be fulfilled? What helps you trust Him in those difficult times (instead of sinking into anxiety, taking things into your own hands, etc?)
Be Strong and Wait for the Lord
David instructs us to "Wait for the Lord; be strong and take heart and wait for the Lord." Psalm 27:14 NIV.
David knew it wasn't always easy. He tells us to "take heart" as we wait for the Lord.
Showing this unflinching, bold courage means living out the inner confidence that is Spirit-produced.
God uses these waiting times to teach us, refresh our spirits, and renew our hope and faith.
The Advent Season is a perfect time to reignite all these aspects of waiting!
Do you trust that God is in control while you wait?
What could God be wanting to teach you about waiting this Christmas season?
Read the Story of Jesus' Birth
What aspects of the Christmas story give you strength and patience?
Could you be as obedient as Mary and Joseph?
Are you as strong in your desire to find Jesus as the Magi?
Are you patient in your waiting on the Lord? If not, why?
Prophecy of the Messiah in the Old Testament
Isaiah 9:6–
"For to us a child is born,
to us a son is given,
and the government will be on his shoulders.
And he will be called
Wonderful Counselor, Mighty God,
Everlasting Father, Prince of Peace."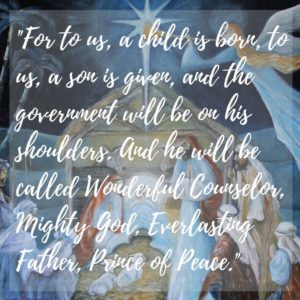 Think about the following attributes of God. How has He shown Himself to you in each one? It may be through answered prayer, a Bible verse, an observation, other people, etc.
Wonderful Counselor,
Mighty God,
Everlasting Father,
and Prince of Peace?
Jeremiah 23:5-6
"The days are coming," declares the Lord, "when I will raise up for David a righteous Branch, a King who will reign wisely and do what is just and right in the land. In his days Judah will be saved and Israel will live in safety. This is the name by which he will be called: The Lord Our Righteous Savior."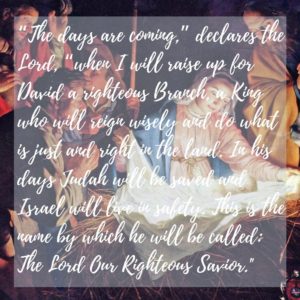 The perfect righteousness of Jesus is ours; He gives it to us as a treasured possession. Resting in His righteousness gives us great strength over the enemy. Satan has lost his power. We live now within Jesus' peace and security.
How does our Righteous Savior, Our King, govern (guide, direct) your life?
Micah 5:2–
"But you; Bethlehem Ephrathah, though you are small among the clans of Judah, out of you will come for me one who will be ruler over Israel, whose origins are from of old, from ancient times."
How do the above prophecies bring you hope for God's other promises?
Do these fulfilled prophecies help you to "be strong and take heart" (Psalm 31:24)when you need it?
Waiting for the Holy Spirit
After His resurrection, Jesus told his disciples in Acts 1:4 NIV to stay in Jerusalem. "Wait for the gift my Father promised, which you have heard me speak about." He is asking them to be patient and calm, stay where they were, and wait.
He was leaving them, but they were to stay where they were and wait.
Can you imagine if they had become impatient or fearful and ran away? Would they have missed the coming of the Holy Spirit in their lives?
Waiting can bring us beautiful gifts!
When God says, "Wait here", do you trust Him for the gifts that will follow?
Benefits of Waiting Upon the Lord
It can be hard to wait though, can't it? Hey, there are cookies to bake, and those presents aren't going to wrap themselves…. There is so much to do! Can we afford to reflect and wait?
Yes, we can!
•Waiting makes us stronger. "But those who wait upon the Lord shall renew their strength; they shall mount up with wings like eagles, they shall run, and not be weary; and they shall walk, and not faint." Isaiah 40:31 NKJV.
•Waiting upon God is the antidote to the stress of the season. As we wait and reflect, we give Him our full and thoughtful attention. We are able to hear His voice when we wait patiently and quietly on God.
•Waiting on God puts our spiritual desires before our worldly desires. It replaces worry and anxiety with a delight and happiness in God's direction, love, and care. "Delight yourself also in the Lord; and He shall give you the desires of your heart." Psalm 37:4 NKJV.
Examples of Waiting in the Bible
•Abraham waited 25 years for his promised son.
•Jacob waited and worked 14 years to marry his beloved Rachel.
•Joseph waited 22 years to be reconciled with his family.
•Jesus waited 30 years to begin His ministry.
So yes, we can definitely spend time waiting upon God in this Christmas season! Put it on your to-do list in the first spot when you are organizing your time. The season will be even more beautiful and meaningful when we take the time to wait and reflect.
Waiting on God
In our seasons of waiting, we must remember that God is at work. We may not see what He is up to, but we need to be patient.
How can we best use this Christmas season of waiting and anticipation?
This period of waiting isn't wasted or infertile time.
It's an
active waiting
of connecting with God in prayer, worship and reflection on the coming of our Savior.
There is much in the Christmas story to reflect upon and it's the perfect time to let God train us on how to wait
properly
.
Reflect and celebrate the extravagant love of God that sent his Son to earth to save us!
These weeks remind us that Jesus came to save us, and He is coming again. Value the waiting as a precious gift, and cling
tightly
to the hope we have in our future. What a beautiful season!
More ideas to help you prepare for Christmas:
Advent Devotional:
•Click on the image for a Printable Devotional of this post: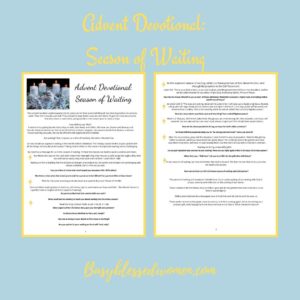 •The Book of Luke has 24 Chapters: A chapter a day has you finishing on Christmas Eve! What a great way to read through the life of Jesus as we anticipate the celebration of His birth♥
•As you listen to Christmas Carols this week, listen carefully to the lyrics. Try to identify the Scripture verses they refer to, and look them up for a mini devotional.
Photo Credit: Pixabay
All Scripture is from the NIV unless specified otherwise.