"Blessed are those who hunger and thirst for righteousness, for they will be filled." Matthew 5:6. That was my verse of the day last week, and when I read it, I thought, "What does that really mean?" Jesus was teaching the disciples about the characteristics his followers should have. He was telling them about the importance of their spiritual hunger. He even adds the promise of a blessing!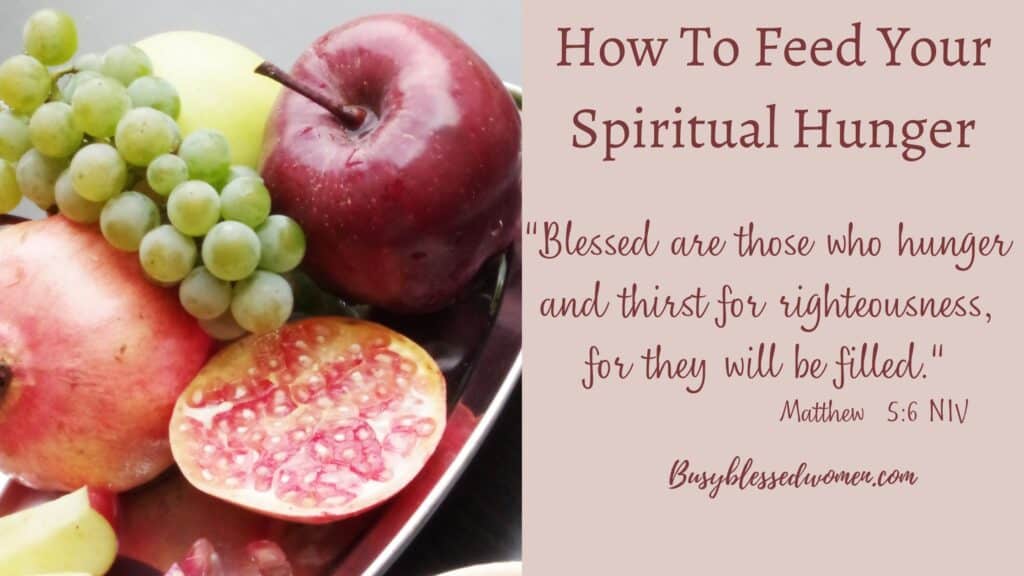 What Does it Mean to Hunger and Thirst Spiritually?
This teaching is part of the Beatitudes given in the Sermon on the Mount. Each Beatitude tells us how to be blessed. Jesus wants us to experience His hope and joy no matter what outward circumstances bring.
Jesus is describing an intense spiritual nourishment that is just as real as our physical hunger. But instead of hungering for food, material possessions, comfort, or success, Jesus wants us to be hungry for holiness and spiritual growth and to live life like He did.
Did you notice the promise and good news He gives? When we hunger and thirst for His nature, character, and attitudes, He promises to fill us completely.
That led me to think about feeling completely satisfied.
How Can I Satisfy my Spiritual Hunger?
Do you ever struggle to feel satisfaction in your day or even a season? I can think of a time when I did not feel satisfied.
For years I told myself, "maybe this summer I can just relax and enjoy the season with no issues." I love the summer and it's such a brief season here. Can't it please be all lazy sunshine, gentle rains, and abundant flowers?
Year after year, I told myself that this year was hopefully "the one." Cue the health issues, a son deployed to Iraq, deaths of family members, kids moving out, moving back…. it was a never-ending sense of anxiety and frustration for me.
I felt unsatisfied. By the worldly definition, satisfaction is having a need, want, or desire met, or the pleasure/ sense of achievement you feel when you do something you wanted to do.
They aren't a bad thing when kept in proper perspective. We have to eat physical food. Our minds and bodies need leisure time to rest.
We can feel satisfied when our closets and drawers are finally tidy. It makes our jobs satisfying when we do well or achieve promotions, etc.
Signs of Spiritual Hunger
But do you wonder if you are spiritually hungry? Here are a few tell-tale signs:
•Feeling weary, tired
•Hope seems to slip away
•Stress and anxiety fill our lives
•Longing to feel satisfaction
This can happen when instead of feasting on God's Word, we indulge in "junk food"- the things of the world.
We should instead partake of the spiritual food that brings us into a deeper relationship with Him.
Spiritual Hunger and Thirst
Jesus was using the bodily cravings of hunger and thirst as analogies of having a strong desire for His blessings of pardon and peace. He alone can fill us to the brim.
Just as our body has appetites we satisfy with food, drink, and experiences, our soul has an "spiritual appetite" that only He can fill.
We all feel hunger and thirst. Sometimes those feelings have us prowling the cupboards for some snacks and reaching for something to drink.
When you are spending time with Jesus, are you grabbing a quick snack or drink to quench your spiritual needs, or are you starving for Him, filling yourself to the brim and feeling completely satisfied?
When I spent weeks bemoaning my less than perfect summer seasons, I was trying to satisfy my soul with worldly pleasures. My fears and worries showed I didn't fully trust God in my life.
Trying to fill up on earthly things always leaves us always wanting more and never feeling fully satisfied.
Hunger For God
When we are physically hungry or thirsty, we eat or drink and feel satisfied. Later, those desires return and we need to eat and drink again.
Have you noticed that the more you "feed" your soul with Him, it's the exact opposite? The more of Him you have, the more of Him you want.
That's the deep desire Jesus was talking about. So how do we feed our soul in this way?
As Christians, we all have the power of the Holy Spirit living inside us. God doesn't give each of us more or less of the Spirit.
We have him living inside us, and it is up to us to "feed" that spiritual appetite.
Hunger and Thirst for the Word of God
We do this by choosing daily to "set our minds" on what the Spirit desires (Romans 8:5). This is not a simple task; the world can be very distracting.
Set your mind to partake in a feast of Jesus every day! Determine how you can use prayer, worship, study, music – whatever works – to stuff yourself completely with Him!
Spend time with people who share your hunger for God. This can be as a Bible study (large or small group), reading blogs (😊), or listening to podcasts.
Listening to worship music is a beautiful way to be fed. Christian music artists use their talents to express their own faith, struggles, and Biblical truths to stir and feed a hunger within our souls.
You can even use prayer to ask God to make you hungry for Him! He is with us on every step of our life's spiritual journey. Ask the Holy Spirit to draw you closer to Him and help you reflect His character.
Use could also use any of the following Bible verses as prayer prompts!
What Does the Bible Say About Spiritual Hunger?
God wants to feed our souls! Here are some beautiful Bible verses that talk about satisfying our deepest soul appetite.
Isaiah 55:1-3
● "Come, all you who are thirsty, come to the waters; and you who have no money, come, buy and eat! Come, buy wine and milk without money and without cost. Why spend money on what is not bread, and your labor on what does not satisfy? Listen, listen to me, and eat what is good, and you will delight in the richest of fare. Give ear and come to me; listen, that you may live."
Psalm 42:1-
● "As the deer pants for streams of water, so my soul pants for you, O God."
Psalm 63:1
● "O God, you are my God, earnestly I seek you; my soul thirsts for you, my body longs for you, in a dry and weary land where there is no water."
Psalm 107:9
● "He satisfies the longing soul and fills the hungry soul with what is good."
John 7:37
● "On the last and greatest day of the feast, Jesus stood up and called out in a loud voice, "If anyone is thirsty, let him come to Me and drink."
Isaiah 55:2
● "Listen to me, and eat what is good, and your soul will delight in the the richest of fare."
John 6:35
● "I am the bread of life; he who comes to Me will not hunger, and he who believes in Me will never thirst."
Matthew 4:4
● "It is written, man does not live in bread alone, but in every word that comes from the mouth of God." Matthew 4:4.
Come, all you who are thirsty… Listen to me, and eat what is good…. Earnestly seek the Lord…. Call on him… He's waiting!
When you wake up tomorrow, you will have a natural hunger and thirst.
While you're choosing your breakfast, reflect on what will satisfy your spiritual desire as well. Let Him fill you with spiritual things, then go back for seconds or even thirds! That's where you will find the spiritual feast of true and lasting satisfaction.
Blessings,
AnnMarie
All Scripture is taken from the NIV unless specified otherwise.
Photo Credit: Canva