The Book of Ruth is one of only two books in the Bible that focus primarily on the stories of women; the book of Esther being the other. Considering the negative attitudes towards women of their day, we can conclude that there must be some very important lessons to be learned from the characteristics of Ruth. Ruth's story is a mere 4 chapters but packs in many Biblical principles.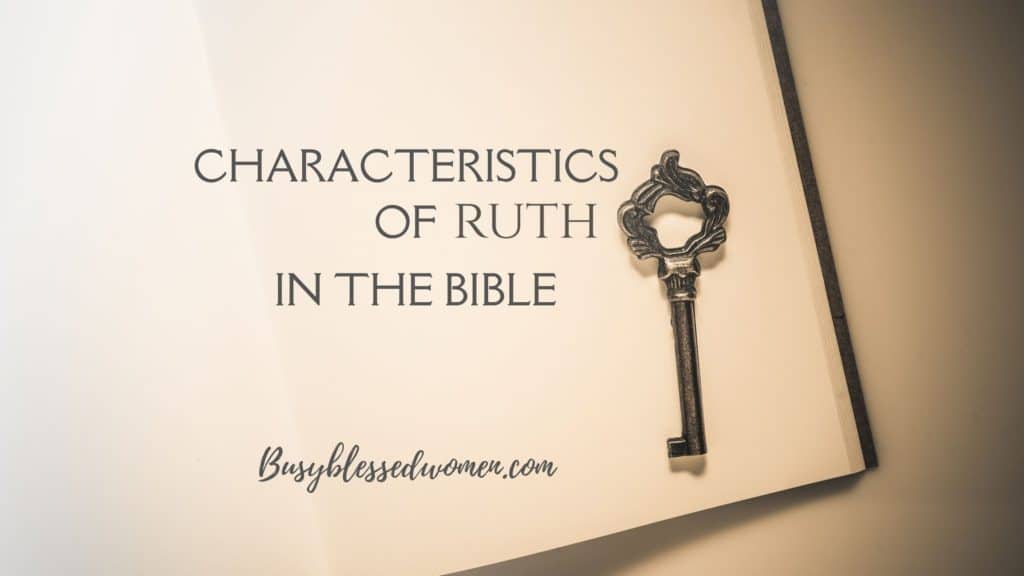 We've probably all read or heard of the story of Ruth and her mother-in-law, Naomi. There is tragedy and hardship, love and faithfulness, and God's divine providence shining through their lives.
Historical Background of the Book of Ruth
The book of Ruth comes immediately after the book of Judges in the Old Testament. The last line of Judges says, "In those days Israel had no king; everyone did as he saw fit." Judges 21:25. Everyone did as they pleased and had their own versions of right and wrong (sound familiar?)
Ruth's story takes place during this troubled time. It's heartening to see that there were still Godly people in her day and how God used them. That is an encouraging and convicting lesson for us today!
Who Wrote the Book of Ruth?
The author of Ruth and when it was written, has many viewpoints. Several opinions as to the author include Samuel, Nathan, Solomon, or even a female author, Tamar; just to name a few. As far as when it was written we only know that it was after the period of the judges. While it's origins are cloudy, it does not take away from the focus on the life of Ruth and how God works through His faithful ones. If we needed to know, God would have made sure that information was there!
Background of Ruth
Ruth was a Moabite woman. Moab was a pagan nation that was hostile to the Israelites and abutted the boundary of the Promised Land. It was a lush valley in the middle of a desert; known for its rich pastureland and ideal soil and climate. How would a despised Moabite woman end up as a faithful follower of God?
Naomi and Ruth
The story begins with a severe famine in Judah. This drove Naomi, her husband and two sons to Moab. Unfortunately, Naomi's husband dies. Her two sons married Moabite women named Ruth and Orpah.
About ten years later, both of Naomi's sons died as well. That left Naomi and her two daughters-in-law in a very desperate situation.
Religious leaders, kings, and even their own families were known to mistreat and take advantage of widows. God's law stated that the nearest relative of the husband should care for them, but Naomi's only family was in Judah.
Word finally came that the famine had eased, and Naomi wanted to return to her homeland. As Naomi set out, she kissed her two daughters-in-law and encouraged them to return to their own mothers.
"Go back, each of you, to your mother's homes. May the Lord show kindness to you, as you have shown to your dead and to me. May the Lord grant that each of you will find rest in the home of another husband. Then she kissed them, and they wept aloud and said to her, 'We will go back with you to your people.'" Ruth 1:8-10.
What a beautiful testimony- these women could have been at odds through different faiths and nationalities, but they showed a deep kindness and love for each other. To think of parting ways grieved them. While we don't know specifics about their lives together, we can see in their loving reactions and emotions that the blending of cultures and backgrounds can bring beautiful relationships. Naomi's life must have been a beautiful testimony to God for them to desire a life with her and follow her home.
Where you Go, I Will Go
But Naomi encouraged both women to return to their homes. Naomi felt she had nothing to offer them. Their best chance at improving their lives was to let her leave without them.
Naomi strongly encouraged her plan for the women, but God's plan was better…
Still crying into each other's arms, Orpah took her mother-in-law's advice. But still Ruth refused and asked Naomi to stop urging her to leave. Her heart was with Naomi and she desired to travel, care for, and stay with her.
"Where you go, I will go, and where you stay, I will stay. Your people will be my people and your God my God." Ruth 1:16.
Naomi's faith was a powerful witness to Ruth. Ruth turned away from idol worship and became a woman of great faith who loved and trusted God in difficult times.
Not only was this God not the one she knew growing up, but her faith was strong for someone so young. She was living through multiple tragedies and still clung to God, believing He would be her Jehovah Jireh- the God who provides.
Ruth Followed Naomi
So the two women "went on" v19, until they came to Bethlehem. They were moving forward, trusting in God and taking the path He had laid out for them. They arrived in the spring, just as the barley harvest was beginning.
Pin me for later!
Story of Ruth and Boaz
Israelite law demanded that portions of farmer's fields remain unharvested for the poor. Also, any grain that dropped to the ground while being harvested was to be left. (They called this gleaning.) Because of Ruth's status as a widow, she could enter the fields to collect grain. Her industrious and hard-working nature led her to work in the fields. She wasn't too proud to work hard at this menial task.
Ruth began working a field that "as it turned out" 2:3 (or in other words– God worked out an amazing plan!) belonged to a relative of Naomi's on her husband's side. The man's name was Boaz, and he noticed Ruth when he entered his field. The foreman told Boaz about Ruth's status and informed him of her tremendous work ethic.
Boaz offered Ruth his protection in his fields, comfort, and even a lunch!
Ruth worked hard all day and went home with about 30 pounds of barley to give to Naomi; as well as her "leftovers" from lunch. Her bounty amazed Naomi, who asked Ruth who took notice of her.
When Ruth told her about Boaz, she exclaimed, "That man is our close relative; he is one of our kinsman-redeemers!" 2:20.
What is a Kinsman-Redeemer?
A kinsman-redeemer is a male relative who takes the responsibility to act for a relative who is in any trouble (debts, enslavement, and widowhood, for example.) When a woman's husband died, this law gives her the option of marrying her husband's brother or nearest relative.
Ruth and Boaz Love Story
After working Boaz's fields for about 2 months, Naomi counsels Ruth to ask Boaz if he would be her kinsman-redeemer. Naomi knew Boaz would be threshing his grain at night (busy farmers harvested during the day)- so she instructed Ruth to bathe and perfume herself and go to him. She was to wait until he fell asleep and then follow whatever instructions he gave to her. Obedient Ruth follows Naomi's plan.
While this sounds odd to us, this custom was normal in Ruth's day. Ruth went to Boaz and uncovered his feet while he slept (this shows her desire for his protection.) She quietly lay down at his feet.
In the middle of the night, Boaz discovers Ruth. She asks him to "spread the corner of you garment over me, since you are a kinsman-redeemer." 3:9. This was essentially Ruth asking Boaz to marry her- the woman had to show her interest in wanting this relationship.
Boaz was delighted but posed a problem- there was a closer kinsman-redeemer that existed. Boaz sent her home in the morning while he settled the issue.
Upon Ruth's return, Naomi instructed her to "Wait, my daughter until you find out what happens."3:18. Would she marry Boaz? Or the nearer kinsman?
Naomi knew God would fulfill His plan in His time and His way. There was nothing to do but wait for Him to reveal His plans.
Boaz Married Ruth
Boaz works out the details to marry Ruth (4:1-12). They subsequently have a son whom they name Obed. God's provision for her family overjoyed Naomi; she even cared for baby Obed. God had given her bountiful blessings out of the trials of her life.
This story that began in tragedy ends in redemption. God was using Naomi and Ruth to prepare the genealogy of Jesus. Obed fathered Jesse, who fathered David, the man who would become king of Israel, and from whom Messiah would come.
Ruth's life of faithful obedience and her legacy as a relative of Jesus remain cemented in history. She made her life decisions based not on what was easy, but with love and her noble character traits.
Lessons from Ruth
•God can turn tragedy into triumph. Famine, living in a foreign and hostile land, and death were the beginning of Naomi and Ruth's story. But Ruth was faithful to God and showed herself as a loving and loyal daughter-in-law. She could have returned to her own family, but chose to help and care for Naomi instead.
•God sometimes chooses the "least of these" to carry out His plans. Ruth was a Moabite, a pagan people who considered Israel their enemy and Boaz was a relative of Rahab, a prostitute! Not only does it show God's grace to all, but there is no one who can say they are too unworthy to be used by God. ♥
•Even in a wicked world, be encouraged that there will always be those who love and follow God. God uses these people (you and me!) to bring others to Him and work out His plans. God is at work in our world today, using our trials and tragedies for His glory.
•Ruth's story of bravery, obedience, love, faith, trust, and humility show us a woman of noble character. She had integrity and wasn't afraid of working hard. Most importantly, she trusted her life to God, even in the midst of the great pain she was experiencing. She received respect, honor, and blessings for the way she lived her life.
What characteristics of Ruth do you want to develop in your own life?
Can you look past your circumstances and trust God to use you according to His plan?
Quotes about Ruth
Ruth's character is inspiring women everywhere today.
I loved these quotes about Ruth that encourage us to be as faithful and courageous as she was!

Let's shine for Him as faithful "Ruth's" in today's world!
There's much more to this story. I encourage you to read (or re-read) the Book of Ruth!
Blessings!
AnnMarie
Photo Credit: Deposit Photos