Finding all those Old Testament Christmas verses for last week's post sparked my curiosity. Are there other prophecies about Jesus' birth? Why is it important that we know about the prophecies of Jesus? Let's see what we can find…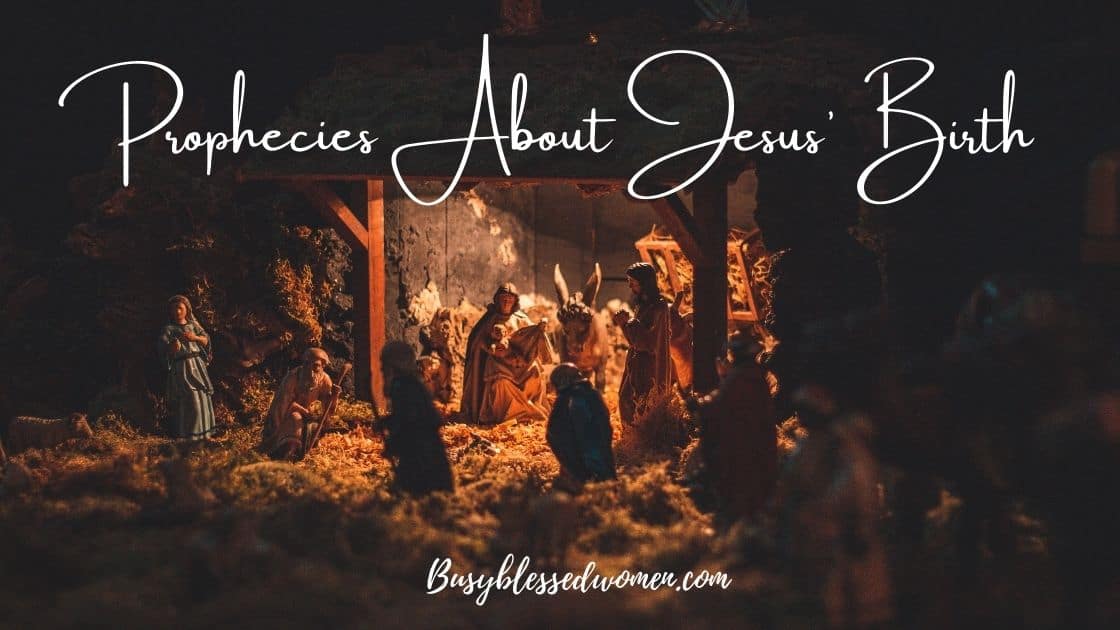 How Many Prophecies about Jesus in the Old Testament are There?
Jesus fulfilled hundreds of prophecies about Himself and speaks of them in Luke's Gospel:
Jesus encountered two disciples on the road to Emmaus on Resurrection Day; keeping His identity a secret. He asked what they were discussing. The disciples told Him of the recent events of Jesus' crucifixion, their disappointment that He did not rescue Israel from their enemies, and the missing body.
Jesus responded by pointing them back to the prophecies in the Old Testament concerning himself:
"And beginning with Moses and all the Prophets, he explained to them what was said in all the Scriptures concerning himself." (Luke 24:27)
I would have loved to hear that conversation!♥
Is Messianic Prophecy Important?
Dr. Michael Rydelnik teaches Messianic prophecy at both Moody and Dallas Theological Seminaries and gives us three reasons why he believes they are important.¹
First, they strengthen our faith and erase any of our doubts.
We all feel doubts at one time or another. Even John the Baptist, his own relative, struggled with Jesus' Messiahship. This was after John proclaimed Jesus as Messiah and gave testimony to seeing the Spirit of God come down from heaven and hearing God audibly call Jesus His beloved Son after he baptized Him. (John 1:29-34)
Yet while John was imprisoned, He sent a message to Jesus to ask Him if He truly was the Messiah. (Matthew 11:2-3.)
Jesus graciously answered John's doubts by instructing the disciples to remind him of the miracles He had performed which were prophesied in Isaiah 35:4-6 (the blind will see, the deaf will hear, and the lame will walk) and His preaching of the Good News (Isaiah 61:1).
Sometimes we too need encouragement to silence our doubts. Go to Him and His word; ask Him your questions!♥
The prophecies give us proof Jesus was indeed the Messiah.


Proof that Jesus was the Messiah
The overwhelming proof of Jesus' resurrection certainly verifies that He was the Messiah. But Jesus' fulfillment of Old Testament prophecy also leads us to the same conclusion. These fulfilled prophecies helps us not only identify Jesus as the Messiah, but to weed out any imposters.
Jesus claimed to be the Messiah (John 4:25-26), but of course, just claiming something doesn't prove it's true – well, unless you are God. That's why we go back to the prophecies- to show Jesus' claim is valid. He fulfilled all the Old Testament prophecies about Himself!
3. When we know fulfilled prophecy, we can better explain our faith to others.
Many people characterize the Bible as just a collection of stories or impossible-to-believe myths. The knowledge of His fulfilled prophecy helps us show others the facts of Messiah's life.
It never ceases to amaze me how God filled His word with prophecies long before they came to pass. He even declares His incomparable power in Isaiah 44:6-8 NKJV:
"I am the first and I am the last; beside me there is no God. And who can proclaim as I do?… Have I not told you from that time, and declared it?"
The Author of these prophecies has the needed credentials to help us explain them. Fulfilled prophecies are not just happenstance or coincidence.
I would add one more reason of their importance- these ancient words, preserved by God, leave us in a place of awe and wonder as we see how His plan of loving redemption unfolded.
They give us hope- a confident trust in God- who He is, what He has done, what He has promised us- and the roots of all these things can be found in Old Testament prophecy.♥
Christmas in the Old Testament
Let's look at these prophecies with the purpose of strengthening our faith, rejoicing in the majestic plan that was fulfilled, and having an answer for those who question the Christmas story.
Old Testament Prophecies about Jesus
We find the first Messianic prophecy in the first book of the Bible. God makes it clear-Jesus was the plan to address the sin that came into the world.
Genesis 3:15
God curses the serpent-
"And I will put enmity between you and the woman, and between your offspring and hers; he (Jesus) will crush your head, and you will strike his heel." (the cross)
The offspring of Eve (Jesus) would eventually defeat Satan by His atoning work on the Cross.
This is the first thread of the Promised One we see running through the entire Old Testament.
God planned out Jesus' entire genealogy-
He promises Abraham "all peoples on earth will be blessed through you" –Genesis 12:3. Jesus comes through Abraham's offspring.
Further down in His genealogy, God promises David that his descendants will always be on the throne of Israel- and Jesus fulfilled that promise:
"I will make a righteous Branch sprout from David's line…This is the name by which it will be called: The Lord our Righteous Savior." (Jeremiah 33:15a,16b)
Matthew records the fulfillment of this prophecy in Matthew 1:1-
"A record of the genealogy of Jesus Christ, the son of David, the son of Abraham…"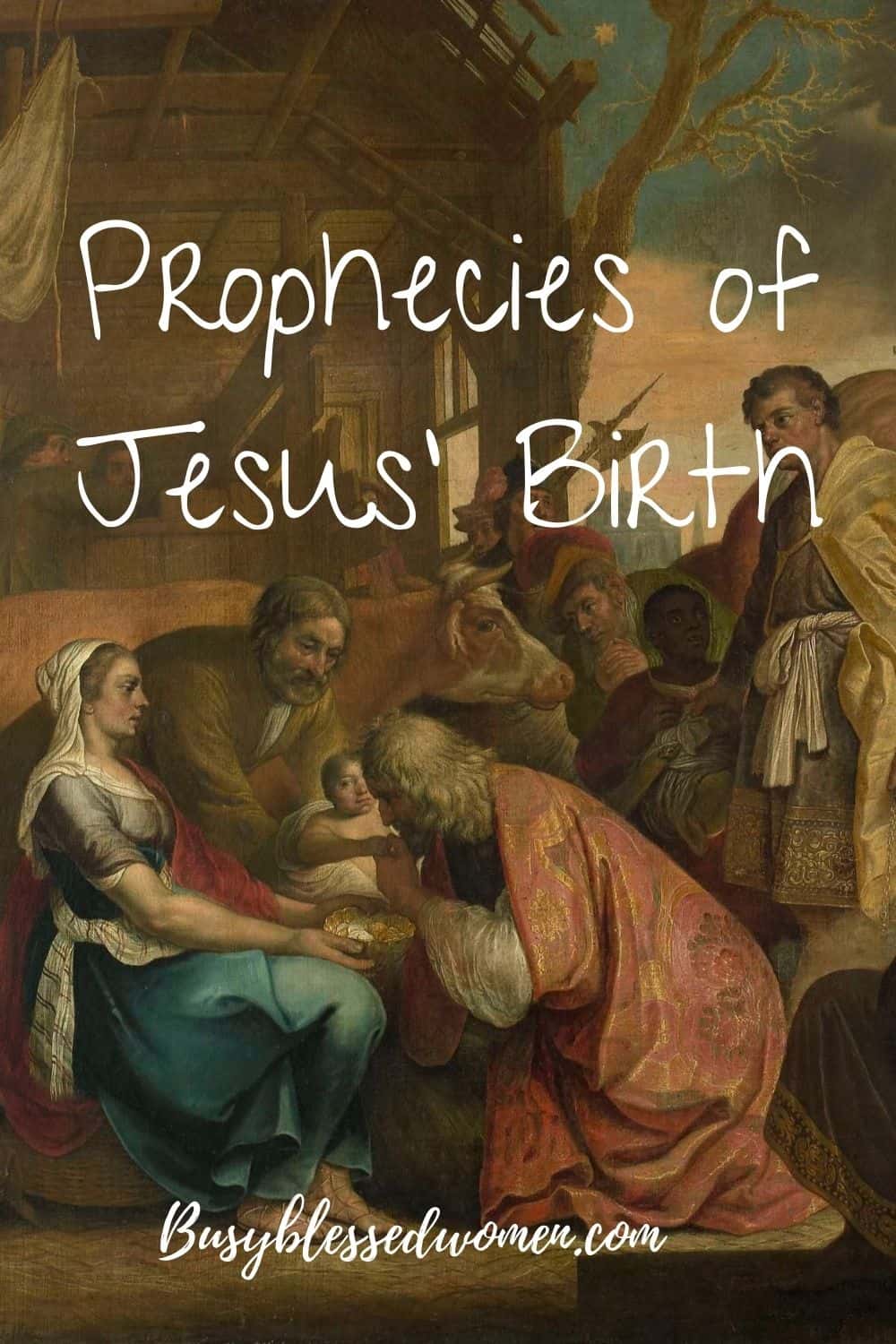 Christmas Prophecy Verses
Virgin Birth of Jesus
"Therefore, the Lord himself will give you a sign: The virgin will be with child and will give birth to a son, and will call him Immanuel." Isaiah 7:14.
Jesus becomes the fulfillment of this Old Testament prophecy; Matthew records the fulfillment in 1:22-23:
"All this took place to fulfill what the Lord had said through the prophet: 'The virgin will be with child and will give birth to a son, and they will call him Immanuel- which means "God with us.'"
Luke 1:35 gives us the fulfillment in the angel's explanation to Mary- "The Holy Spirit will come upon you, and the power of the Most High will overshadow you. So the holy one to be born will be called the Son of God."
Jesus is Born in Bethlehem
"But you, Bethlehem Ephrathah, though you are small among the clans of Judah, out of you will come for me, one who will be ruler over Israel, who origins are from of old, from ancient times." Micah 5:2.
God gave Micah this prophecy of Jesus' birthplace hundreds of years before Jesus was born.
The ruler over Israel is Jesus, the Messiah, the Promised One from David's line. His beginning did not start with His human birth. He has always been; coming into the world in human form as a baby boy, Jesus of Nazareth, born in Bethlehem.
Luke 2 records this prophecy's fulfillment as given to the shepherds: "But the angel said to them, 'Do not be afraid. I bring you good news that will cause great joy that will be for all the people. Today in the town of David, a Savior has been born to you; he is Christ the Lord.'" vv10-11.
To Us a Child is Born
Isaiah's glorious prophecy of our Messiah:
"For to us a child is born, to us a son is given, and the government will be on his shoulders, and he will be called Wonderful Counselor, Mighty God, Everlasting Father, Prince of Peace." Isaiah 9:6.
The birth of Jesus fulfilled this message of hope. He is our light shining into the darkness of the world. He is a wonderful and wise King, has divine and mighty power, is an enduring protector who brings us peace. This is the One who slept in the lowly manger.
Out of Egypt I Called My Son
The Prophet Hosea recalls God's love for Israel:
"When Israel was a child, I loved him, and out of Egypt I called my son." (11:1)
Hosea's words from God refer to the Exodus when Israel was just a fledgling nation and God delivered them out of the bondage of slavery in Egypt.
Matthew (who was writing to fellow Jewish Christians), is very meticulous throughout his writing, linking Jesus to the Old Testament.
There is some disagreement over whether this is a Messianic prophecy, but Matthew shows how Jesus also fulfilled the words "out of Egypt I called my son."
An angel appears to Joseph to warn him of Herod's plan to kill Jesus. He instructs him to escape to Egypt – "So he got up, took the child and his mother during the night and left for Egypt where he stayed until the death of Herod. And so was fulfilled what the Lord had said through the prophet: Out of Egypt I called my son." Matthew 2:14-15.
7. Sun of Righteousness
"But for you who revere my name, the Sun of Righteousness shall arise with healing in His wings." Malachi 4:2 NKJV.
To us, His redeemed, the resurrected Jesus is our bright Sun of Righteousness, our healer and purifier. He brings joy and a light into our dark world every day. He shines down, spreading His warmth and love over us.
Christmas Prophecies
It's hard to imagine the excitement that surrounded our Savior's birth.
It had been over 400 years of silence from God. No prophets had emerged with any further instructions. Everyone was anxiously watching and waiting for the Messiah to come.
Prophecy probably isn't the first thing you think of when you celebrate Christmas. But look deeper into the marvelous meaning of Christmas- God with us.
You will see an intricate plan; each perfected detail brought to fruition at the exact time and place that was prophesied.
Jesus came to bring the most joyful news of all time. He proved over and over exactly who He was- our Savior and our King.
These prophecies (and many more!) give irrefutable proof of who Jesus was and why He came. May we celebrate and marvel over them this Christmas season as we worship the coming of our Newborn King.
"Glory to God in the highest, And on earth peace, goodwill toward men!" Luke 2:14 NKJV.
Christmas Blessings!
AnnMarie
https://www.michaelrydelnik.org/why-is-messianic-prophecy-important/
All Scripture is from the NIV version unless otherwise specified.
Photo Credit: Canva