It's time to celebrate! We've moved through a time of anticipatory waiting and focusing on Jesus' birth. We've reflected on the meaning of Immanuel- God with us. We concentrated on the aspect of the Light of the World coming to dispel sin and darkness forever. Now it's time to turn to Scripture to hear why Jesus came at Christmas.
What Was Jesus' Purpose?
An Abundant Life
•Jesus' own words: "I have come that they may have life and have it to the full." John 10:10 NIV
Jesus came from heaven to give us back our life. Not just an OK, so-so life, but abundant life. He wants us to experience a full, satisfying life filled with His love and peace now and forever.
Our life with Jesus at the helm can be calm seas, a warm breeze and complete rest. Trials of life will not break us.  There is no fear in a life centered on, and trusting in Him.  Might we sway a bit? Or a lot? Of course, until we fall back into His loving arms.
The baby in the manger came as a gift. He gives us abundant life here on earth, but He also offers us the best gift of all- a secure life in eternity with Him.
Jesus Comes to Testify to the Truth
•Jesus' answer to Pilate's statement that Jesus was a king: "You say that I am a king. In fact, the reason I was born and came into the world is to testify to the truth. Everyone on the side of truth listens to me." John 18:37 NIV 
Jesus spoke only the absolute truth about who He was and His kingdom. Notice He said "truth" not "truths". He is THE truth, living in a human body. Jesus gives everyone the option to hear His words and decide for themselves if they will accept His truth.
The baby in a manger existed before the universe began. He came from God in heaven as a one-time gift to humanity. He is truth in human form.
Jesus Came to Save Us
•Jesus' own words again: "For the Son of Man came to seek and to save the lost." Luke 19:10 NIV
This is the heart of Jesus' ministry. He offers salvation through the sacrifice of His own life. His rescue mission includes seeking us out, looking for us, and pursuing us.
The baby in the manger was born to die. Not for Himself, but for us.
Jesus Came to Serve
•Again, Jesus tells us why He came: "Just as the Son of Man did not come to be served, but to serve, and to give his life as a ransom for many." Matthew 20:28
Our King deserved all our praise and worship, but that is not why He came. Jesus came instead, to serve us. He paid the price, the ransom we desperately needed, by giving up his own life.
The baby in the manger was a King. The Wise Men realized it. But it's not why He was here. He gave up His crown and agreed to be born in the lowliest of places. He became a servant.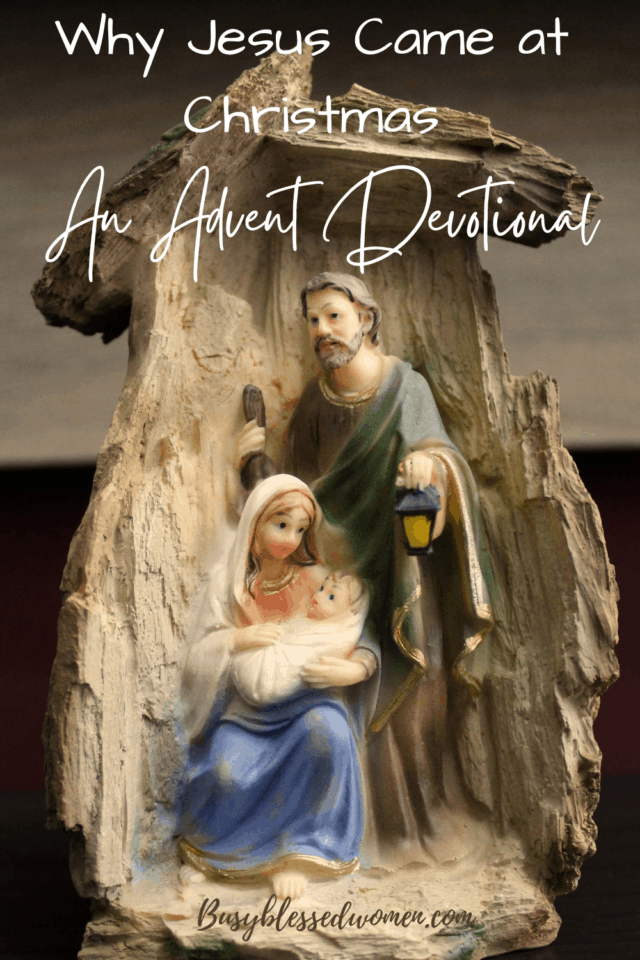 Pin me for later!
Jesus Brings Good News
•The words of Paul: "This is a trustworthy saying, and everyone should accept it-Christ Jesus came into the world to save sinners– and I am the worst of them all." 1 Timothy 1:15
Paul wanted everyone to know that what he was about to say was faithful and trustworthy. It's the Good News in a nutshell. It's the beating heart of the Gospel.
Paul goes so far as to express his identity as the worst sinner of all. He had vigorously persecuted Christians in his past. He had believed he was following the law to the letter and was at the top of the heap of Pharisees.
The baby in the manger was born with unlimited patience. He took Paul's life and used it to show what his grace, mercy, and love can accomplish.
Jesus Came to Heal the Broken
•Jesus tells us he came to bind up the broken, pardon the prisoners, give sight to the blind and to take our burdens from us. (Luke 4:18) A broken life isn't synonymous with abundant life. He wants to heal us and free us.
How are you feeling this Christmas season?  Do you have worries or concerns? Are you lonely or sick? Poor in spirit or financial means? Grieving or in despair?
Our world certainly has it's share of brokenness, fear, and pain. Good news- Jesus came at Christmas for you. You are on His mind. Remember that abundant life He came to give to us? He wants you to experience it.
No one goes through life unscathed.  We have all experienced brokenness. Grief, sickness, harsh words, abuse, loneliness, divorce, depression, anger, hopelessness, joblessness or dissatisfaction, the list can go on and on.  Love came down at Christmas.  Let His love heal you.
Jesus Came for the Poor
We can be poor in many ways- financial, spiritually, in spirit. In all these things, Jesus sees us.
He has great concern for our well-being. Jesus knows what it is like to be poor. He was born in a stable! He had no "paying job" but relied on the goodwill of others to support him.
His own family rejected him. He died with nothing. But He tells us he is willing to help us, direct us, and empower us to live an abundant life!
Importance of Jesus' Birth
Can you see all these qualities in the baby in the manger? He deserved a throne but got a feed trough.
Jesus came with the same simple human needs we had as infants- for a warm swaddling cloth and His mother's touch. He knows everything it means to be human- our joys and pain.
Jesus left the magnificence of heaven to become a tender, tiny baby.  The gifts He brought are priceless.
Baby Jesus arrived in the world and brought love and hope. Let all His purposes for coming to the world fill your heart with love and indescribable joy.♥
Joy to the World! The Lord has come!
Reflections:
Have you experienced the abundant life He promises? How or why not?
How would you describe Jesus' truth?  Do you accept His truth?
How have you felt Jesus seeking you? (He does this daily!)
Jesus showed us many examples of how to be a servant.  How do you follow in His footsteps?
Jesus shows unlimited love and patience to save us and heal us. How has He shown this to you in your life?
Christmas Blessings!
AnnMarie