I recently came across a fascinating image titled "The Broad and Narrow Way." It is a step-by-step, detailed characterization (with many companion Bible verses) of Jesus's teaching in Matthew 7. "Enter by the narrow gate; for wide is the gate and broad is the way that leads to destruction, and there are many who go in by it. Because narrow is the gate and difficult is the way which leads to life, and there are few who find it." vv13-14 NKJV.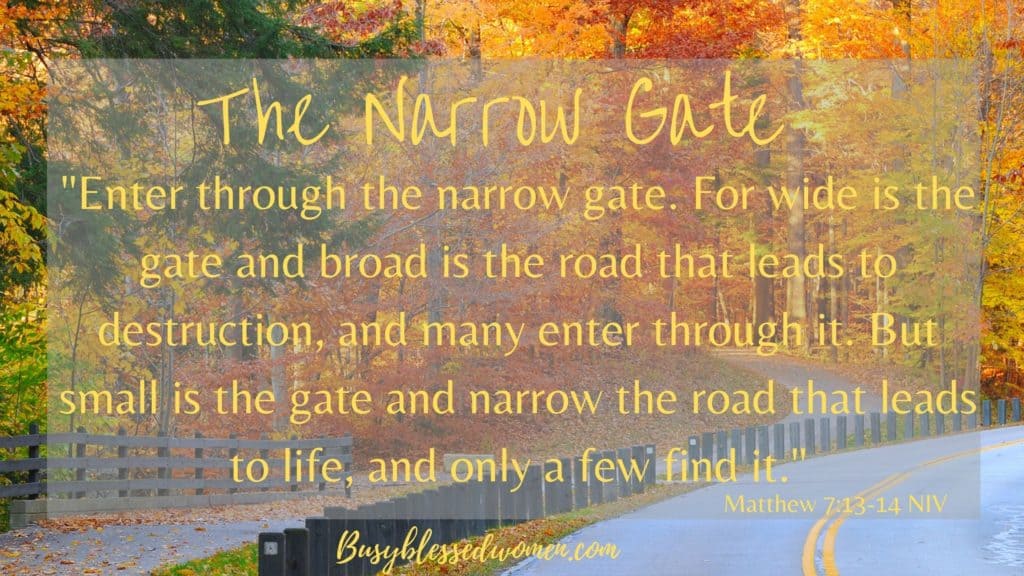 Jesus was finishing up His Sermon on the Mount. He had given out copious instructions- on prayer, the law, loving your enemies, giving, fasting, worry, and more. He ends with 2 verses of instruction for the one way to live eternally with God.
Enter by the Narrow Gate
Entering through the narrow gate puts us on a path that leads to everlasting life.
In His "Good Shepherd" parable, Jesus tells the disciples plainly (because they couldn't understand His first explanation)- "I tell you the truth, I am the gate for the sheep… I am the gate; whoever enters through me will be saved." John 10:7,9 NIV.
When Jesus later told the disciples He was going away, this confused Thomas and he asked Him; "Lord, we don't know where you are going, so how can we know the way?" John 14:5-6 NIV. Jesus answered, "I am the way and the truth and the life. No one comes to the Father except through me."
God offers his gift of salvation to all who accept it and agree to His terms. We have to use the gate and the way He provided. We can't use our own gate or work our way through His gate on our own efforts.
Jesus is the only way to salvation, He is the narrow gate.
Narrow is the Way
Entering through the gate is not the destination, but the entrance to the path of Christian life, the "difficult way." Why did Jesus describe it as difficult, with only a few able to find it?
The narrow gate and path may be small and difficult, but it is open to everyone. When Jesus said "few" will enter, He did not mean as part of a private or exclusive group. The path to eternal life is open to anyone who puts their faith in Jesus.
The Narrow Road Meaning
Unfortunately, there are bumps in the narrow road which can make it difficult:
•We offer our bodies as living sacrifices (Romans 12:1)- We offer ourselves to God, putting all we have into following and trusting Him. He alone is our Guide.
•Our lifestyle will differ from that of the world (Romans 12:2)- we no longer conform to the world's values or latest trends. Instead, we choose the lifestyle of our new selves; following God's will.
•Persecution- Others will misunderstand and criticize us because of what we believe and how we live. (2 Timothy 3:12)
•We take up our cross to follow Him- (Matthew 16:24) We "put to death" our own plans and desires and do His will instead. This requires self-denial and obedience.
•It's difficult to live up to what God is asking of us, even with the Holy Spirit guiding us. How often do we fail to live up to His standards? Has any of us gone even one day without sinning?
The way is difficult, but Jesus promises the narrow road leads to life. The Greek word describes "life" as genuine and active, devoted to God, blessed and eternal.
Jesus also promised, "I have come that they may have life and have it to the full." (John 10:10b.NIV) This abundant life is ours from the moment we accept Jesus into our hearts. We can experience His overflowing love, peace, mercy, forgiveness, wisdom, and guidance every day until we meet Him in Heaven.
Amen!
Broad is the Way
But God gives us a choice. We can choose the broad/wide way. We'd have plenty of company. There is that glitch at the end however to contend with: it leads to destruction. Again, the Greek describes it as to perish, die, waste, ruin, and eternal damnation. That's what waits at the end of the broad way.
There is a saying- "not choosing is a choice." Those who reject God's gift choose the broad way.
You can stay on the broad way without giving Jesus a second thought. But even that is a choice.
Maybe someday you will make changes, but for now, the broad way seems like the good life.
This road is quite spacious and accommodating to all, comfortable and pleasurable. No bumps in this smooth road. It's the popular way and requires no sacrifices.
You can bring your pride, the sins you love, and conform to the world around you. Hate, selfishness, dishonesty and amoral lifestyles are here. It seems inclusive and free of inhibitions, but all these things are lies from Satan.
Many even walk right up to the narrow gate and decide repenting from sin and living like Christ is not for them. They see this "one way" sign on the gate, refuse the terms, and choose the comfortable broad way.
Broad is the Way to Destruction
"There is a way that seems right to a man, but in the end, it leads to death." Proverbs 14:12 NIV.
You can find the truly morally wicked on the broad road, but unfortunately it is also a way for good and sincere people. They may see the broad way as taking the middle road. Jesus' way seems too restrictive, so they choose the broad way, thinking being a good person will get them into Heaven.
Except that there is no middle road. You are on the pathway to eternal life, or you are on the path of destruction.
There are only 2 gates, 2 roads, and 2 destinations.
The choice is ours.
Strive to Enter through the Narrow Gate
Luke's version has Jesus telling us to "Strive to enter through the narrow gate, for many, I say to you, will seek to enter and will not be able." Luke 13:24.
The Greek word for strive describes a struggle/fight against an adversary, difficulties, and danger.
The striving Jesus was speaking of is not about any works on our part to gain salvation.
It's in taking ahold of the opportunity now, before it is too late. The Enemy loves it when this decision is put off for "later."
It also involves the fight to lay aside the earthly things we love. Many obstacles may try to hinder our entering- the ways of the world, our own pride and desires, and the lies of Satan.
We have to strive to push past these things, put them aside, make no excuses, and enter through the narrow gate.
Few Will Enter the Narrow Gate
Some read "few" and wonder if they have made it through. Did Jesus mean that Heaven will be sparsely populated? What did Jesus mean by "few" will enter?? Am I in?
Numbers-wise, those who choose the broad way will far outnumber the "few" who choose to enter through the narrow gate.
So don't let the word "few" throw you for a loop. Scripture gives us an inkling of the amount of people living in Heaven:
"After this I looked and there before me was a great multitude that no one could count, from every nation, tribe, people, and language, standing before the throne and in front of the Lamb." Revelation 7:9 NIV. (John's vision from over 2000 years ago…)
In the early days of the church "many who heard the message believed, and the number of men grew to about five thousand." Acts 4:4.
Rest assured, "few" does not mean a small number. Sadly, it means a minority. There's plenty of room in Heaven!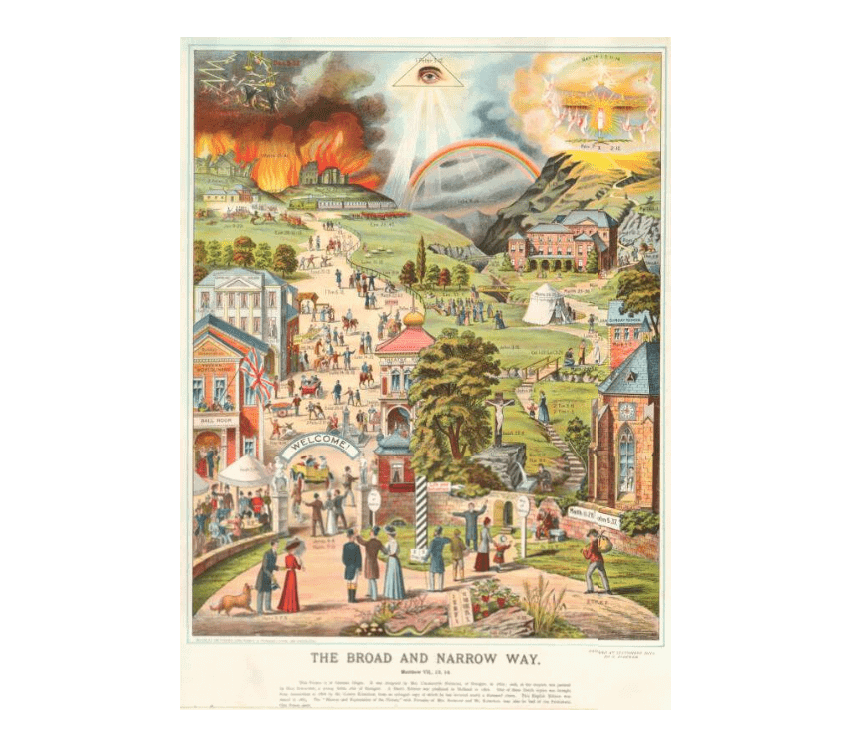 The Broad and Narrow Way
The entrances and roads depicted in the "Broad and Narrow Way" image above are 2 definite and separate paths. Once we have chosen the Narrow Way, the Broad Way holds no interest to us.
Will we sin on the narrow way? Of course, but we have the promise of His abundant forgiveness and love. We are safe and secure for eternity on the narrow way!
"I give them eternal life, and they shall never perish; no one can snatch them out of my hand. My Father, who has given them to me, is greater than all, no one can snatch them out of my Father's hand." John 10:28-29 NIV. (Don't you love this comforting truth?! I'm using it as part of my praise and worship/prayer time.♥)
Both paths are open to all. Yet Jesus makes is clear that just because the gate is narrow, His path is always open to anyone who approaches with a sincere heart.
If you look closely at the image, you will see 2 men facing a small crowd (on the broad path; between the two clumps of trees.). It is depicting the Parable of the Wedding Feast where Jesus says, "Go to the street corners and invite to the banquet anyone you find." (Matthew 22:9) He invites all to His banquet!
"Ask and it will be given to you; seek and you will find; knock and the door will be opened to you. For everyone who asks receives; the one who seeks finds; and to the one who knocks, the door will be opened." Matthew 7:7-8 NIV.
Narrow is the Path that Leads to Heaven
Life on the narrow way is a life filled with blessings and an eternity in Heaven. When we encounter pain on the way, He promises to take our burdens and comfort us. He gives us His strength and power to overcome adversity. He shelters us and takes us under His wing to give us rest when we need it.
Our goal is to live out our commitment to follow Jesus in such a way that shines His light and gives Him the glory.
Do our lives make His Way seem irresistible, blessed, and filled with peace?
Do others see Jesus when they see us? Let's show others the God we know- full of mercy and redemption, forgiveness and unending love- and accessible to all who enter through the narrow gate.
Blessings,
AnnMarie
If you'd like to know more about the history behind this image (and the ability to zero in close up), here's a link for you:
https://www.britishmuseum.org/collection/object/P_1999-0425-13
All Scripture is taken from the NIV unless specified otherwise.
Photo Credit: Canva, Deposit Photos