The Bible uses many metaphors to describe God's nature. They help us understand Him in ways that change how we live. One metaphor we see in the Bible refers to God as our rock. What does "the Lord is my Rock" mean, and how can we use it to build a foundation on Him?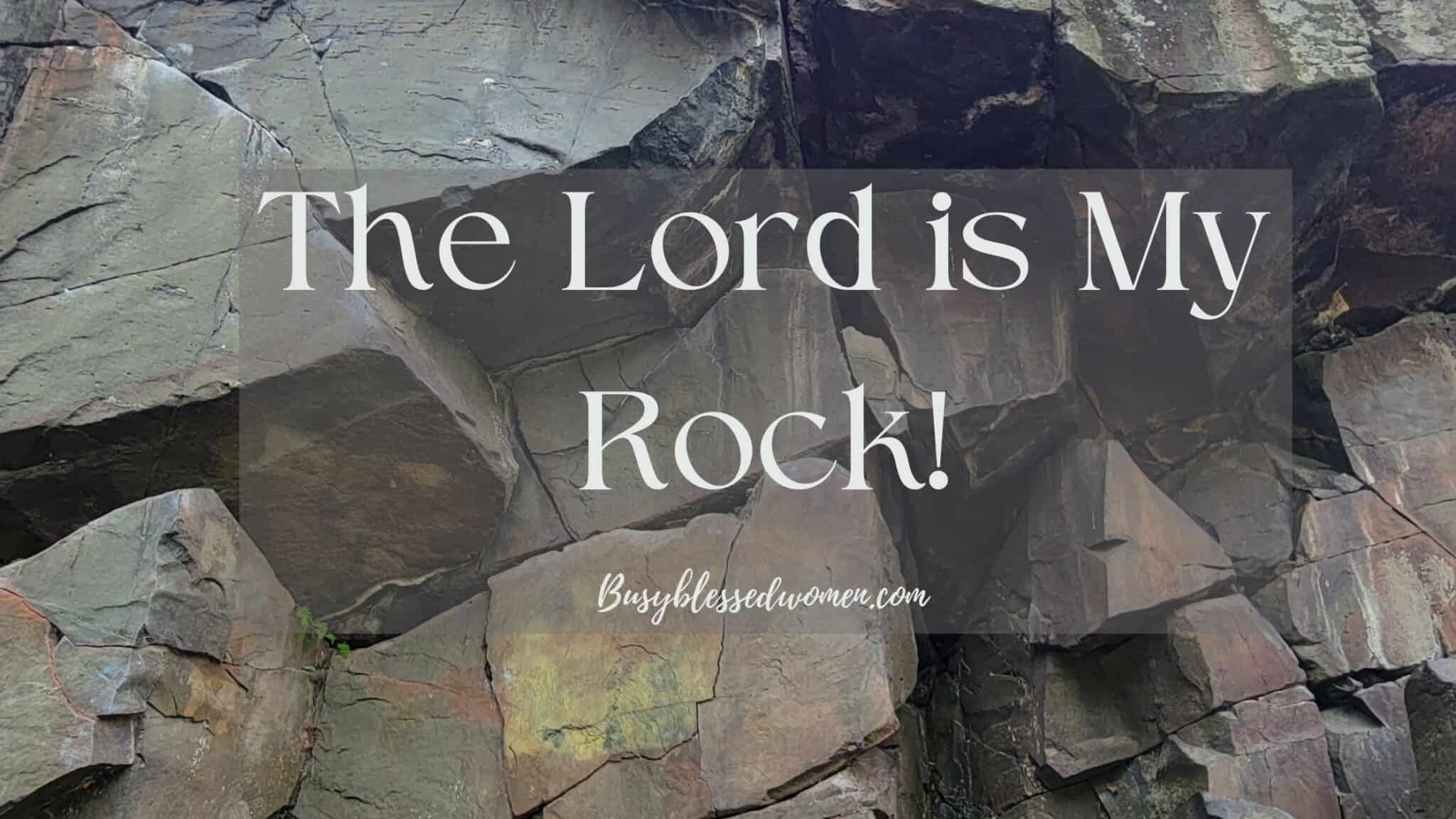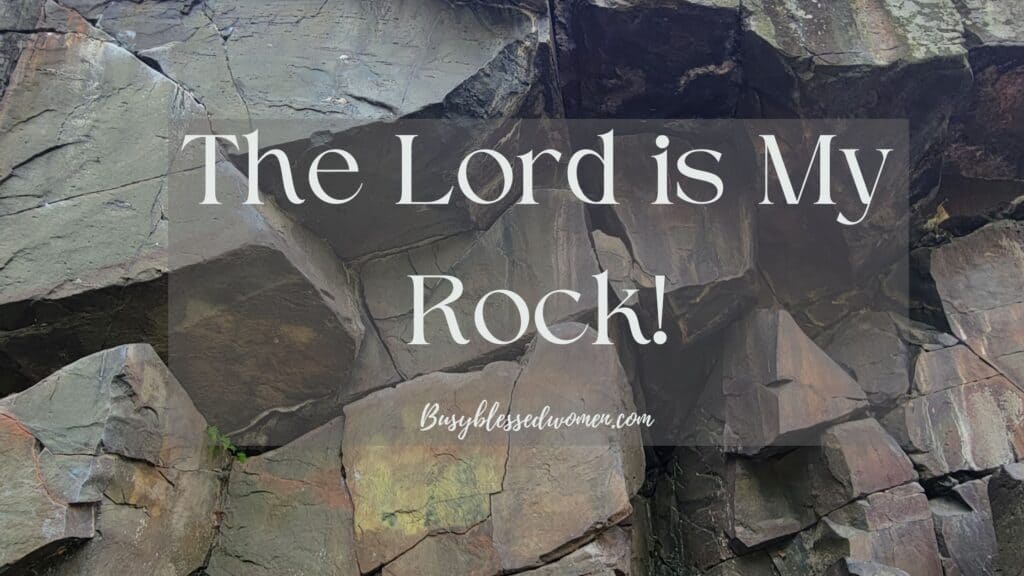 What an apt metaphor this is! God as a rock shows His strength and protection, which make sense. But did you know that comfort, hope, assurance, encouragement, protection, and power can also describe God as our Rock?
He wants our hearts to know that He is our safe place! We can confidently rest in Him in all circumstances; leaning on the solid Rock.
How Many Times is Rock Mentioned in the Bible?
Depending on the translation, rocks are mentioned about 130-150 times (more than I thought!) God ascribes to Himself the metaphor of "rock" right away in the Old Testament, and it is carried throughout the Bible.
If you search the word stone ("cornerstone", "living stone"), the verses that describe His strength and stability double in number. This is obviously an important aspect of who our God is!
Rock in Hebrew
The first example I could find of rock as a metaphor to describe God is in Deuteronomy 32:4. Moses was at the end of his life, and God gave him a song to teach to the Israelites.
Verse 4 reads, "He is the rock, his works are perfect, and all his ways are just."
"Rock" here is the Hebrew word "sur", meaning mighty One, immovable cliff, strong/strength as it relates to God. Another Hebrew word for rock is "sela", meaning stronghold, fortress, security.
God calls Himself "the Rock" to emphasize and remind the Israelites that He is strong, immovable, and can be relied on.
Rock in Greek
Jesus uses the word "petra" for rock in Matthew 7:24; describing a wise man who builds His house upon a rocky cliff or ledge. He warns us that storms will come into our lives and when they do, we need our foundation to be firm.
That rock solid firm foundation is our faith in Jesus.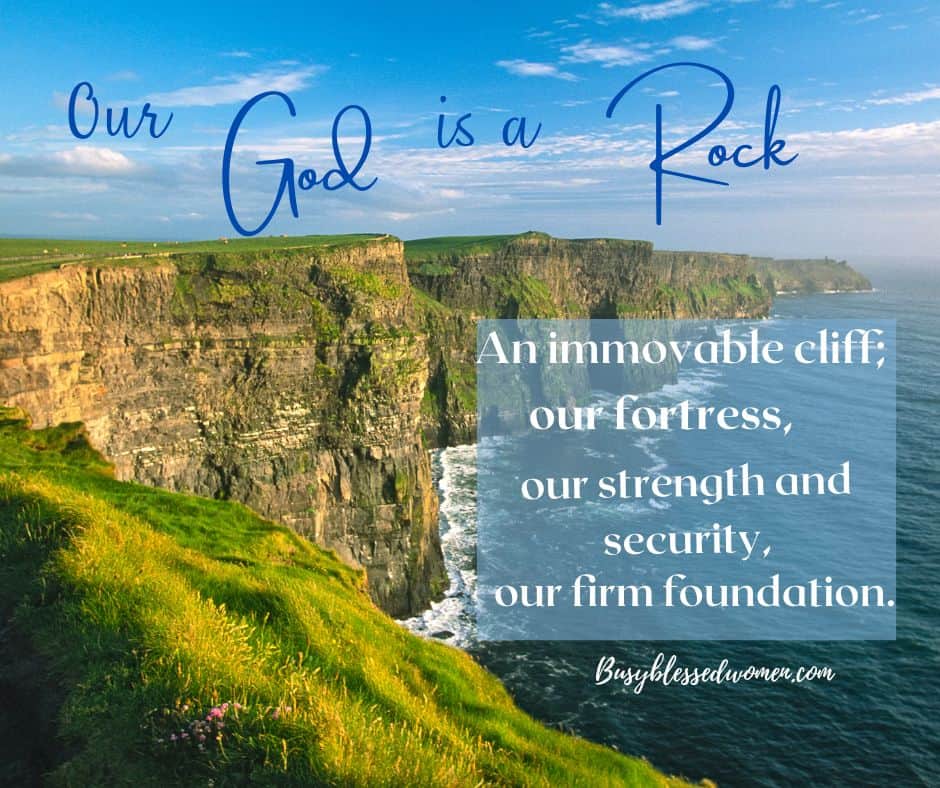 The Lord is My Rock Meaning
Homes today are typically built on concrete foundations. They provide a strong anchor to the ground and provide structural integrity and storm protection.
Our Divine architect shows His superior expertise as a structural engineer and builder in His Word. He is described as secure and strong, and a fortress (a shelter from danger, pursuit, or trouble.)
He wants to be our strong spiritual foundation; an anchor in any storm and a fortress of refuge. It's His desire that we understand this metaphor and run to Him first and always.
Psalm 18:2-
Here's how David describes Him:
"The Lord is my rock, my fortress, and my deliverer; my God is my rock, in whom I take refuge. He is my shield and the horn of my salvation, my stronghold."
David called God his Rock because He was the only one who could rescue him from enemies and provide the strength, support, comfort, and protection he needed. He does the same for us today!
A rock was helpful in several ways in the desert. It would have been a shady spot to shield David in the scorching sun (symbolizing comfort), and its cracks and crevasses were a place to hide (symbolizing protection.)
Are you fighting any battles? Try praying this Psalm of David as you put your faith and trust in the One and Only Rock-
"In you, Lord, I have taken refuge; let me never be put to shame; deliver me in your righteousness. Turn your ear to me, come quickly to my rescue; be my rock of refuge, and a strong fortress to save me. Since you are my rock and my fortress, for the sake of your name lead and guide me." Psalm 31:1-3.
God is a Rock
God shows Himself to Hannah as a rock as she deals with her infertility. He answers her long-standing prayer for a son at the perfect time. She praises Him in a prayer found in 1 Samuel 2-
"There is no one holy like the Lord; there is no one besides you; there is no Rock like our God." V2
God was Hannah's Rock throughout her difficult situation. He was the only One who could be the strong, unchanging, comforting, and sovereign presence she needed.
The Lord is My Rock and Salvation, Whom Shall I Fear?
Psalm 62 is David's statement of trust and faith in God in the face of his enemies. He speaks of facing a crisis, but doesn't ask for anything. Instead, he simply declares his confident faith and trust in God.
"Truly, he is my rock and my salvation; he is my fortress; I will never be shaken." V2.
Whatever trouble is going on, his soul is at rest, his hope secure. He won't waver, fall, shake, or slip, because His confidence is in God.
Isn't that how we would all like to live our lives?
Choices and options swirl around us. Are you as firmly resolved as David to seek only after God for strength and stability in your life?
Are you beginning to see the attributes of God emerging in the rock metaphor? He alone is solid, strong, protective, secure, immovable, firm, and enduring. God, our Rock is our only sure hope and refuge.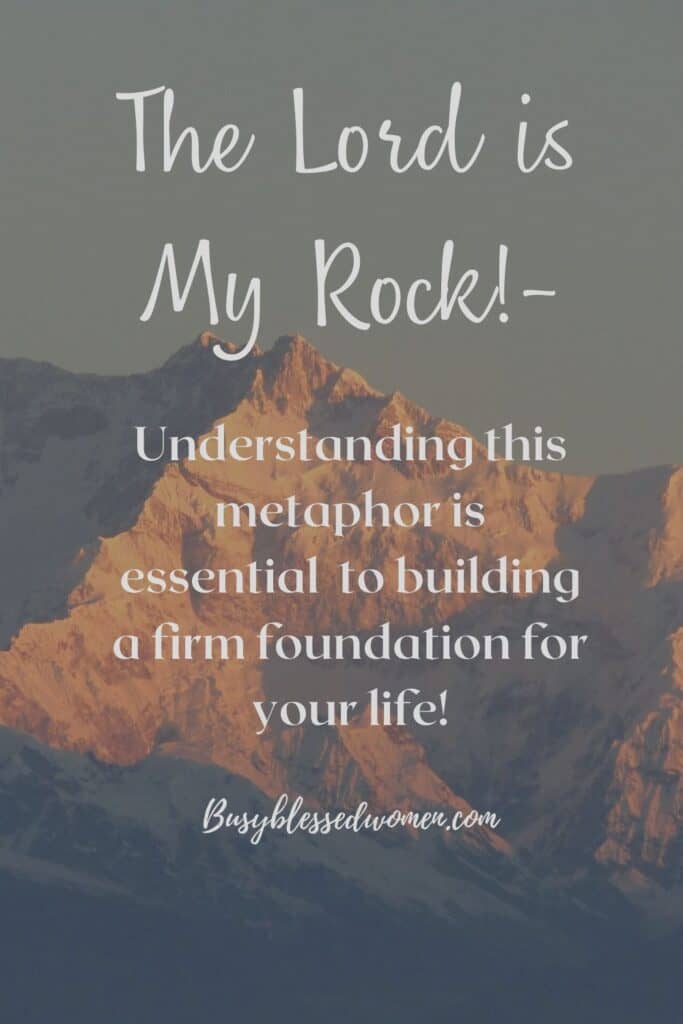 You Are My Rock and My Salvation
The Psalmist encourages us to not only depend on our Rock, but lift up our voices to praise Him for the security He gives:
"Come, let us sing for you to the Lord; let us shout aloud to the Rock of our salvation. Let us come before him with thanksgiving and extol Him with music and song." Psalm 95:1
Replace worry, fear, and doubts by lifting your voice in praise for the security, guidance, and safety He brings into our lives. He brings us such confidence to live in! There is no erosion that can work against our Mighty Rock!
Jesus Is the Cornerstone
When the Israelites of the Old Testament called God their Rock and salvation, salvation meant "deliverance"- from a danger, evil, or battle, etc.
There were hints in the Old Testament, however, that pointed to Jesus as our Rock and salvation.
"So this is what the Sovereign Lord says: 'See, I lay a stone in Zion, a tested stone, a precious cornerstone for a sure foundation; the one who relies on it will never be stricken with panic.'" Isaiah 28:16.
God laid down a solid foundation in the person of Jesus; calling Him the cornerstone. He would be the first stone laid in this new work. He is our guideline for all truth and the source of our dedicated faith.
A cornerstone gives stability to the foundation and determines how the rest of the building will rise. Without a proper and true cornerstone, all will collapse.
We can fearlessly build our lives on Jesus, the Cornerstone, the eternal foundation.
Jesus is Our Rock
Everything changed in the New Testament when Jesus rose from the grave and bestowed the gift of the Holy Spirt on His followers. He removed all uncertainty and doubt.
Everything became clear, and the disciple's beloved Rabbi was now the Rock of their spiritual salvation.
Peter later preaches in 1 Peter 2:7a, 8a.-
"Now to you who believe, this stone is precious. But to those who do not believe… [He is] 'A stone that causes men to stumble and a rock that makes them fall.'"
Those who choose to reject Jesus or refuse to believe in Him have stumbled over the only person who could save them and give them not only eternal life, but a blessed life here on earth.
Their stumbling lands them right into the hands of the Father on judgement day.
On Christ the Solid Rock I Stand
These beautiful words are the chorus to the song "My Hope is Built on Nothing Less" (but often called "The Solid Rock") by Edward Mote. It was his very first hymn of the approximately 100 he wrote.
He grew up knowing nothing about God, but came to know Christ as a young adult. After years as a successful cabinetmaker, he entered into ministry.
One plaque that honors him reads, he "preached Christ crucified, as all the sinner can need, and all the saint desire." ¹
His hymn begins like this:
My hope is built on nothing less
than Jesus' blood and righteousness.
I dare not trust the sweetest frame,
But wholly trust in Jesus' name.
On Christ the solid Rock I stand,
All other ground is sinking sand;
All other ground is sinking sand.
This entire hymn emphasizes the truths of our faith. Our salvation is based on Christ alone. Nothing can shake us when we build our lives upon His love and truth.
He is the solid Rock which firmly anchors us in any storm. Storms can sweep everything away, but not our relationship with Jesus. He is our firm and sure foundation. With Him, we have all we need.
There are many choices to make when it comes to building a foundation for our lives. We can build upon our own successes, careers, money, friends, etc., but they will never hold us up when the storms of life come.
Building your life on the immovable Rock of Jesus, however, allows Him to be your firm foundation and place of refuge through the inevitable storms we will face.
He is where we will find strength, courage, and hope instead of chaos, despair, and stress.
On what will you build your foundation?
Building your life on the Rock involves complete trust and obedience to Him. It sometimes means leaving all we know behind to trust the cornerstone and lay our building blocks from there.
Simon, Andrew, James, and John left their fishing business; Matthew abandoned his lucrative tax booth.
Jesus doesn't ask all of us to quit our jobs (Paul remained a tent-maker), but following Him will radically change our lives, work, and relationships!
What does it mean to build your life on the Rock? Jesus tells us plainly!
Matthew 7:24
"Therefore, everyone who hears these words of mine and puts them into practice is like a wise man who built his house on the rock."
First, we need to hear His words. Is Bible reading/study a priority in your life?
The second stipulation was to put His Word into practice. That's obedience. Jesus was our perfect example of obedience to His Father.
As followers of Jesus, we are to be "set apart" and "doers of His Word." not conforming to the world, but living as a new creation.
Peter tells us, "As obedient children, do not conform to the evil desires you had when you lived in ignorance. But just as he who called you is holy, so be holy in all you do." 1 Peter 1:14.
He gets specific in chapter 2- "Rid yourselves of all malice [spite] and all deceit, hypocrisy, envy, and slander of every kind." V1.
Jesus promises, "in this world you will have trouble." John 16:33. But He also encourages us by promising that in Him, our strong and sure foundation, we will have peace.
Thriving in this life is possible when we build our lives on the Rock!
"Trust in the Lord forever, for the Lord, the Lord himself, is the Rock eternal." Isaiah 26:4.
Blessings!
AnnMarie
All Scripture is taken from the NIV unless specified otherwise.
¹ https://wordwisehymns.com/2010/11/13/today-in-1874-edward-mote-died/
Photo Credit: AnnMarie Anderson, Canva