Our Bible Study group recently finished up a study of Romans by Tim Keller (it was excellent!) During our discussion, someone asked me to write a blog post on being a "living sacrifice" based on Romans 12:1. What did Paul mean when he said to "offer your body as a living sacrifice?"
I'm so grateful for curious minds and the opportunity to dig deeper into this Scripture! And in the true faithfulness of God, I "just happened" to have an empty slot in my calendar for this week. This topic couldn't be more relevant!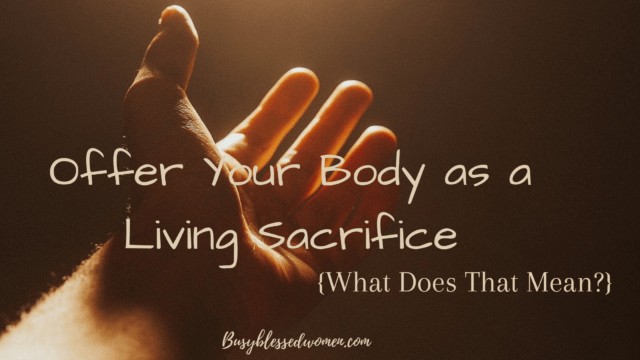 Romans 12:1
"Therefore, I urge you, brothers, in view of God's mercy, to offer your bodies as living sacrifices, holy and pleasing to God- this is your spiritual act of worship." (NIV).
Romans 12 begins a change in Paul's discussion. He had filled the chapters leading up to this with the riches of God's mercy on His people. He spoke of the forgiveness of God and how our faith in Jesus brings us a new life.
My Bible gives this new chapter a headline of "personal responsibility." Paul moves from what we believe into how we live in a broken world.
"Therefore, I urge you, brothers (and sisters), in view of God's mercy…"
In the Greek, "I urge" translates as "I appeal". Paul wasn't commanding us to do anything, but gently appealing to us with the same mercy and love God has shown us.
Present Your Bodies as a Living Sacrifice
"… to offer your bodies as living sacrifices…"
"Offering our bodies" was Paul's way of explaining that as a redeemed people, we surrender our lives back to Jesus in thanksgiving for all He has done.
Jesus offered Himself as a onetime, for all time, single sacrifice and atoned for all our sin. There is nothing we can add to this. The only thing to "do" is to believe and trust in Him.
Why Do We Need to Sacrifice for God?
God doesn't need us to sacrifice for Him. He does, however, give us the opportunity to sacrifice as a "living" way to express our love and gratitude for all He has done.
But why even give us the opportunity?
Think about the sacrifices we make. Are you the Mom who eats the burnt piece of toast? Maybe you are the friend who goes all out creating a perfect party or shower? Are you the teacher who stays after school to get those lessons exactly right for their students?
We frequently make sacrifices of our time, money, and energy to show our love and care for others. We turn our love and care into action.
God is giving us an outlet for us to do the same for Him. He NEEDS nothing, but we express our love for Him through our living sacrifices to Him. Considering God's tremendous love and mercy, what should our response look like?
What Is a Living Sacrifice?
A living sacrifice must have sounded odd to those who were hearing Paul's words too. They were used to bringing a live animal to the priest who would kill the animal as the sacrifice; atoning for their sin.
Paul says because of Christ, we no longer have to bring a sacrifice, we become one. We're not a burnt offering, we are a living one!
We come before God and offer our complete self in gratitude and thanksgiving. We offer all the parts of our bodies- eyes, ears, lips, hands, feet, heart, mind, etc.- in service to Him and doing His will.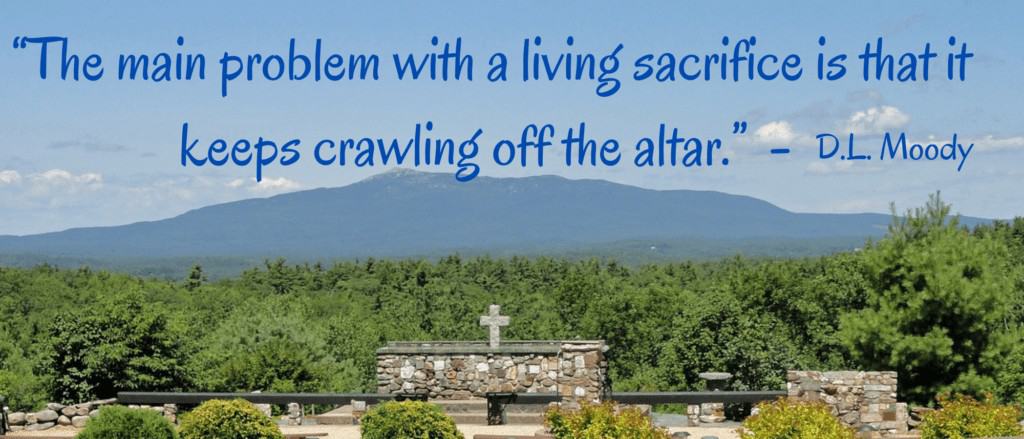 Full surrender to God can be difficult. We want freedom and control of certain parts of our lives. The things we say, look at, and listen to are not always in His will. Our ambitions and possessions can become more important to us. We don't always want to sacrifice; we crawl away.
Sacrifice to God
This is where our hearts and minds come in.
Offering ourselves as living sacrifices is to choose daily to lay down our own desires and to live our lives honoring and obeying Him. It is trusting in the perfect plans He has for us.
God has given us the best resources to achieve our goal- His written Word and the Holy Spirit! Paul continues in verse 2, telling us to "be transformed by the renewing of your mind." That transformation is to include our entire body; beginning in the mind. The more time spent in His Word, the greater the transformation.
The Holy Spirit lives within to convict and guide us. The more you know of Him, the greater His voice rings out.
To be a living sacrifice is to desire to belong entirely to Him. He knows our human weakness will interfere with our best intentions- always. That's when we trust in His grace, mercy, and forgiveness and begin anew.
Pin me for later!
Qualities of a Living Sacrifice
"… holy and pleasing to God…"
Well, that sounds intimidating! When I think of "holy", I think of pure, without blemish, Jesus. But we see the Scriptures are designated as "holy", and Jesus died for the church to make it holy. Holiness is an attribute of God He gives to things and people dedicated to His service. Holiness intertwines with purity and righteousness- which we (amazingly) receive as a free gift from Jesus.
"He has saved us and called us to a holy life—not because of anything we have done but because of his own purpose and grace." (2 Timothy 1:9 NIV.)
When we dedicate our acts of sacrifice to His glory, He sees them as holy.
When we strive to show others His mercy, love, and peace, He sees those acts as holy.
And if that is not astonishing enough, when we offer ourselves to Him, it pleases Him! It is all because when He sees us; He sees Jesus. ♥
When we do our best to live for Him with sincere hearts, we can hear Him say, "Well done, good and faithful servant!"
"…Spiritual Act of Worship…"
The Greek translation of this phrase is "rational service." In other words, "Offer your body to God in service because it is the rational thing to do." Living our lives in service to God is the only reasonable or rational response for all He has done for us!
When we love and worship God, we serve Him. We will do whatever He needs done. To have a servant's heart means saying, "Yes Lord, whatever you need or want, I will do". I'll take that piece of burnt toast. I'll stay late for you. Tell me what arrangements to make, and I will carry them out.
Any act of service we offer back to God is an act of worship.
Service as Worship
Service to Christ is following His will for your life. To be a living sacrifice is to jump wholeheartedly into serving and obeying Him! He wants us to conform to His image and be fruitful in our service.
Yielding to God gives us His power to help in our transformation. Jesus turned to His Father to seek His will all the time, and He is God! Should we do any less?
Elements of a Living Sacrifice
We offer ourselves as living sacrifices out of love and thanksgiving. Not because we have to, but because we want to. Loving God is our motivation for giving Him our best- in time, talents, and treasure.
Where do we start?
Where you are!
Whatever you are doing, do it for the Lord. You serve God right where you are by doing your best. It should become our lifestyle! Sometimes I get discouraged or overwhelmed in living out this appeal from Paul. But I hear His still small voice tell me, "Just do your best." He knows our hearts!♥
Live by the Spirit
Paul offers many ways to offer your body as a living sacrifice, remembering we all have unique gifts:
Serving, teaching, encouraging, generous giving, leadership, cheerful mercy, and hospitality. This is only a partial list, of course. (Remember that none of us can do all these things well.)
Paul asks us to "keep in step with the Spirit" and grow His attributes in our own lives: love, joy, peace, patience, kindness, goodness, faithfulness, gentleness and self control.
What God wants is all of you, all the time, for your entire life. He wants the mundane parts of your life, the tough spots, the joyful ones, and the mediocre. Even though our world is far from the Garden of Eden right now, walk with Him daily anyway! Come joyfully before Him and place your life as a living sacrifice before Him.
"And whatever you do, whether in word or deed, do it all in the name of the Lord Jesus, giving thanks to God the Father through him." Colossians 3:17 NIV.
Blessings!
AnnMarie
Related Post∼ Can One Person Make a Difference?
Photo Credit: Pixabay