The first version I heard of the song "The Blessing" was from a Facebook post. They posted it partially because the choir was from "Kalamazoo" and they were entertained by the town's name.  Since I grew up in MI (and am familiar with Kalamazoo) and hadn't heard the song, I clicked on it. It was a Zoom version put together with numerous churches from the Kalamazoo area to bless their community. This song brings the encouragement, comfort, and hope we all need right now!
Who Wrote The Blessing Song?
The husband and wife team of Kari Jobe and Cody Carnes wrote "The Blessing" along with Chris Brown and Steven Furtick.  Interestingly, they first sang it at a church service just days after writing it.  That was March 1, 2020- just as the pandemic took hold of the world. You can't help being in awe of the power of God in bringing this song to life, just as His creation needed it the most.
What Bible Verse is The Blessing Based On?
The beginning lyrics are from Numbers 6:24-26:
Numbers 6:24-26 NIV
24 The Lord bless you
and keep you;
25 the Lord make his face shine on you
and be gracious to you;
26 the Lord turn his face toward you
and give you peace.
The Priestly Blessing
This scripture is referred to as the "Priestly Blessing."  In the verses right before this, God speaks to Moses.  He tells him to command the High Priest Aaron, his sons, and their priestly descendants to bless the people with these exact words.  They recited it in the temple in Jerusalem each morning, and the practice continues in synagogues today.
The Meaning of Numbers 6:24-26
                                      "The Lord Bless You"
What does it mean to be blessed?  God's blessings represent His kindness and special favor. We can find his blessings throughout the entire bible.  God began blessing His creation from the very beginning:
"God blessed them and said, 'Be fruitful and increase in number.'" This directive was given to the animals and to Adam and Eve. (Genesis 1:22,28 NIV)
What are Blessings from God?
Blessings from God include His promises, His presence within us, and His peace and comfort. Blessings from God are more of Him in our lives!  He also blesses us with material gifts that meet our needs here on earth.  While we are thankful for them, following Jesus does not guarantee us earthly blessings.
Why does God Bless Us? 
He doesn't bless us because we have a close relationship with him.  We can't earn God's blessings through good works, determination or obeying His commandments.
God blesses us because he is God, we are not, and He chooses blessings.  I know the attributes of God, and He does not give, take away, allow, or withhold his blessings with wrong motives.  He is the perfecter and creator of all things.  I know for certain that I can trust His sovereign judgement.
Does God want to bless me?  Yes!  He blesses us because He loves to bless us, His people.  God knows how to bless each one of us in ways He sees fit and for our good.
Related Post∼Blessings from God.
                                               "And Keep You"
What does 'May the Lord Keep You' mean?
The Hebrew word for "keep" means to have charge of, to guard, protect and save.
Sometimes we are "kept" by our sin, desires, anger, etc.  But when He keeps us, we enjoy peace in His protection.
David prayed, "Keep me as the apple of your eye; hide me in the shadow of your wings." Psalm 17:8 NIV.
Can you see yourself under His wings?  He wants you to know Him as your protector. ♥
                      "The Lord Make His Face Shine Upon You"
Can you picture God's face smiling down on you? Yes, you!  You are his treasure and greatly loved child.  He sees us this way not because of anything we have done, but because of His great love for us.  Could there be a greater gift?  His face is shining down on you in love, to comfort, renew and guide you.
                                   "And Be Gracious to You"
God takes great pleasure in us, even though our thoughts and actions show we don't deserve it.  But because of His great love and kindness, He pours out the riches of His grace on us. His mercies towards us are a gift He gives anew each morning.
                            "The Lord Turn His Face Towards You"
He sees you and is paying loving attention to you!  God has called you by name; you are His.  He is a personal Father to us.
                                      "And Give You Peace"
The Hebrew word for peace is "shalom."  It has a much deeper meaning than just a peaceful feeling or a lack of conflict in our lives. (Although it encompasses those as well.) Shalom means wholeness, well-being, and a total satisfaction in life.
Isn't it amazing that God blesses us in these ways?  Blessings are His idea!  He wants to shower us with His love and kindness, favor and protection, unending grace and a peace like no other.
When we pray (or sing!) this blessing, we can feel God draw near to us and tuck us under His mighty wings.  I can't think of a better place to be; maybe that's why it has resounded with so many people in these turbulent times.
                                              "Amen"
The song continues with a chorus of 'Amen's.'  In Hebrew, "Amen" means "certainty" or "so be it." When we say Amen, we mean we solemnly agree. It can also be a declaration that we claim this blessing for ourselves and our family.
Yes, Lord!  Let it be as You say!   Bless us!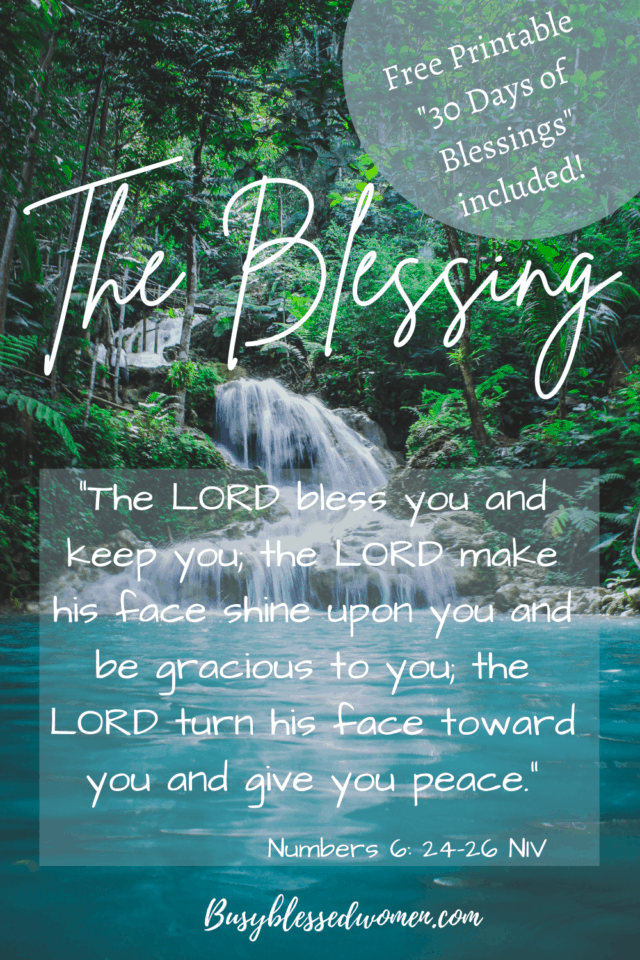 Pin me for later!
The Blessing Lyrics
The lyrics in the second half of the song have many, many corresponding Bible Verses.  You can read the lyrics here and then compare these Scriptures below.  They are overflowing with comfort for us!
What is the Favor of God? 
•"Let the favor of the Lord our God be upon us, and establish the work of our hands…" Psalm 90:17 ESV.
It is His acceptance of us and blessings of grace and mercy to us. He is pleased with us!
How Long is a Thousand Generations?
•"Know therefore that the Lord your God is God; he is the faithful God, keeping his covenant of love to a thousand generations of those who love him and keep his commands. Deuteronomy 7:9 NIV.
We can't pin God down on timing, but our math would say it's about 40,000 years.  In other words, God plans on blessing and loving our families far into the future!  This gives me great comfort!
May the Lord Bless Your Going Out and Coming In
•"You will be blessed when you come in and blessed when you go out."  Deuteronomy 28:6 NIV.
•"The LORD will watch over your coming and going both now and forevermore." Psalm 121:8 NIV.
He is blessing us in all our mundane and daily comings and goings, now and forever.
God Goes Before Us
His presence is always with us…
•"My presence will go with you, and I will give you rest." Exodus 33:14 NIV.
•"The Lord himself goes before you and will be with you; he will never leave you nor forsake you". Deuteronomy 31:8 NIV.
He is there in the morning…
• "In the morning, Lord, you hear my voice; in the morning I lay my requests before you and wait expectantly." Psalm 5:3 NIV.
And in the evening…
•"I will lie down and sleep in peace, for You alone, O Lord, make me dwell in safety." Psalm 4:8 NIV.
He is with us in our weeping….
•"I have heard your prayer;  I have seen your tears. Behold, I will heal you." 2 Kings 20 NIV.
And in our rejoicing…
"The Lord your God is in your midst, a mighty one who will save; he will rejoice over you with gladness; he will quiet you by his love; he will exult over you with loud singing." Zephaniah 3:17 ESV.
Our God is For Us
•"If God is for us, who can be against us?" (Romans 8:31b).
He is for us!
•Isaiah 41:10a (NKJV) assures you: "Fear not, for I am with you; Be not dismayed, for I am your God."
He is with us!
The Power of the Blessing
How do these blessings, lyrics, and Bible verses comfort, encourage, and bring you hope in these uncertain times?
The attributes of God and His promises will never, ever change.  He knows exactly what we need and when we need it.  He always has our best interest in mind and is working on our behalf.  This song brings me such a gift of peace each time I hear it and accept His blessings into my spirit.
I don't know about you, but hearing and singing Christian music cements His truths in me in a way that sticks with me.  God brings snippets of songs to my thoughts frequently, and they lead me to His Word to meditate on them.  This song is a wonderful way to praise and worship Him and memorize His Word!
Here's the link to what started it all for me: the choirs of Kalamazoo, MI, singing "The Blessing" over their community- what a precious gift!
And here's the original that started it all with a beautiful introduction you won't hear on the radio:
Blessings upon blessings to you all!
AnnMarie
Would you like to pray His blessings each day for 30 days? It will take you right up to Thanksgiving- a perfect way to speak gratitude and blessing into your life in this season of thanks.♥ Click here for the free link!