Joseph, father of Jesus, is an important and integral part of the Christmas story, yet we don't know much about him. Even though Joseph is never quoted in the Bible, his actions give us a picture of his character. What would it have been like to be chosen as Jesus' earthly father? Let's put ourselves in Joseph's sandals to find out.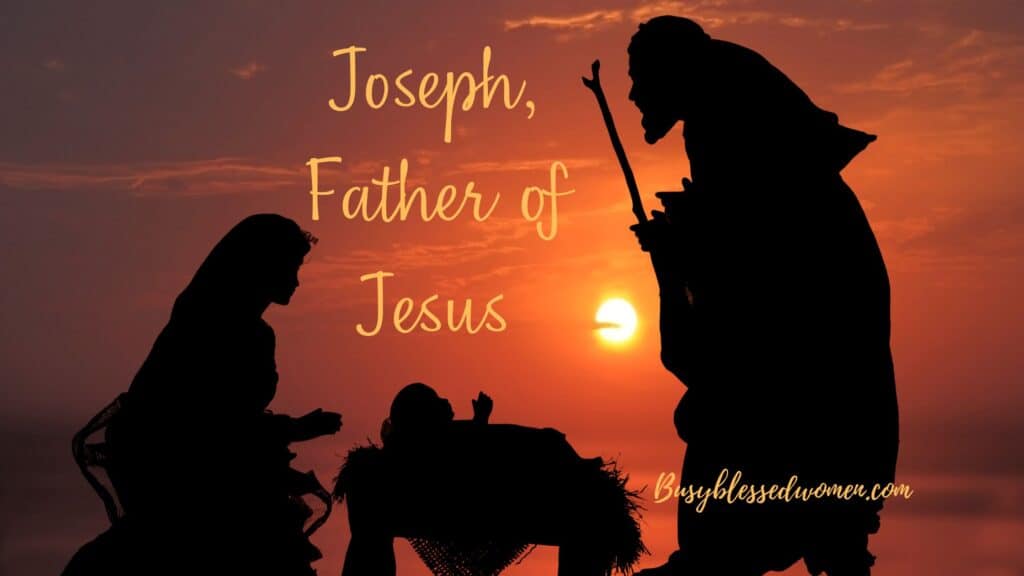 Who is Jesus' Father, Joseph or God?
Jesus spoke of God the Father, as "My Father." We have no reasons to believe Jesus didn't call Joseph his father as well. There are many good reasons why he would have.
#1– Jesus is fully God and Man. He worshiped, honored, and obeyed His heavenly Father, who chose Joseph to be His father while He was on earth.
Being without sin, Jesus would have followed the commandment to "honor they father and mother" by likely calling Joseph His father. (Jewish children never called their parents by their first names. ¹)
#2– Matthew's legal genealogy of Jesus shows Joseph as a descendant of King David. This genealogy makes Joseph, by law, the legal Father of Jesus by adoption.
#3– Circumcision and naming the baby took place on the 8th day after birth. It was usual for the parents to name their babies, but in this case, an angel appeared to Joseph and instructed him to name the baby "Jesus."
As His father, Joseph named Jesus as the angel instructed during this ceremony.
#4- Luke tells us the story of the child Jesus being left behind in Jerusalem at Passover. Luke calls Mary and Joseph "his parents." When they found Him, Mary tells Jesus, "Your father and I have been anxiously searching for you." (Luke 2:48)
Joseph, Earthly Father of Jesus
#6- God chose Joseph to be Jesus' earthly father with all the rights and responsibilities of every father. He was the perfect man to shepherd this Shepherd, the Son of God, through His early years.
Even though Jesus was not a biological child to Joseph, everyone considered him to be Joseph's son. When Jesus visited Nazareth during His ministry, the people said, "Isn't this Joseph's son?" (Luke 4:22)
Bible Verses about Joseph
We find the story of Joseph in the Gospel of Matthew 1:16-2:23 and the Gospel of Luke 1:26-2:52.
The first mention of Joseph was in Matthew's genealogy, where we learn Joseph's father was named Jacob and he was the husband of Mary.
Joseph and Mary
"Now the birth of Jesus Christ was as follows: After His mother Mary was betrothed to Joseph, before they came together, she was found with child of the Holy Spirit." Matthew 1:18 NKJV.
A betrothal, a legal contract in Jewish law, lasted about a year and came after a period of engagement.
Society considered the couple husband and wife during the time of betrothal, but they did not live together nor have sexual relations. They could only dissolve a betrothal with a divorce. The wedding/marriage came about a year later.
Mary Pregnant with Jesus
Neither Gospel tells us how or when Mary broke the news to Joseph of her miraculous and unexpected pregnancy.
Luke tells us that after the angel Gabriel appeared to Mary and explained the situation, Mary leaves to visit Elizabeth and stays for three months. Perhaps this was a way of protecting her from public shame.
While we don't know the specifics of how Mary and Joseph handled the conversation, we get a glimpse of Joseph's reaction.
Matthew 1:19
"Because Joseph, her husband, was a righteous man and did not want to expose her to public disgrace, he had in mind to divorce her quietly." Matthew 1:19.
Joseph mulled over the situation- his wife was pregnant, and he was not the father. She must have been unfaithful with another man, but Mary tells him an improbable story about becoming pregnant by the Holy Spirit.
Why Did Joseph Want to Divorce Mary?
This turn of events came with a severe social stigma. Instead of a joyful marriage and family, Joseph (and their families) faced disgrace, humiliation, and divorce.
Jewish civil law compelled Joseph to divorce her on grounds of adultery, and the Jewish laws allowed Mary to be stoned. (Deuteronomy 22:23-24) These were his choices as a law-abiding and innocent Jewish man.
We see Joseph's character in that they described him as a "righteous" or "just" man. Within his devotion to his Jewish faith and the law, he showed an important aspect of this righteousness- compassion.
Jewish tradition called for a divorce to be done openly. Mary would have had to stand outside in a public space and answer questions about her actions.²
Joseph loved Mary, and while we don't know what he was feeling about her pregnancy (Anger? Hurt? Sadness?), he did not want revenge or harm to come to her.
He ponders whether to divorce her quietly, out of kindness, mercy, and compassion.
Do I offer these qualities of Joseph when I am wronged?
Angel Appears to Joseph
"But after he had considered this, an angel of the Lord appeared to him in a dream and said, "Joseph, son of David, do not be afraid to take Mary home as your wife, because what is conceived in her is from the Holy Spirit. She will give birth to a son, and you are to give him the name Jesus, because he will save his people from their sins." Matthew 1:20-21.
Now Joseph has a choice to make. He can continue with his own plans or believe the angel's message. Joseph chooses obedience and trust in God's instructions.
It wouldn't be easy. They would have to endure public humility and shame, but showing great courage, Joseph trusted God and did what He asked.
Joseph put his feelings aside and did the right thing. He accepted the role God gave him- becoming the father to the Son of God. He might not have felt capable or up to the task, nor want to, but he obeyed God!
Joseph in the Christmas Story
When Caesar Augustus decreed a census would take place, Joseph had to pack up his betrothed, Mary, and go to Bethlehem. It was a journey of about 80 miles (that's a lot of walking!), no small journey in those days, let alone with a pregnant wife.
"While they were there, the time came for the baby to be born, and she gave birth to her firstborn, a son. She wrapped him in cloths and placed him in a manger, because there was no room for them in the inn." Luke 2:6.
We don't know the exact details of where they stayed except that it probably was an animal enclosure because of the use of the manger. Was there anyone to help Joseph deliver Mary's baby? Was Joseph distressed about this situation? I would imagine so.
Joseph and Mary took Jesus to the temple on the 8th day after his birth to have him circumcised and named. Joseph was a reverent and observant Jew and followed the ceremonies as prescribed in the law.
This would be an important part of Jesus' upbringing.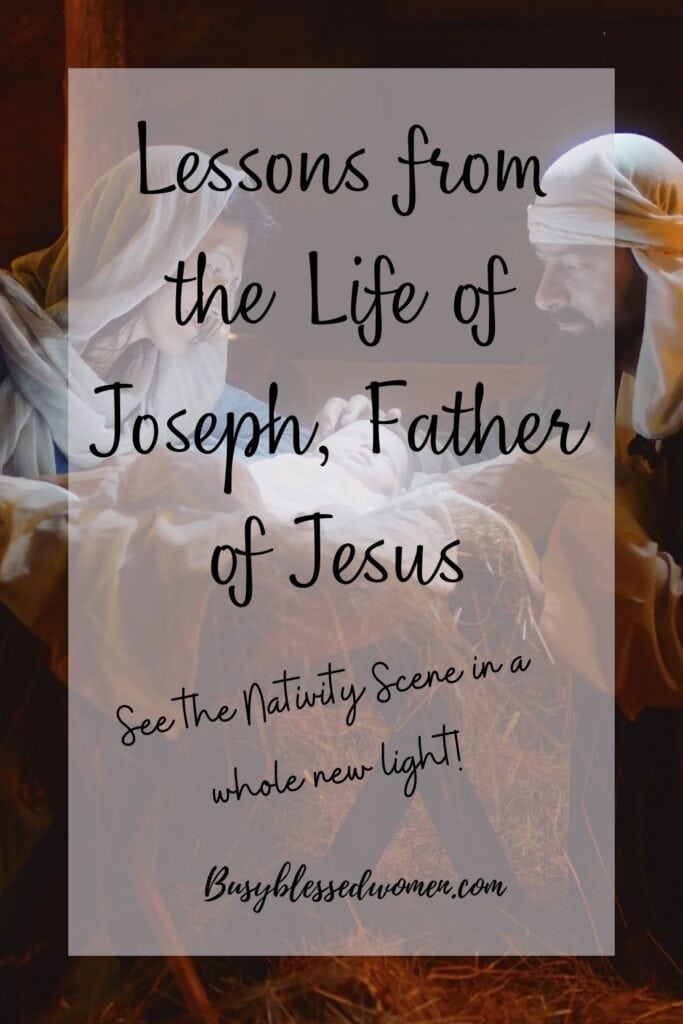 Mary and Joseph Flee to Egypt
When King Herod learned of the birth of Jesus through the Magi, he made plans to kill Jesus. An angel again appeared to Joseph in a dream and told him to take Mary and Jesus and flee to Egypt and remain there until he received further instructions.
"So he got up, took the child and his mother during the night and left for Egypt, where he stayed until the death of Herod." Matthew 2:14.
We see again the obedience and trust of Joseph in following God's urgent direction. He hears God speak in a dream and immediately gets up to take off on an arduous journey of hundreds of miles with a young child and mother.
Joseph put God's will before everything else in his life. His married life looked nothing like what he was expecting, but he obeys and trusts God in this new and difficult time.
Joseph shows us what our response should look like when God calls. How often do we brush off His stirring in our hearts by prioritizing other things in our lives or rejecting Him because the journey may seem difficult?
Later, God directs Joseph to return to Israel and settle in Nazareth after the death of Herod to fulfill the prophecy of Jesus being called a Nazarene.
Can you imagine returning to live in the small town where you had faced humiliation and shame?
Joseph the Carpenter
God guides the young family, however, to settle in Nazareth, with Joseph resuming his trade of carpentry. Joseph teaching Jesus carpentry would be a natural outcome and his responsibility as a father.
Here's how the people in Jesus' hometown described Him:
"Isn't this the carpenter's son? Isn't his mother's name Mary, and aren't his brothers James, Joseph, Simon and Judas?" Matthew 13:55.
They were a poor family as shown by the offering in the temple during the Purification ceremony after Jesus' birth. They could only offer two pigeons, not the expensive lamb required in Leviticus.
Nevertheless, a lack of material wealth did not stop Joseph from providing for his family. He trained Jesus with not only a trade, but as a member of a faith-filled Jewish family.
Joseph carried out all the responsibilities of fatherhood for Jesus.
Joseph and Jesus
Luke 2:41-52 tells us "Every year his parents went to Jerusalem for the Feast of the Passover," per God's command in Deuteronomy 16:16.
Jesus,12 years old in this story, stays behind to teach in the temple, unknown to Mary and Joseph. When they realize He is missing, they anxiously search for Him; not knowing what had happened to their much-loved Son.
When they found Him, He spoke of being in His "Father's house", but "they did not understand what he was saying to them." (vv49-50) Full understanding of who He was, and His mission would come with time.
Upon returning home, "the child grew and became strong; he was filled with wisdom, and the grace of God was upon Him." Luke 2:40.
Growing up in Nazareth with Joseph as His father helped Jesus mature, take on responsibilities as the eldest son, work at his trade, learn Scripture and law, and grow well in His relationships with family, friends, and His heavenly Father.
What Happened to Joseph in the Bible?
The last we hear of Joseph was this visit to Jerusalem for Passover. It is believed Joseph died before Jesus began His public ministry at 30, as Scripture does not mention Joseph at all during that time.
One clue we have is that while on the cross, Jesus places Mary into the care of John. From that time on, John took her into his home. (John 19:27) Surely, if Joseph were alive, he would have cared for his wife.
Lessons from Joseph, the Father of Jesus
The characteristics of Joseph in the Bible we've seen include righteousness, kindness, obedience, courage, protectiveness, honorable, faithful, compassionate, and hardworking. What lessons can we learn from him?
●Joseph didn't ask to be put in this humiliating and difficult situation. Yet when asked to take on this role of becoming a father figure to Jesus, he immediately said "yes."
As he listened to the voice of God, he reacted this way over and over. That didn't make it any easier. Following God's direction turned his life upside down.
Do I respond in the same way when I am given God's guidance, direction, or conviction? Or do I first hem and haw, consider how it will affect my comfort, lifestyle, monetary situation, or what others would think?
How Did Joseph React to Jesus' Birth?
●Joseph treated Jesus as if He were his own and was obedient at significant cost to pour himself into Jesus' life. He is a wonderful example of a stepparent, adoptive parent, or parental figure for a child who is not yours biologically.
Joseph looked to God for the wisdom and direction to uphold the responsibility God gave him- a lesson for all parents!
●He was a wonderful protector and provider who did not complain when asked to follow God's plan, even when it brought misdirected shame into his life.
Would I be willing to trust God's plans for me even if it meant being misunderstood, insulted, or shamed by others?
●He was quick to pivot in any direction God called him.
I want to be like Joseph- a kind, courageous and willing servant 100% in for whatever God calls me to do, regardless of the worldly consequences. I want to trust, like Joseph; that God will give me the wisdom and guidance I need for whatever His call entails.
This look at the life of Joseph has caused me to look at my Nativity scene in a whole new light!
Blessings!
AnnMarie
All Scripture is taken from the NIV unless specified otherwise.


¹ https://halachayomit.co.il/en/Default.aspx?HalachaID=2044
²https://influencemagazine.com/practice/joseph-a-righteous-man