My husband and I hiked a new state park recently. We put in about 8 miles, which is a lot for us. Even with snack breaks and a leisurely lunch by a peaceful, rippling stream, we got tired. With his bad knees and my bad back, one of us would sometimes lag. At one point I was in the lead, and I looked over my shoulder every few minutes to make sure he was still there and following me. I wondered if that is how Jesus looks at us? Does He look over His shoulder to see if we are still following? Have we veered off the path? Have we fallen far behind, slowed by exhaustion?
What does he expect from those that have accepted His invitation to follow Him? (I know, sorry- so many questions!)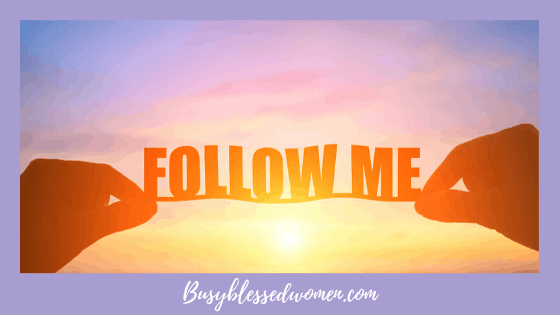 Follow Me Bible Verse
Jesus said "follow me" thirteen times in the Gospels. He used these two simple words to call Peter, Andrew, James, and John as his disciples:
"As Jesus was walking beside the Sea of Galilee, he saw two brothers, Simon called Peter, and his brother Andrew. They were casting a net into the lake, for they were fishermen. 'Come, follow me, Jesus said, and I will make you fishers of men.' At once they left their nets and followed him." Matthew 4:18-20 NIV.
"Going on from there, he saw two other brothers, James son of Zebedee and his brother John. They were in a boat with their father Zebedee, preparing their nets. Jesus called them, and immediately they left the boat and their father and followed him." Matthew 4:21-22 NIV.
Jesus called Matthew, the tax collector, similarly:
"As Jesus went on from there, he saw a man named Matthew sitting at the tax collector's booth. 'Follow me', he told him, and Matthew got up and followed him." Matthew 9:9 NIV..
What Did Jesus Mean When He Said Follow Me?
Jesus was calling these men to leave their livelihoods immediately and to physically and spiritually follow him. Jesus was a Rabbi- a Teacher- and for Him to ask them to follow him in His travels and learn from Him was an honor.
The most excellent rabbinical students would never have left school to take a trade job such as fishing or tax collector. So for these men, it meant continuing their spiritual education with the Messiah himself! (Even if they weren't exactly sure what that meant…)
When Andrew met Jesus for the first time, he spent the day with Him and then rushed home to tell his brother, "We have found the Messiah!" John 1:41 NIV.
All these men left their jobs at once; leaving their old lives behind. They didn't pepper Jesus with questions or hesitate indecisively. They were "all in" to follow their Teacher and Messiah and commit to His lifestyle and mission.
Matthew Follows Jesus
Matthew was a Jew who collected taxes for the Roman government. It was a lucrative business, as tax collectors worked on commission. Many overcharged, and the Jews hated them.
The religious leaders considered tax collectors "unclean" because of their close contact with the Romans. Matthew possibly had the most to lose by following Jesus. Once he quit, there was no going back to tax collecting.
But for someone who spent his life feeling despised, to have Jesus call him to be a follower must have felt wonderful! It is entirely possible that Matthew had heard Jesus and his teachings or seen him perform miracles. 
Either way, Matthew didn't hesitate when called.
My Sheep Hear My Voice and They Follow Me
When the Jews asked for proof that Jesus was the Christ, part of His answer was, "My sheep listen to my voice; I know them, and they follow me." John 10:27 NIV.
Shepherds care for their valuable flock with a protective and sacrificial mindset. They sleep with them, feed them, and guard against predators.
Many times, different flocks spent the night in the same pen. In the morning, the shepherd would call to his sheep as he was leaving. They knew their shepherd's voice, and followed him, and only him, out of the pen into the fields.
We should be able to discern and follow Jesus' voice, rejecting other "shepherds." Only His voice brings us lasting peace, discernment, wisdom, and strength. Jesus' followers know He cares deeply for them, protects, and guides them.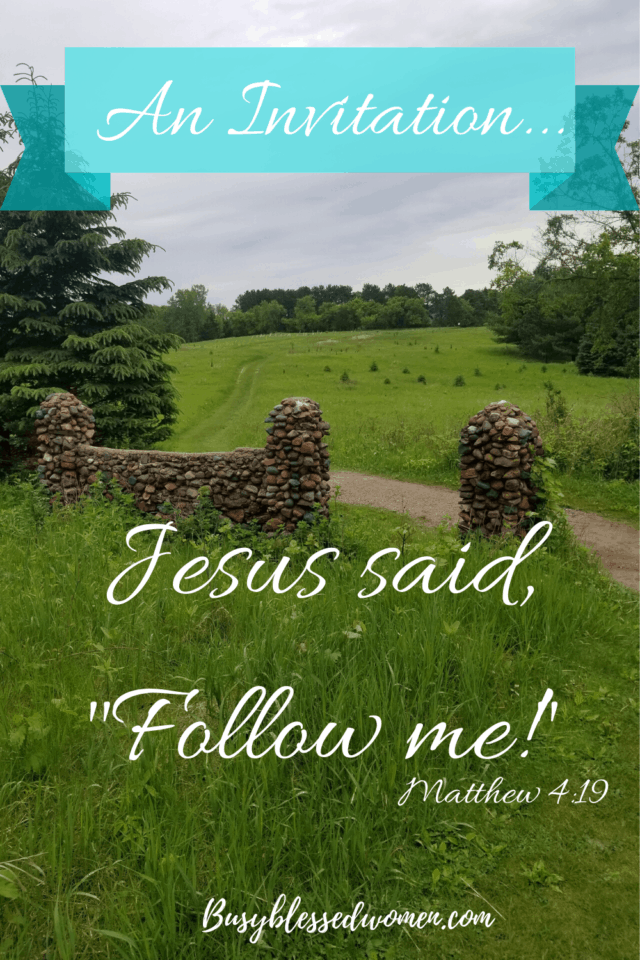 Pin me for later!
Come, Follow Me
It wasn't just the 12 disciples who received the invitation to follow. We read in Luke 10:1 that Jesus appointed seventy two other followers to be sent out and prepare the way for Jesus' upcoming visits.
We find another story of one man who received the invitation, but things did not go as he had hoped.
The Rich Man Who Wanted to Follow Jesus
Matthew 19:16-23
A rich young ruler came to Jesus and asked him "What good thing must I do to get eternal life?" Matthew 19:16 NIV. Jesus pointed out that salvation does not come from doing good deeds.
Knowing the man's heart, Jesus told him to sell all his possessions and give to the poor. "Then come follow me." v21. But the rich man loved his money more than he loved God and he left with a sad and heavy heart.
Jesus' teaching to the young ruler was referring to the First Commandment: "You shall have no other gods before me." Exodus 20:3. The rich young ruler's wealth was his god/idol. He wasn't willing to give it up to follow Jesus.
Nothing should come between us and God. We should be willing to give up all we have if he asks us to.
What Does it Mean to Follow Jesus?
•It is a personal decision of saying "yes" to His invitation. He will never force us; it is not a command.
•Following Jesus means humbly submitting our entire self to Him. It means we undertake a radical change in lifestyle- just as the disciples did. We leave the old things of life behind when we recognize Jesus as Messiah and our personal Savior.
•Following Jesus includes learning and applying his teachings through the help of the Holy Spirit:
"We speak not in words taught us by human wisdom but in words taught by the Spirit, expressing spiritual truth in spiritual words." 1 Corinthians 2:13 NIV
As amazing as it sounds, following Jesus gives us the mind of Christ! (v 16)
While we can never fully comprehend God, His Spirit empowers us (we could never do it on our own) and gives us His understanding and insights.  It is fully possible to have this kind of an intimate relationship with Jesus when we consistently spend time with Him.♥
•When Jesus said 'follow me' it included knowing him and what He expects. We do that by reading his Word and applying it to our own life. We spend time daily talking and listening to Him.
Because we are each unique in personality, our relationship with Jesus and the paths we follow will never be the same. But we each have an important role to play in his plan!
Following Jesus
The early believers were so loyal to Jesus and His teachings that other people knew for certain they were His followers. There was something distinct about the way they spoke, acted, and lived that showed others they were followers of Christ.
It's something to think about when considering our own lives.
Do I love like he does? Jesus' own words tell us "By this all men will know that you are my disciples, if you love one another." John13:35 NIV.
"God has poured out his love into our hearts by the Holy Spirit, whom he has given us." Romans 5:5 (NIV). We have His power to love and serve others in His name!
Jesus' love was pure and sacrificial. Likewise, our love should cost us something. It may be in the form of material goods, but it also may be the sacrifice of extra patience, our time, etc.
Related Post∼ Is it possible to love like Jesus?
Is my life lived humbly and in humility as Jesus did?
Do I forgive like Jesus?
Do others see Jesus through me?
Following Jesus means following Him wherever He leads. It is living out an absolute trust in His judgement and plan for my life. Regardless of the hard situations that arise, my faith in Jesus tells me He is Lord of my life. All of it; the easy, hard and in between.
Come, Follow Jesus
Jesus still calls out today, "Follow me!" When we accept his invitation, we attempt to walk day by day in faith and obedience.
We still sin; we will never be perfect.  Some days will be easier than others. 
Tough times will test our loyalty to Him.  He will, however, help us slowly transform into his likeness by the power of his Spirit and our willingness. (2 Corinthians 3:18.)
Our lifelong hope is that our lives will mirror the character of Jesus and show others His love, joy, peace, patience, faithfulness, gentleness, and self-control. (Galatians 5:22-23 NIV)
Following Jesus can come at an enormous price. We may lose friends or family members. Others may mock us as "mindless" sheep instead of someone who hears their Shepherd's voice.
But when Jesus said 'follow me', He knew your heart. May we be like Peter, who when asked by the Lord if he would desert him, replied, "Lord, who else could we go to? You have the words of eternal life. We are convinced you are the Holy One of God." John 6:66-69 NIV.
Yes, Lord, I will follow you; there is no other way. Lead me on the path; I will follow!
Blessings!
AnnMarie