I'm in a season of waiting right now. I heard God say, "When the time is right, I the Lord will make it happen." (Isaiah 60:22) So I wait; expectantly and in faith. But waiting on His timing can be hard. It's distressing when our timeline doesn't align with His. Dealing with difficult situations brings stress, and we hurt when a family member doesn't receive the desire of their heart. We all need to learn how to trust God's timing.
Bible Verses about God's Timing
What does the Bible tell us about God's timing?
• "For my thoughts are not your thoughts, neither are your ways my ways, declared the Lord. As the heavens are higher than the earth, so are my ways higher than your ways and my thoughts than your thoughts." Isaiah 55: 8-9.
Compared to God's ways and thoughts, what do we know?
I read a book where the author compared our knowledge with that of God. He illustrated it with a big circle on a page with a miniscule dot in the center.
That tiny dot of our knowledge symbolized our knowledge compared to God's. (I don't remember the book, but his illustration stuck with me!) He might have even been generous with the dot.
God's knowledge and wisdom are far, far greater than ours. So when we question God's timing, we are trying to fit our plans and purposes into God's far superior timeline.
Ecclesiastes 3:1
•"There is a time for everything, and a season for every activity under the heavens."
Solomon explains in this chapter of Ecclesiastes there are wonderful things in life countered with things we may not consider "good", but it is all within God's time.
He has a plan for you and for me. The secret in all our life experiences is to be at peace with His divine purposes and accept God's timing. The alternative? Becoming anxious, angry, doubtful, or resentful.
When plans fall through, jobs are slow to come, relationships fall apart, or our health deteriorates, God sees all our disappointments.
We don't have to pretend that our losses don't sting. But trusting in God's character, perspective and wisdom vs my own desires brings me peace. (More on how to get to that place is coming up…)
God is the great I AM who knows our past, present, and future. We can trust in God's timing.
Bible Verses about God's Plan
God's Word is full of encouragement. It's filled start to finish with reminders of His faithfulness.
2 Peter 3:8-9
• "But do not forget this one thing, dear friends: With the Lord, a day is like a thousand years, and a thousand years are like a day. ​The Lord is not slow in keeping his promise, as some understand slowness. Instead, he is patient with you, not wanting anyone to perish, but everyone to come to repentance."
Peter was encouraging the believers who were facing persecution and wanted deliverance. He also wanted them to realize that the time frame for Jesus' return was not a delay, even though it felt like it to them.
We too might think God is slow in His response to us, or not listening. We want answered prayers in days or weeks. When it stretches on past that, it feels painfully slow to us. And you know what?
He understands he seems slow to us. He knows we can feel forgotten and confused. But He always has our best interest in mind.
We can take comfort knowing he has compassion for our impatience. It's why he recorded so many stories for us in the Bible of people who waited a long time.
Abraham and Sarah waited 25 years for a child, Joseph languished for 13 years in slavery and prison, and the Israelites waited 40 years before entering the promised land.
This verse tells us that God is patient with us, He has good reasons for making us wait, and we need to be patient with His timing. He is never slow or late.
God has no limits or restrictions on time. Be patient and wait for his timing.
God's Plan for Your Life
Jeremiah 29:11
•"For I know the plans I have for you," declares the Lord, "plans to prosper you and not to harm you, plans to give you a hope and a future."
God spoke those words to the Israelites who were in exile in Babylon. In the verse immediately preceding this statement, however, God had informed them they would spend a total of 70 years in exile. God's plan for them included more enslavement!
I doubt that is what they wanted to hear… But He still promised that at the proper time He would give them hope and a future.
Regardless of how we see God's plans for us, they always come at the perfect time and are always good. Sometimes the "good" is persevering through difficult times. He can use trials to mold and shape our character into better versions of ourselves.
James points out that the testing of your faith through trials helps develop perseverance and are opportunities for spiritual growth. (James 1:2-4)
Jesus never promised our lives wouldn't have pain or hardship. He spoke just the opposite: "In this world, you will have trouble. But take heart! I have overcome the world." John 16:33b.
We live in a fallen world, we can't escape suffering and painful situations. Then there's that pesky free will that takes us out of God's wonderful plan.
But He never forgets about us. And He always promises us hope. Stand firm on God's promises.
Trust God's timing- it always comes with the promise of hope, no matter what our circumstances.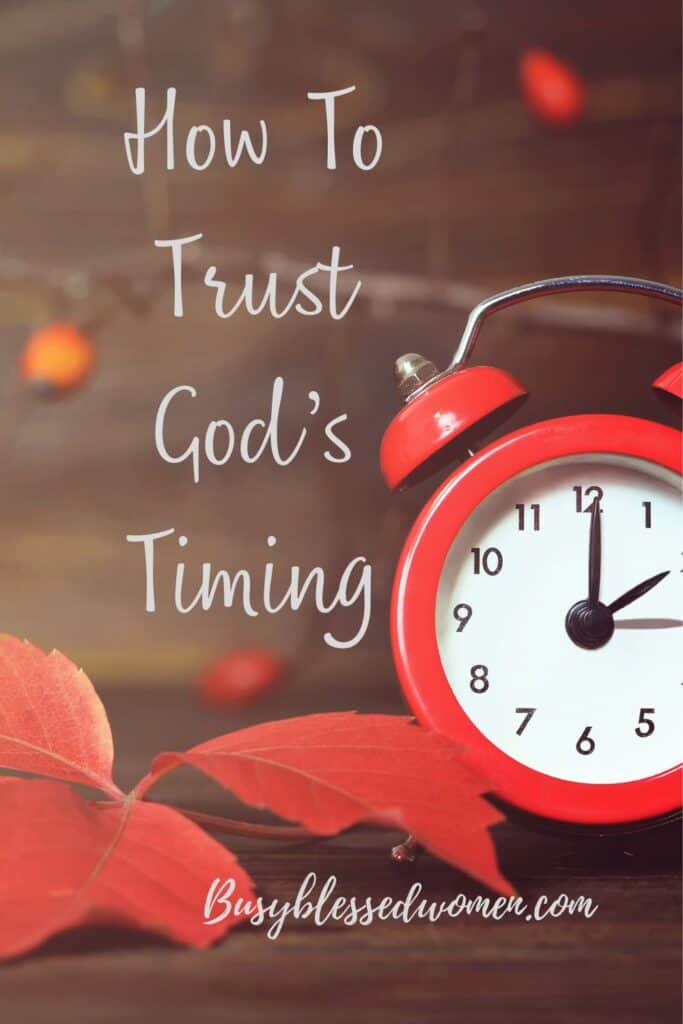 God's Perfect Timing
Isaiah 40:31
•"But those who wait on the Lord shall renew their strength; they shall mount up with wings like eagles, they shall run and not be weary, they shall walk and not faint." (NKJV.)
Isaiah 49:8
• "This is what the Lord says: 'At just the right time, I will respond to you. On the day of salvation, I will help you. I will protect you and give you to the people as my covenant with them.'"
God's timing isn't just great, it's perfect!
He never gets exhausted from the work of being God or slows down his pace.
He certainly is never powerless to change our situation! Instead, we have this great promise that if we wait on God's timing, he will give us the power and strength to better understand and work with his perspective.
I know that relying on my own power and strength to live in this world fails me. I'll take God's strength and power any day!
Working within His timing lets us put the total faith we profess into practice.
Can you relinquish your timing and give Him complete control?
Trust God's Plan
I love this reminder from Paul about Jesus-
"For in him, all things were created: things in heaven and on earth, visible and invisible, whether thrones or powers or rulers or authorities; all things have been created through him and for him. He is before all things, and in him, all things hold together." Colossians 1:16-17.
Jesus Christ is our sovereign King. He was before all things in time and creation. He holds all things together.
We can trust God's answer, His plans, and timing in any waiting period.
When we feel tempted to say, "Are you there Lord?", know that he sees you, knows what you need, and loves you.
We may feel as if we are falling apart, but He is holding us together.♥
How Do You Trust God's Timing?
•Wait. When we feel in a hurry to move forward or decide that we can't trust His timing, remember the words of Psalm 27:14: "Wait for the Lord; be strong and take heart and wait for the Lord."
The entirety of Psalm 27 is David's confident prayer when he was facing hard times. It speaks of his faith in waiting for his light, his salvation, and his stronghold- his God.
•Pray like David about your situation. Hand it over to God and wait for him to show you the path to take.
Declare Him to be your stronghold and to keep you in His safe-keeping. Have you heard the saying "Let Go and Let God?" Giving it to God and trusting in Him will see you through.
"I waited on the Lord and He heard my cry." Psalm 40:1.
​David waited patiently and with perseverance for God's help, knowing God was listening to his prayers.
•Make it a habit to trust in Him each day; one day at a time.
"Blessed be the Lord, who daily loads us with benefits, the God of our salvation." Psalm 68:19 (NKJV.)
Every day, he loads us with good things: mercies, kindness, protection, and provisions. He shows his love and care for us day after day, without limits! Not just when we need it, but daily. He has promised this to us!
Trust him when he says he will give you these things. Actively watch for his benefits to show themselves in your life.
•Remember his past provisions and protections for you.
Keep a prayer journal to remind yourself of answered prayers from the past. We have short memories. We sometimes forget how he guided us through a previous difficult season.
•Walk in Faith
"Trust in the Lord with all your heart and lean not on your own understanding." Proverbs 3:5.
Remember that dot of our understanding in the larger circle of God's knowledge? Trust in His knowledge, plans, and sovereignty in your life.
We have the Holy Spirit living within us to help us wait with patience and trust. Ask Him to empower you to wait in God's way and not your own.
God is Always on Time
There will be seasons of waiting when God's timing leaves us frustrated and full of questions. But remember:
He created time and is its Master. His timing is perfect- He is never late! He is always at work for you and has been for eternity. Trusting Him will bring you peace. Believing in his timeline will give you rest!
"He has made everything beautiful in its time." Ecclesiastes 3:11.
Blessings!
AnnMarie
All Scripture is taken from the NIV unless specified otherwise.
Photo Credit: Canva