We see the evidence of God's provision from the very beginning of creation. He provided abundant food and the perfect environment in the Garden of Eden, then the water, manna, and quail for the Israelites, the ram taking Isaac's place as the sacrifice, and the future provision of a new heaven and earth. God continues to provide for us daily, (although not always in the ways we have in mind!)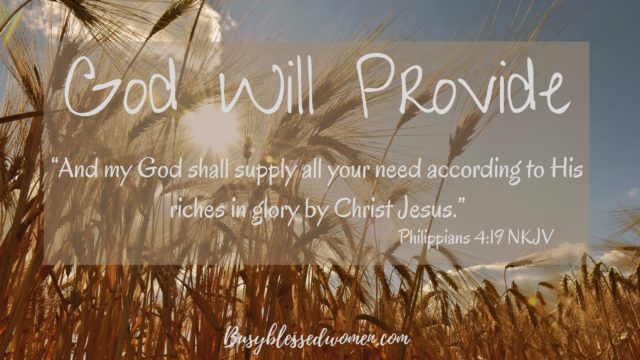 God provides for both our daily spiritual and physical needs. Think back to last week when we looked at the many promises God has made. He promises to provide for us continually along our life's path, walking beside us with love and encouragement.
The Lord Will Provide
One of the many names for God is Jehovah Jireh- The Lord will provide. It comes from the story of Abraham and Isaac in Genesis 22.
God tests Abraham by telling him to sacrifice his beloved and longed-for only son. God knew Abraham's heart and the outcome; Abraham did not.
However, we see only obedience, faith, and trust from Abraham. When Isaac asks his father, "where is the lamb?" for the sacrifice, Abraham replies-
Genesis 22:8-
"God himself will provide the lamb for the burnt offering, my son."
Abraham believed God's promise of an entire nation of descendants through Isaac, even if it meant raising Isaac from the dead. No wonder he's called the "Father of our faith." He had unwavering faith and trust in God's promises; even going so far as giving up his own son.
When God provided the ram for the sacrifice, Abraham "called that place 'The Lord Will Provide.' And to this day it is said, on the mountain of the Lord it will be provided." Genesis 22:14.
God is still at work arranging provisions for us today. We can trust that His provisions will come at the exact moment, just as like Abraham, when we need them.
Verses on God's Provision
•"And my God shall supply all your need according to His riches in glory by Christ Jesus." Philippians 4:19 NKJV.
This verse has 2 important ideas to keep in mind:
Note that Paul said God would supply for their need, not their wants. We sometimes confuse the two.
We also need to check the context of who Paul was speaking to. He made these promises to the Philippians who had given up their money and material possessions to help his ministry. Because their hearts gave willingly to God's service, Paul tells them God would look after their needs.
Jesus had this heartfelt attitude of giving in mind when He taught the disciples:
Luke 6:38
•"Give, and it will be given to you. A good measure, pressed down, shaken together, and running over, will be poured into your lap. For with the measure you use, it will be measured to you."
•Jesus also teaches about needs in Matthew 6:25-33. He instructs us not to worry about our lives; what we will eat, drink, or wear. Our heavenly Father feeds the birds and clothes the grass of the fields, and we are considered more valuable than them.
•"But seek first his kingdom and his righteousness, and all these things will be given to you as well." V33.
How Do We Seek the Kingdom of God?
It all started when we came to Jesus, repented, and became a believer. It was a choice we made, and we commit to daily live out that choice. We do this by making Him the #1 priority, in every aspect of our life.
He wants us to seek Him first and live for Him, and He promises to give us what we need. Yes, that is a conditional promise- but for good reason.
Becoming more like Jesus is a lifelong process that begins after we are saved. The conditions He places on some of His promises only help us.
They allow us to reject the corrupt and sinful desires of our old life!
God Provides Manna and Quail
You can read this story of how God provided for the Israelites in Exodus 16:1-36.
In a nutshell:
The Israelites had been in the desert for about 6 weeks and had already seen the miracles of God parting the Red Sea and later providing them a desert oasis of water and palm trees.
After moving on from there, the "whole community grumbled." (v2) They were questioning God's ability to provide and the wisdom of His plan!
(I know we are tempted to point fingers at the Israelites, but we do the same thing today. Think of a time when He provided for you, and then we later question His abilities and wisdom in our lives…)
They were, however, running low on provisions and didn't know where to find more in their desert wilderness. They reminisced about the ample bread and meat in Egypt. Maybe, they thought, Moses was trying to kill them by starving them! (v3)
To be fair, they were in a bit of a pickle. Their fears are legitimate; their circumstances looked dire. There were approximately 2 million people to feed.
But they set their hearts on worrying and complaining, not looking to God for His provision and answers.
Amen! Ever been there?
I've lived paycheck to paycheck as a single Mom and scrounged through the couch cushions for change. I've lived in fear, feeling trapped in my situation.
We've all desperately needed God's provision at one time or another.
Where (or to whom) do we turn to for our needs?
Bread from Heaven
God heard their complaints, though, and shows His infinite patience with His people. He provides "bread from Heaven" every morning, which the people called manna. (Interestingly, manna translates "what is it?" which is what the Israelites said when they observed it on the ground.)
He provided them with quail each evening when they complained about not having any meat. Bread and meat! Just what they asked for and needed.
And God provided this food for 40 years!
He used these provisions to teach them to trust in Him- day by day, year after year.
Pin me for later!
God Supplies Our Needs
Sabbath Rest
Not content with just providing for their physical nourishment, He also provided them with Sabbath rest. No manna appeared on the 7th day, but they could harvest twice as much on the 6th day. Worshipping God was a priority over all else on this day of rest.
The Presence of God
God heard the people complaining and tells Moses to bring the people to Him. The glory of the Lord appeared to them in a great cloud; Jehovah-Jireh showed He was there with them. These provisions were not a coincidence. He had heard them, and wanted to reassure them that He was their provider.
Spiritual Needs
He also cared for their spiritual needs.
"He humbled you, causing you to hunger and then feeding you with manna, which neither you nor your fathers had known, to teach you that man does not live on bread alone but on every word that comes from the mouth of the Lord." Deuteronomy 8:3 NIV.
We can have every physical need met and still not be happy or content. Prosperity can make us forget we need God; thinking our own hard work was at play.
We need His holy Word to live a spiritual life. His Word is the food that sustains us!
How Does God Provide for Us?
•He provides a way to be in a right relationship with Him through Jesus:
"I am the way and the truth and the life. No one comes to the Father except through me." John 14:6 NIV.
•After that, our most important need is reflecting the image of Jesus. He graciously gives us what we need to meet this goal through the indwelling of the Holy Spirit. He gives us all the truth we could ever desire:
"But when he, the Spirit of truth, comes, he will guide you into all the truth. He will not speak on his own; he will speak only what he hears, and he will tell you what is yet to come." John 16:13 NIV.
•He provides a Shepherd's tender care and guidance so we can say as David did in Psalm 23:1- "I shall not want." We are fully content in Him.
•God provides a peace which surpasses all understanding (Philippians 4:7), deep rest (Matthew 11:28), comfort in all our troubles (2 Corinthians 1:3-4), joy (Acts 13:52), His wisdom (James 1:5), and a way out when tempted (1 Corinthians 10:13).
•Each morning, without fail, He provides fresh mercy and compassion. (Lamentations 3:22-23)
•He provides us with His strength and power. (Psalm 68:35)
This is but a tiny list compared to all He provides!
Jehovah Jireh- God Will Provide
The glorious doxology Paul gives attempts to explain the ways God provides:
Ephesians 3:20
"Now to Him who is able to do exceeding abundantly above all that we ask or think, according to the power that works in us, to Him be glory in the church by Christ Jesus to all generations, forever and ever. Amen." NKJV.
"Exceedingly abundantly." The Greek definition: "Over and beyond measure, extraordinary."
He can do far more than we could ever imagine. It is beyond our comprehension.
We cannot know half of what He has already provided that we know nothing about. Every blessing, every good thing, and every enjoyable experience we have been gifted has come from Him.
He is truly your Jehovah-Jireh, the Lord who provides.
Blessings,
AnnMarie
I recently experienced God's "exceedingly abundant" provision in my own life: My posts are queued up a few weeks in advance, and written weeks before that.
My son and daughter-in-law lost their home to a fire on a Sunday night. I opened my post the next morning and was awestruck at God's power, provision and love- my post was titled "Trusting God in Difficult Times."
Tears immediately flowed as I drank in those words I had written weeks earlier. I needed them so desperately at that exact moment! Our God is so good!!!
Photo Credit: Canva