We've all known love in our lives but changing human emotions limit our love. In this week's blog, we will soak up the essence of what "God is love" means. God's unfailing love knows no human boundaries and is impossible to fully comprehend. We've heard it as children in the song- "Jesus Loves Me" and read about it hundreds (thousands?) of times in the Bible since then. But sometimes I forget just how much his love impacts my daily life. I want to take in God's unconditional love in a renewed spirit.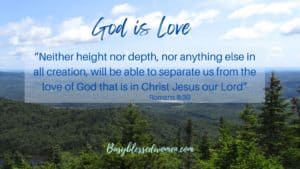 God is Love
That's what 1 John 4:8 tells us. But what does that really mean? We would never say that about ourselves. How can someone "be" love?
Simply put, it means that love is God's all-encompassing nature. The best paraphrase I could find was from John Gill: "God, as to His nature, is love. God is a loving God!"
It's hard to even imagine. Every activity and thought of God is done in love. He created us in love. He judges and disciplines in love. Even the act of giving us a free will- to return his love or reject him- was done in love! We can't earn it because he offers his love as a gift. He still loves you even if you reject his gift and then hopes that someday you love him in return.
I want to encourage you this week by attempting to comprehend the enormity of God's unfailing love. You may have heard these verses before, but put your name into each one. He wants you to know how deeply he loves you!
Bible Verses About the Love of God
"See how very much our Father loves us, for he calls us his children!" (1 John 3:1 NLT)
His love is lavished on you in the most generous and extravagant ways! He never holds back his love. You are his child!
"And may you have the power to understand, as all God's people should, how wide, how long, how high, and how deep his love is."(Ephesians 3:18 NLT)
Paul is praying that we comprehend the enormity of God's love. God's love supply is inexhaustible; it never runs dry. Our human hearts know his love is immeasurable, but not yet fully known. Amazingly, there are even more depths of His love to come when we see Him face to face!
"Neither height nor depth, nor anything else in all creation, will be able to separate us from the love of God that is in Christ Jesus our Lord" (Romans 8:39 NIV)
Is there anything you fear could come between you and God's love? Banish the thought! Nothing can separate us from his love. Nothing. Ever. Isn't that comforting? Unlike fickle human love, God's love for you never changes and never stops.
His Love Endures Forever
"Give thanks to the God of heaven. His faithful love endures forever." (Psalm 136:26 NLT)
His love for you is endless. There is no circumstance in your life that can change his love for you. We might question his love when we have conflicts, misunderstandings, trials, and loss, but that doesn't change God's heart for you. Jesus felt every emotion we feel. I know he is right beside us always, praying we are feeling the comfort of his love. As this verse says, his love is forever faithful…
"God showed his great love for us by sending Christ to die for us while we were still sinners." (Romans 5:8 NLT)
Now that is amazing love. He gave his Son to die for us, not because we deserve it, but just because he loves us that much. If you ever doubt that God loves you, remember that Jesus died for you before you were even born.
"…For we know how dearly God loves us because he has given us the Holy Spirit to fill our hearts with his love." (Romans 5:5 NLT)
He pours out an inexhaustible supply of love into our hearts. Psalm 42:8 tells us that he does this every day! How full does your heart feel? It should be near bursting!
"May the Lord lead your hearts into a full understanding and expression of the love of God…" 2 Thessalonians 3:5 NLT
God has a plan for that bursting-full-of-His-love heart of yours! He wants us to take these truths and promises of his love and make it the firm foundation for our lives. He wants us to realize the powerful reality of his love.
"Let me hear of your unfailing love each morning…" Psalm 143:8 NLT
Understanding the Love of God
Imagine waking up each day and having your first thought be of God's unfailing love. Before coffee, hitting the snooze button, work, or play, his love can wash over you.
Put a favorite love verse on a post-it note in a prominent place, change the wallpaper on your phone, do verse searches or whatever it takes, but get his words of love in front of you. I have a tiny magnet that reads "Love" that I put on my mirror in my bathroom.  As I'm getting ready each day, it reminds me of His great love for me!
When you make his love for you a daily reality, it keeps your life in perspective. It also frees us to love others.
I don't think it is a coincidence that the first-named Fruit of the Spirit is love. Begin with love. When we are filled with the amazing true realization of God's love, the rest of those attributes can follow.
"We love because he first loved us." 1 John 4:19.
Do you have any favorite "Love" verses? I'd love to hear them! Share in the comments!
Blessings and Love,
AnnMarie
Photo Credit: AnnMarie Anderson