I have never been the "journaling" type- odd for someone who loves to write, right? But three years ago, I began a daily gratitude journal and never looked back. It came as a prompting from God as I went through my annual "wrestle with the fall season." My Mom passed away suddenly years ago in the fall, and thoughts of gratitude and thankfulness vanished for a long time. It made the long, freezing winter months even worse. I'm so thankful God said "enough" and used a daily gratitude practice to help restore me.

What is a Gratitude Journal?
It's a pretty simple way to recognize and appreciate the gifts, blessings, and things we are grateful for. It helps us focus our attention on gratitude and thankfulness to God and helps it become a habit.
It becomes a time to pause, take a breath, and reflect positively. We fill our hearts and minds with His goodness instead of the distressing circumstances that come and go. After all– "I say to the Lord, 'You are my Lord; apart from you, I have no good thing.'" Psalm 16:2.
An attitude of gratitude is an important part of our Christian life, but that doesn't mean it's always easy. With practice, we can always find a reason to praise and thank God, even in the most troublesome times.
"Give thanks to the Lord, for he is good; his love endures forever." Psalm 118:1.
"Through Jesus, therefore, let us continually offer to God a sacrifice of praise- the fruit of the lips that openly profess his name." Hebrews 13:15.
Benefits of Gratitude Journaling
The benefits are many!
•It turns our hearts and focus on God. While it is wonderful to be thankful and appreciative of all He gives, it should come from a place of focusing on God first. He is all we need; His grace is sufficient for us. It brings praise and worship into our gratitude practice.
•Gratitude changes the perspective of our life's circumstances- it can help us become more optimistic, aware of our surroundings, and less centered on ourselves.
•It teaches us to see the joy in the little things in life and the beauty in the every day. Slowing down to think about what we are grateful for helps us not take them for granted.
•Gratitude journaling helps you recognize the positive in yourself and others. It teaches us to realize our blessings- both given and received. The result is a contented, renewed spirit, and a gratefulness towards others.
•It also helps us want to bless others and put our gratitude into action!
•Concentrating on our blessings makes it hard to feel stressed, anxious, prideful, or sad.
•A consistent gratitude practice can improve your physical and emotional health.1
•When you're feeling down, grumpy, or cranky, you can reread through your journal and remind yourself of all the things you are thankful for.
•Writing out the positive moments, the beauty we notice, the sights and smells that delight us, or the kindnesses we have experienced help us absorb and enjoy them for a few minutes longer. It generates an increase in gratitude and our awareness of what is going on around us to be thankful for.
How to Keep a Gratitude Journal
You don't need to have a pretty journal, but it doesn't hurt. 😊 I've been writing on the back of my daily Bible verse reading plan and started with an old ugly cast-off steno journal!
Free Gratitude Journal
I recently got a bug to make my own and I'm making it available for free to you to help you get started!
It's very simple- a cover page and 7 different journaling pages (with Scripture) you can print off as you need them. Just click on the image below to download and print from my Resource Page.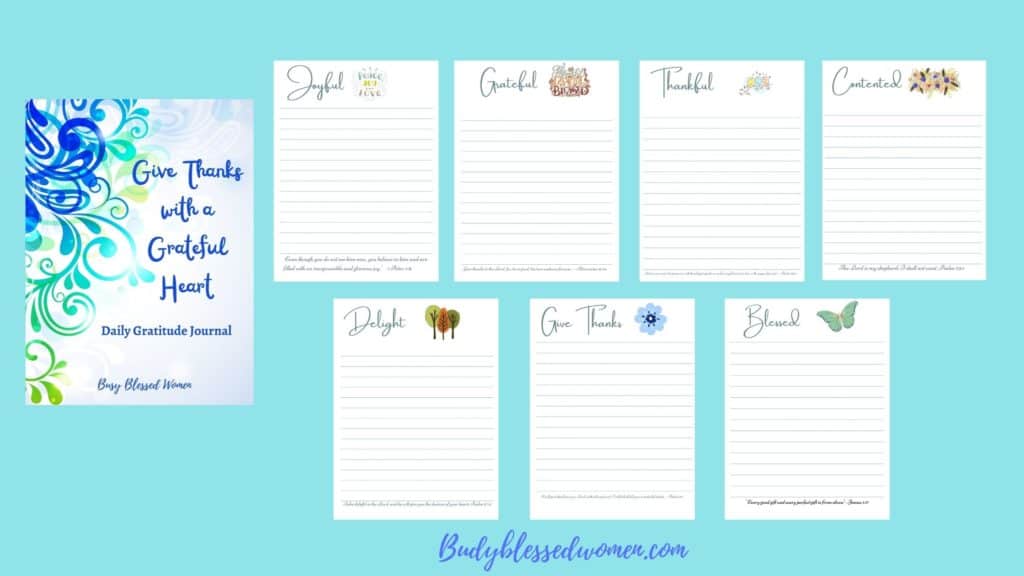 •It's important to write out either on paper or digitally those things you are grateful for. It gives you something to look back on and marvel at the faithfulness of God.
•Be specific about what you are thankful for. I love summer, but instead of writing that, I look out my window, or listen for sounds and sights that bring me joy and thankfulness.
•Try not to repeat, but dig deeper, reflect hour by hour on the previous day or what is ahead of you.
How to Start a Gratitude Journal
Commit to a time of day– I began in the morning and have done that for 3 years. But I recently heard about the positives of journaling your gratitude at the end of the day. Sometimes sleep is an issue for me, and supposedly people who practice gratitude journaling before bed could sleep better. It makes sense- instead of going to sleep with all the stressful stuff in your life swirling in your thoughts, let gratitude take its place.
That being said-
Choose a time that works best for you. It may be your child's naptime, early morning when it's quiet, or in the evening. Whatever works for you helps make it a habit you can continue. Be flexible until you find a time that works. Set a timer or alarm on your phone if that helps you to remember or keep at it.
Begin with a daily practice– My daily practice has never gotten "old" or less important. Some think that 2-3 times a week is sufficient so that it doesn't become too routine. It takes about a month for us to make something a habit, so I recommend at least starting daily.
Write at least 3 things you are grateful for- of course you can always write more! Try to be detailed in your descriptions, not just have a list of things. Come up with new things each day; they can be small or large, about people, experiences, emotions, even hard things. We can always find something to be grateful for in our trials- a kind and knowledgeable doctor, a comforting friend, a Bible verse that comforted us, etc.
If you get stuck, ask God to show you the love, care, comfort, and beauty that He has surrounded you with. Sit quietly and listen for His response.
Take your time- don't rush through the process just to get it off your plate. Try to minimize the distractions so you can turn your heart and mind towards thankfulness.
Gratitude Journaling Prompts
Sometimes it can be helpful (and fun) to use gratitude prompts. Some days are just harder than others, and you could use some help. Journaling prompts can also spark gratitude on other topics. Here are just a few to get you started:
What is a cherished childhood memory? What friend are you most grateful for, and why?
Name your best skill or talent. Of your 5 senses, which ones are you most grateful for?
What is something you love about your personality? Name a highlight from today.
What is your proudest achievement and why?
Look out your window – what do you see you are grateful for? What is your favorite meal?
What burden has God recently lifted from you? Who was the last person who helped you?
Name a favorite teacher and why? What or who made you smile/laugh today?
Name your last answered prayer. What comforts you? Name an attribute of God that comforts you the most.
What is the best gift you've ever received? What's the best advice you've received?
I'm most grateful that my parents taught me ____________.
Who was the last person you forgave? What fear have you overcome?
What is your favorite holiday? Name a family tradition you are most thankful for.
Name a painful experience that helped you grow. What lessons did you learn?
What act of kindness did you show/witness today? Name your favorite season of the year and why. Name something you do to stay healthy.
Printable Gratitude List
Here is a printable version of the Gratitude Prompts (plus a few extras.) Click on the image and find it under "Graphics" on my Resource Page:
Bible Verses about Gratitude
You can also use Bible verses to help you cultivate a habit of gratitude. Let them help inspire gratitude in your heart. Read them and write what brings you joy, comfort, gratitude, and thanks in the verse. You can even let them be starting points for more thanks and praise as the Spirit leads you.
"Give thanks in all circumstances, for this is God's will for you in Christ Jesus." 1 Thessalonians 5:18
"Give thanks to the Lord, for He is good; his love endures forever." Psalm 107:1.
"Let's come before His presence with a song of thanksgiving; let's shout joyfully to Him in songs with instruments." Psalm 95:2 NASB.
"All this is for your benefit, so that the grace that is reaching more and more people may cause thanksgiving to overflow to the glory of God." 2 Corinthians 4:15
"The Lord is my strength and my shield; my heart trusts in him, and I am helped. My heart leaps for joy and I will give thanks to him in song." Psalm 28:7.
"Hallelujah! For our Lord God Almighty reigns. Let us rejoice and be glad and give him glory!" Revelation 19: 6b-7a.
"Continue to live in Him, rooted and built up in Him, strengthened in the faith as you were taught, and overflowing with thankfulness." Colossians 2:6b-7.
Give Thanks to the Lord
"Give thanks to the Lord, call on his name; make known among the nations what he has done." 1 Chronicles 16:8
"Every good and perfect gift is from above, coming down from the Father of the heavenly lights, who does not change like shifting shadows." James 1:17.
"Sing and make music in your heart to the Lord, always giving thanks to God the Father for everything, in the name of our Lord Jesus Christ." Ephesians 5:19b-20.
Daily Gratitude
Yes, this is the season for giving thanks, but don't let it end there. Give gratitude journaling a try to see for yourself how beneficial it can be.
The days fly by and taking a few moments each day to relish the moments, big and small, help us appreciate all the wonderful gifts and blessings the Lord has given.
As you continue in a daily gratitude practice, you will notice your attitude changing. You will find more and more to be thankful for, and actively giving Him thanks and praise throughout your day. You will see His great love in everything from the starry heavens to that first morning sip of coffee or tea.
Choose gratitude! It will cost you nothing except a few moments in your day and can change your life!
AnnMarie
All Scripture is taken from the NIV unless specified otherwise.
¹https://www.mayoclinic.org/healthy-lifestyle/adult-health/in-depth/improve-health-practice-gratitude/art-20270841
Photo Credit: Canva