You've most likely heard of "self-care", but have you heard of "soul care?" Both involve refreshment and rest, but soul care has the advantage of bringing Jesus into the equation, which brings lasting results! Let's discover how to practice care of the soul.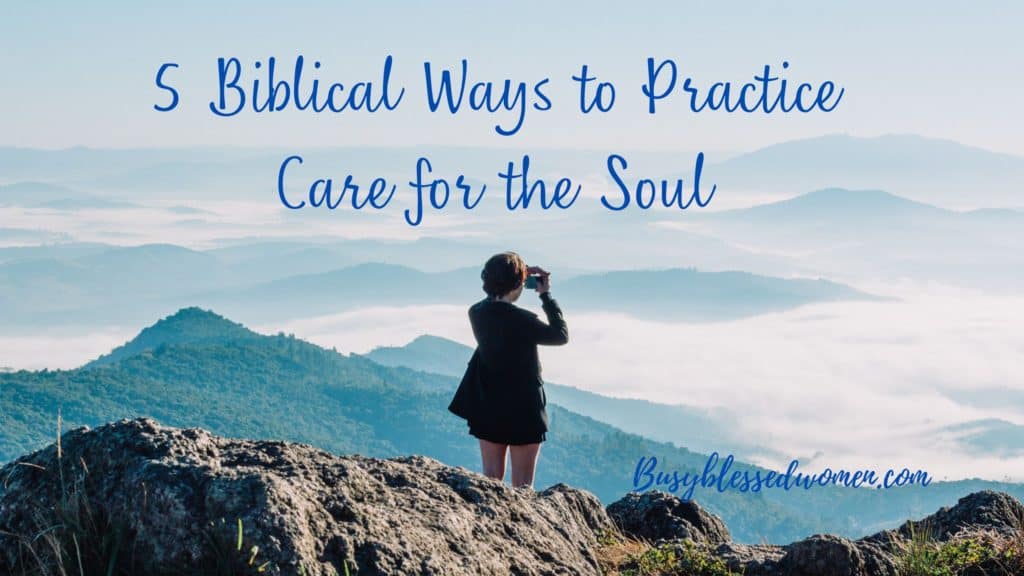 I recently returned from a whirlwind vacation. It was so much fun and a time to connect with my sister. But I felt like I needed a "vacation from my vacation" 😊! Have you ever felt that way?
Sometimes taking time off for leisure activities, while a break from our everyday work, leaves us tired and mentally drained instead of refreshed.
Travel brings unique stresses.
Binging our favorite shows gives rest to the body but can leave us feeling more numb than renewed.
"Me-time" in the form of manicures, facials, shopping, etc., can bring much needed moments of stress relief, but they're short-lived.
Christian Self Care
There is absolutely nothing wrong with treating ourselves to self-care practices. We just need to remember their focus is on ourselves and our own interests. We shouldn't let them be our "go-to" when we need rest, refreshment, and nourishment. It's all about balance and prioritizing the One who truly satisfies our soul.
What is Soul Care?
Soul care has its focus on Jesus and brings a lasting peace and joy. Instead of distracting ourselves from the stress in our lives, we focus on how He alone can meet our needs. Soul care helps us fight temptations and have peace with God.
Of course, Jesus wants us to love and care for ourselves correctly, but soul care centers directly on Him. The purpose of soul care is to become connected with Him on a deeper level and looking to His gifts of restoration and renewal.
Biblical Soul Care
We won't find the term "soul care" in the Bible. We can, however, see important concepts in Scripture that highlight why we need to care for our soul.
A Biblical definition of the soul is the immortal part of our physical body and involves our mind, emotions, and the ability to respond to God and others.

Scriptures on the Soul
∙"What good will it be for a man if he gains the whole world, yet forfeits his soul?" Matthew 16:26. Jesus wanted the disciples to understand that losing their soul meant missing out on who God created us to be and an eternal life with Him.
∙Our emotions live within our souls- Jesus said, "Now my soul is troubled" (John 12:27) and Mary exclaimed, "My soul magnifies the Lord!"( Luke 1:46.)
∙Our souls belong to God who created us in His image: "Behold, all souls are Mine." Ezekiel 18:4. They reflect His nature and His image and are a priceless gift from Him.
∙"Beloved, I pray that in all respects you may prosper and be in good health, just as your soul prospers." 3 John 1:2. John's letter to his friend Gaius shows his concerns for his friends' physical and spiritual health/maturity.
We know we are to take care of our physical bodies. We go to great lengths to eat right and exercise. How much more should we care for our spiritual health?
Why is it Important to Take Care of Your Soul?
∙Taking care of our souls means partnering with the Holy Spirit to bring glory to God who created us.
∙Caring for our souls means rooting them in God in order to continue becoming more like Jesus.
∙We need to be nourished and renewed in our soul to become more Christ-like. He wants to meet our needs and draw us to Himself. This is where we find true rest. We tend to our soul to restore and align ourselves in Him.
∙Soul care is also an act of worship. Soul care helps us focus on Him and give Him the glory in our lives. We are filling ourselves with Him so that we can also fulfill His greatest commandments:
"Love the Lord your God with all your heart and with all your soul and with all your mind. This is the first and greatest commandment." Matthew 22:37-38.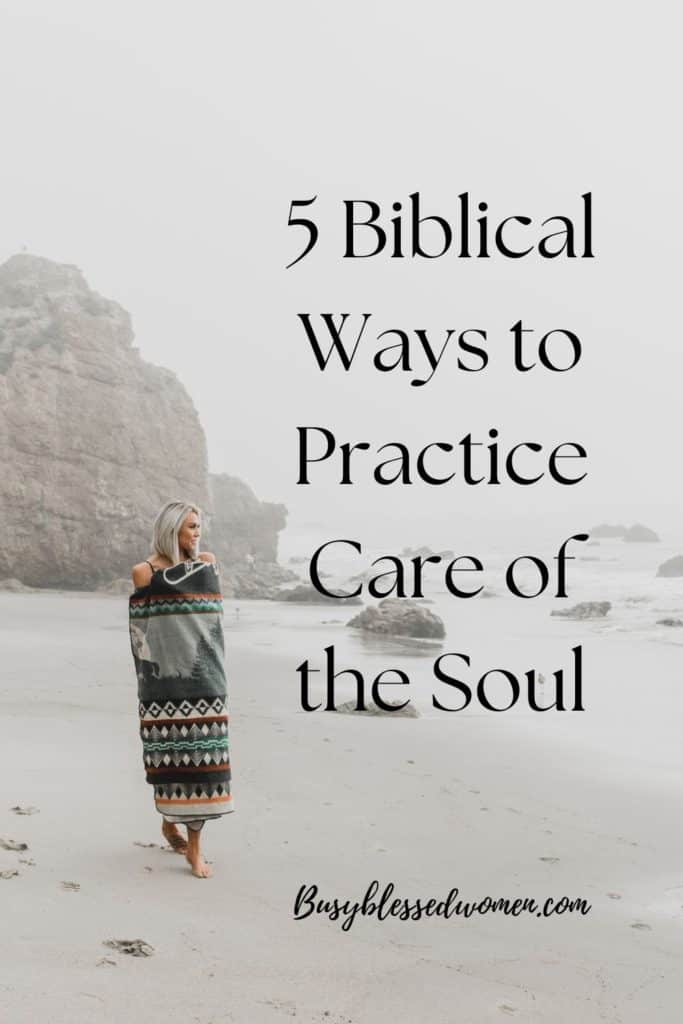 5 Ways To Take Care of Your Soul
Where does our weary soul go to accomplish all these goals?
Jesus.
A relationship with Him means we never have to carry our burdens by ourselves. He promises rest for your soul:
"Come to me all you who are weary and burdened, and I will give you rest." Matthew 11:28.
Did you catch that invitation to come into His presence? He frees us from our concerns and replaces it with His rest. That comes as His love, healing, and peace. How do we come into His presence and receive this gift?
Christian Soul Care
#1. God's presence is everywhere- filling heaven and earth. Coming into His presence means being aware of Him in all things each day.
Our Holy God and Savior has chosen to "do life with us." Do you see Him in your home, family, friends, activities, troubles, heartache- every little and big thing? He is right there!
The world calls this practice of being aware or conscious "mindfulness." But when this practice is not Christ-centered, you are only concentrating on yourself.
We are called instead to have the "mind of Christ" and keep our focus on the One who created us and knows every single aspect of our lives.
#2. Part of having the mind of Christ is to be a better "gate-keeper" of what we choose to allow into our lives. Some stress is inevitable; we don't need to add to it!
Evaluate what you see/hear that doesn't speak the truth to you. How much time are you spending on social media, podcasts, news programs, etc., that either numb you or agitate you?
We can use this verse as a guideline:
"Finally, brothers and sisters, whatever is true, whatever is noble, whatever is right, whatever is pure, whatever is lovely, whatever is admirable—if anything is excellent or praiseworthy—think about such things." Philippians 4:8.
We don't need to bury our head in the sand, but controlling what influences our thoughts and emotions is mentally and spiritually healthy.
Rest in God's Love
#3. Read your Bible every day. Yes, every day! Take away one truth, thought, or encouragement from your daily reading and meditate on it throughout your day.
Immersing ourselves in His Word (whether a little or a lot) each day also helps us recognize those things/thoughts that aren't from Him.
We imprint His thoughts on our hearts each time we read His truth. They are what we draw from when we are dodging darts from the enemy or tempted to make choices that aren't in our best interest.
#4. Pray unceasingly. Yes, numerous times every day! (1 Thessalonians 5:17) God didn't give us this directive to only brush it off as "impossible."
Prayer is simply communication with God. Prayer can happen in a private and focused way or be quiet moments of fellowship with Him. It can be pop up thoughts of gratitude or questioning. Prayer can be specific and bold. Prayer keeps us centered on Him and His answers to life's questions and dilemmas.
Practice Gratitude Daily
#5. Practicing gratitude daily helps us see the blessings we can easily overlook or take for granted. It gives us a contentment that doesn't rely on our circumstances. A practice of gratitude helps us see the amazing sufficiency of God and turns our focus on Him.
It's much harder to feel stressed or anxious when we are actively seeking the ways He shows His love and care for us. Gratitude changes our perspective!
Soul Care
The rest we truly need goes beyond diversions. God's rest comes from His amazing grace and love. He is capable and trustworthy to bring you out of any circumstance and heal your greatest wounds.
These 5 ways to practice soul care may sound like something you've read many times before. But if you're still seeking rest from worldly practices or stressing out more than you'd like, maybe it's time to reread them with a new focus.
Soul care keeps us from experiencing "burn-out." We will always have difficult, sad, and aggravating times in our lives. Our only perfect home awaits us in the future! In the meantime, practicing soul care helps us put our trust in Jesus and live our lives as He intended.
"I have come that they may have life, and have it to the full." John 10:10.
Keep running to Jesus, over and over again. His loving arms are wide open to receive you with His rest. He knows what you need and wants your life to be transformed through Him.
That's where we find true rest and refreshment for our souls.
Blessings!
AnnMarie
All Scripture is taken from the NIV unless specified otherwise.