Thanksgiving Day is the perfect day to set apart a time to acknowledge the many blessings and favors God gives us with thanks, adoration and praise! Here are 16 of the most inspiring Bible verses I found on Thanksgiving.
Give Thanks to the Lord
Giving thanks to God goes beyond just a polite "thank you" for His blessings. The Hebrew word for thanksgiving is "towdah" and it's meaning shows us an extra component of giving thanks. Its proper use means an extension of the hand in adoration and praise along with our thanksgiving.
Importance of Giving Thanks
Giving thanks honors God and focuses our attention on Him and His many attributes:
•"Give thanks to Him and praise His name. For the Lord is good and his love endures forever; his faithfulness continues through all generations." (Psalm 100:4b-5 NIV)
Paul tells us that giving thanks is in God's plan for our lives:
•"Give thanks in all circumstances; for this is God's will for you in Christ Jesus." 1Thessalonians 5:18 NIV.
Enter His Gates with Thanksgiving!
•"Enter His gates with thanksgiving and his courts with praise!" Psalm 100:4a NIV.
In the Old Testament, the people of Israel could enter the outer court of the tabernacle and bring their sacrifice. They could not, however, enter the Most Holy Place where His Presence dwelled.
Because of Jesus, we can now boldly approach Him on His throne anytime we want or need to. Our hands are empty; no sacrifice is needed. He wants us there with Him as often as possible. That alone should make us fall on our knees in thanksgiving and praise!
Psalms of Thanksgiving
The Psalms are a treasure trove of praise and thanks for who God is and what He has done. They give us beautiful encouragement of how to give thanks to our awesome God.
Psalm 7:17-
•"I will give thanks to the Lord because of his righteousness and will sing praise to the name of the Lord Most High." (NIV)
•"O Lord my God, I will give you thanks forever." Psalm 30:12 NIV.
•"Give thanks to the Lord, call on his name; make known among the nations what he has done." Psalm 105:1 NIV.
Psalm 75:1-
•"We give thanks to You, O God, we give thanks! For Your wondrous works declare that Your name is near." (NKJV)
•"Come, let us sing for joy to the Lord; let us shout to the Rock of our salvation. Let us come before him with thanksgiving and extol him with music and song." Psalm 95:1-2 NIV.
•"Let them give thanks to the Lord for his unfailing love and his wonderful deeds for men, for he satisfies the thirsty and fills the hungry with good things." Psalm 107:8-9 NIV.
•"You are my God, and I will give you thanks; you are my God, and I will exalt you." Psalm 118:28 NIV.
Psalm 136:1-
•"Give thanks to the Lord, for he is good. His love endures forever."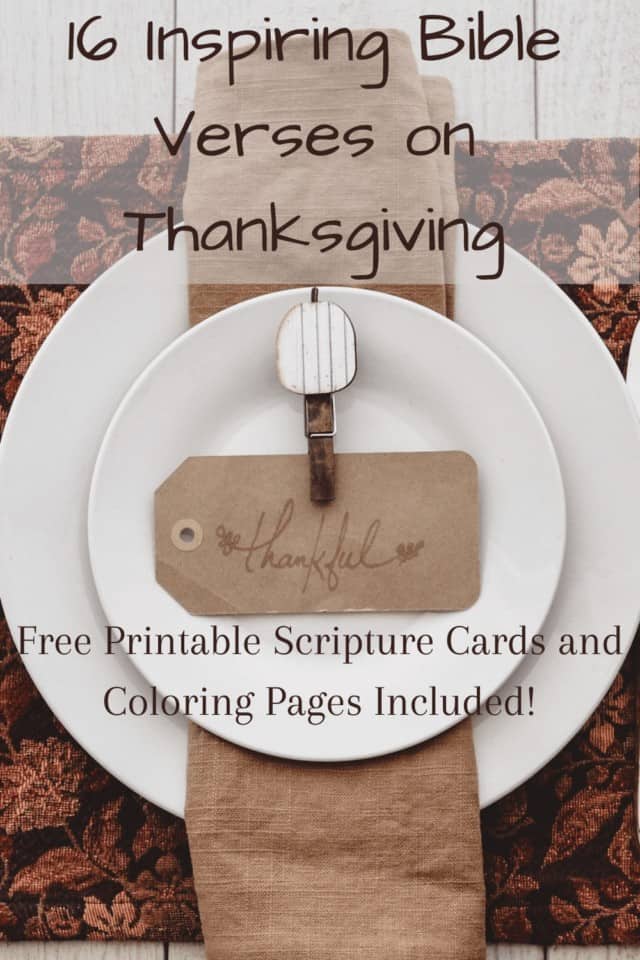 Benefits of Giving Thanks to God
•"Do not be anxious about anything, but in everything, by prayer and petition, with thanksgiving, present your requests to God." Philippians 4:6 NIV
Giving thanks to God puts our worries and concerns in the proper context. We can put them in God's hands with thanksgiving knowing He hears our prayers, and His answers are always good.
•"Let the peace of Christ rule in your hearts, since as members of one body you were called to peace. And be thankful." Colossians 3:15 NIV.
The more we choose peace over conflict, the more thankful we become. The more thankful we become; more peace will rule in our hearts. Win- Win!
•"Be filled with the Spirit, speaking to one another with psalms, hymns, and songs from the Spirit. Sing and make music from your heart to the Lord, always giving thanks to God the Father for everything, in the name of our Lord Jesus Christ." Ephesians 5: 18-20 NIV.
A life filled with thankfulness is a life filled with the Holy Spirit, which brings the fruits of the Spirit into our lives in abundance.
•"Yours, O Lord, is the greatness and the power and the glory and the majesty and the splendor, for everything in heaven and earth is yours… Now, our God, we give you thanks, and praise your glorious name." 1 Chronicles 29:11,13 NIV
A spirit of thankfulness brings contentment as we affirm that God is the one who brings goodness into our lives through His mighty power.
The Power of Thankfulness
Thankfulness is also a powerful weapon against the attacks of Satan. Satan wants us to question God's goodness to us. He wants us to concentrate on the things we don't have instead of the gifts God gives. Cultivating a life of thankfulness keeps our focus on God's splendor and power. Satan's lies and discouragement cannot find a foothold in a heart filled with thanks.
Be Thankful to God
A thankful heart and spirit draw us closer to God. It puts our challenges into perspective and helps us keep our eyes on Him. Thankfulness changes our outlook on life and our attitude. It allows us to say with conviction and complete peace, "thy will be done."
Thanks be to God for His Indescribable Gift
•"Thanks be to God for His indescribable gift!" 2 Corinthians 9:15 NKJV.
God always deserves our thanks and praise, but this verse of thanksgiving is unique. The Greek word for "indescribable" appears only once in the Bible, and it is in this verse! It translates to "unspeakable" meaning there are no words to describe the majesty and magnitude of this gift. It is beyond any human description.
God has given us the greatest gift of all time- His Son, Jesus, and the salvation we receive because of His sacrifice in our place. When we accept this no-strings-attached gift, He graces us with a multitude of blessings that never stop.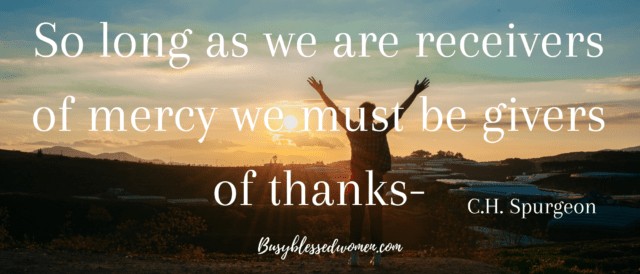 Reasons to be Thankful
We have seen that we have many reasons to be thankful! Giving thanks not only brings glory and worship to God, but it can also transform us when we make it a habit.
A life filled with thanksgiving puts the circumstances of our lives into a new context- thankful for what we have, that He is sufficient for us, and focusing on the blessings we have received.
Gratitude and Thanksgiving
Earlier this year, I was convicted to make thanksgiving a thoughtful, daily practice. I started writing down 3 things I was thankful for each morning. I challenged myself to never give thanks for the same thing twice. It turned out to be a uplifting way to start my day and to think about His many gifts with greater appreciation.
Much has been taken away from us this year, but our blessings continue to be numerous! This simple gratitude practice can be done anywhere, anytime. I do mine in the morning, but a review of the day done in the evening (or anytime) would be awesome as well. I highly recommend giving it a try!
God is the source of every good thing in our lives. When we gather this Thanksgiving, let's remind ourselves of all we have to be thankful for, and express it to the One who gives so generously. Then let's keep the practice going and make giving thanks a beautiful habit!
Related Post∼ What Does the Bible Say about Gratitude?
Blessings!
AnnMarie
New Scripture Cards and Coloring Pages available for free to download and print!
Click on the image below to access my Resource Page: