I recently had a time of great weakness that left me crying out to God for His almighty strength. I'm sure some of you have been right there with me. We all have times in our lives when we need His strength. There is great news for us! God has the strength you need, whether it's for the day ahead, or to face a Goliath-sized circumstance. His Word promises to help us when we are weak and in need.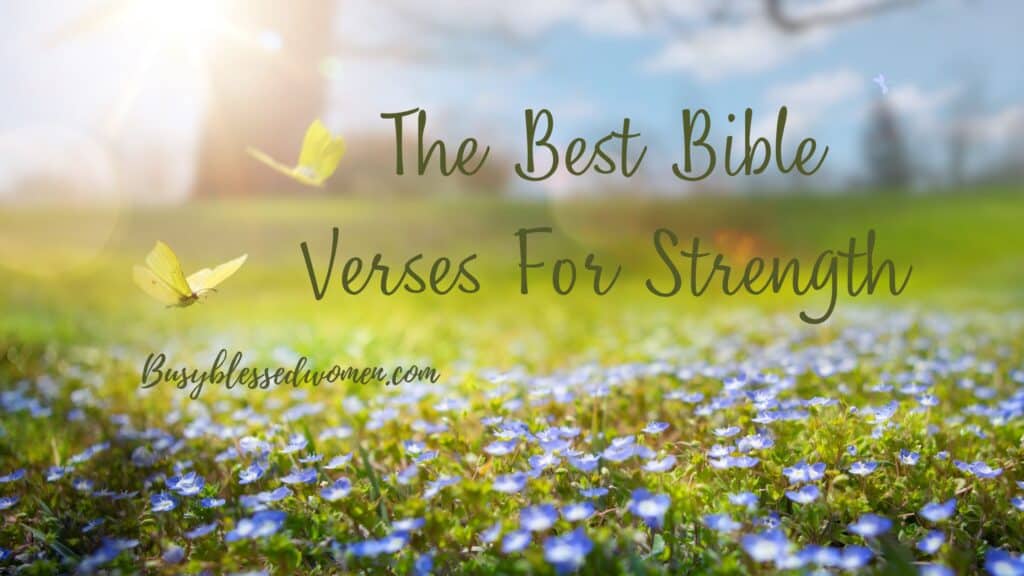 Asking for Strength from God
Our weakness may be physical, mental, or emotional. These life changes can leave us feeling scared, vulnerable, and weak. We're desperate for His strength to take our next step, give us the courage to face our situation, and relief from our pain.
The first step is to go to Him in prayer and ask Him for His strength. He is always waiting to hear from us. Never be afraid to turn to Him for what you need. When we call on His name, He will help us.
This verse always gives me great courage-
"Let us then approach the throne of grace with confidence, so that we may receive mercy and find grace to help us in our time of need." Hebrews 4:16.
We can also ask God to show us His strength as the Psalmist did in Psalm 68:28,35–
"Summon your power, O God; show us your strength, O God, as you have done before. You are awesome, O God, in your sanctuary; the God of Israel gives power and strength to his people!"
Bible Verses on Strength from God
Bible verses about God's strength comfort us and give us peace. How? His Words are promises made to us. When we put our faith and trust in His promises and call on them when needed, we can receive the strength we need.
Claim His strength for your situation as you read through these verses and make them your own. Here's an example to get you started:
God Will Strengthen You
Isaiah 41:10-
"So do not fear, for I am with you; do not be dismayed, for I am your God. I will strengthen you and help you; I will uphold you with my righteous right hand."
Your prayer for strength might sound something like this:
Lord, I cannot go any farther on my own; I don't have the strength to go on. Help me rest in you without fear knowing that you WILL strengthen and help me. I thank you and trust in your promises and your Word. Amen.
Inspirational Bible Verses About Strength
Here are some verses to help you feel empowered and encouraged as you seek His strength:
"I can do all things through him who strengthens me." Philippians 4:13 Jesus will give us the strength for whatever circumstances arise.
"Those who hope in the Lord will renew their strength." Isaiah 40:31. Look to Him, ask Him, and rely on Him to give you His mighty strength.
"Finally, be strong in the Lord and in the strength of His might." Ephesians 6:10. Whatever battle you are fighting, we can call on the Holy Spirit to give us His strength and power.
"The Lord gives strength to his people; the Lord blesses his people with peace." Psalm 29:11 His strength comes to us as comfort in our storm.
"God is our refuge and strength, an ever-present help in trouble." Psalm 46:11. He is never just a temporary place to find help, but our immediate and everlasting strong tower who gives us strength in any circumstance!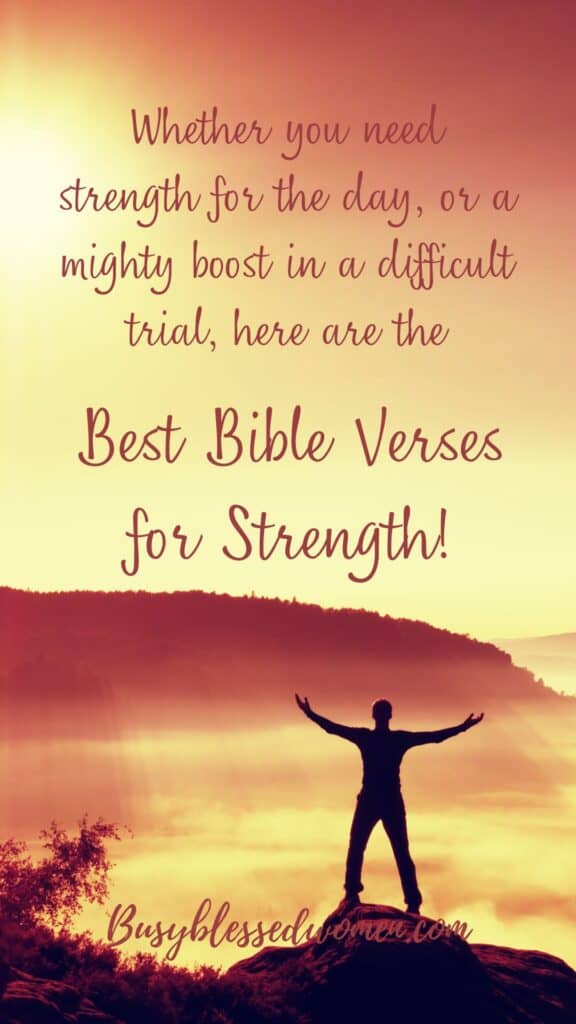 Pin Me for Later!
Bible Verses about Strength in Hard Times
The Bible is our #1 source of comfort and hope when hard times come. No matter what you're facing, these words can give you rest and relief.
Exodus 15:2-
"The Lord is my strength and my song; He has become my salvation. He is my God, and I will praise Him, my Father's God, I will Praise Him."
This song of Moses was a way for the people to give thanks and express their relief for His deliverance. God is unchanging. He remains our strength today and for always.
Deuteronomy 31:6-
"Be strong and courageous. Do not be afraid or terrified because of them, for the Lord your goes with you; he will never leave you nor forsake you."
We, like the Israelites, never have to be afraid, because God is always by our side to lovingly lead and guide us, giving us His strength.
Habakkuk 3:19 –
"The Sovereign Lord is my strength; he makes my feet like the feet of the deer; he enables me to go on the heights."
I love concentrating on the term "Sovereign" when praying this verse. It's a word that we don't use in our everyday language. Our God is above any other power. He is the Ruler of the universe. Nothing is too hard for Him.
The prophet Habakkuk, even while his entire world was going wrong, knew the only One to trust to give him strength was His God.
He then describes what this strength looks like- a fleet-footed deer frolicking on the high hills, confident and strong.
The Lord is My Strength
God's strength remains the same forever and ever. When we are weak, we can count on His strength.
Psalm 73:26
"My flesh and my heart may fail, but God is the strength of my heart and my portion forever."
The following is one of my favorite verses about God's strength. Somewhere along the line of life's hardships, I memorized the first part of this verse. It comes to mind easily now when I need a boost from His strength.
Psalm 28:7a–
"The Lord is my strength and my shield; my heart trusted in him, and I am helped." NKJV.
The Joy of the Lord is My Strength
David continues his psalm with an important truth-
Psalm 28:7b-8
"Therefore, my heart greatly rejoices, And with my song I will praise Him. The Lord is their strength, And He is the saving refuge of His anointed." NKJV.
David prayed to God in trust, and his despair and weakness melted away. He knows God will come to him as his shield and with his strength and gives thanks. He is overjoyed!
What a beautiful picture of trust and faith in God! God promises to give us His strength. Do you trust Him to keep His promises as David did?
We also see an aspect of joy as strength in the book of Nehemiah.
Nehemiah had gathered the wayward people to hear the Word of God. It touched their hearts as they realized how far away from God they were!
But Nehemiah comforted them, saying, "Do not grieve, the joy of the Lord is your strength." Nehemiah 8:10.
The people were sad because God's Word convicted them of their sin, but it also filled them with joy, praising God and receive His strength to do better.
How can joy be our strength when we are weak and desperate for His strength?
Biblical joy is not the same as what the world calls happiness. As Christ followers, we have the Fruit of the Spirit living within us, and yes, one of those is joy!
It's so easy to get discouraged during hard times. But we can experience joy in times of trouble. We can choose to rejoice in our mighty and loving God instead of dwelling on the circumstances we find ourselves in.
True joy comes from knowing we can trust in His ways, His timing, and His great love for us. Joy in our trials comes from rejoicing in what Jesus has done for us. Our future is secure.
No matter what the circumstance, God is always good, loving, and kind. We have a source of strength that will come to help us when we need it.
Finding Strength in God
Paul gives us an important lesson on using our weaknesses as opportunities for God to reveal His power and strength in our lives.
The world says to use your own strength to solve life's problems. But God told Paul, "My grace is sufficient for you, for my power is made perfect in weakness." 2 Corinthians 12:9.
When we can admit our weakness to God, we can watch Him reveal His power, strengthening and supporting us. Allow Him to fill you with His power and you will be far stronger than you could ever be on your own!
Relying on God's strength acts as a safeguard against the common feelings of despair and anxiety. We cannot be shaken when we put our trust in Him and His power!
"Cast your cares on the Lord and he will sustain you; he will never let the righteous be shaken." Psalm 55:22.
God's strength created the world and showed itself in His mighty acts. It is steady, tireless, and unchanging. He wants us to let Him be the source of strength in our lives.
Let these verses bless you with His strength daily and in your times of great need so that you can proclaim as David did:
"It is God who arms me with great strength and makes my way perfect!" Samuel 22:33.
Blessings!
AnnMarie
All Scripture is taken from the NIV unless specified otherwise.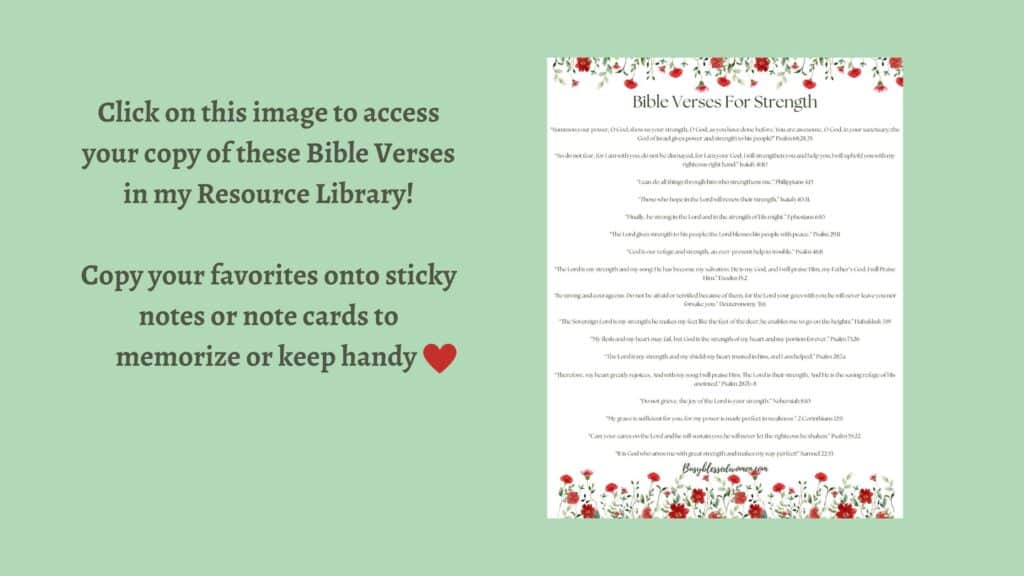 Photo Credit: Canva