The joy of the Lord is one of those hard to understand phrases. We've heard it and understand the concept of joy. I've heard it sung in many songs, have you? We can define joy as happiness, pleasure, and delight- is that the same as the joy of the Lord? How do we reconcile the command to "be joyful always"- 1 Thessalonians 5:16- knowing that "in this world we will have trouble?" John 16:33
What is the Joy of the Lord?
The confusion arises when we mistake happiness for joy. Happiness is not a constant; it depends on circumstances, our state of mind, and feelings that come and go.
But God's joy is the complete opposite- it is a constant state and not dependent on circumstances.
True Meaning of Joy
The joy of the Lord comes from knowing who God is, living in Christ, and being filled with the power of the Holy Spirit. Each aspect brings joy as they work in our lives.
No earthly circumstance can shake them off their mighty foundation. No one can snatch this joy from us!
God is Joy
When you picture God in your mind, do you see a joyful God? I have to admit, there was a time when my vision of God was one of the "thunderbolt throwing", smiting kind of God. But listen to what Scripture has to say:
"Splendor and majesty are before him; strength and joy in his dwelling place." 1 Chronicles 16:27.
"You make known to me the path of life; in your presence there is fullness of joy; at your right hand are pleasures forevermore." Psalm 16:11 ESV
God is joy- it is one of His many attributes. It is part of His unchanging nature. He radiates joy, and when we are in a relationship with Him, He gifts it to us.
Jesus is Joy
Likewise, we possess a supernatural joy available only through our relationship with our Lord Jesus Christ.
Peter describes it this way: "Though you have not seen him, you love him; and even though you do not see him now, you believe in him and are filled with an inexpressible and glorious joy." 1 Peter 1:8. This is a joy that words cannot describe; they cannot do it justice!
The joy of the Lord can be a daily reality for our Christian life. We know in our hearts that He is always by our side, and at our appointed hour, we will see Him face to face, and He will take us home. That beautiful promise lets us live daily with faith, hope, and joy.
This inexpressible joy has a hint of heaven on earth for us. Our relationship with God through Jesus is a joyous reality now, with a glorious eternity ahead.
Meaning of Joy in the Bible
Besides being an attribute of God, and a benefit of our relationship with Jesus, joy is included in the list of the Fruits of the Spirit:
Galatians 5:22–
"The fruit of the Spirit is love, joy, peace, patience, kindness, goodness, faithfulness."
We don't have His joy because we try hard to be joyful; it comes from His nature living within us.
Biblical Joy
Biblical joy is also unique in that while earthly happiness and unhappiness cannot exist together, joy and sorrow can. Here are a few examples:
Jesus was "a man of sorrows and acquainted with grief." (Isaiah 53:3) And the author of Hebrews reminds us to "fix our eyes on Jesus, the pioneer and perfecter of our faith. For the joy set before him he endured the cross, scorning its shame, and sat down at the right hand of the throne of God." (Hebrews 12:2.)
Jesus didn't think of His crucifixion as a joyful circumstance. He could, however, look past the cross because He understood what would come next- the kind of joy that brings salvation to His beloved people.
The Romans stripped Silas and the Apostle Paul, had them beaten, severely flogged, and thrown into prison, their feet placed in stocks. Enduring this horrible treatment, however, did not stop them from "praying and singing hymns to God." (Acts 16:25.)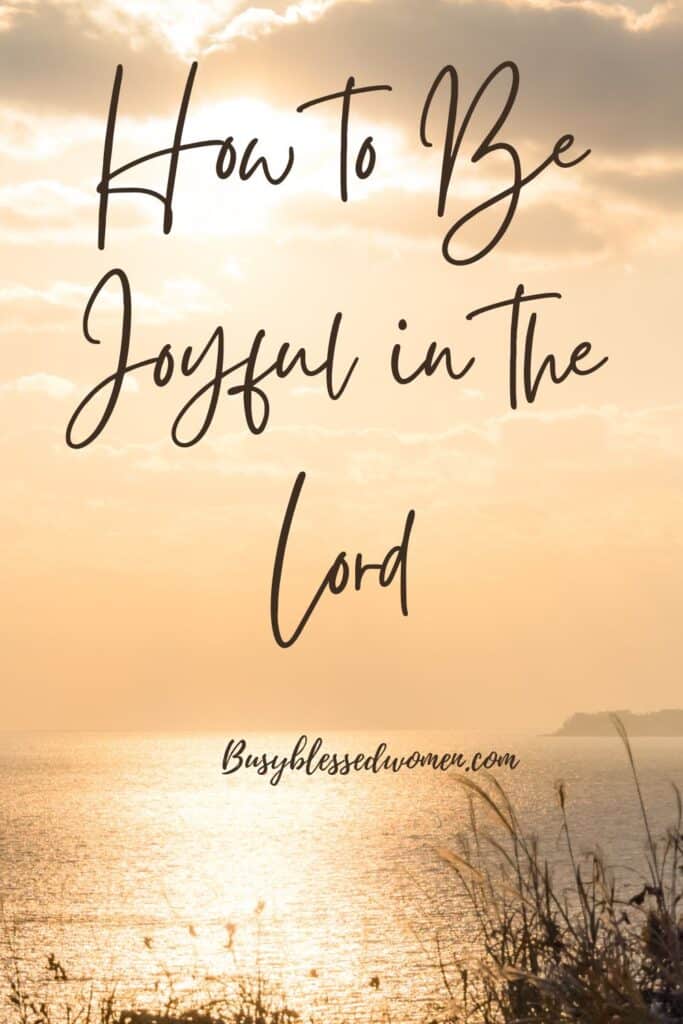 Joy in Suffering
This Biblical meaning of joy helps us understand how we too can experience joy even when we suffer or go through hard times. Jesus told us we would have trouble. (John 16:33)
We should expect it and be ready to travel through those times of grief, sadness, and despair while still having the ability to rest in the joy of the Lord.
The pain of this world is sometimes downright unfathomable. Sometimes it seems to pile on, one thing after another. But in every single second of those times, God is with us. "God has said, 'Never will I leave you; never will I forsake you.'" Hebrews 13:5.
That promise brings us joy, relief, and comfort.
Joy in Trials Bible Verses
•James tells us we should "consider it pure joy, my brothers, whenever you face trials of various kinds because you know that the testing of your faith develops perseverance." (1:2-3) We can experience joy in difficult circumstances when we turn them into times of learning and growth.
Instead of saying "why me?" in these times, try asking God what you can learn from the situation, and what direction He wants you to go.
1 Thessalonians 5:16
•"Be joyful always."
While it might go against our natural tendencies, we can be  joyful at all times because our joy is not based on our circumstances. It is based on Him, and He never changes.
Romans 15:13
•"May the God of hope fill you with all joy and peace as you trust in Him."
God fills us with an everlasting joy that is in anticipation of what He has planned for us.
Fill me with your joy, Lord! This has been my prayer!
Romans 5:3-4
•"We also rejoice in our sufferings, because we know that suffering produces perseverance, perseverance, character; and character, hope." 
We aren't joyful in our tough times because we enjoy pain, but because we know God can use these times to build up our character, strengthen us, and bring us closer to Him.
Our joy in trials- that gladness deep in our hearts, an inner contentment- originates from God. But our human nature sees trials and suffering as something negative; so trying to elicit a joyful response doesn't seem to make sense.
We see from the verses above that something good can come from our trials.
•They are not saying we are happy in suffering, but to experience God's outlook and turn a trial into a learning opportunity.
•Suffering can bring us closer to God, knowing He is with us continually, loving and caring for us.
•Joy in trials is choosing to respond with an inner peace and contentment, knowing God is in the center of it all, carrying us through it.
True joy comes when we shift our focus from the difficulties we are facing to our loving relationship with Jesus. His supernatural joy replaces being controlled by our circumstances.
The Joy of the Lord is Our Strength
How does the joy of the Lord provide us with strength? This phrase comes from the book of Nehemiah.
He had led the Israelites back to Jerusalem to help repair the walls of the city. Ezra stood before the Israelites and read the Law to them, causing them to weep with remorse over their past behavior.
But Nehemiah comforted them-
Nehemiah 8:10
"Go and enjoy choice food and sweet drinks, and send some to those who have nothing prepared. This day is holy to our Lord. Do not grieve, for the joy of the LORD is your strength."
My Strength Comes from the Lord
They celebrated with much joy because they understood the words of the law which convicted them of their sin. Even though they felt sad, they were joyful because they realized God was doing a mighty work in them!
The joy we have in the Lord doesn't cancel out the God-given emotions we are feeling- it nestles in side-by-side with them to buoy us and give us strength in times of trouble.
God's joy is always evident whenever we connect with Him. Our eternal life in heaven will be a time to revel in His joy!
How to be Joyful in the Lord
So how can we experience a consistent joy in our lives?
By focusing on God instead of dwelling on our difficult times. OK, and how do we do that?
Try these 4 steps:
•Be in God's Word daily.
That's where we find His instructions to guide our thoughts, words, and actions. It is where we experience His amazing grace, love, and mercy.
As we claim His promises, they encourage us. As we live our lives for Him, we experience His joy.
"Let the word of Christ dwell in you richly." Colossians 3:16.
•Come to Him often in prayer and worship.
David prayed to God for restoration:
"Restore to me the joy of your salvation and grant me a willing spirit, to sustain me." Psalm 51:12.
David was spiritually defeated. He wanted his joy back! Pour your heart out to Him- He's always listening and loves a humble and grateful heart.
•Share your pain and suffering with others in your faith community.
"If one falls down, his friend can help him up." Ecclesiastes 4:10. Don't isolate yourself in trials and try to go it alone.
•Guard your mind and heart-
"Above all else, guard you heart, for it is the wellspring of life." Proverbs 4:23.
"Whatever is true, whatever is noble, whatever is right, whatever is pure, whatever is lovely, whatever is admirable- if anything is excellent or praiseworthy- think about such things." Philippians 4:8.
Satan loves to play on our fears and uncertainties. He wants us focused on our worldly troubles, not our source of strength- our joy in God.
Fill your minds and hearts with the wisdom and love of our Lord; He wants to replace the fears and uncertainties with the profound joy and peace that comes only from Him.

Joy in the Lord
True joy is the deep assurance living inside of us that allows us to celebrate with Him every day.
It comes from knowing Jesus is walking beside us as we take each step, holds our hand when we stumble or become weak, and carries us when we become overwhelmed.
He is at work in our entire life; seeing us through it all; enabling us to find the joy we can't create or earn on our own. Enter into the joy of the Lord!
"A joyful heart is good medicine." Proverbs 17:22a.
Blessings of Joy!
AnnMarie
All Scripture is from the NIV version unless specified otherwise.
Photo Credit: Pixabay, Canva