When I was mulling over ideas for Advent blogs, I read a lot about Advent wreaths. They have been a part of many church services I've attended, and we have a simple one at home. The common theme for the four weeks is joy, peace, hope, and love. This week we will look at the aspect of light and hope.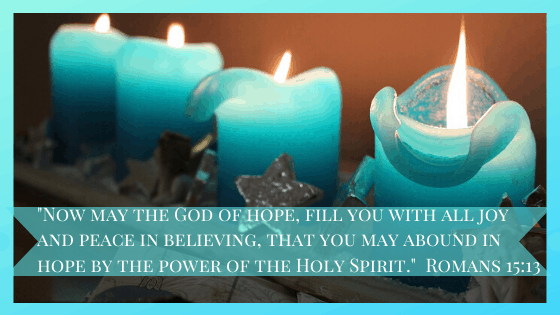 I don't know if those four themes are supposed to be in any particular order, but I searched scripture to incorporate "light" into each one. After all, Jesus is "the Light that came into the world"- John 3:19.  So I'm beginning with a look at how our Christmas Light brings us hope.
Meaning of Light in the Bible
You don't have to read far into the Bible to discover the importance of light. Right away in Genesis 1:3, we read "God said "Let there be light" and there was light." Not only that, God saw that the light he created was "good"– it pleased him! Light is always depicted as good in the Bible.
John actually describes God as light- "God is light; in him, there is no darkness at all." 1 John 1:5. I understand the part of God having no darkness (sin), but wondered what exactly does "God is light" mean?
Light has so many positive attributes:
It illuminates our paths, exposes dangers, and penetrates darkness so we can see where we are and where we are going.
It energizes and activates growth in all his creations.
God is Light
God is light because his attributes are the same- he banishes and conquers all darkness, gives life, shows us the way, and is vital for our eternal life with him.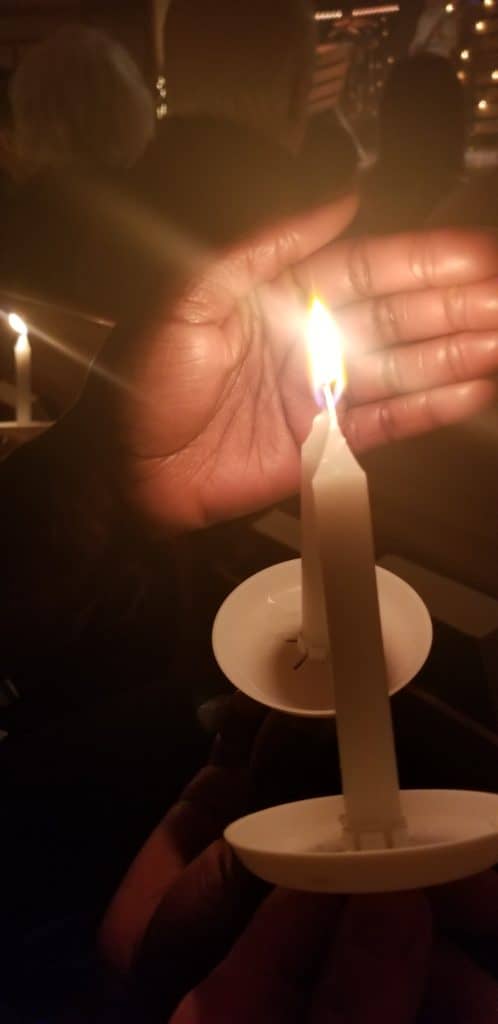 The Light of Christmas
As Christians, we celebrate Christmas as a celebration of light, when God decided the world's darkness needed his mighty light to turn it around- the birth of Jesus.
We spend the next four weeks waiting and preparing for the coming of Jesus, but take a moment to think of those who waited thousands of years, hoping for their Messiah to come. God carefully prepared his people for the arrival of the Messiah. All the prophets, laws, and traditions pointed to Jesus. But most of them missed his coming. Their own desires blinded them and kept them in darkness.
Prophecy of Light
We celebrate hope at Christmas because we got to see prophecy fulfilled.
We see how the prophecies pointed to Jesus. That gives us hope as we wait for the future prophecies to come. There is a beautiful future reality in Isaiah 60:19 which tells us "The sun will no more be your light by day, nor will the brightness of the moon shine on you, for the Lord will be your everlasting light and your God will be your glory."
The promise appears again in Rev 21:23: "The city does not need the sun or the moon to shine on it, for the glory of God gives it light, and the Lamb is its lamp."
We can live our lives today as people with hope because we have seen God keep his many promises. We can have hope in our eternal life for the same reason.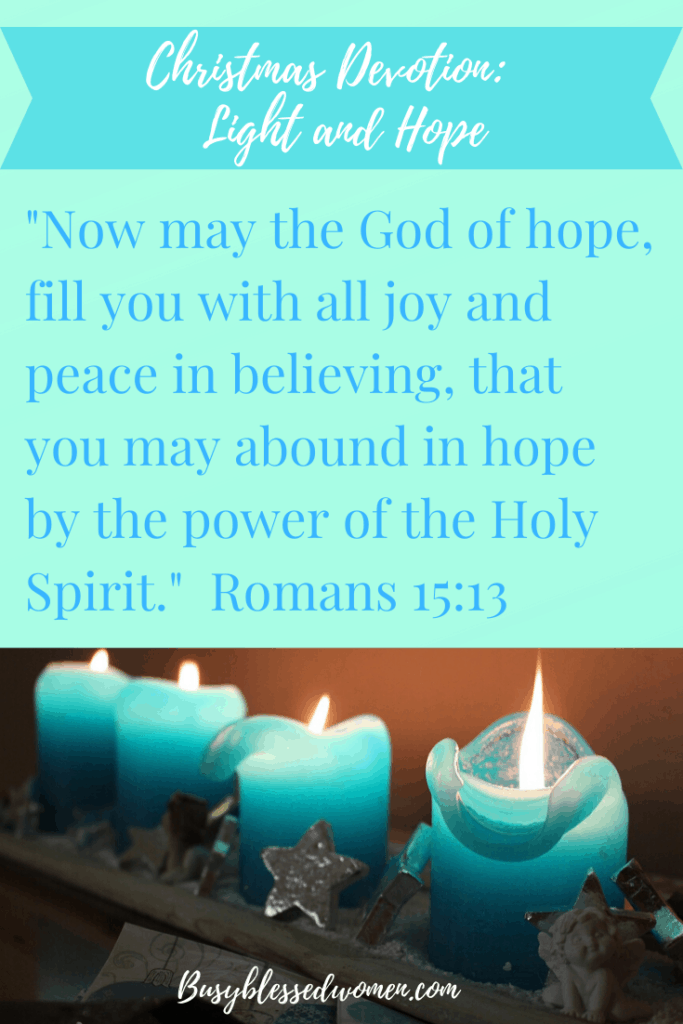 Pin me for later!
The Light of Christ
We celebrate hope at Christmas because Jesus' birth started the process of opportunity for all people to live with him forever.
Our beautiful fellowship with God was broken when sin entered the world. Physical and spiritual death was our reality. Jesus himself told us "I am the light of the world, whoever follows me will never walk in darkness, but will have the light of life" John 8:12.
From the time of Jesus' birth through eternity, his light shines!
Jesus himself brings hope to our Christmas celebration. He came as a baby to live as a man among us. He died and rose again and his saving grace is indestructible. No power, no man can ever take away the gift he brings to us at Christmas.
The first candle in our Advent wreath represents hope. It may be a tiny flame, but by Christmas Day, there will be five candles burning. We celebrate the light of Jesus that shone brightly when he was born. That same bright, holy, "good" light was present at creation, and it still shines today. This Christmas season, reflect on how that light shines in you, giving you hope and a future.
I pray that this Christmas, your hearts would brim with renewed hope; the light and hope that is Jesus.
Encouragement for the Week:  What promises has God previously fulfilled in your life?
What prayers has he answered?
What mountains has he moved?
Spend a few moments reflecting on how fulfilled promises bring us hope for today and the tomorrows to come.
"Now may the God of hope, fill you with all joy and peace in believing, that you may abound in hope by the power of the Holy Spirit."  Romans 15:13
Blessings!
AnnMarie
Related Post: Light and Peace
Related Post: Light and Joy
Photo Credit: Pixabay, AnnMarie Anderson